I just got back from a business trip to Indonesia and my work-related blog post at http://blogs.harvard.edu/pdurbin/2018/05/17/visiting-the-indonesian-institute-of-sciences-lipi-for-dataverse/ gives a lot of detail about the purpose of the trip, but this blog post is more about the people, the food, the culture, the places we visited, and other observations. To sum up the other post, Sonia and I, who are holding the rice below, work at Harvard and were invited by Slamet (far right) on behalf of the Indonesian Institute of Sciences (LIPI) to talk about the software we work on.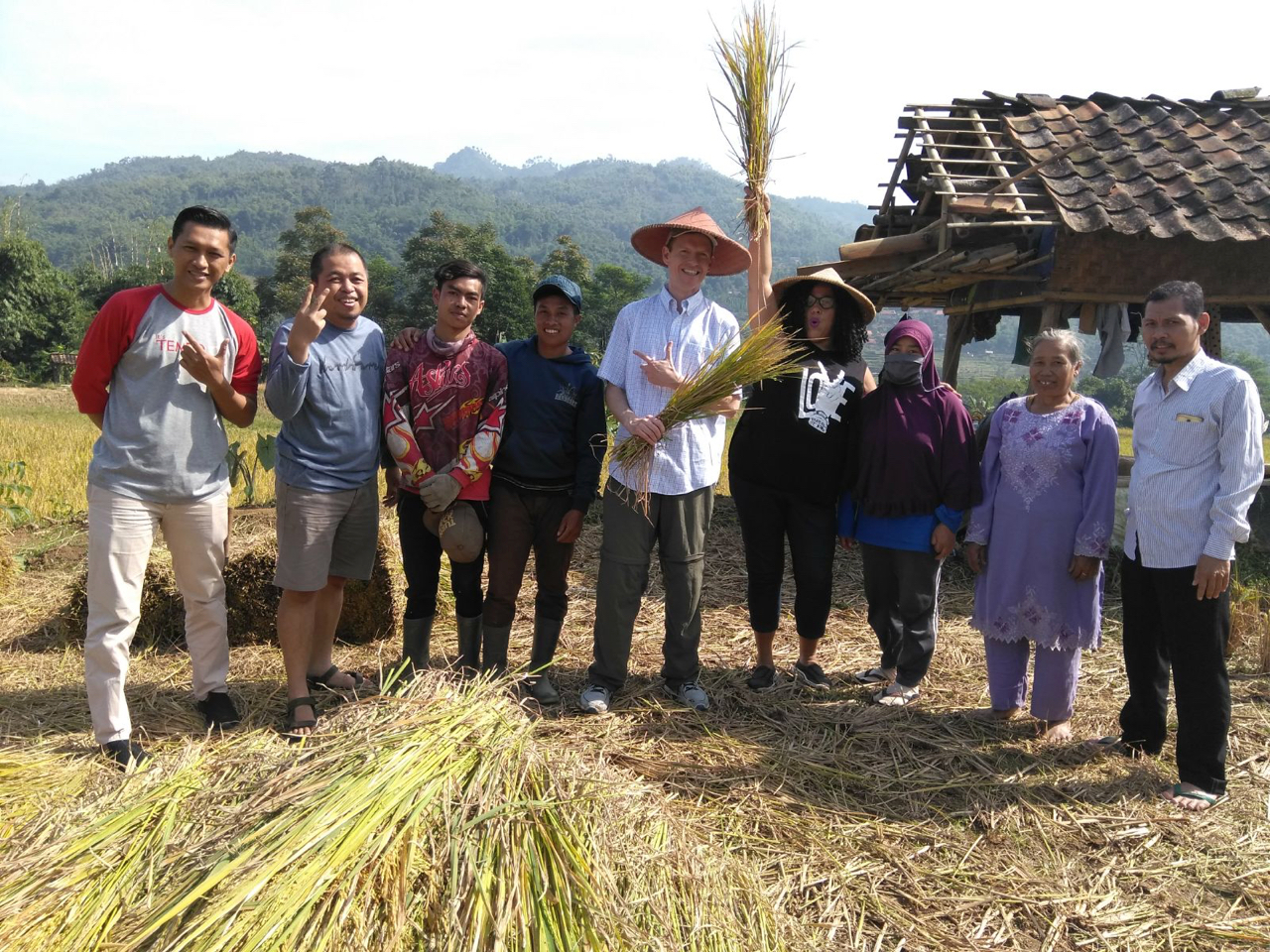 Getting there
We flew Qatar Airways from BOS to JFK to DOH to CGK for a total travel time of 29 hours and 41 minutes plus getting to the airport. Arabic coffee at the airport in Doha tasted like tea and I had a Turkish coffee instead. We landed around 8am and were picked up by Slamet, Sjaeful, and one of the LIPI drivers. It was definitely warm and tropical. Sonia remarked that the weather reminded her of New Delhi. We fought our way through traffic, noticed all the Go Jek motorcycles, and went directly to the LIPI office. We had some coffee and snacks, bits of chicken wrapped in rice wrapped in a leaf. On the drive over I had mentioned gado gado and they were kind enough to order some for us. I like how it was wrapped in paper.
The hotel said that non-smoking rooms wouldn't be available until 2pm so I was overjoyed that my friend Alex was available to show me around and take me out to lunch. Alex moved with his family to Ohio when we was 11 or so and we were good friends in grade school, but I had completely lost touch with him. We caught up on the way to Senayan City and Alex explained that in Jakarta it's common to hang out in malls like this to cool off. The movie theatre had a special tablecloth section for fine dining before the show. Alex treated me to dinner, including a shaved ice drink with avocado. Still exhausted from all the travel, I said goodbye back at my hotel. I had a pretty nice view from the fourth floor.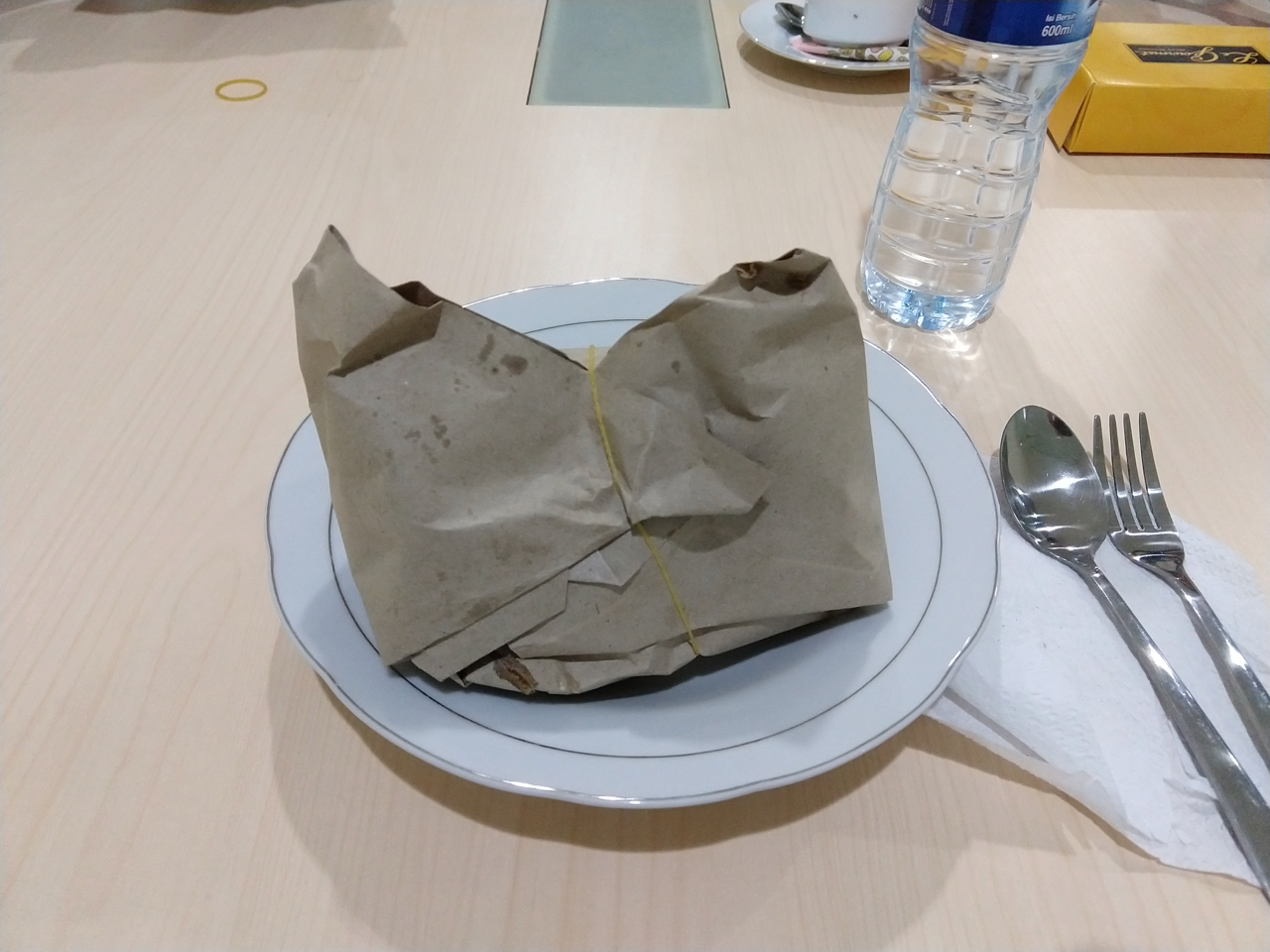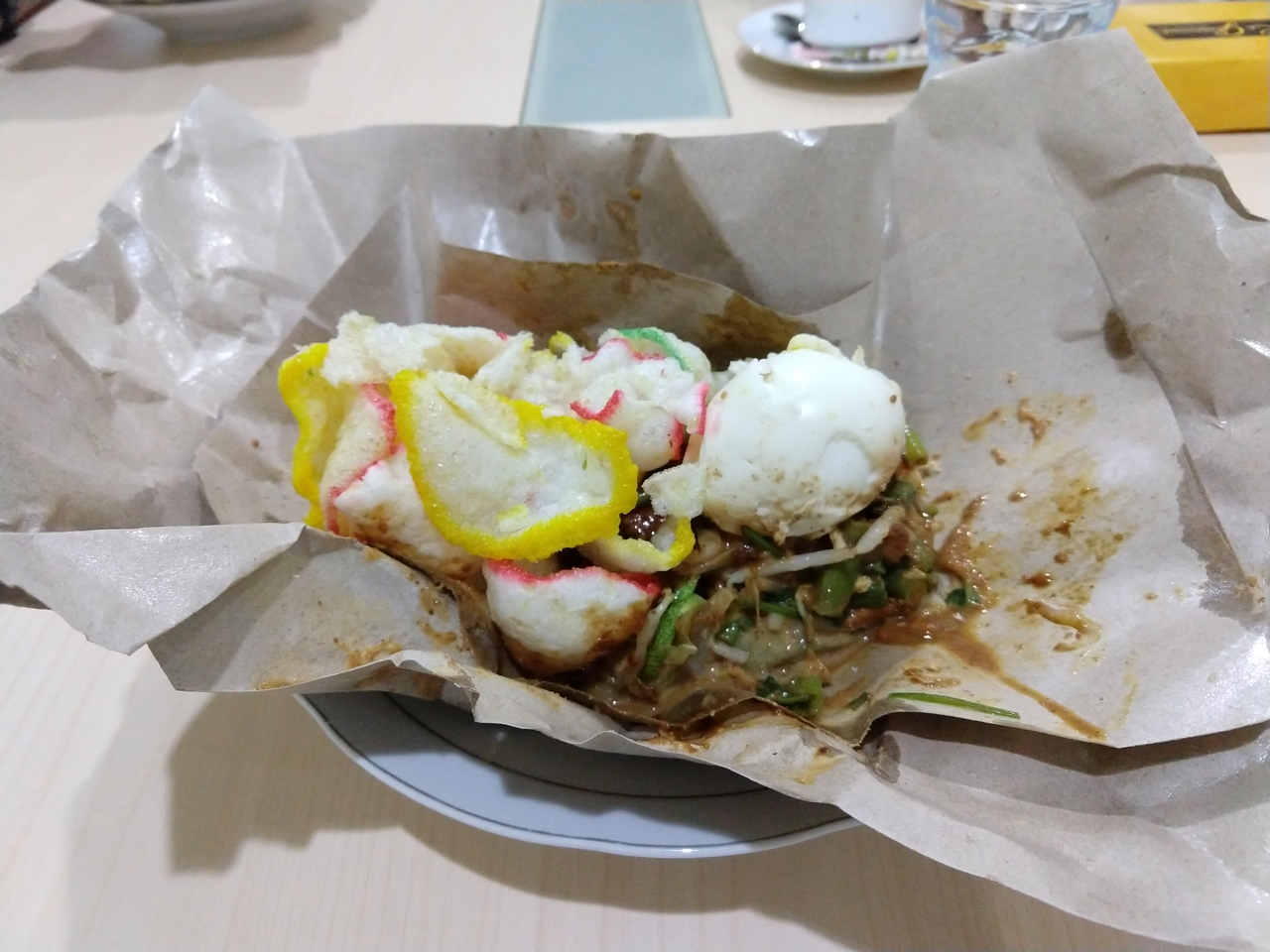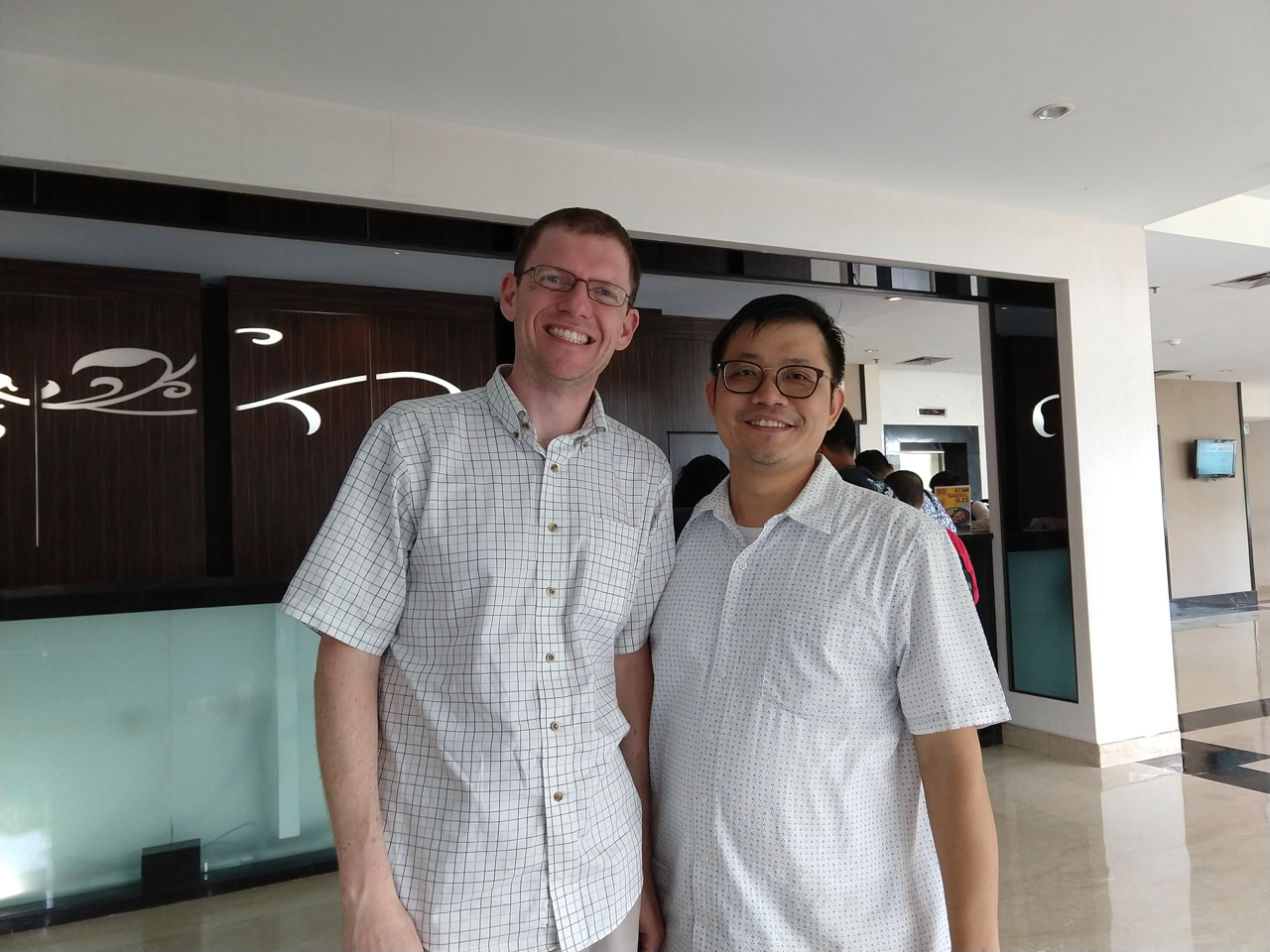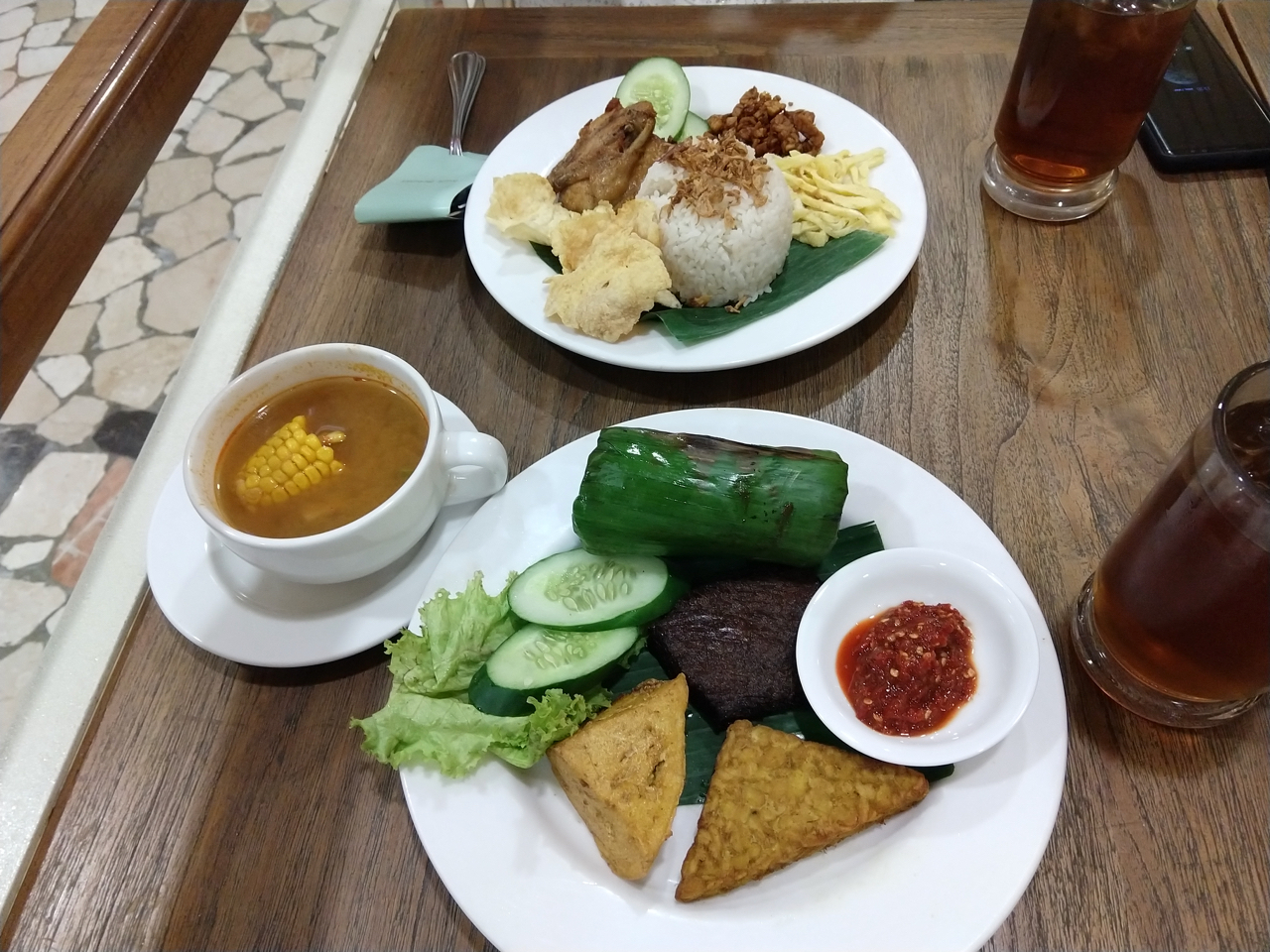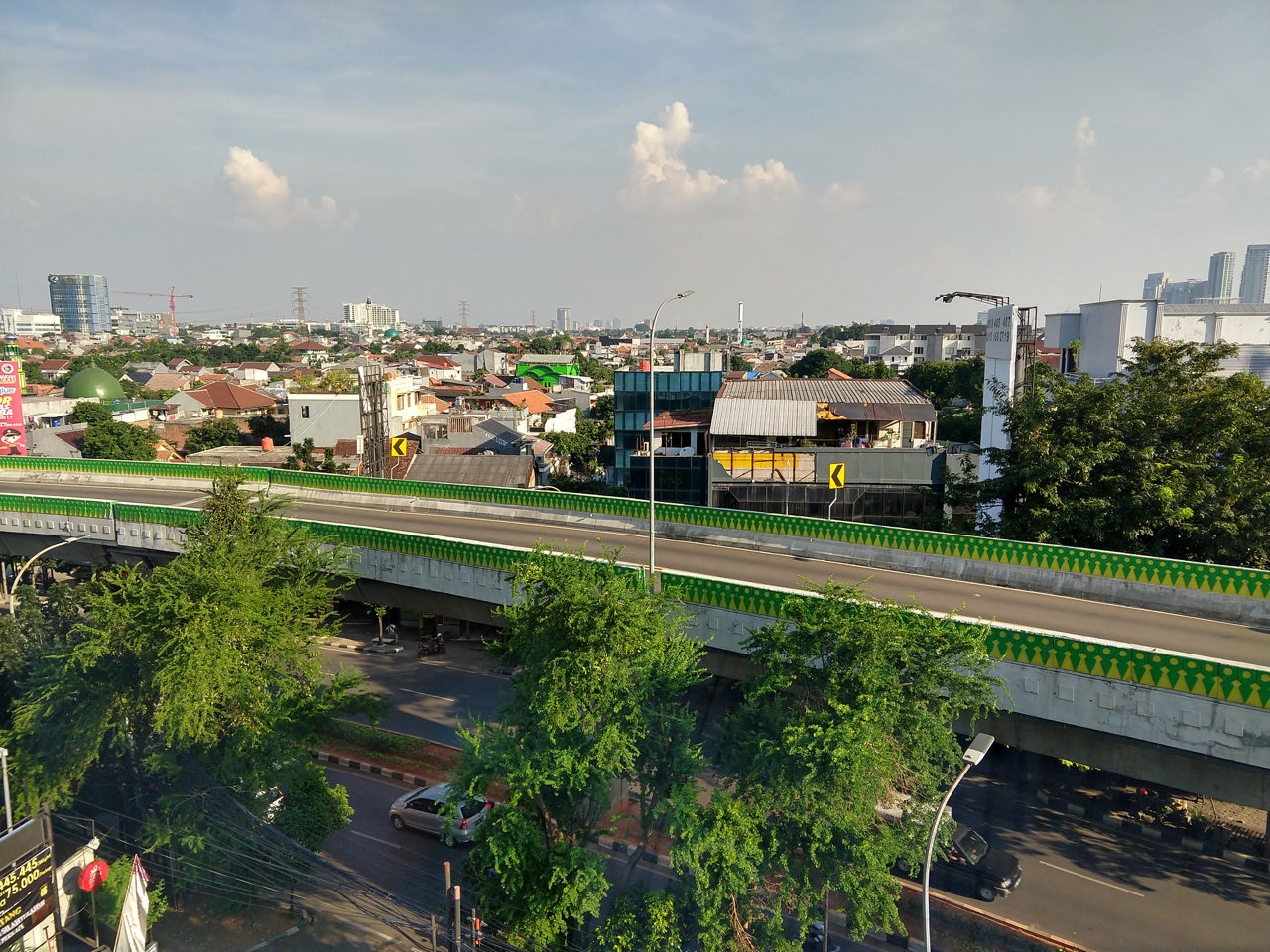 The room was well lit by all the windows but I struggled a bit to turn on the bathroom light. In order to turn on lights and outlets in the room, you had to insert your room card into a slot.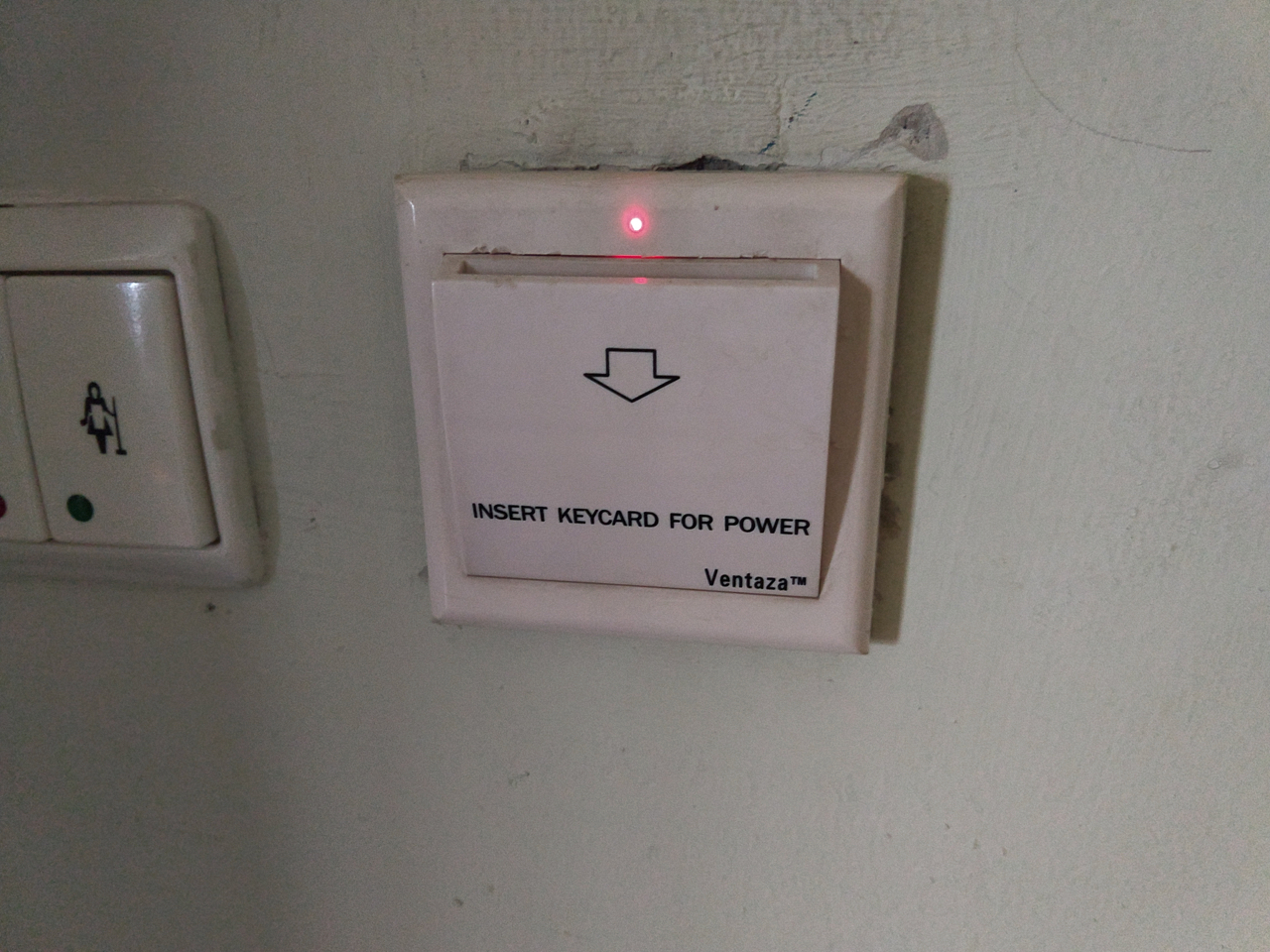 Tuesday
We spent Tuesday meeting with various people at LIPI. I thought it was interesting that at lunch the soup came in a bag. That evening Sonia had dinner in the hotel and had plenty of food and drinks for only $22.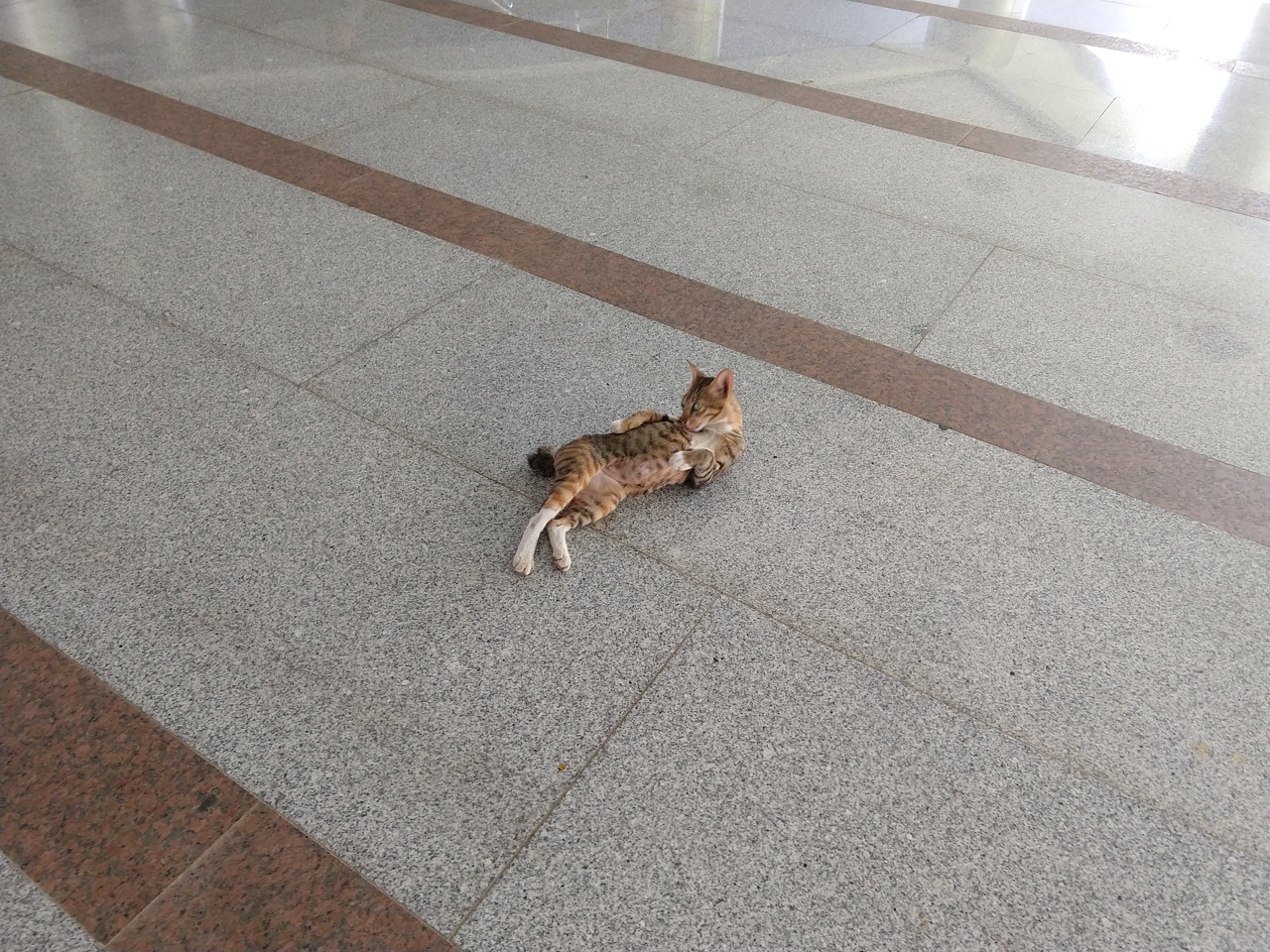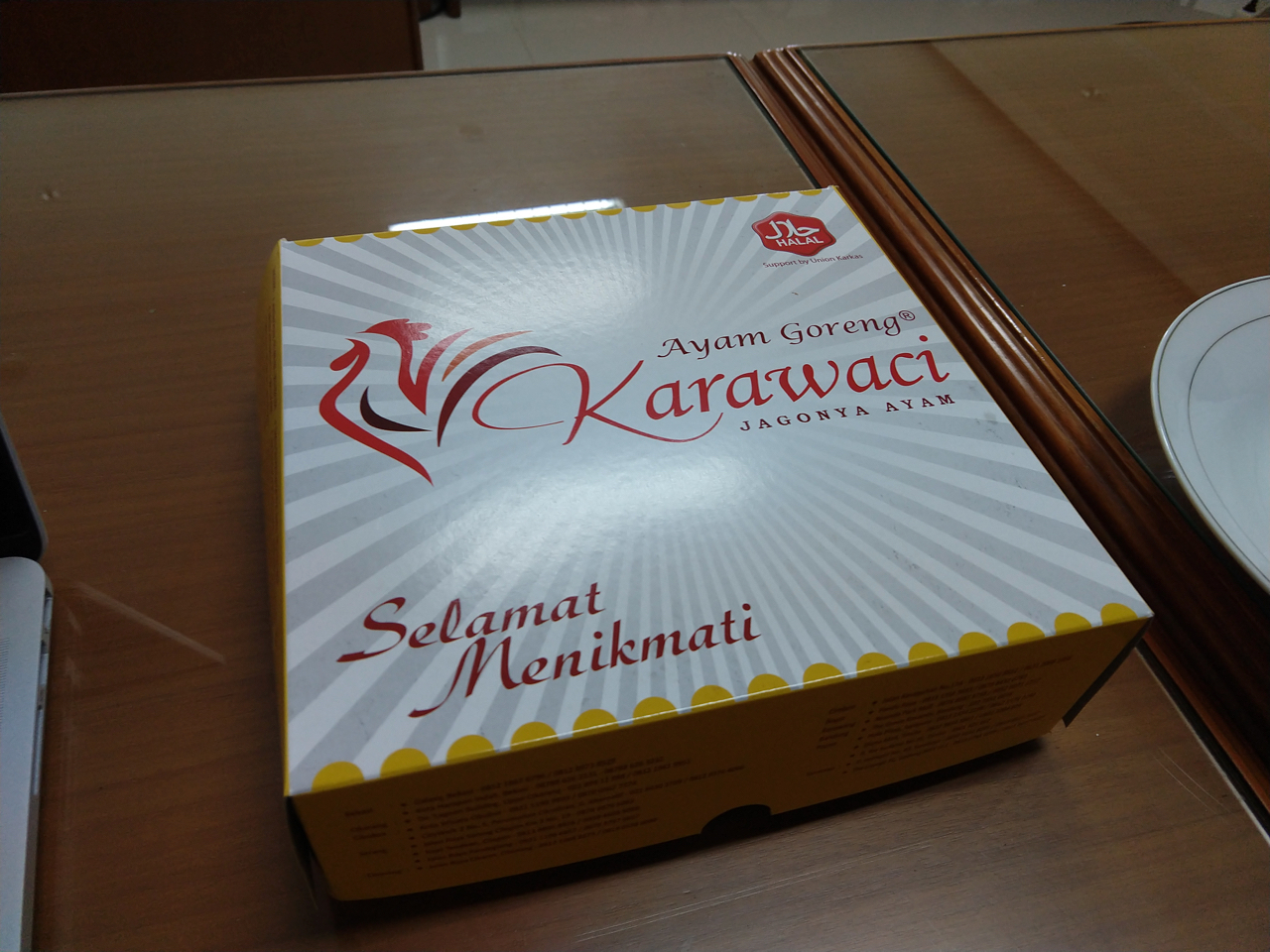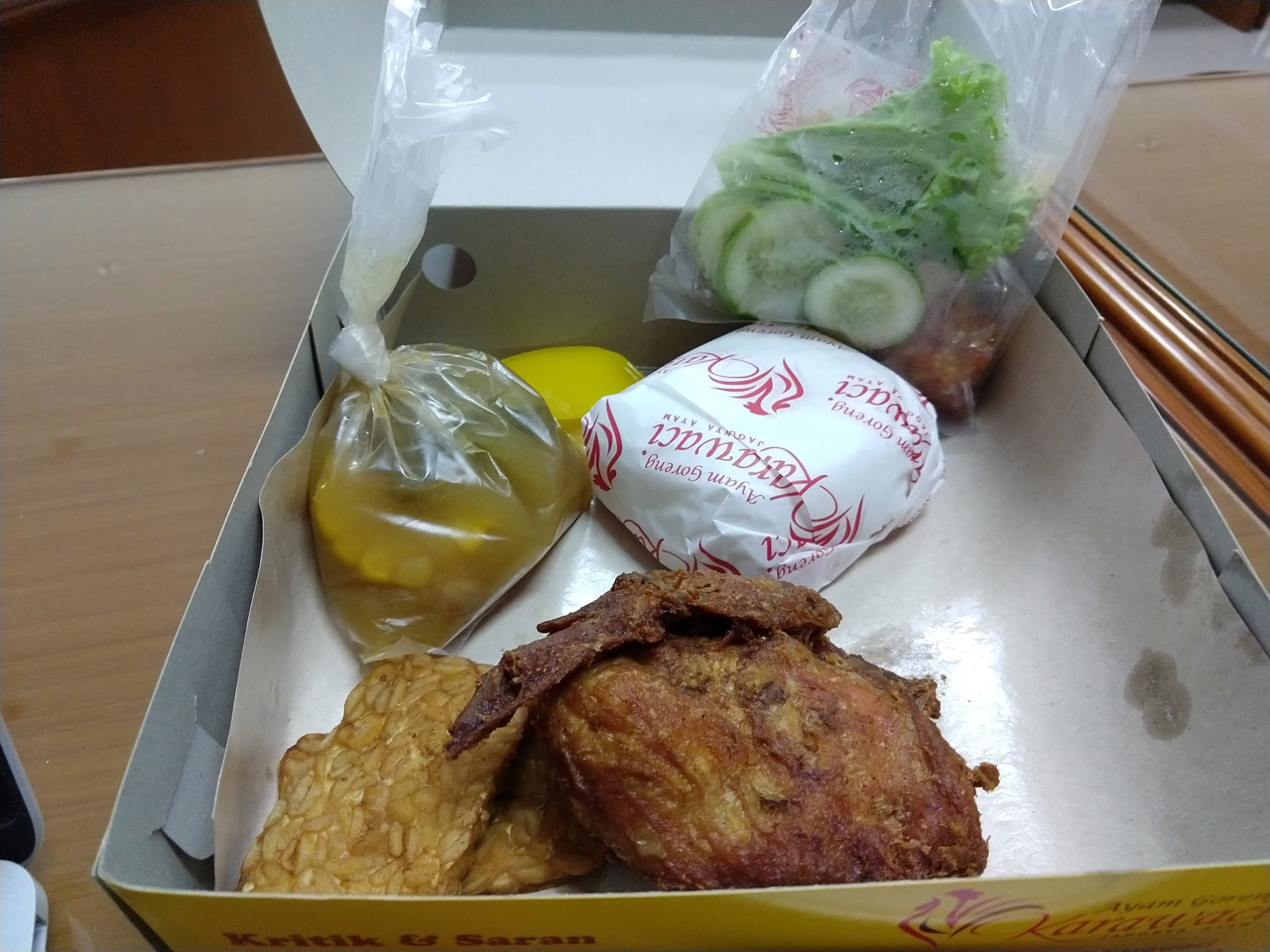 Wednesday
I enjoyed the breakfast at the hotel. There was a sweet soup made with bananas with pomegranate seeds at the bottom. Breakfast didn't seem much different than other meals. There would be rice, meat, and soup.
We held our first workshop and it was well attended. I was interviewed for a radio show.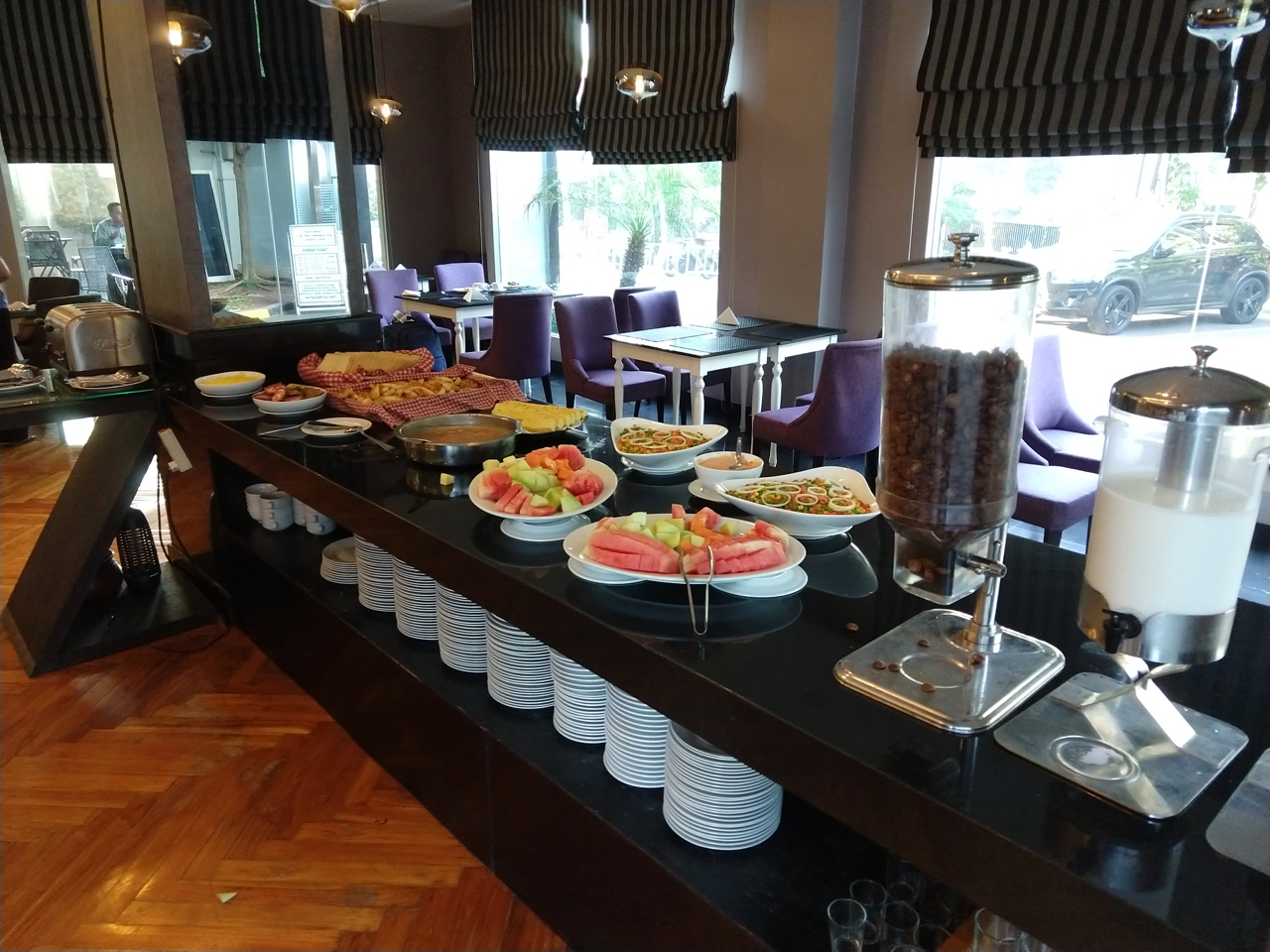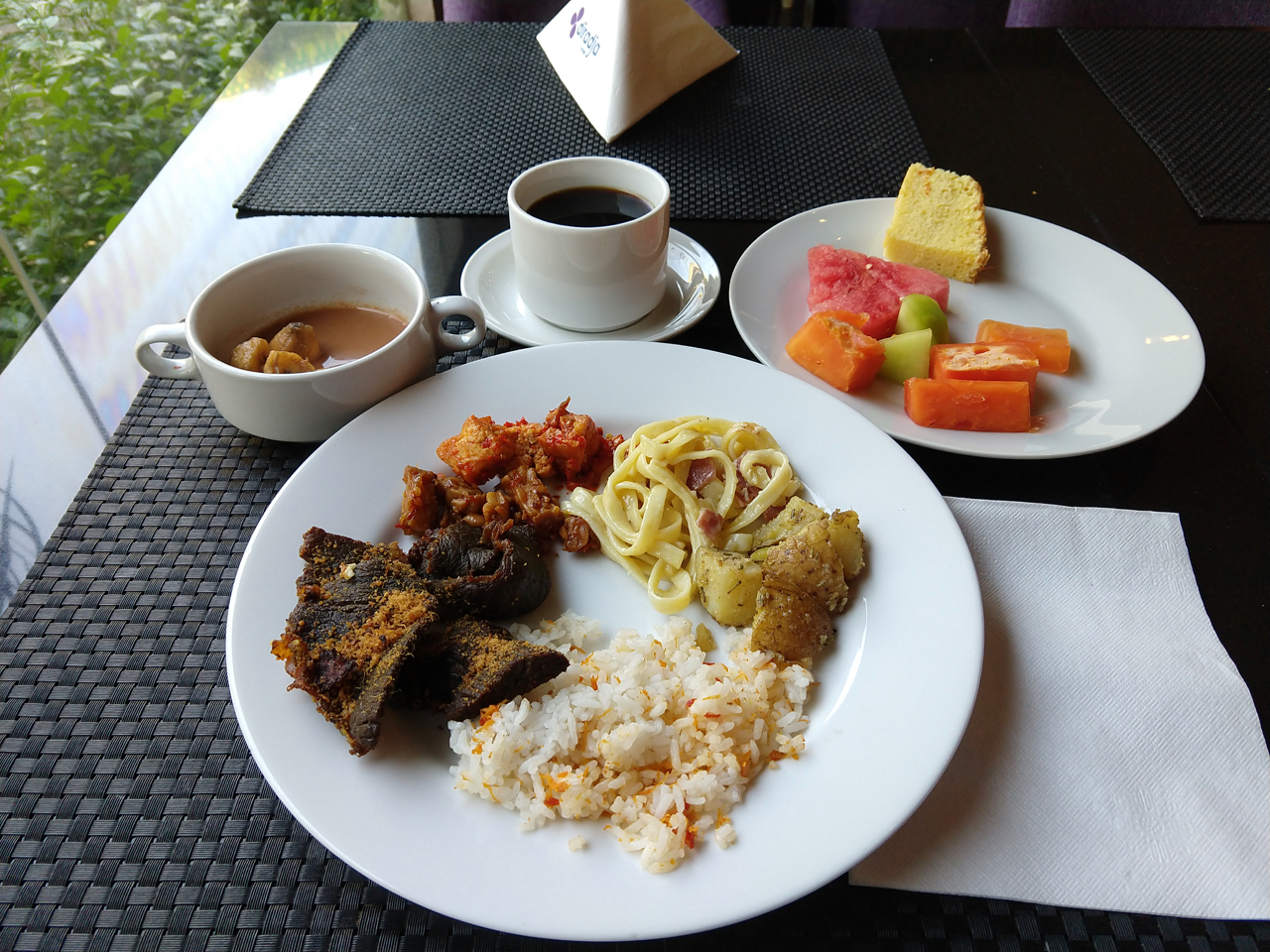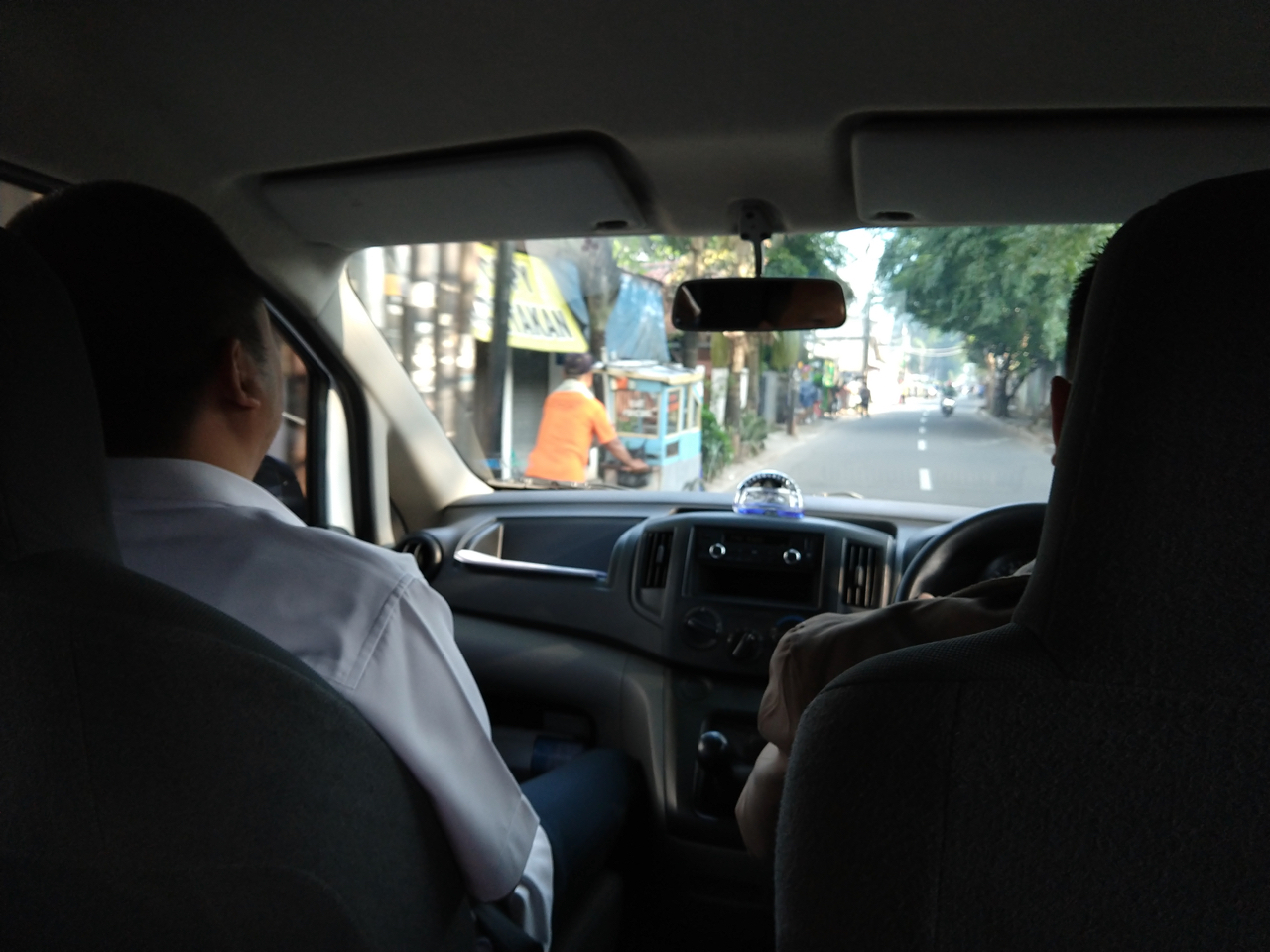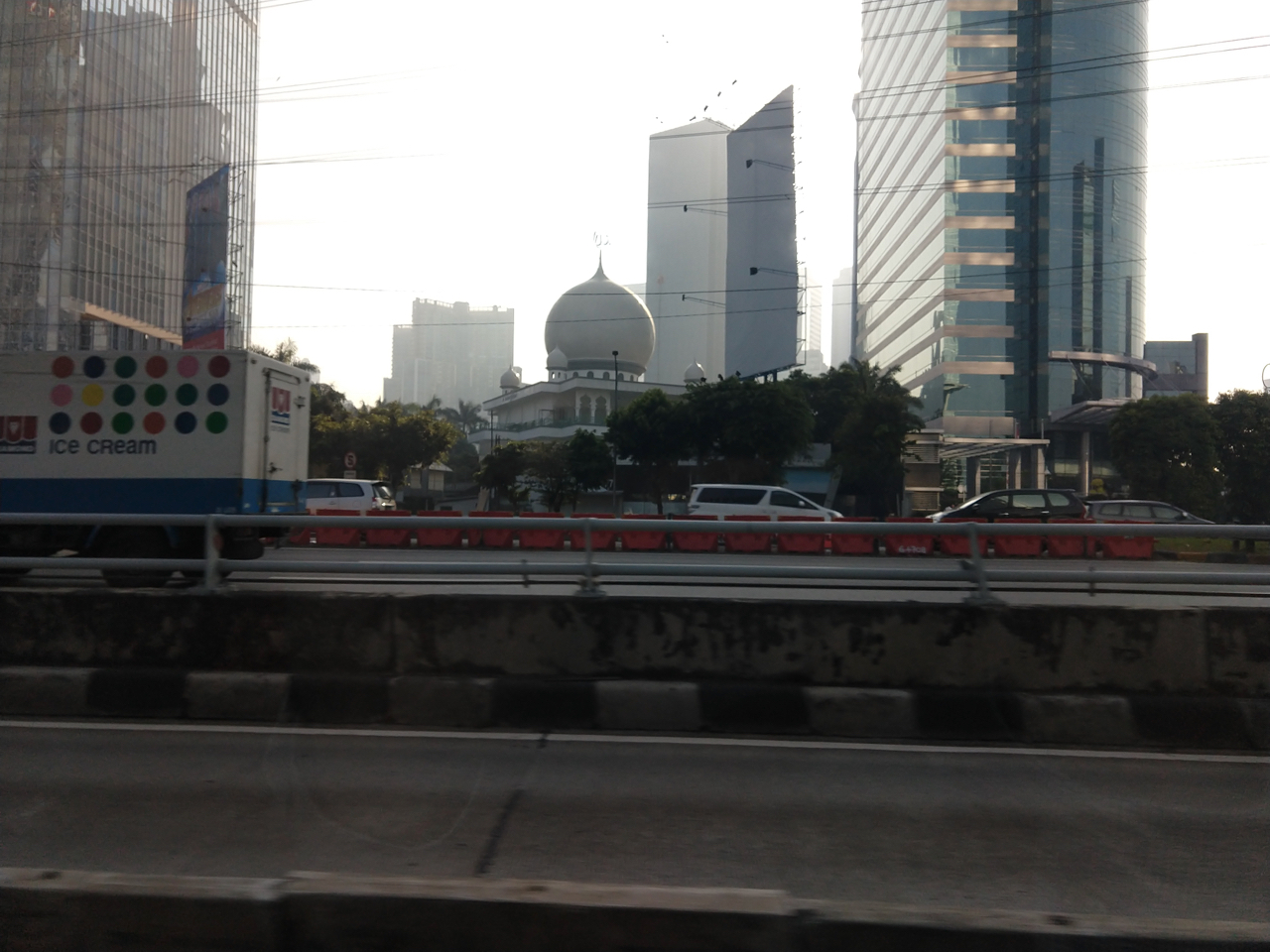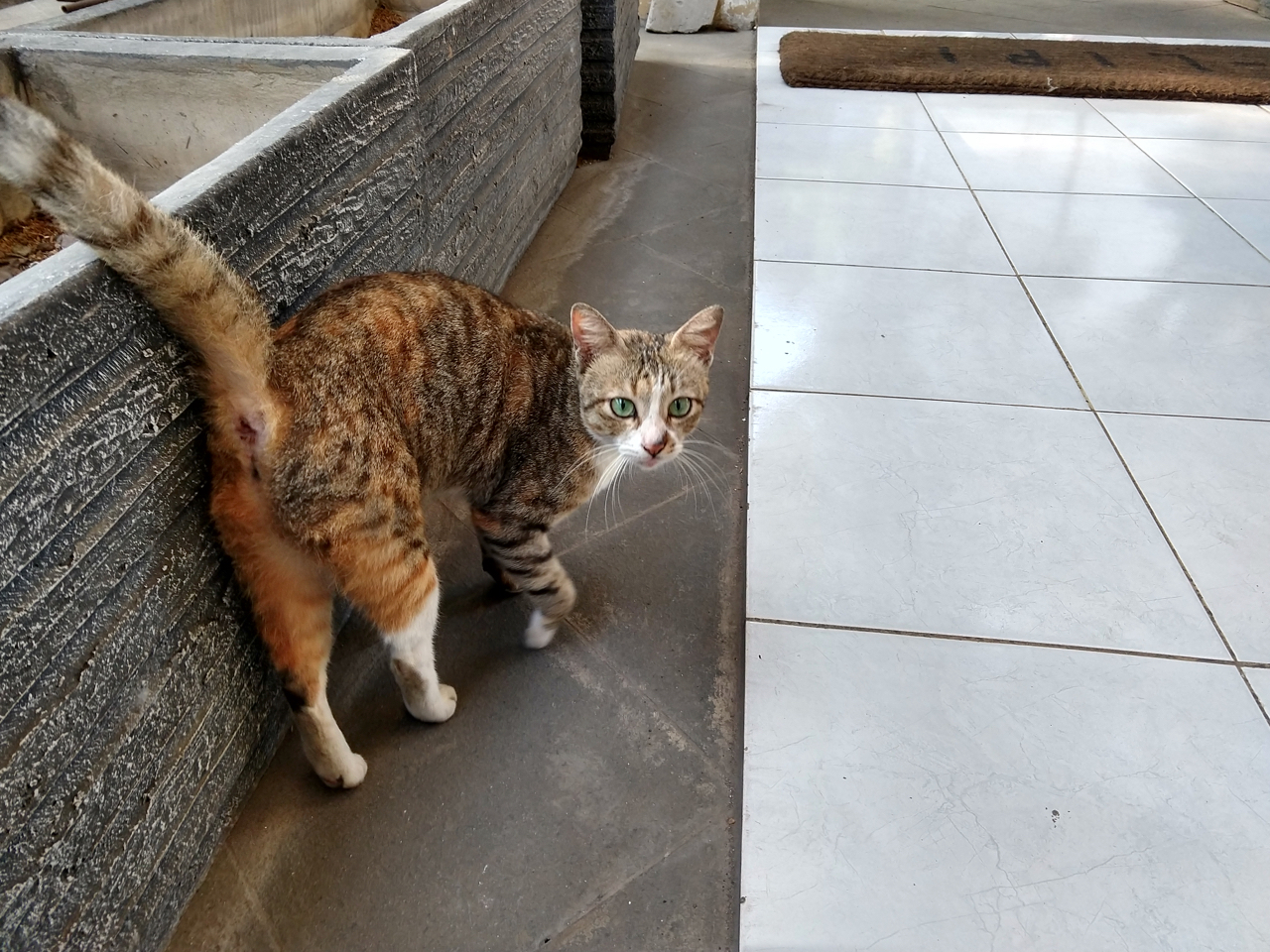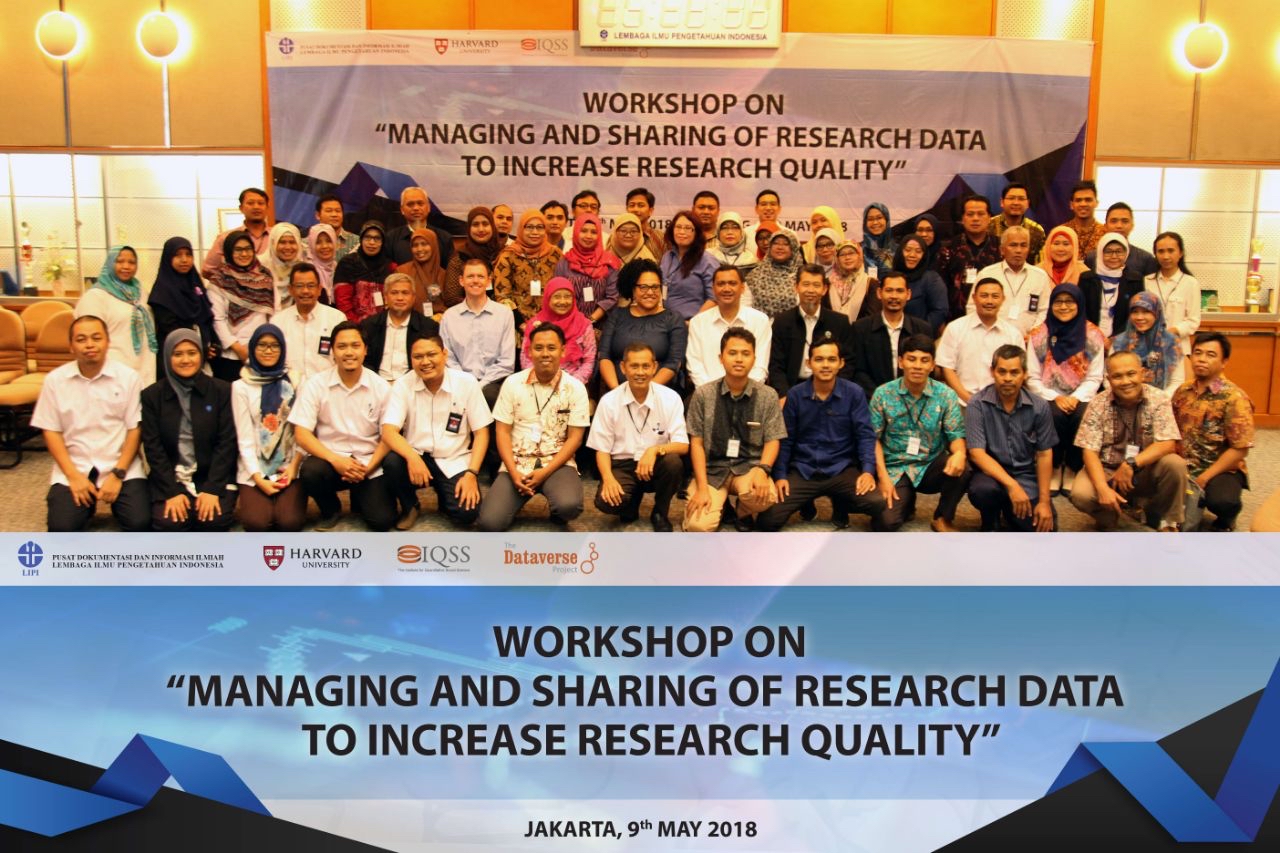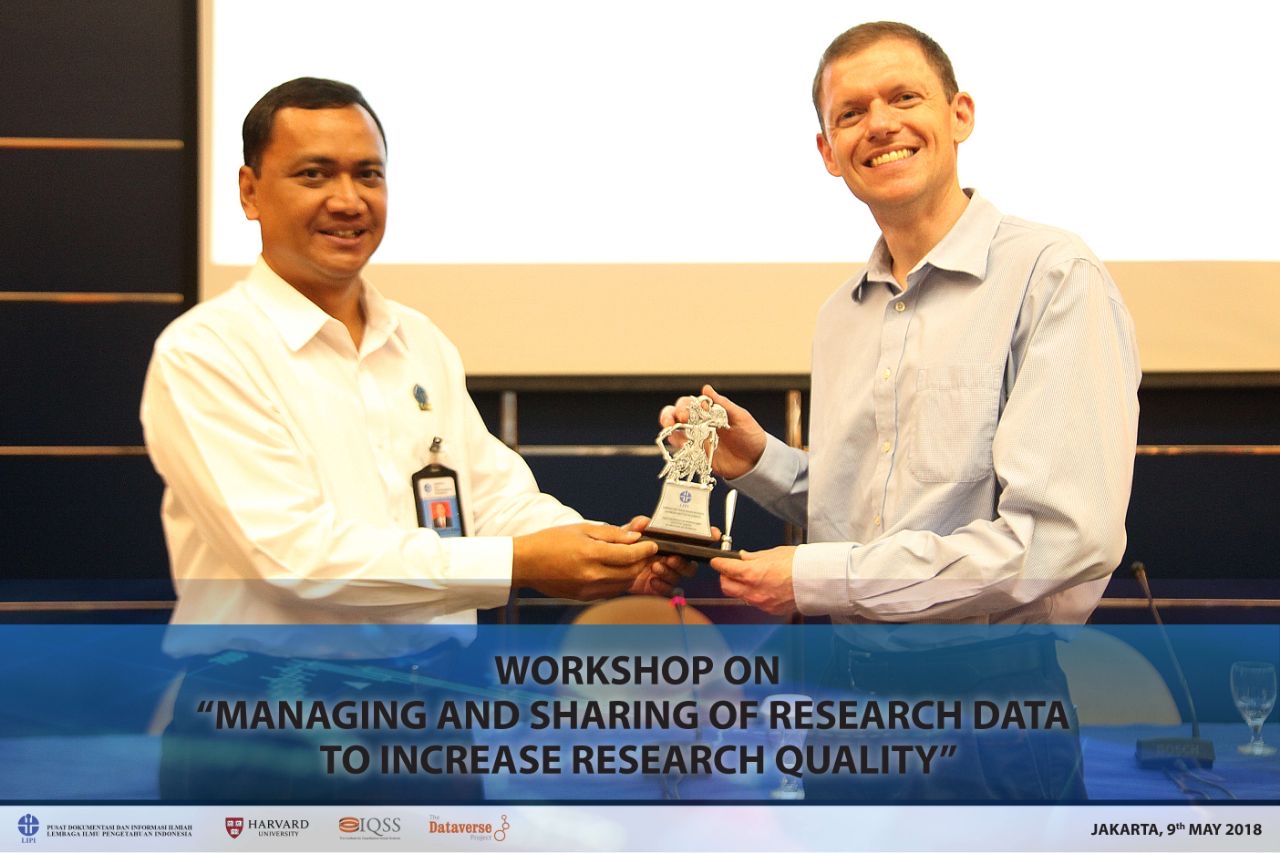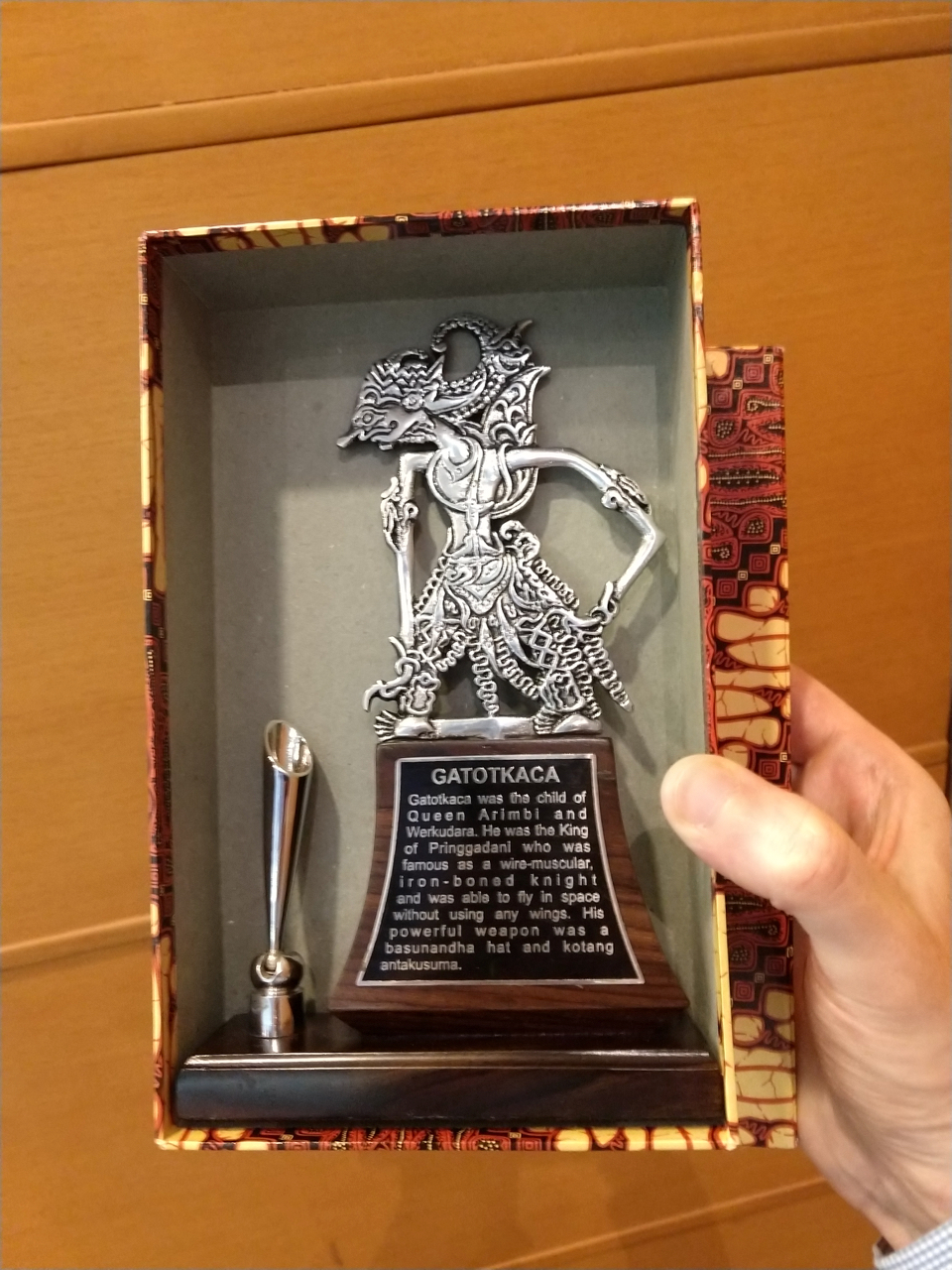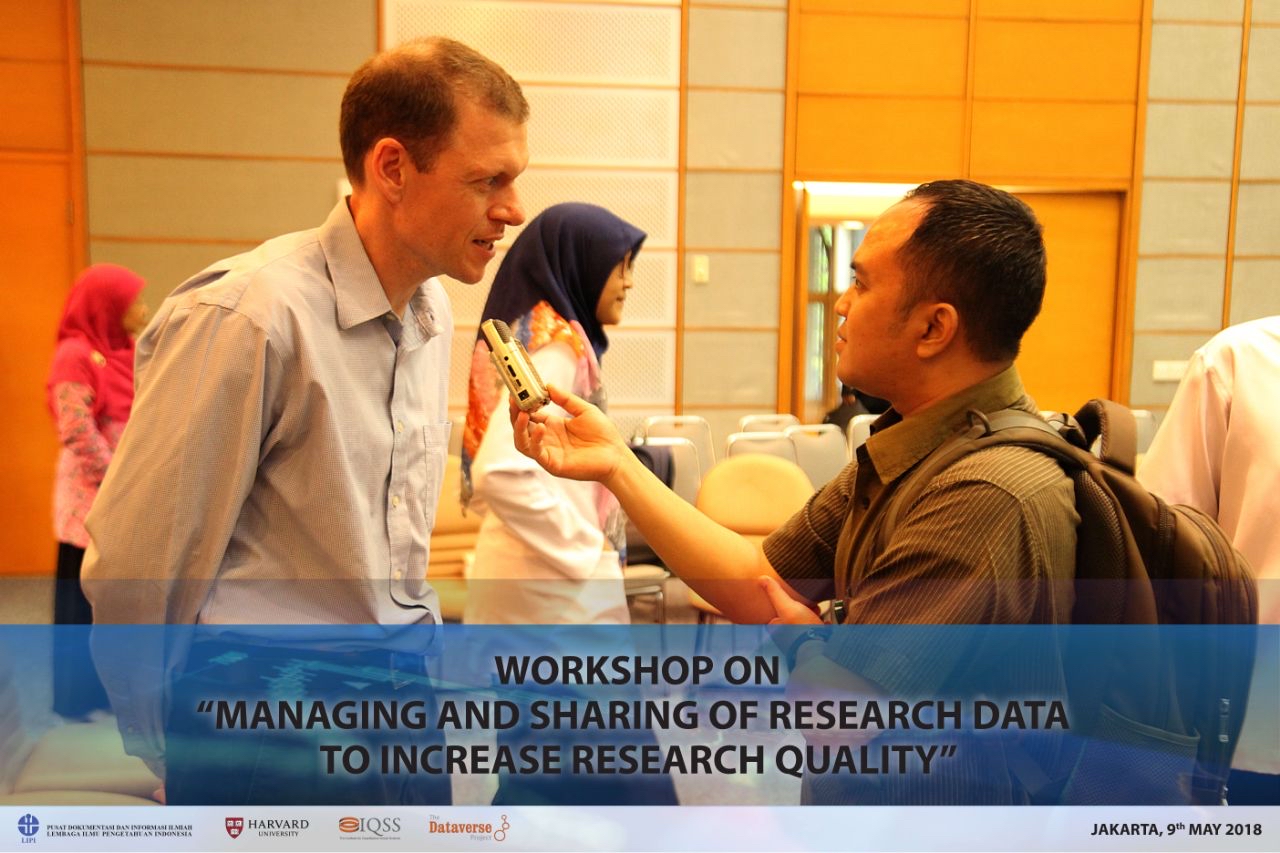 The afternoon talks were in Indonesia so we were brought to Taman Mini Indonesia Indah ("mini garden"), where we walked around an exhibit on Bali and had iced coffee from Sumatra.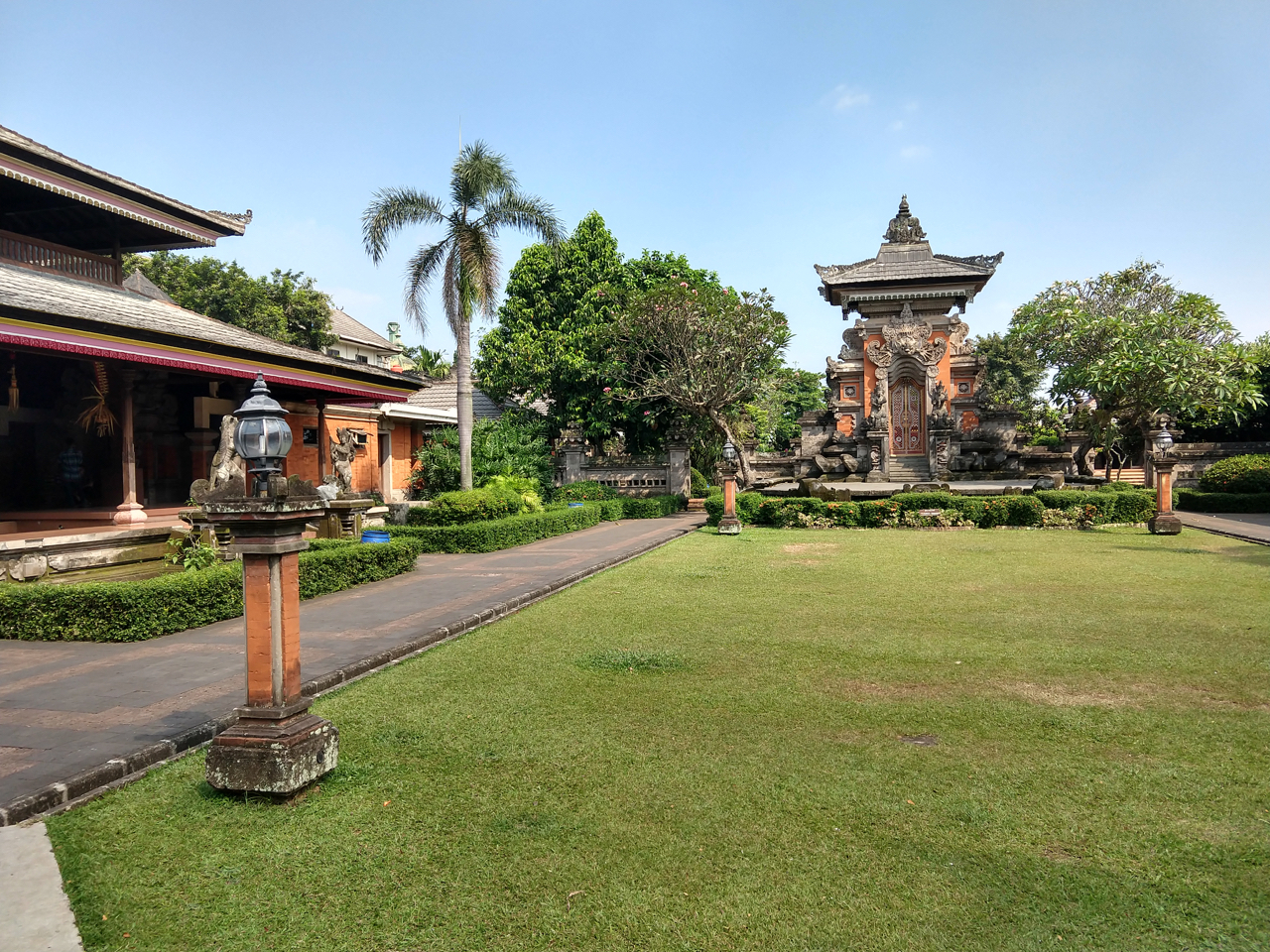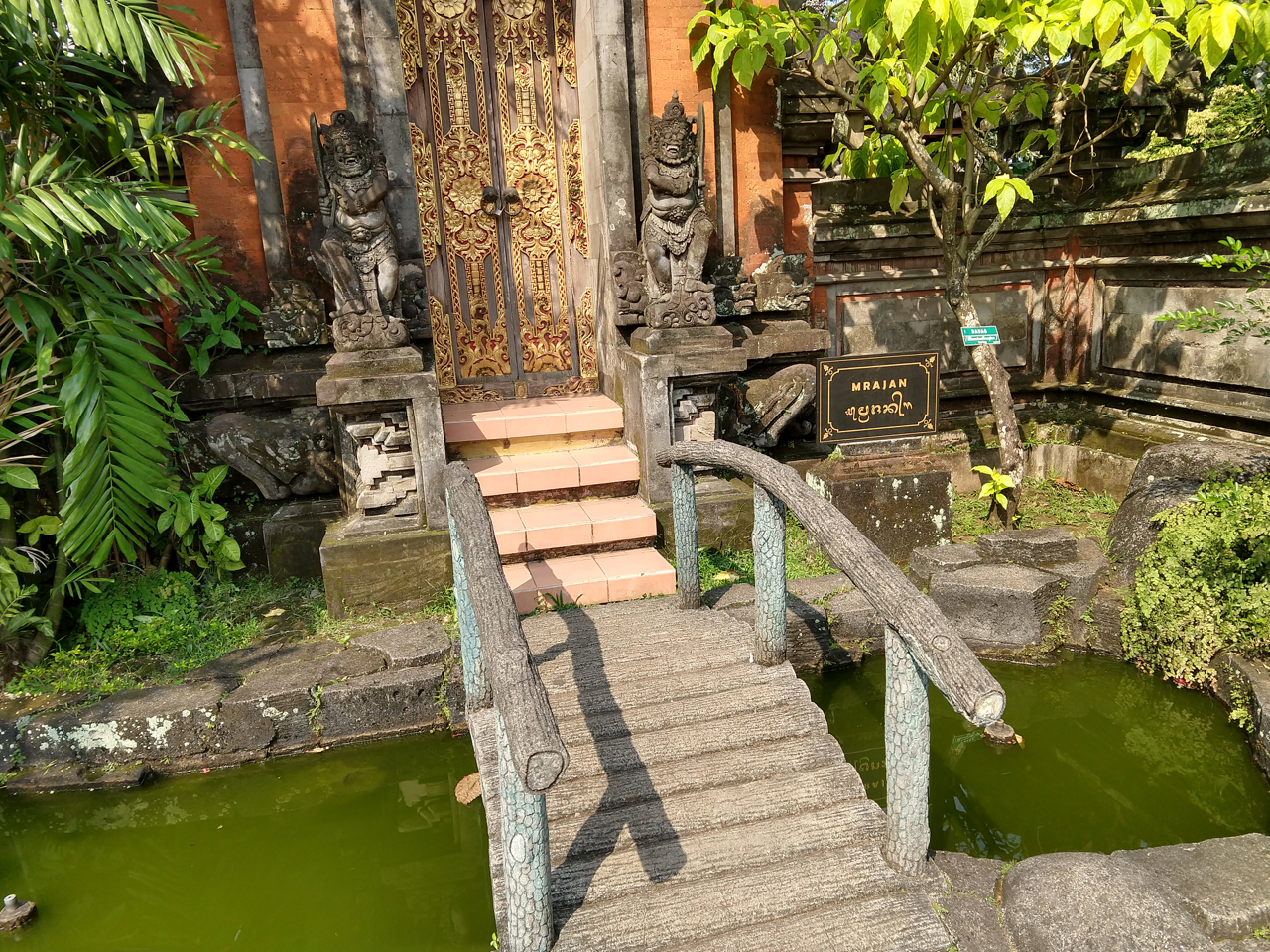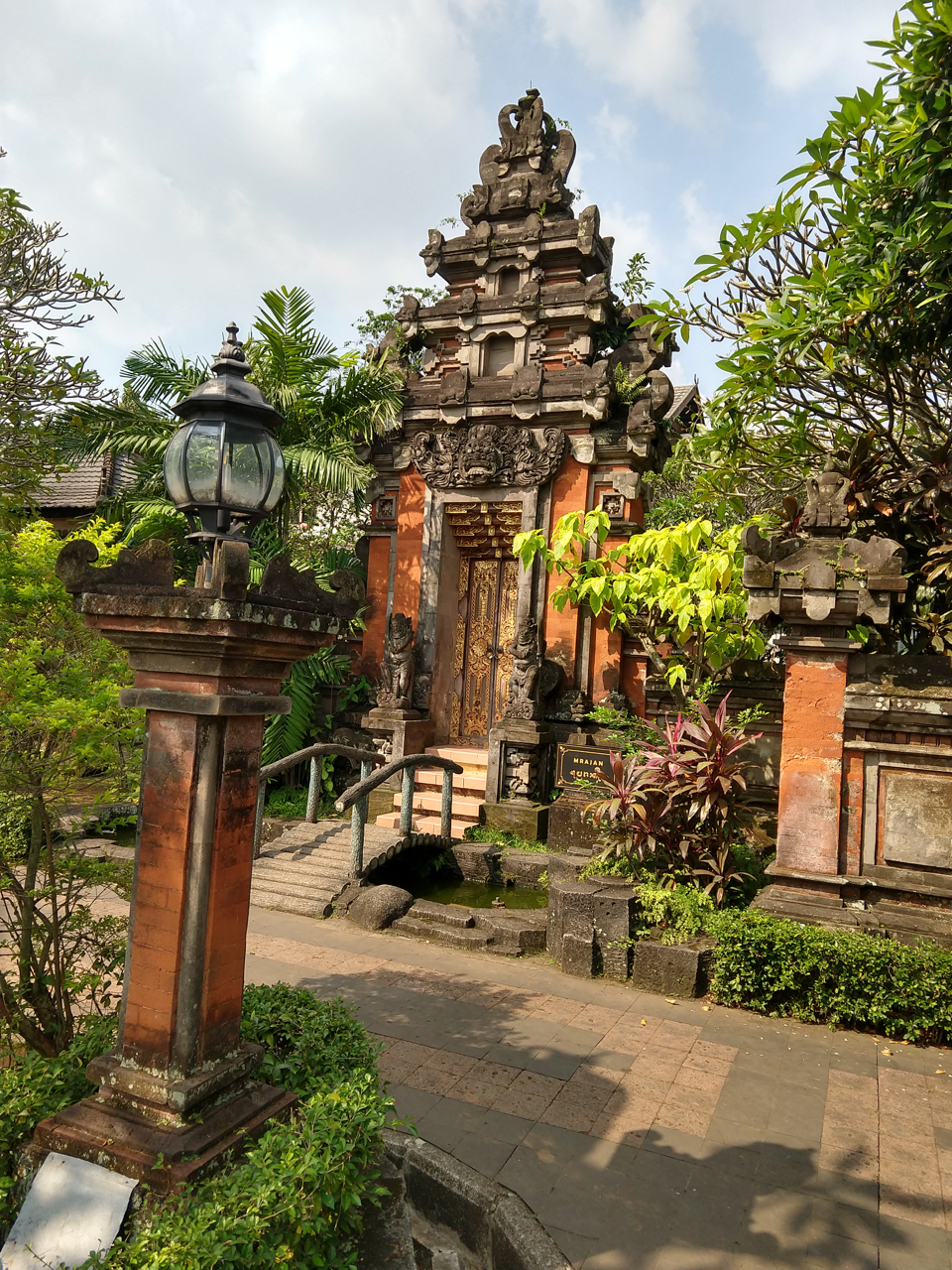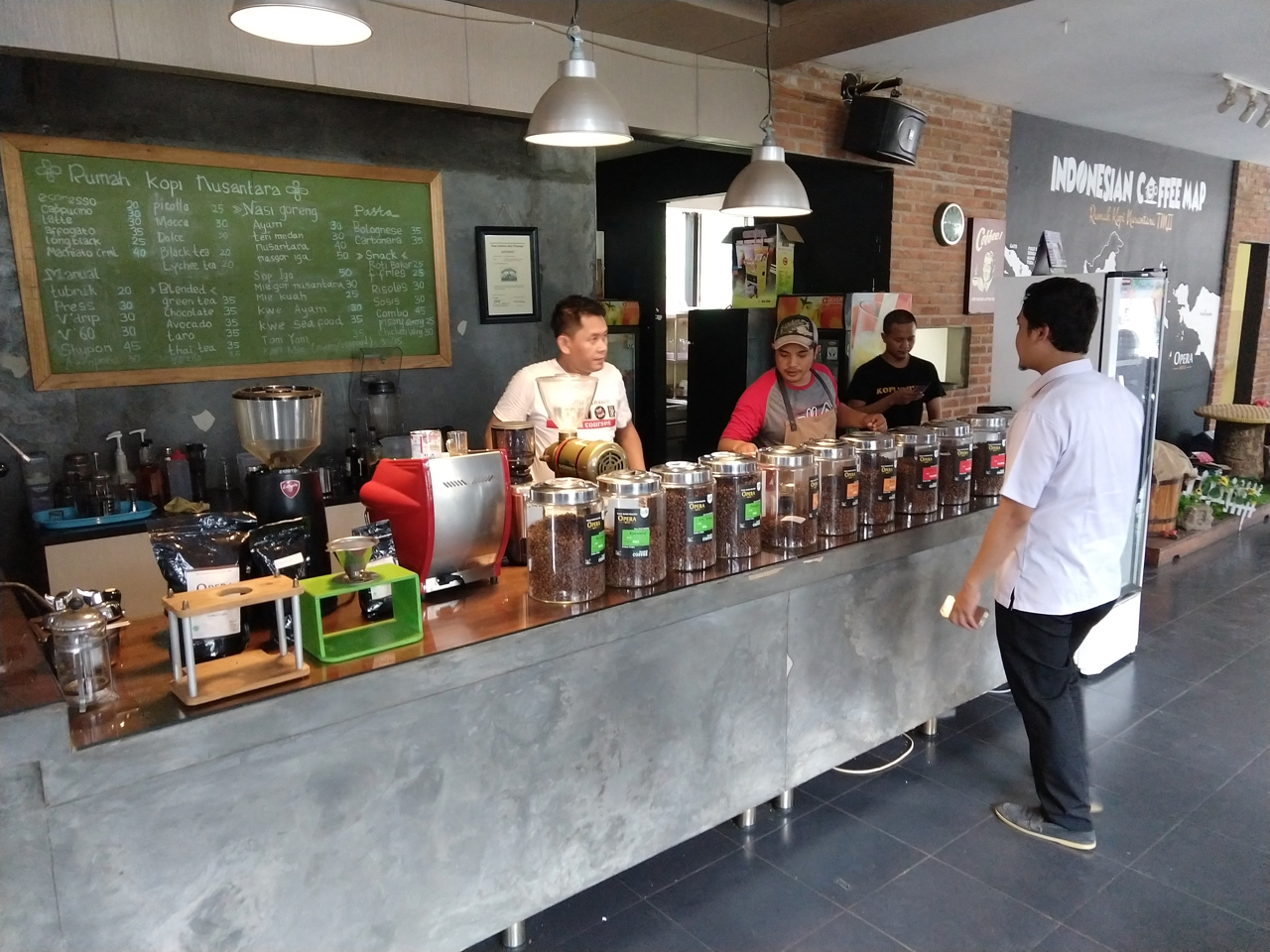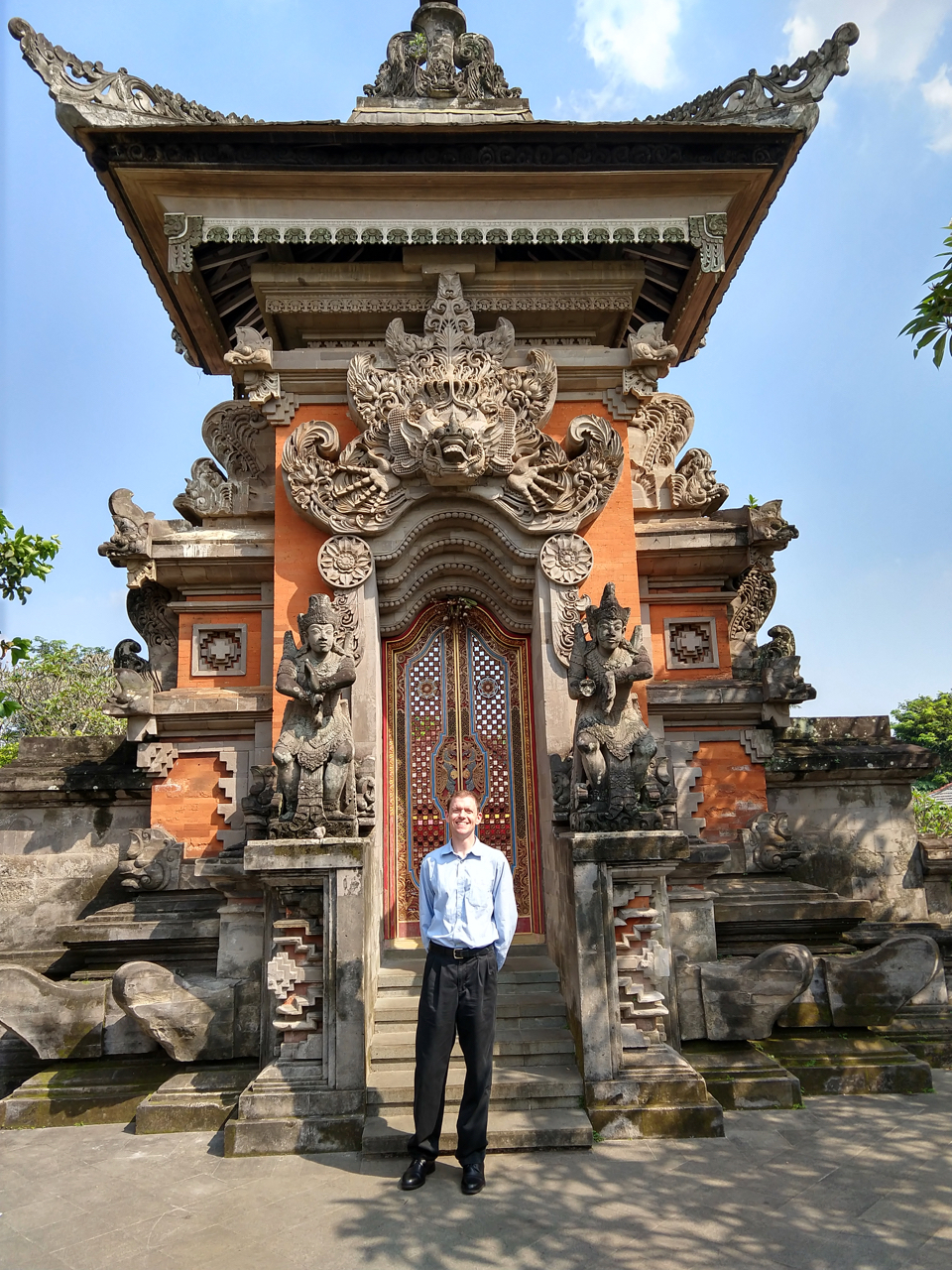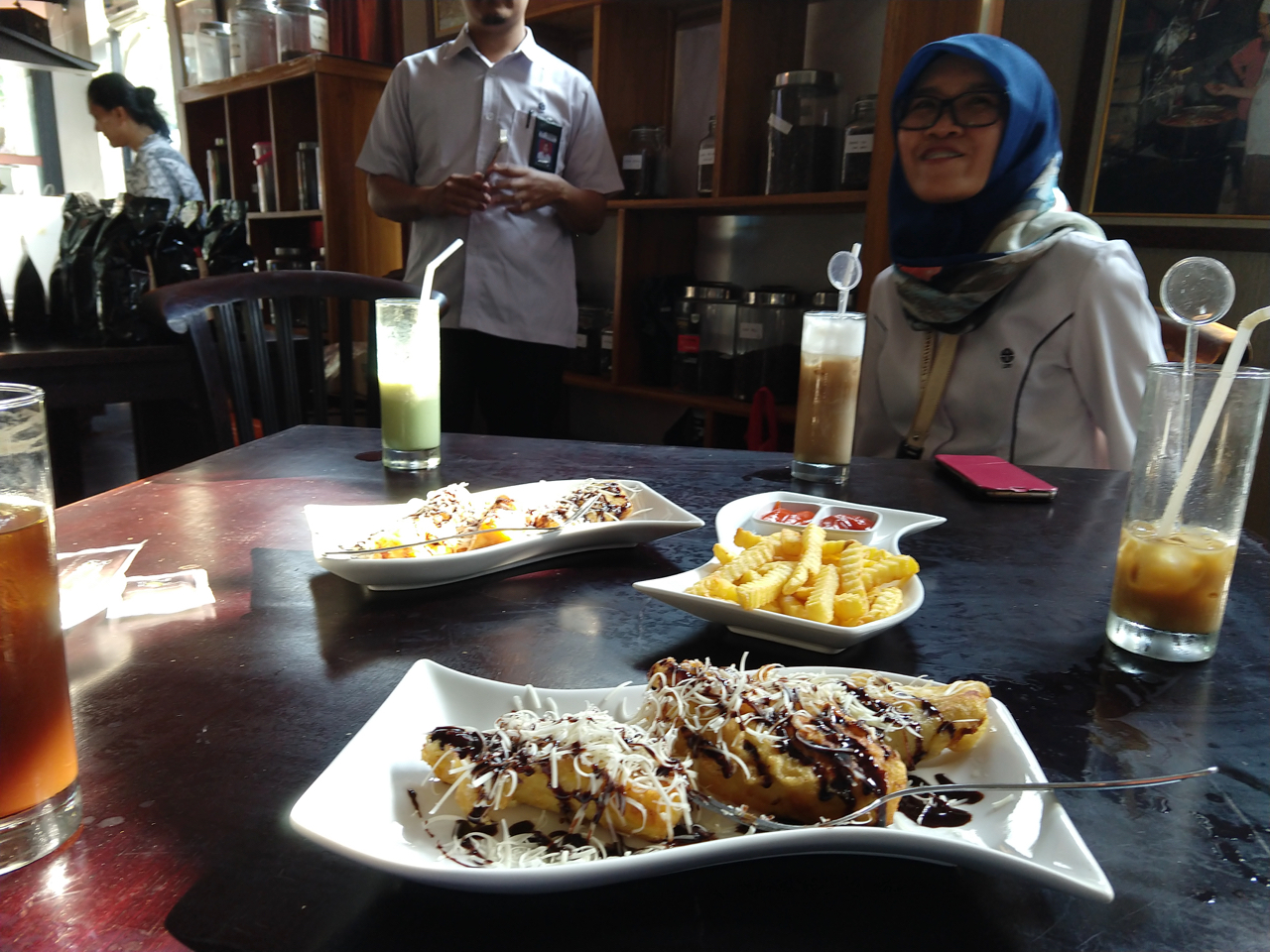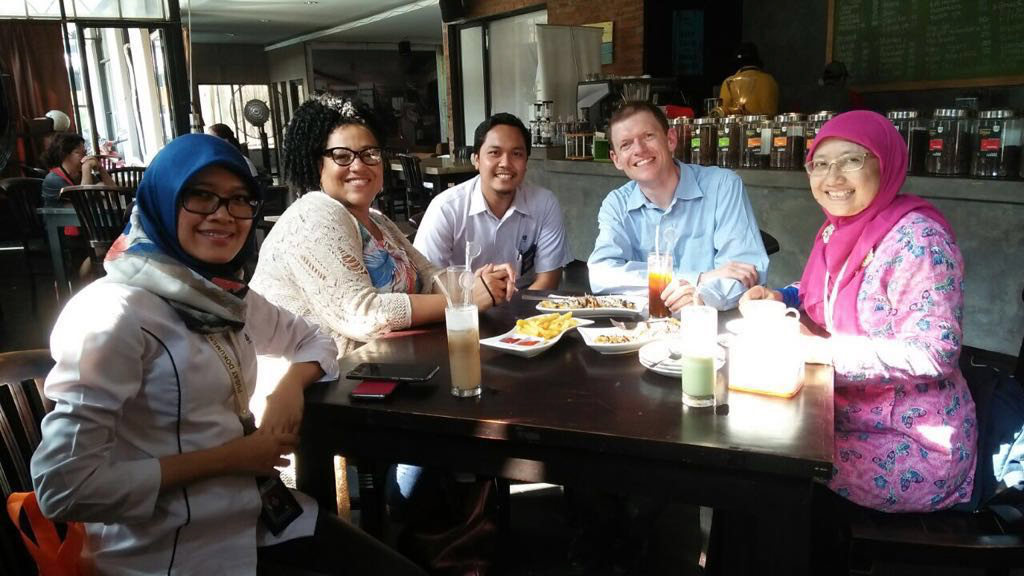 That evening we boarded a train to Bandung and had dinner on the train. Oddly, the movie was Draft Day about the Cleveland Browns.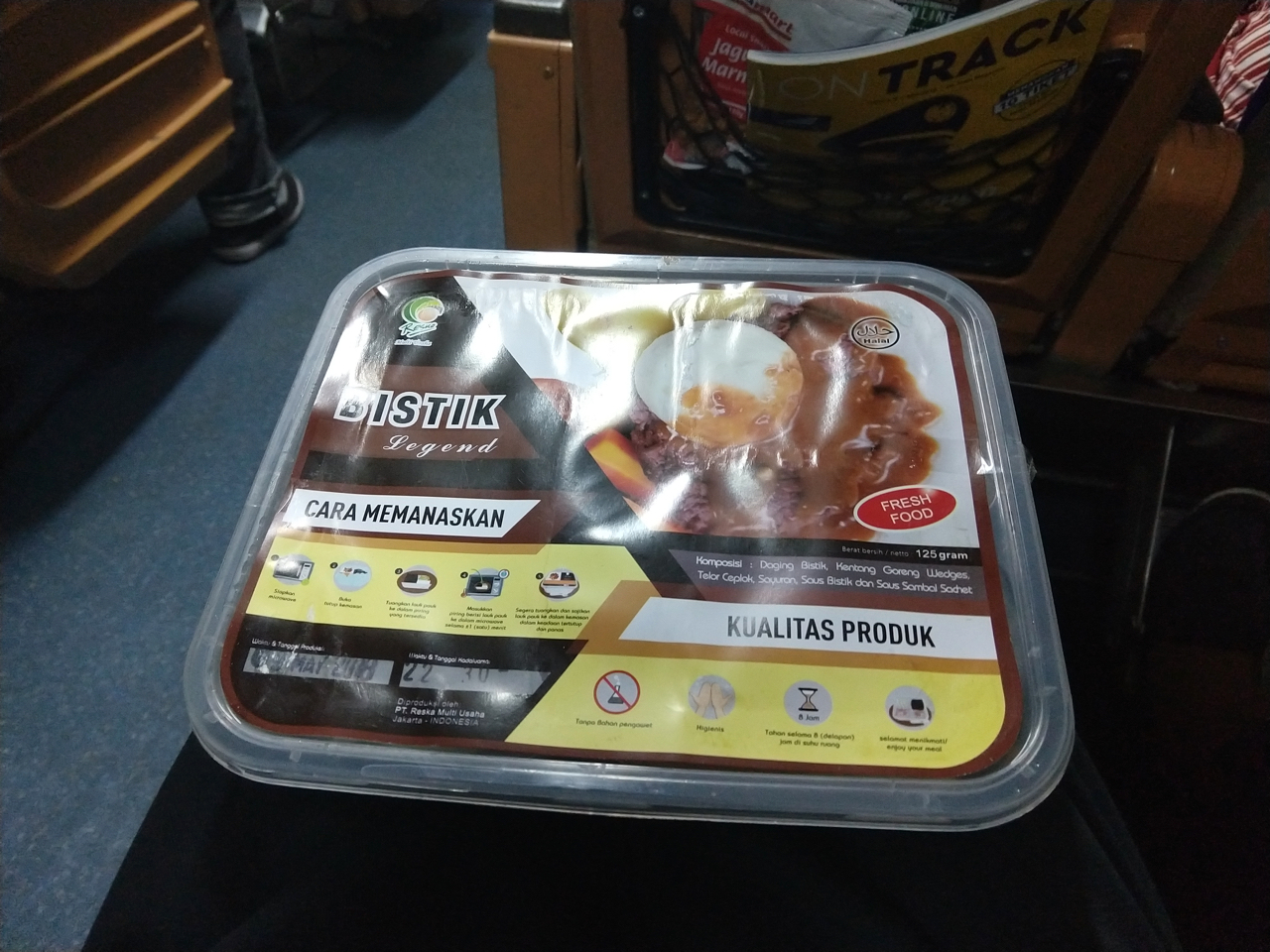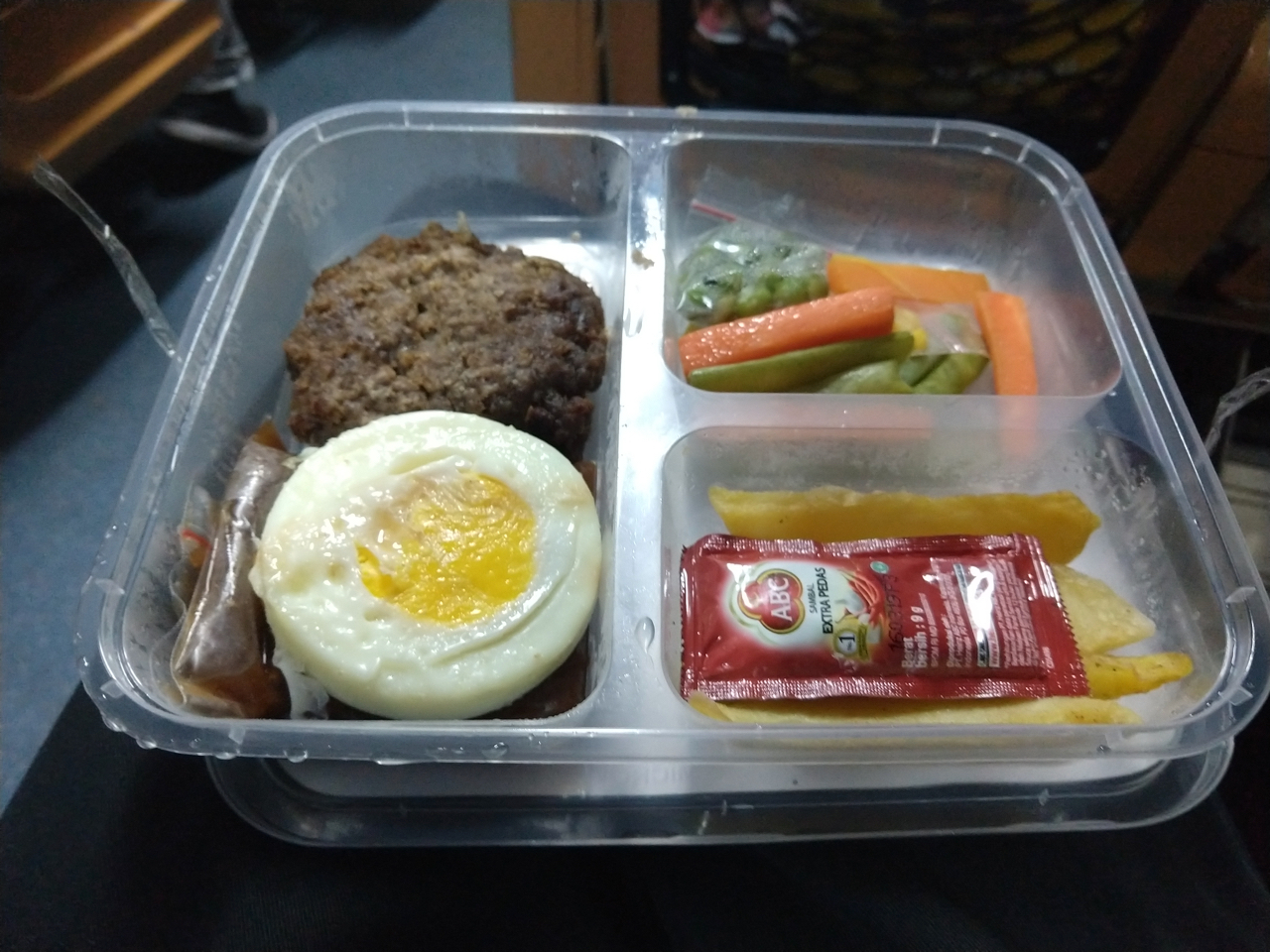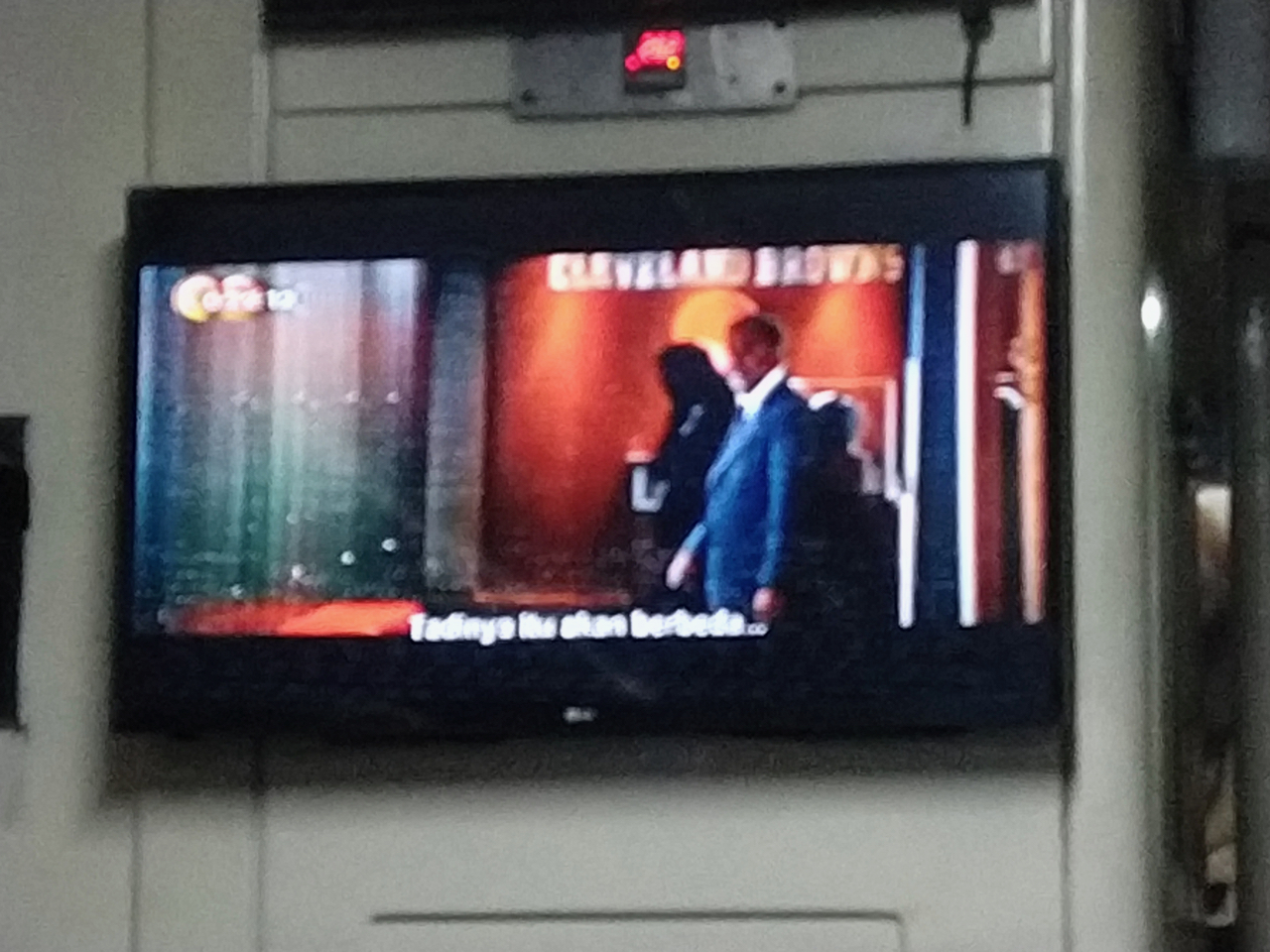 Thursday
The hotel in Bandung was nice. Thursday was a holiday and our hosts took us to three places. The first was Tangkuban Perahu. I found it entertaining that there was such a price difference for a domestic visitor vs. a "bule" like me. The guy at the gate suspected that a member of our group wasn't entirely Indonesian.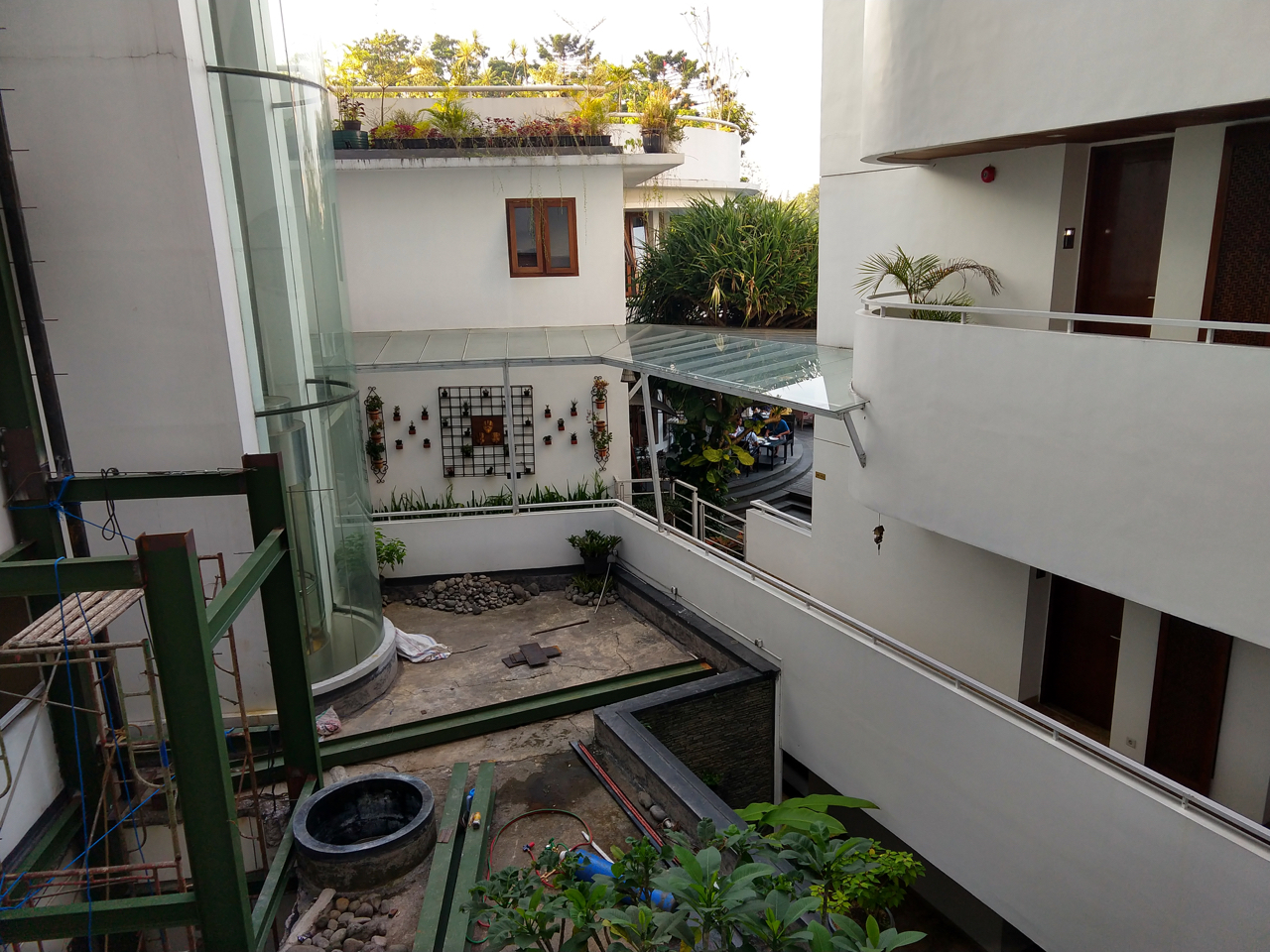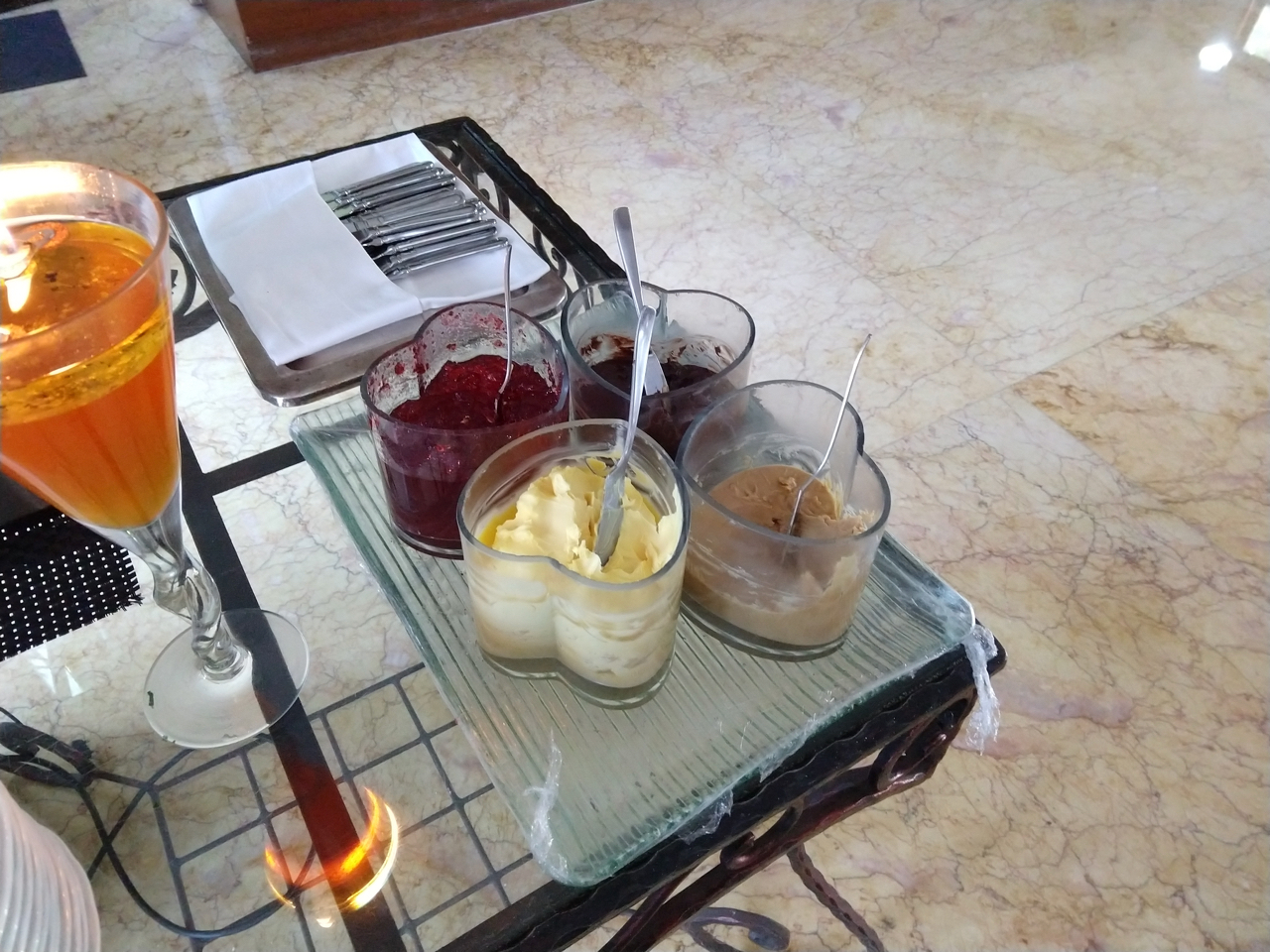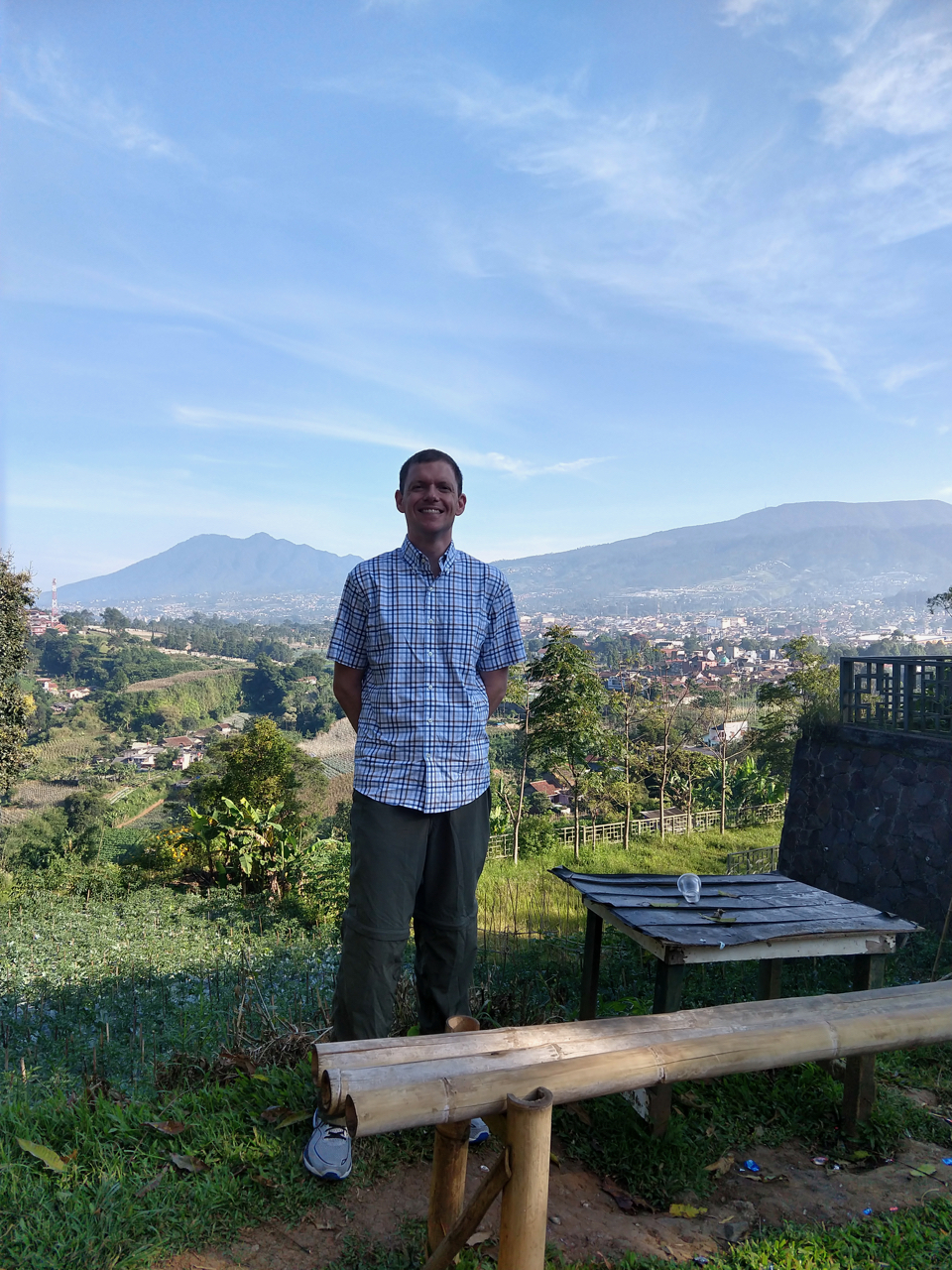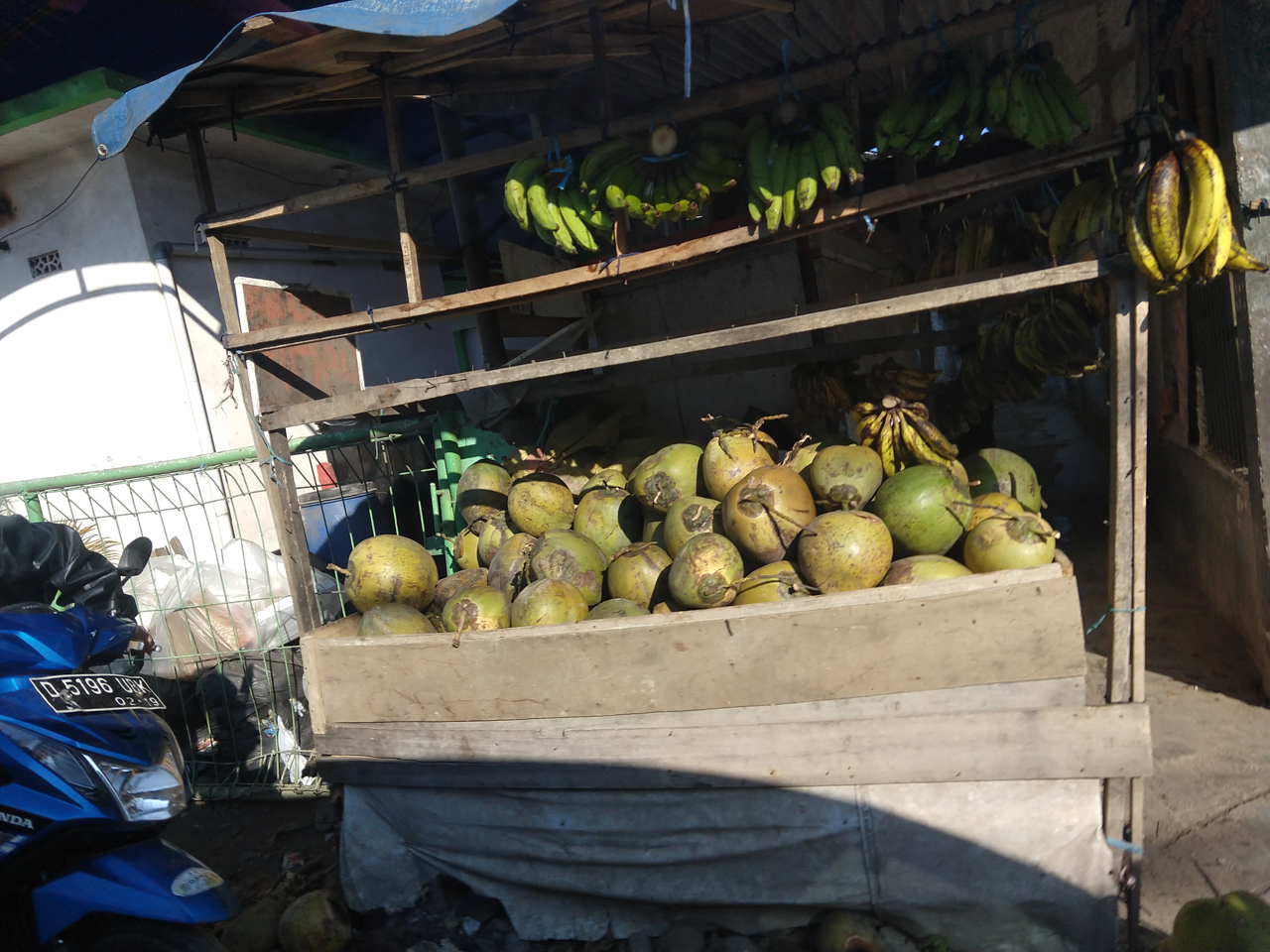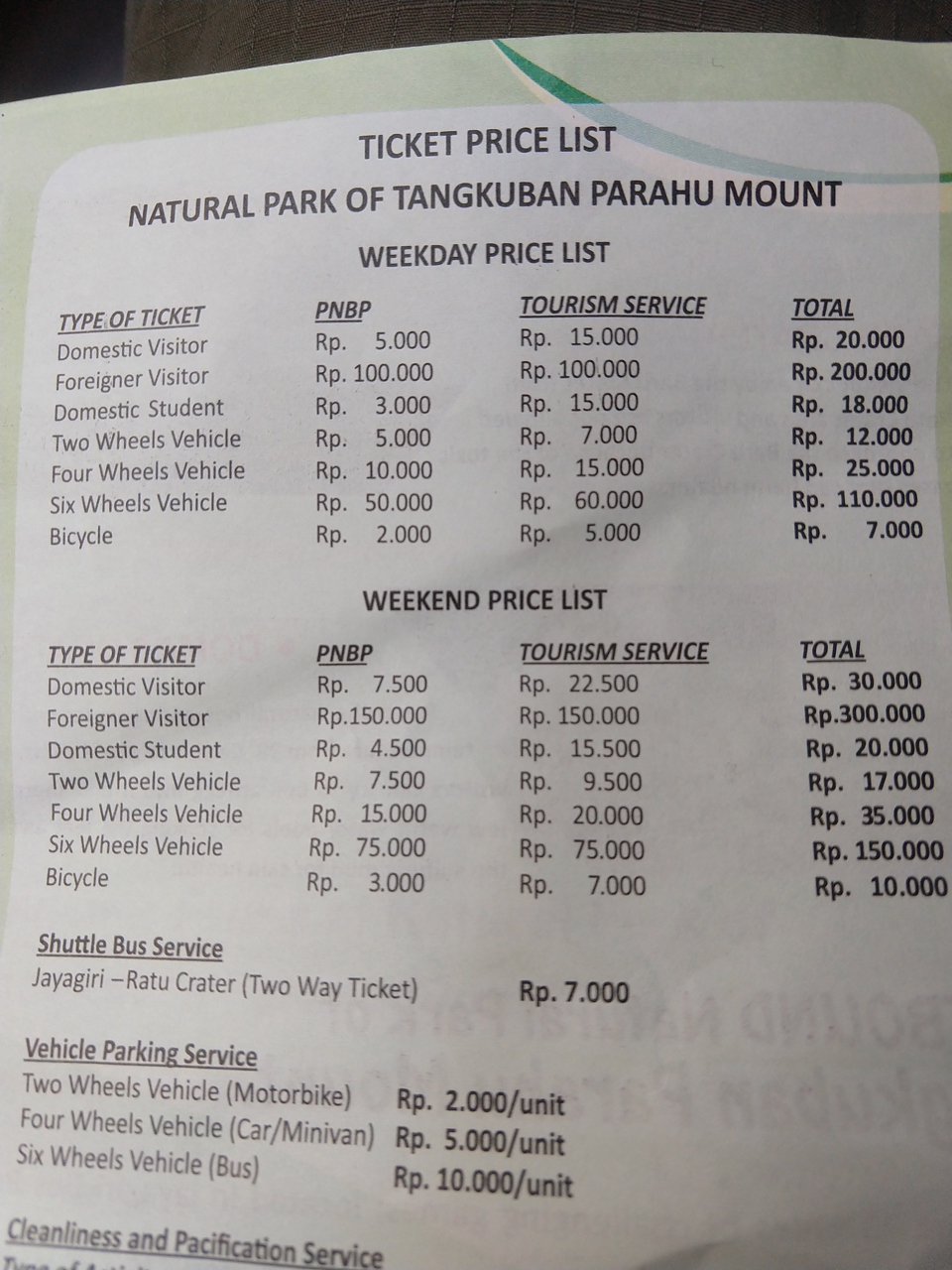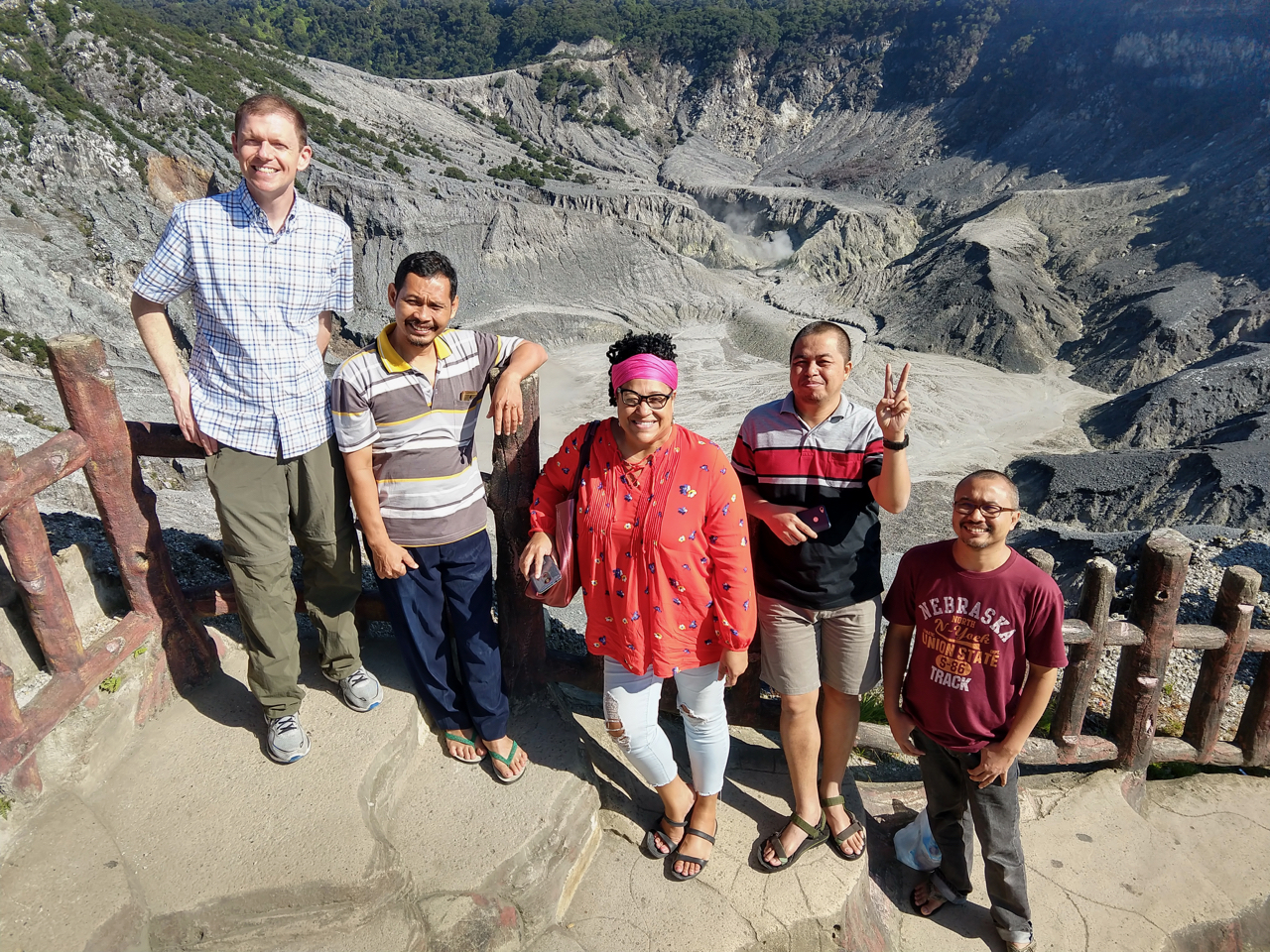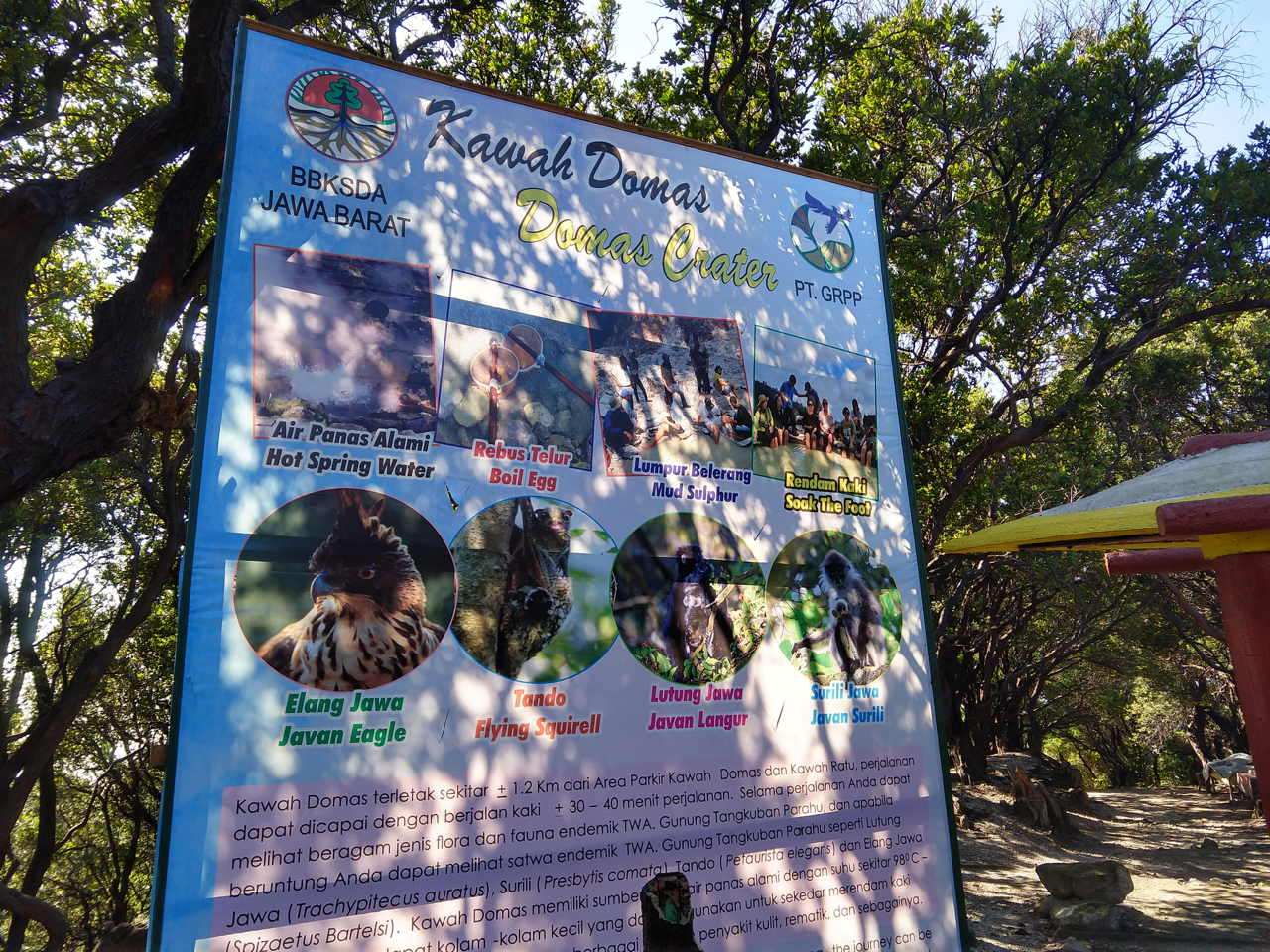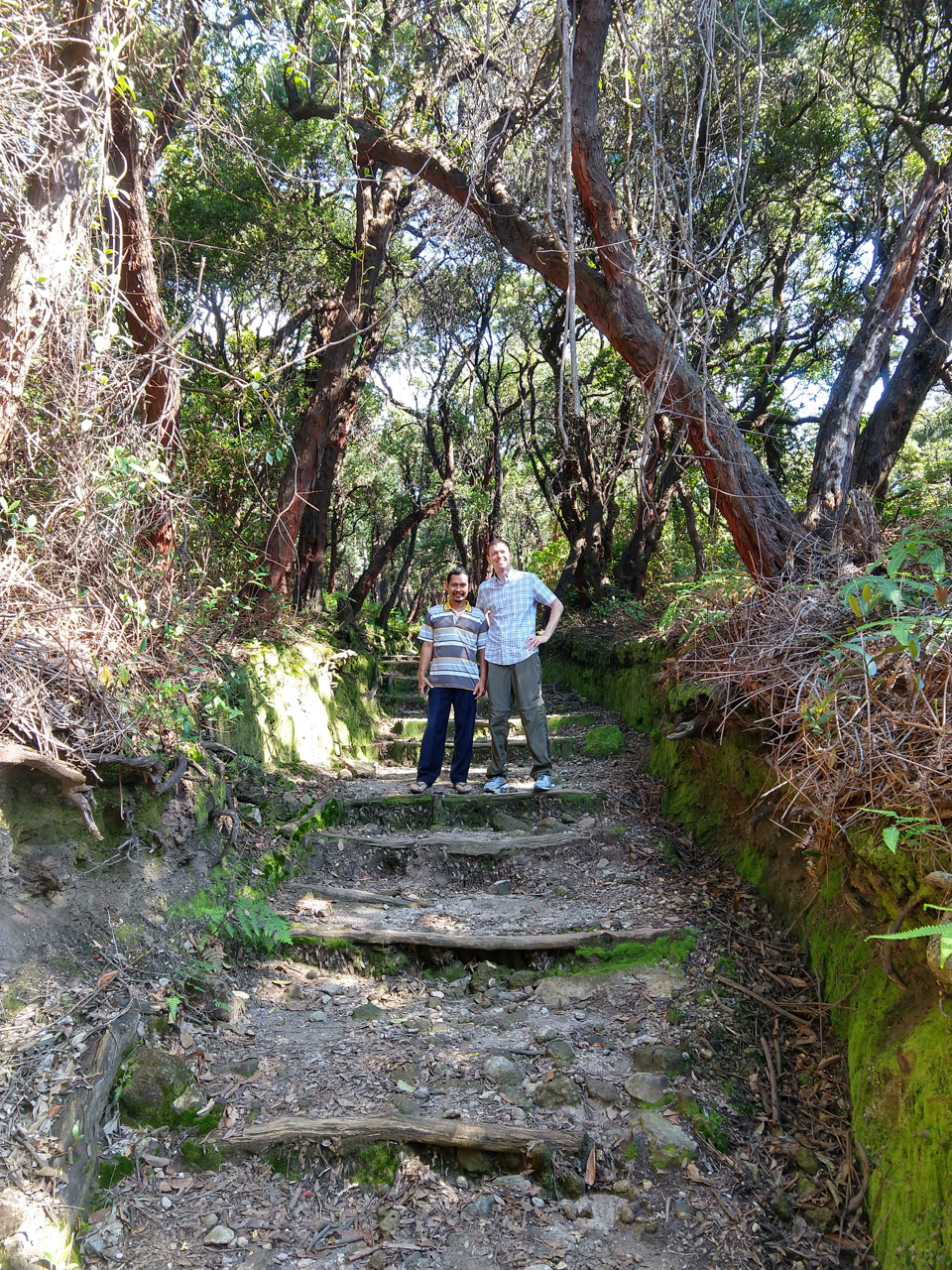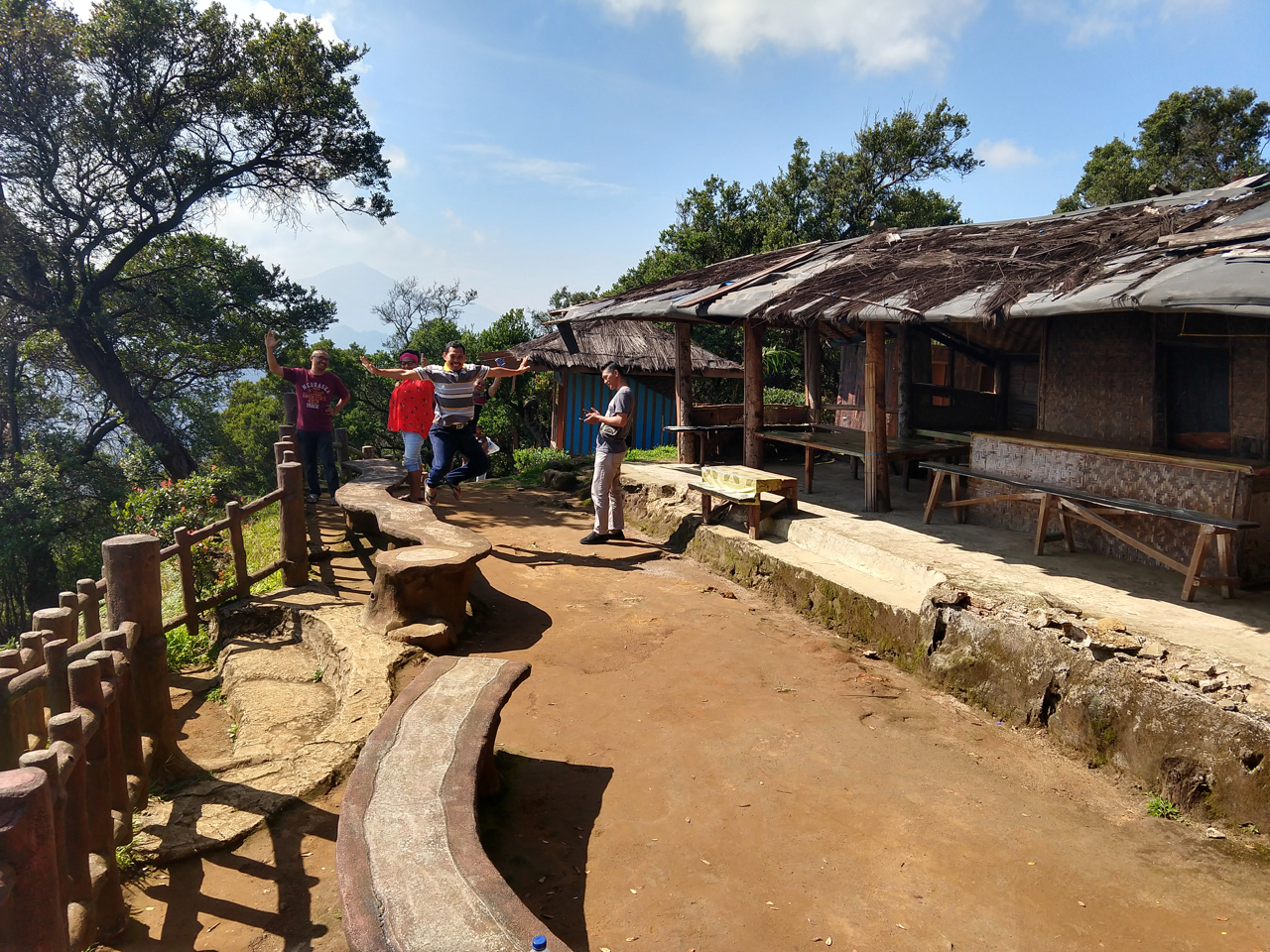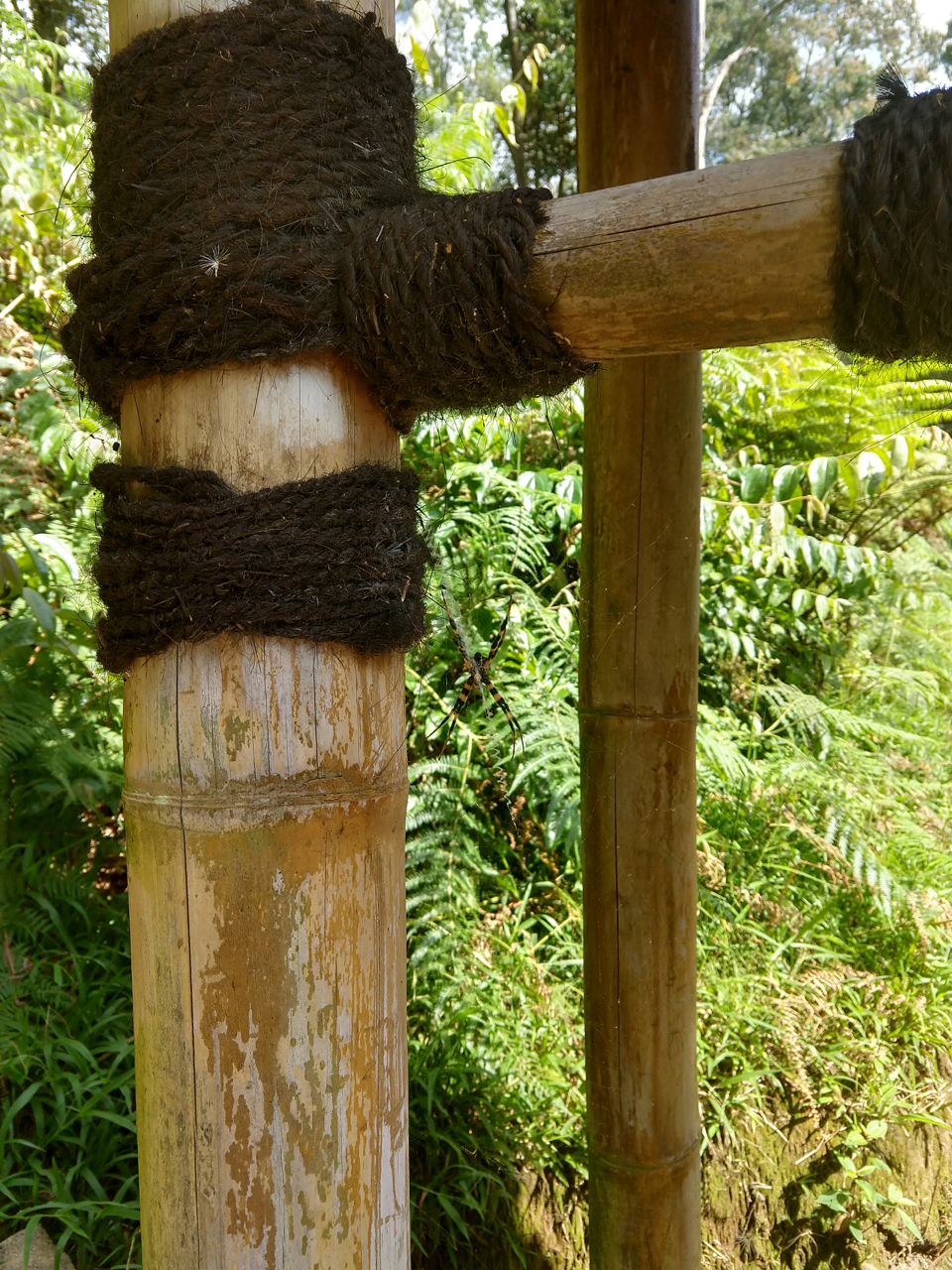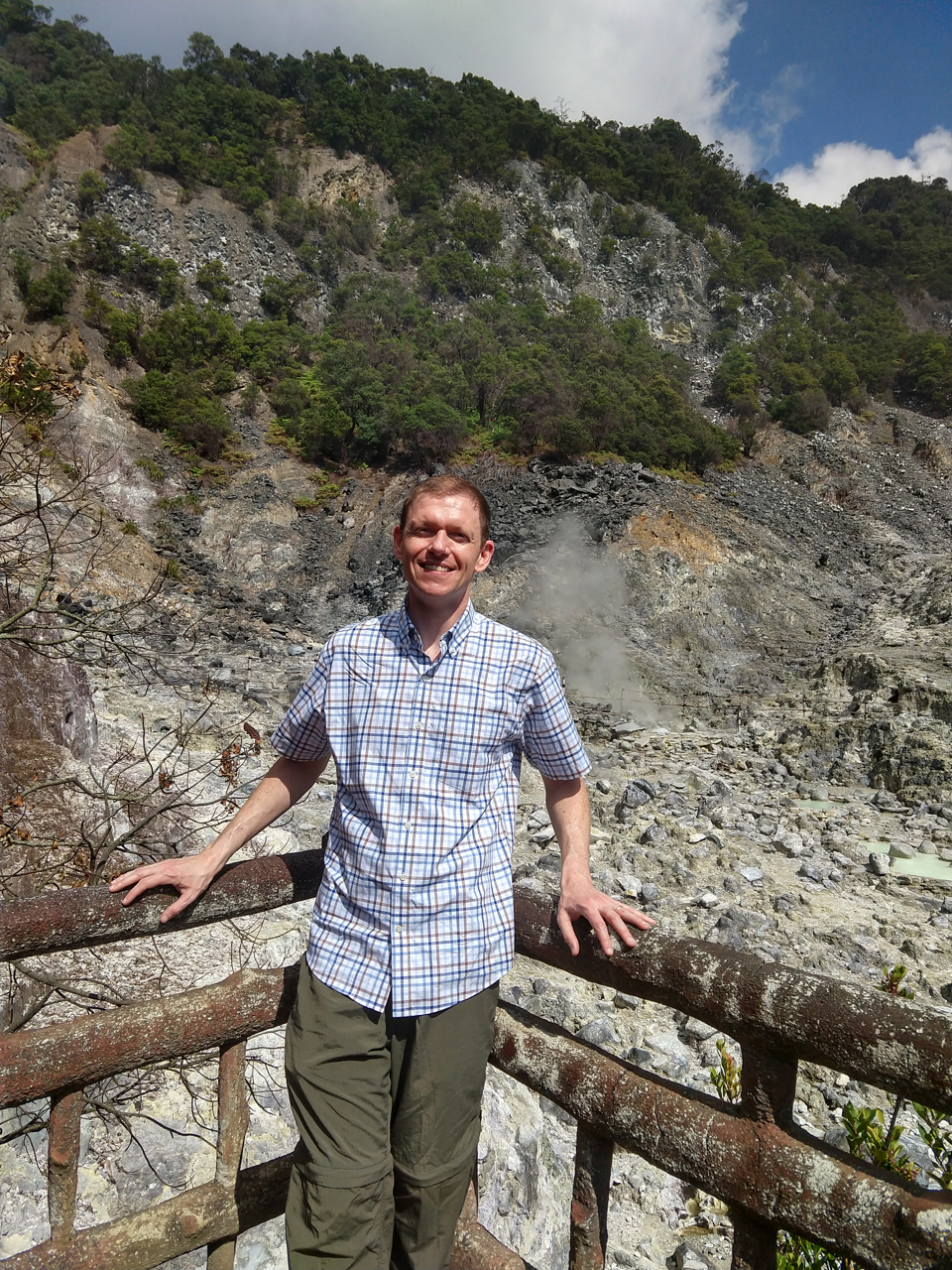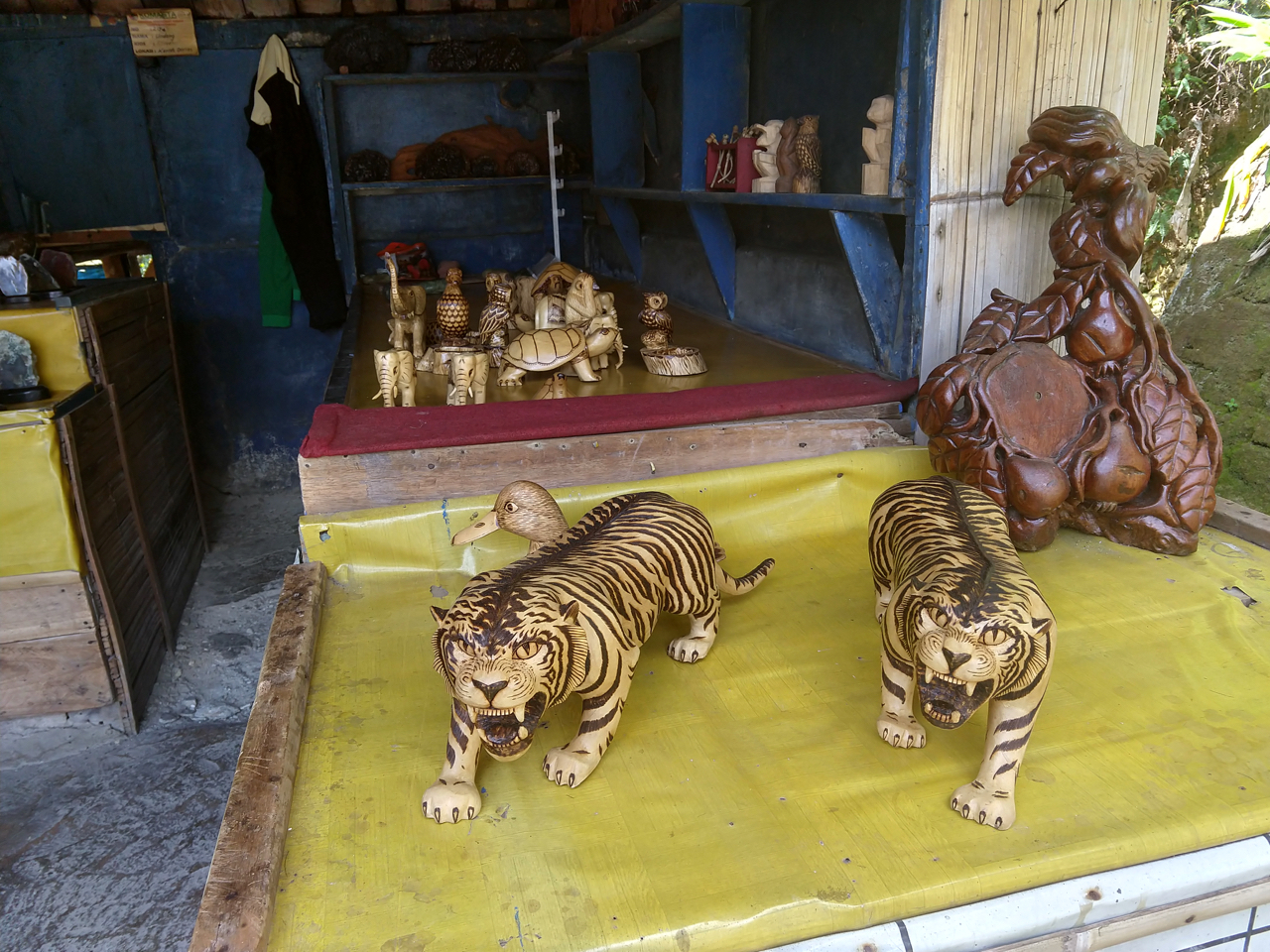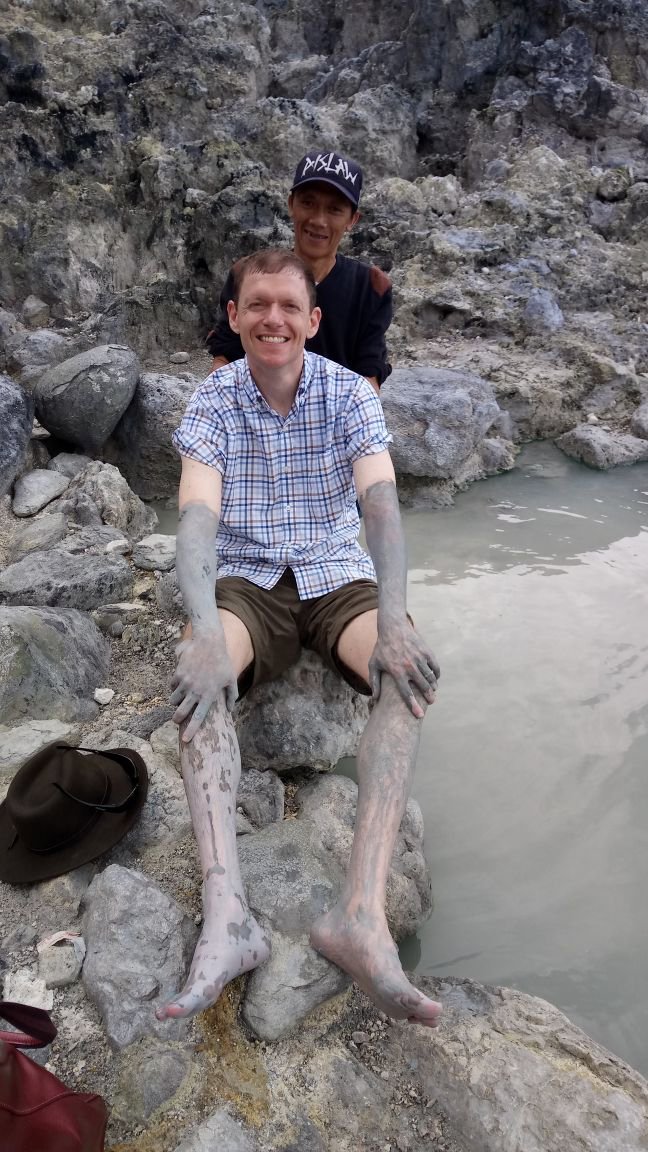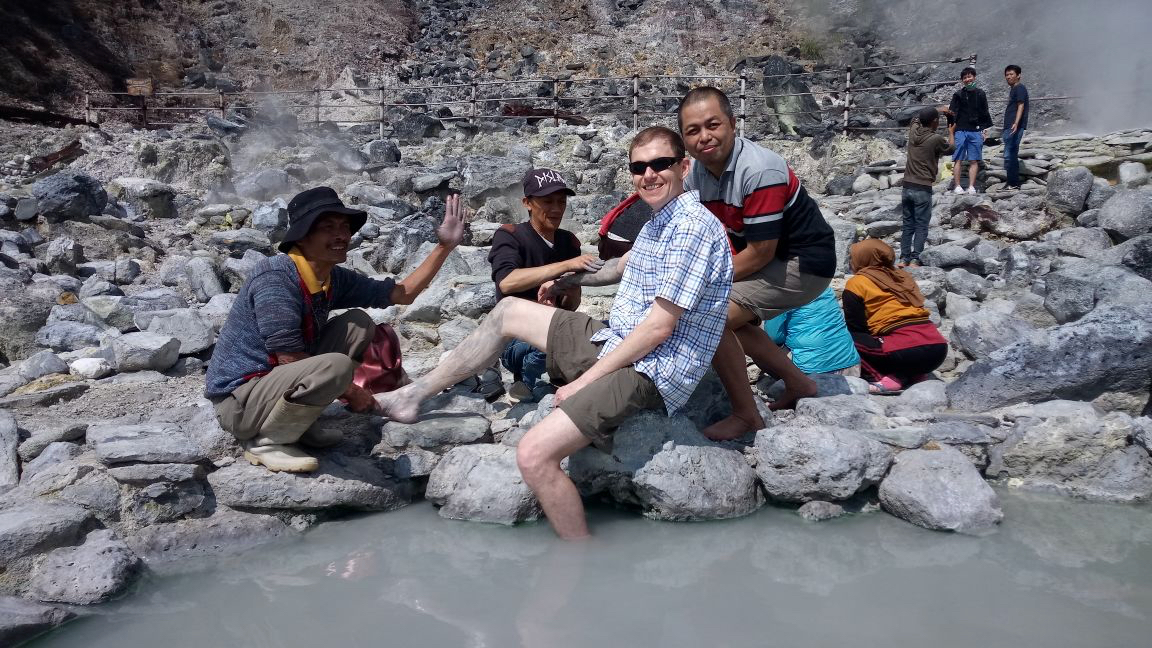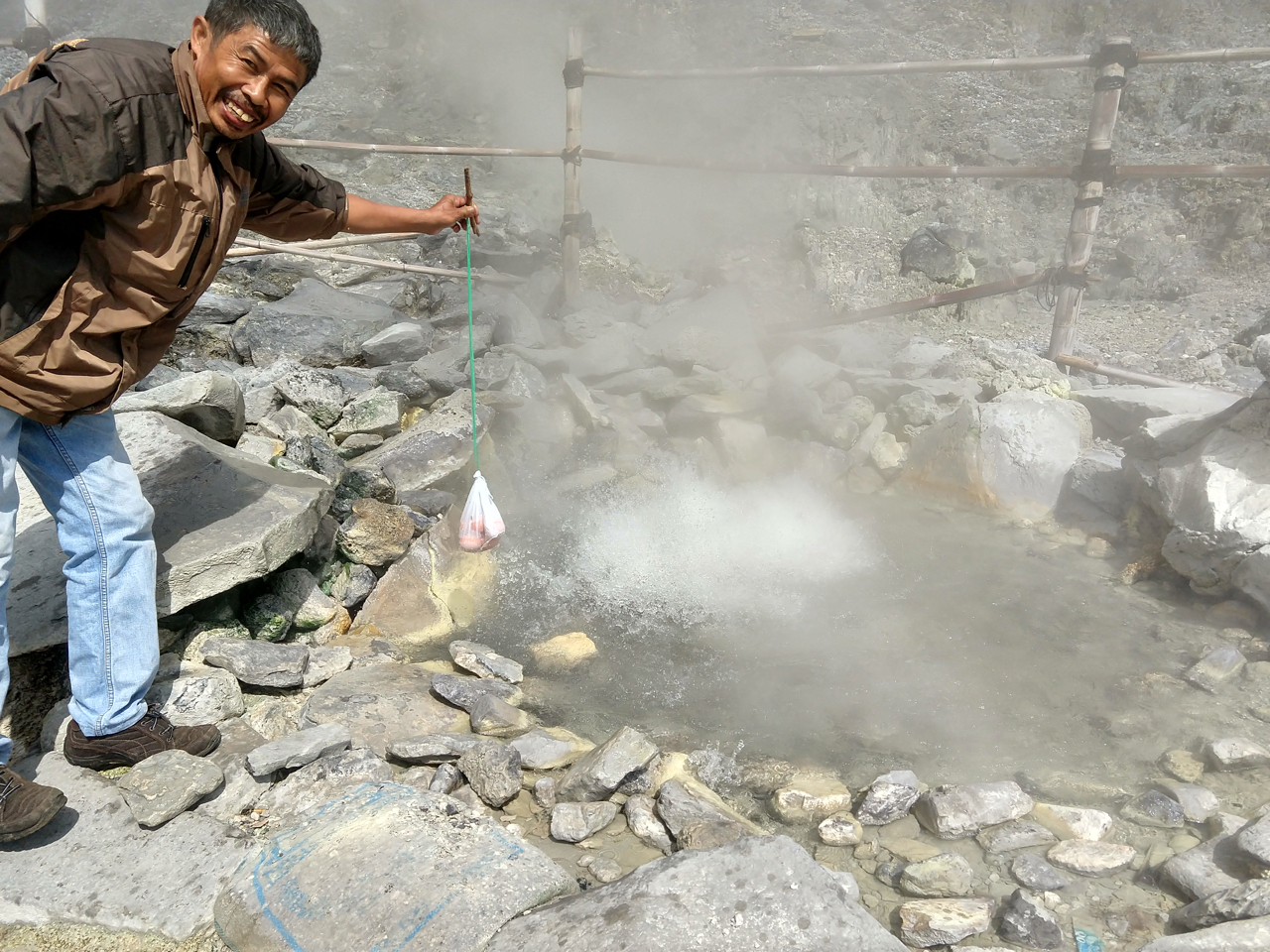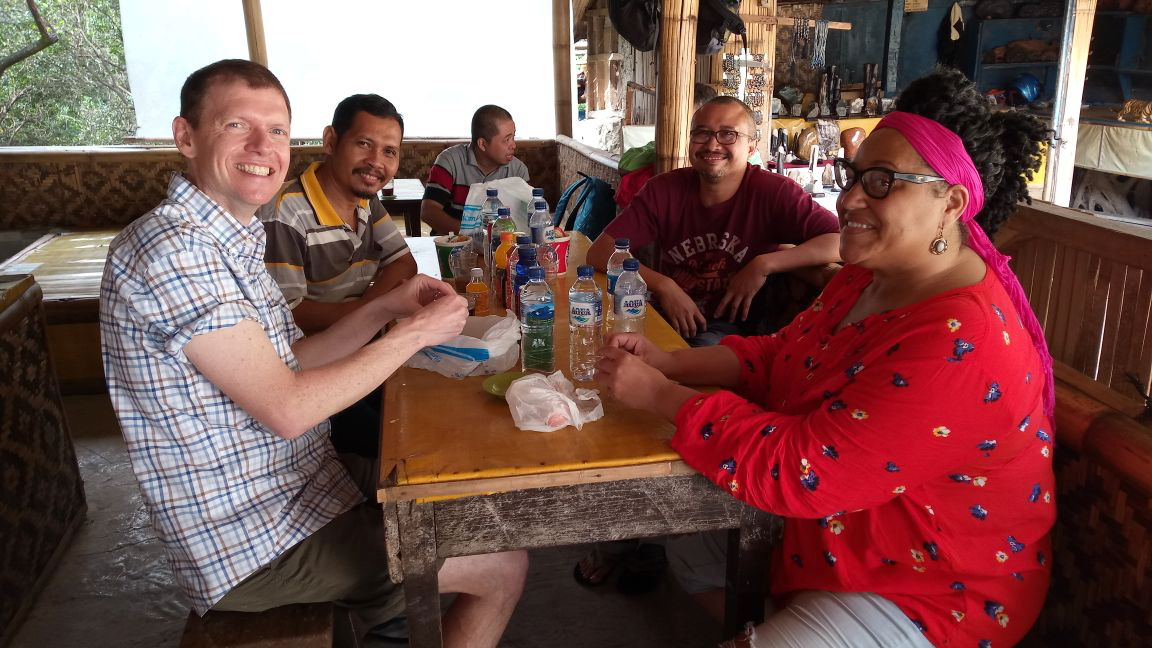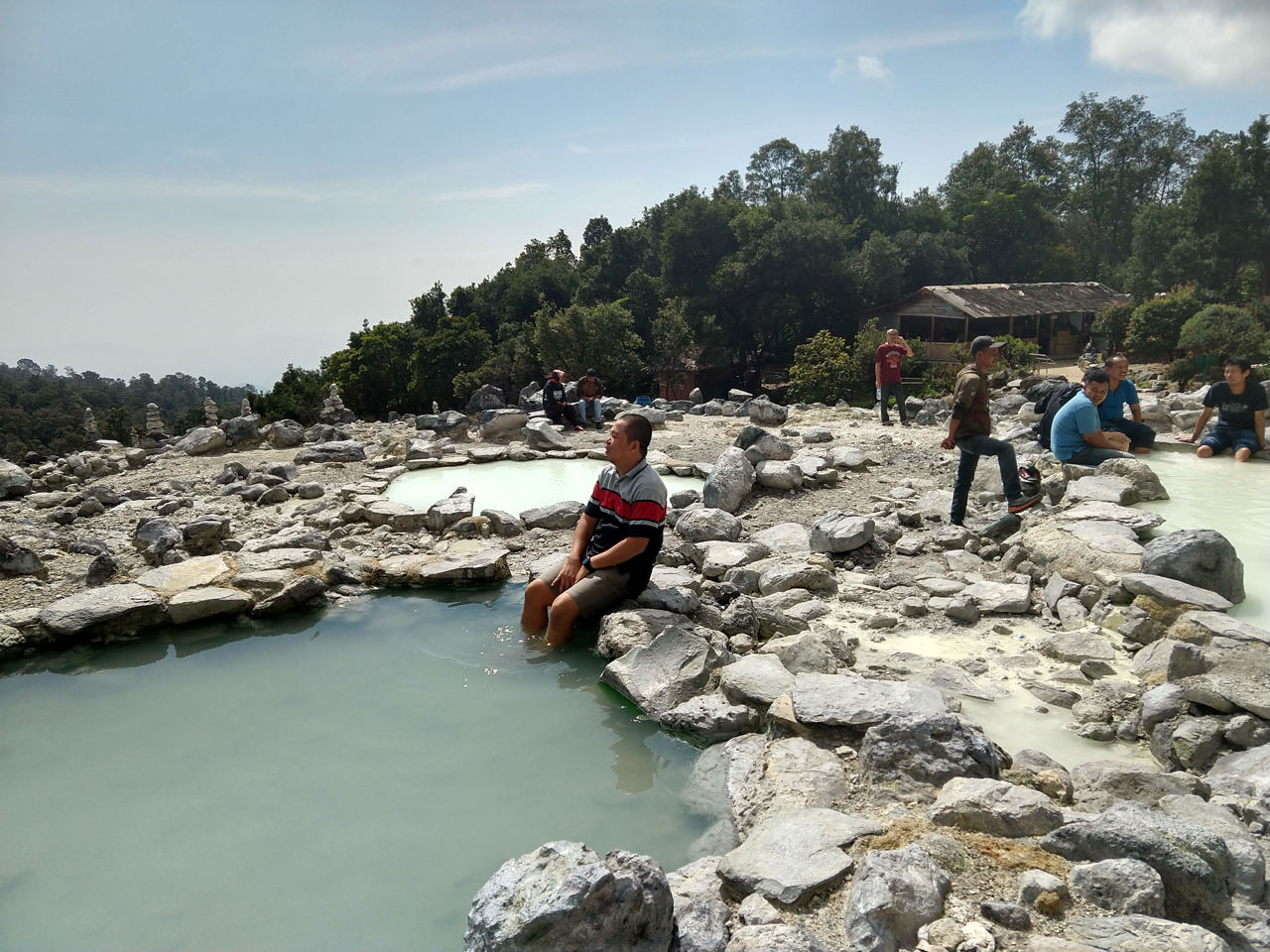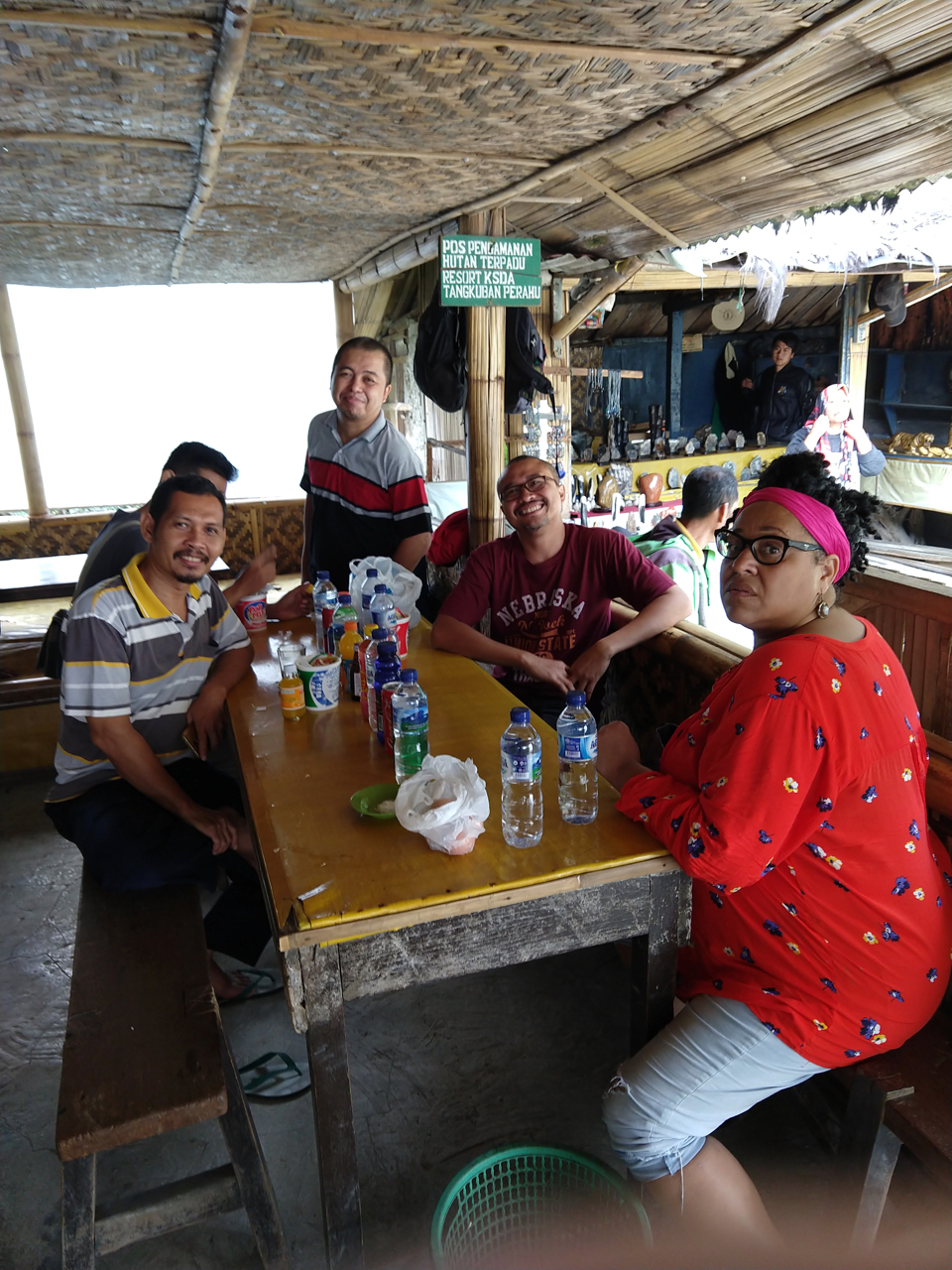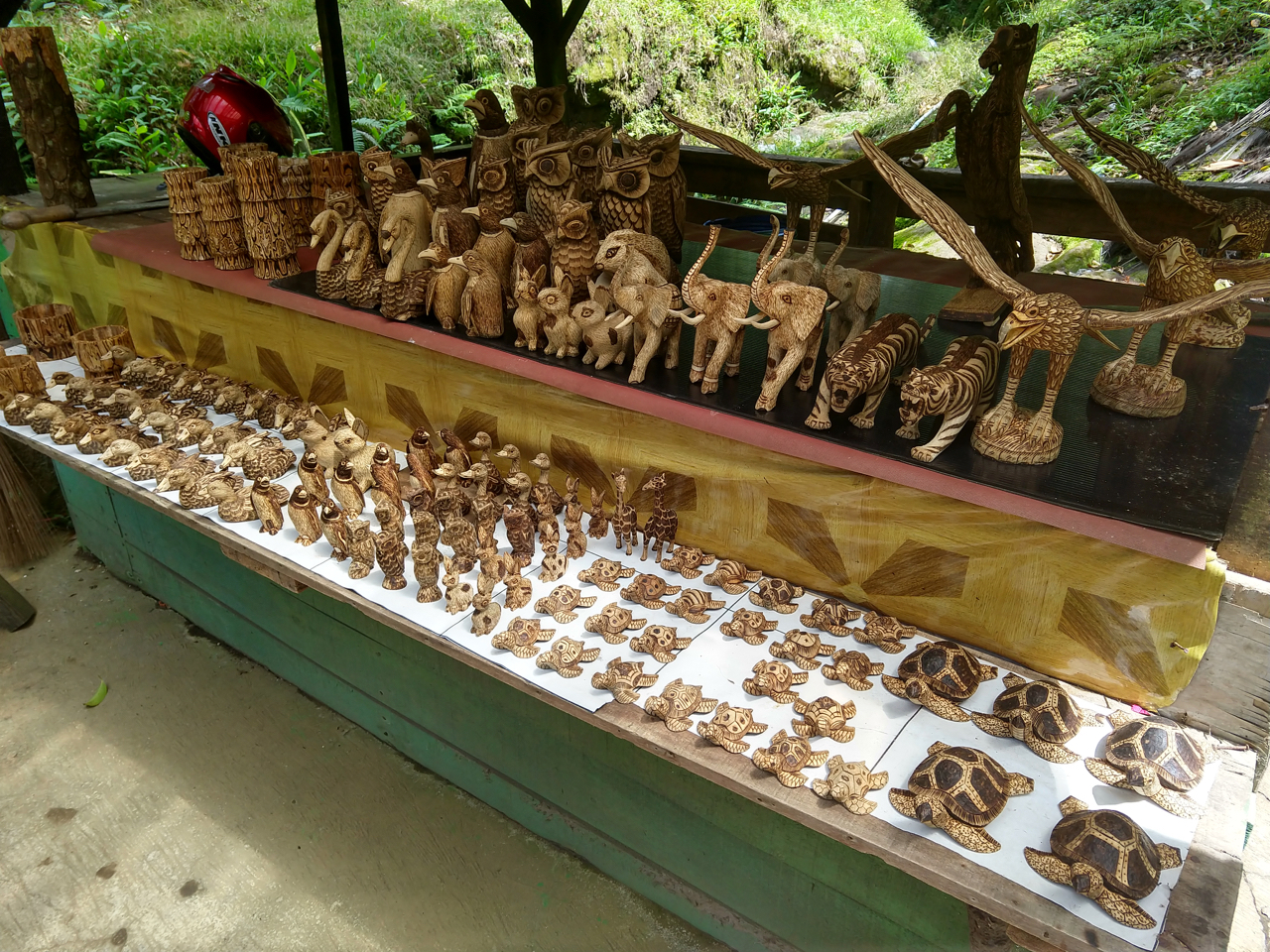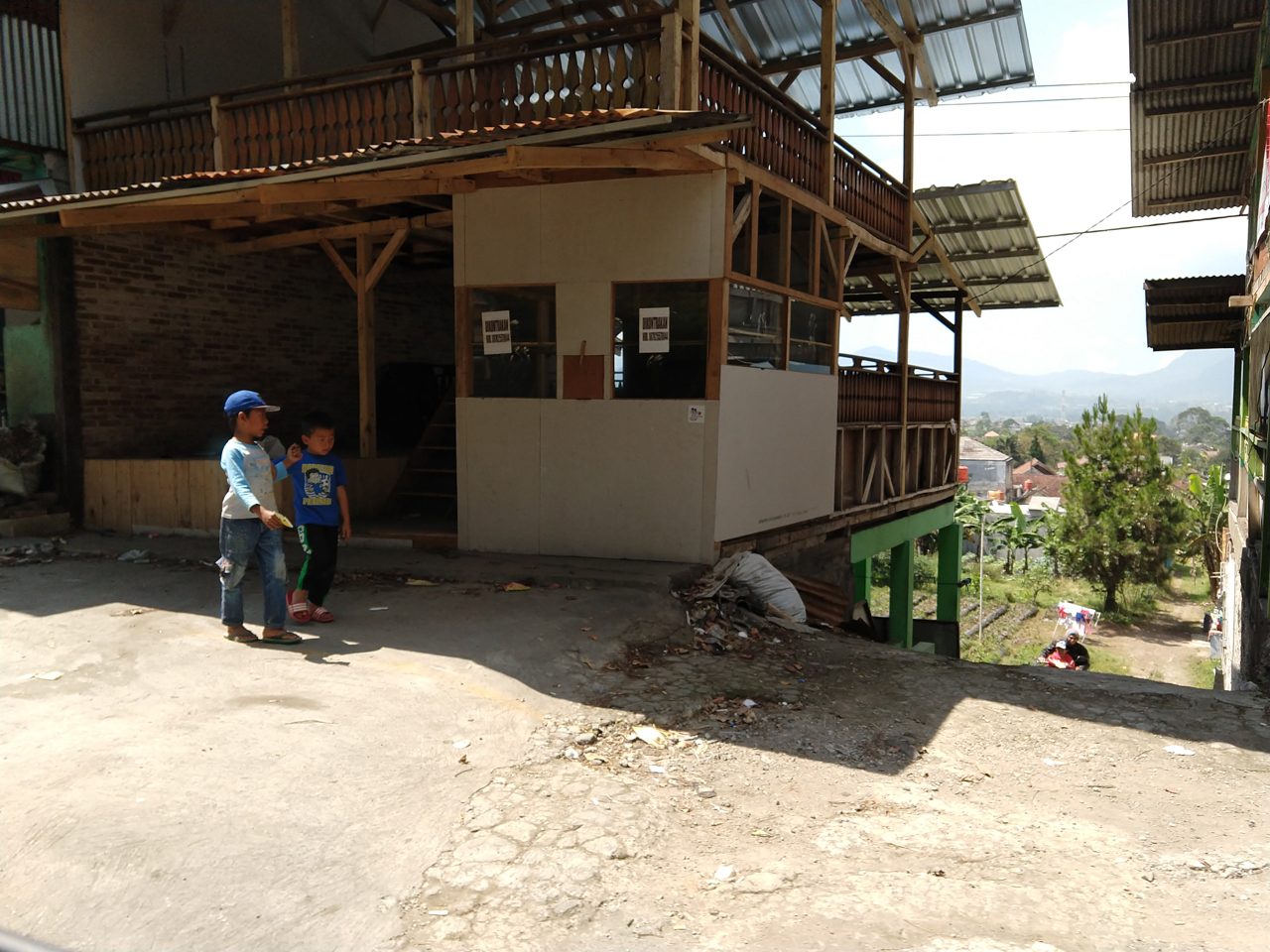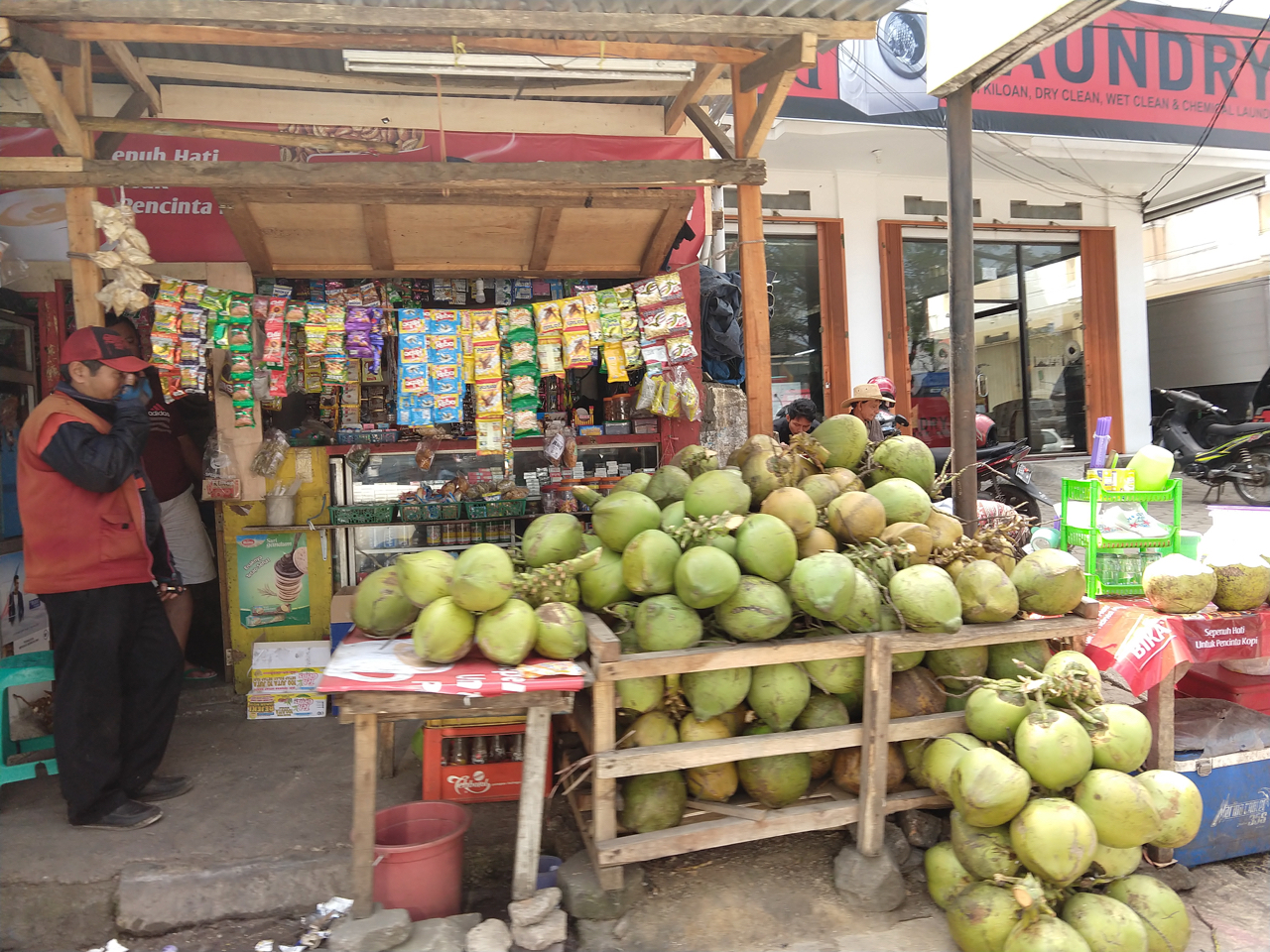 Next, we went to Maribaya. I fed a monkey ( https://www.youtube.com/watch?v=KLbx2jBoimU ).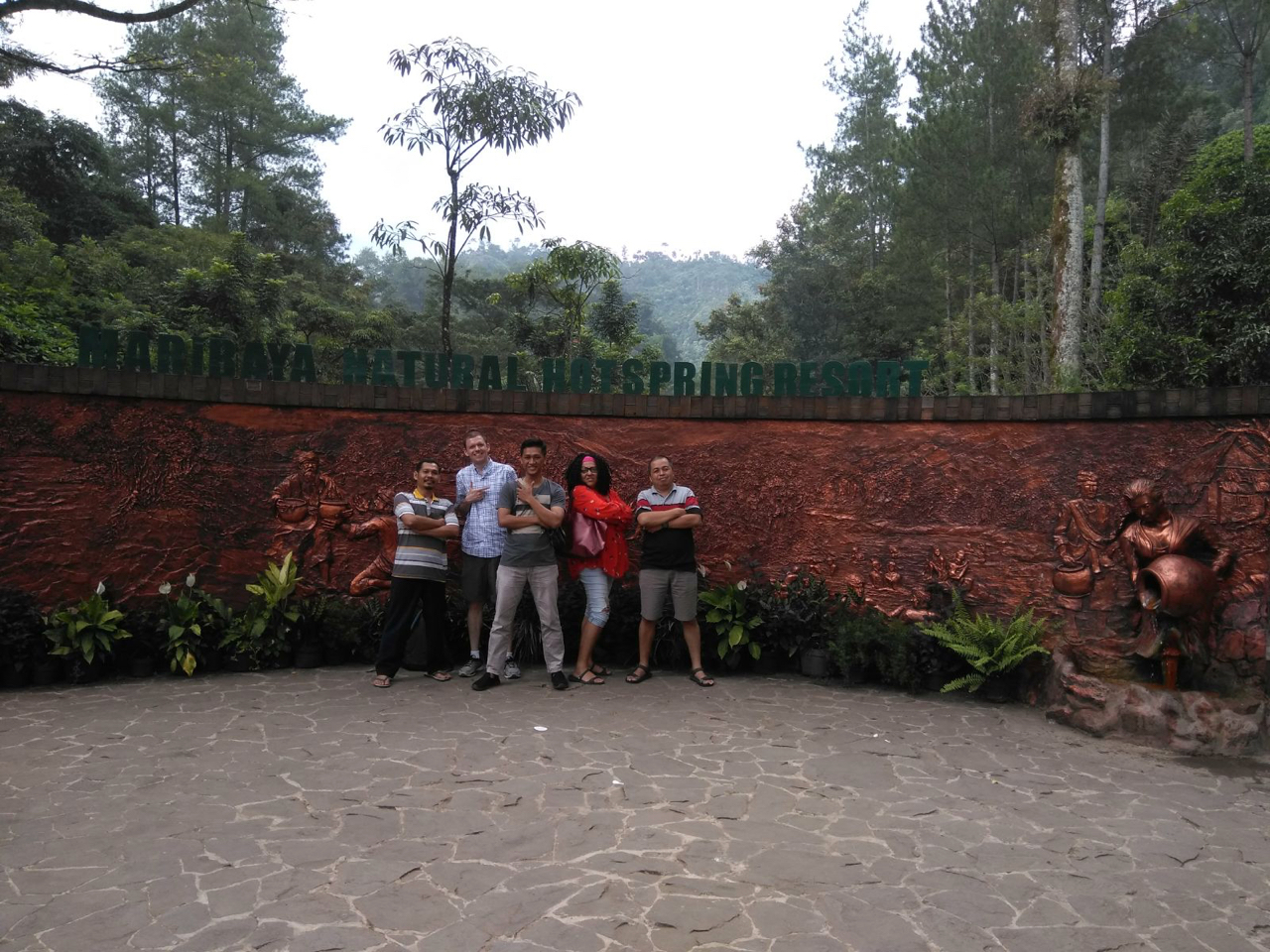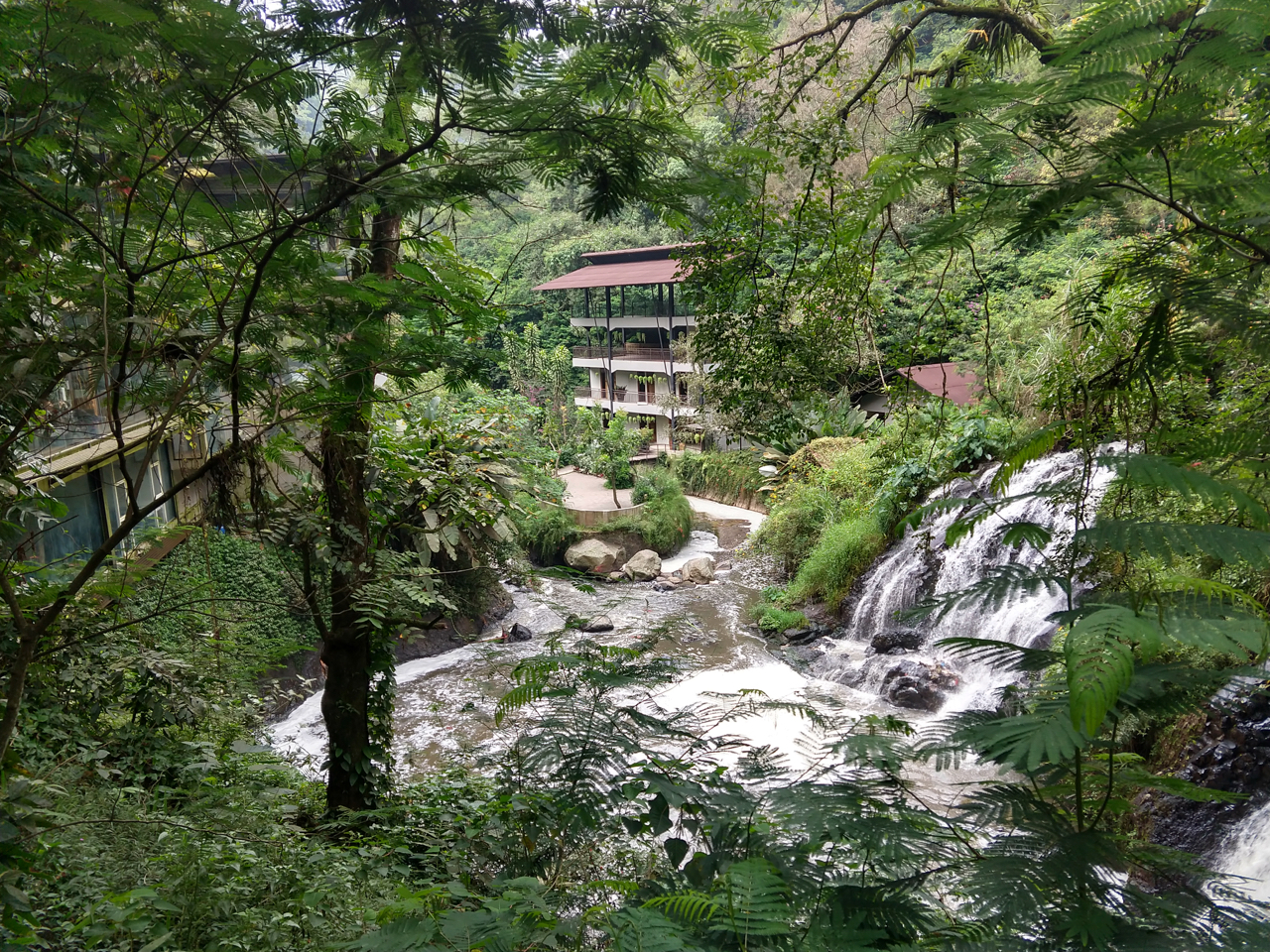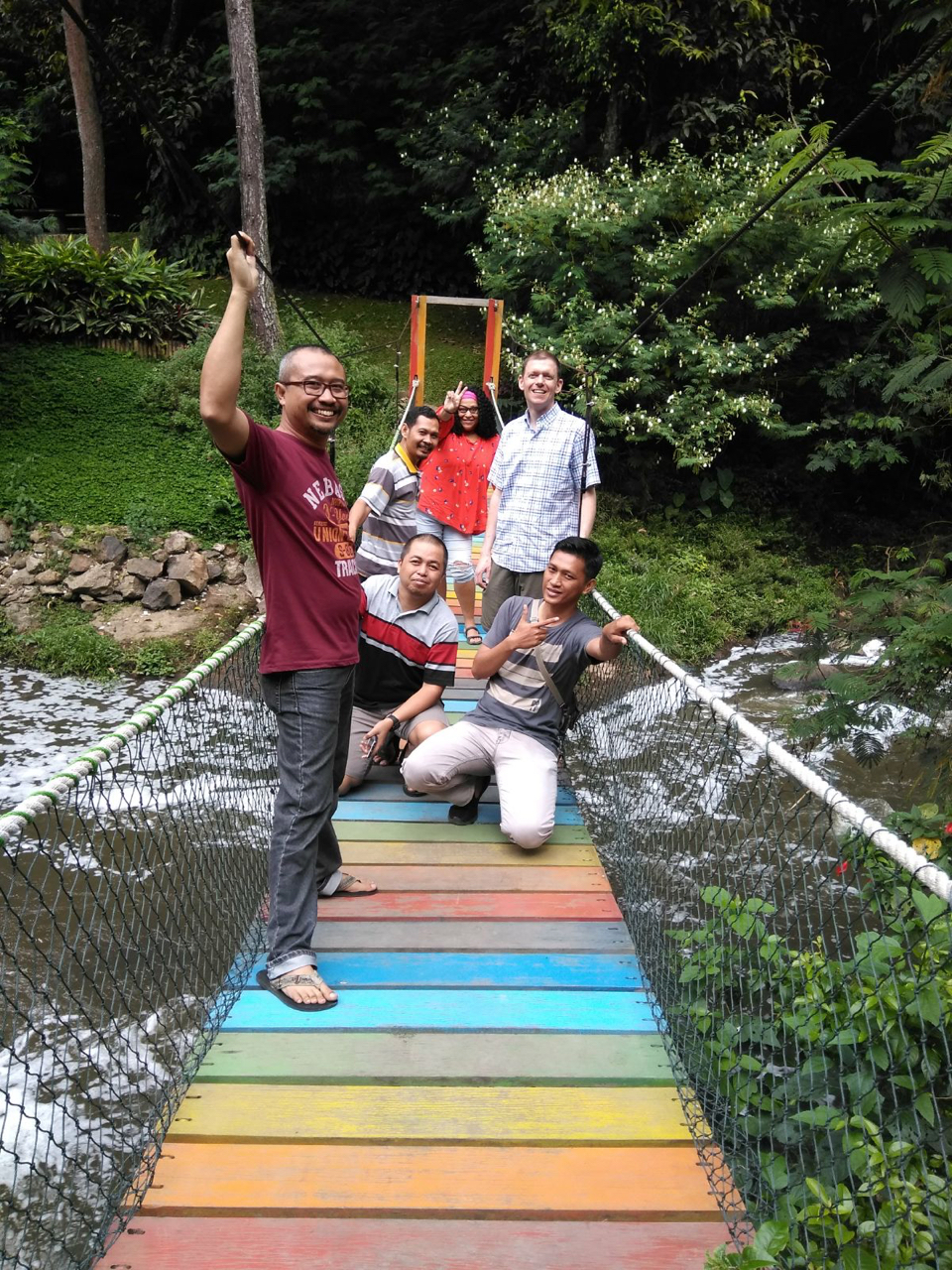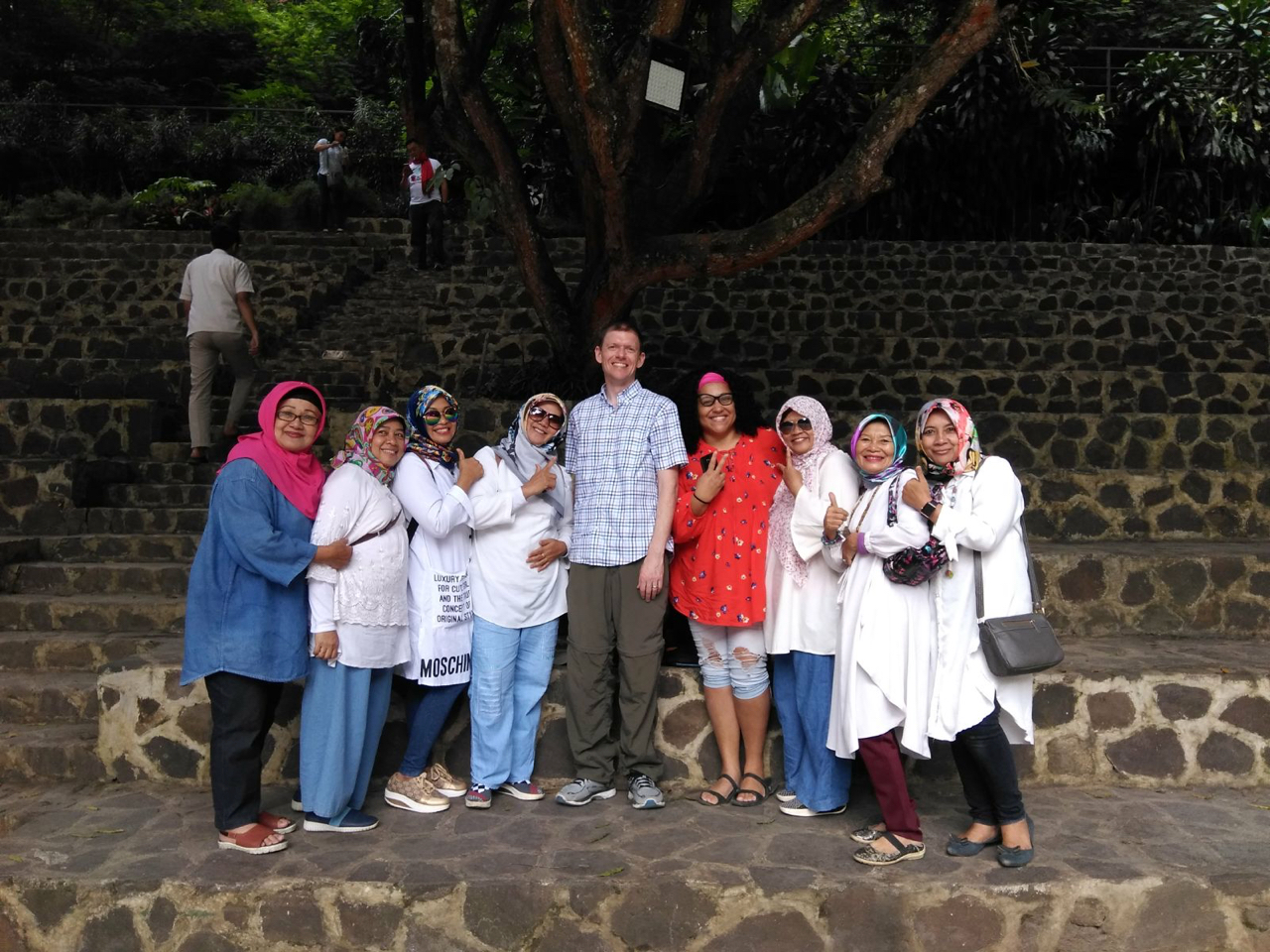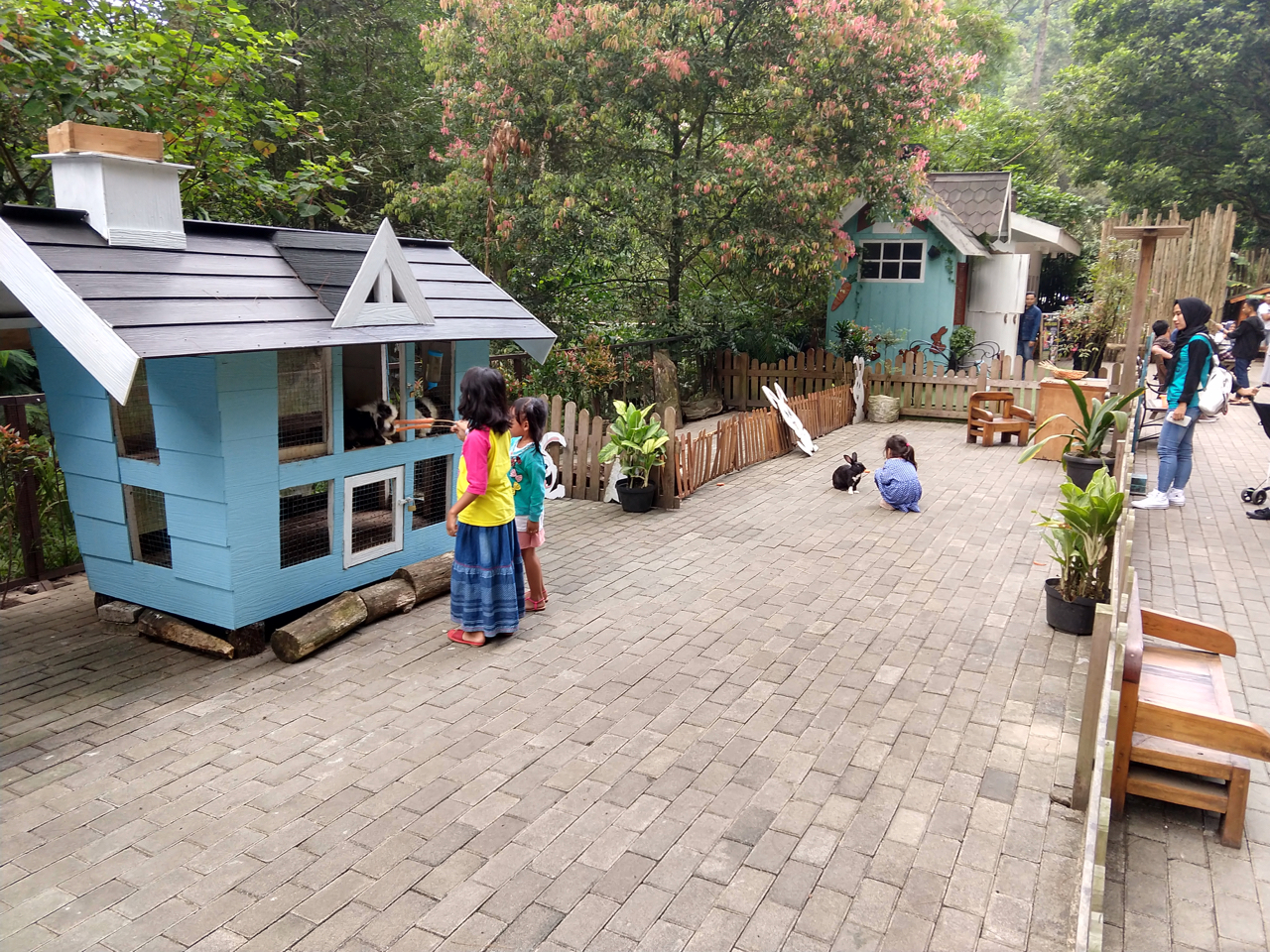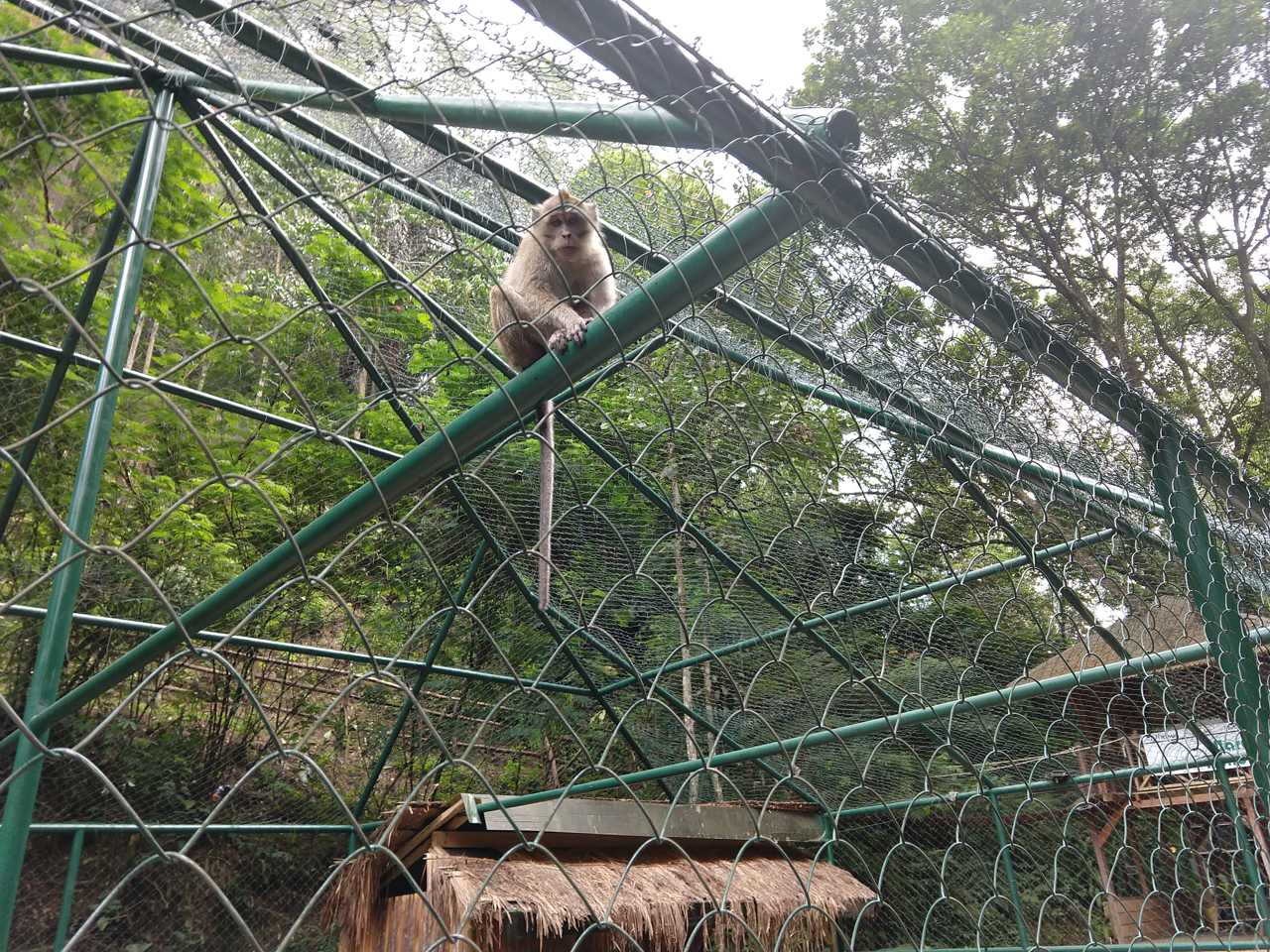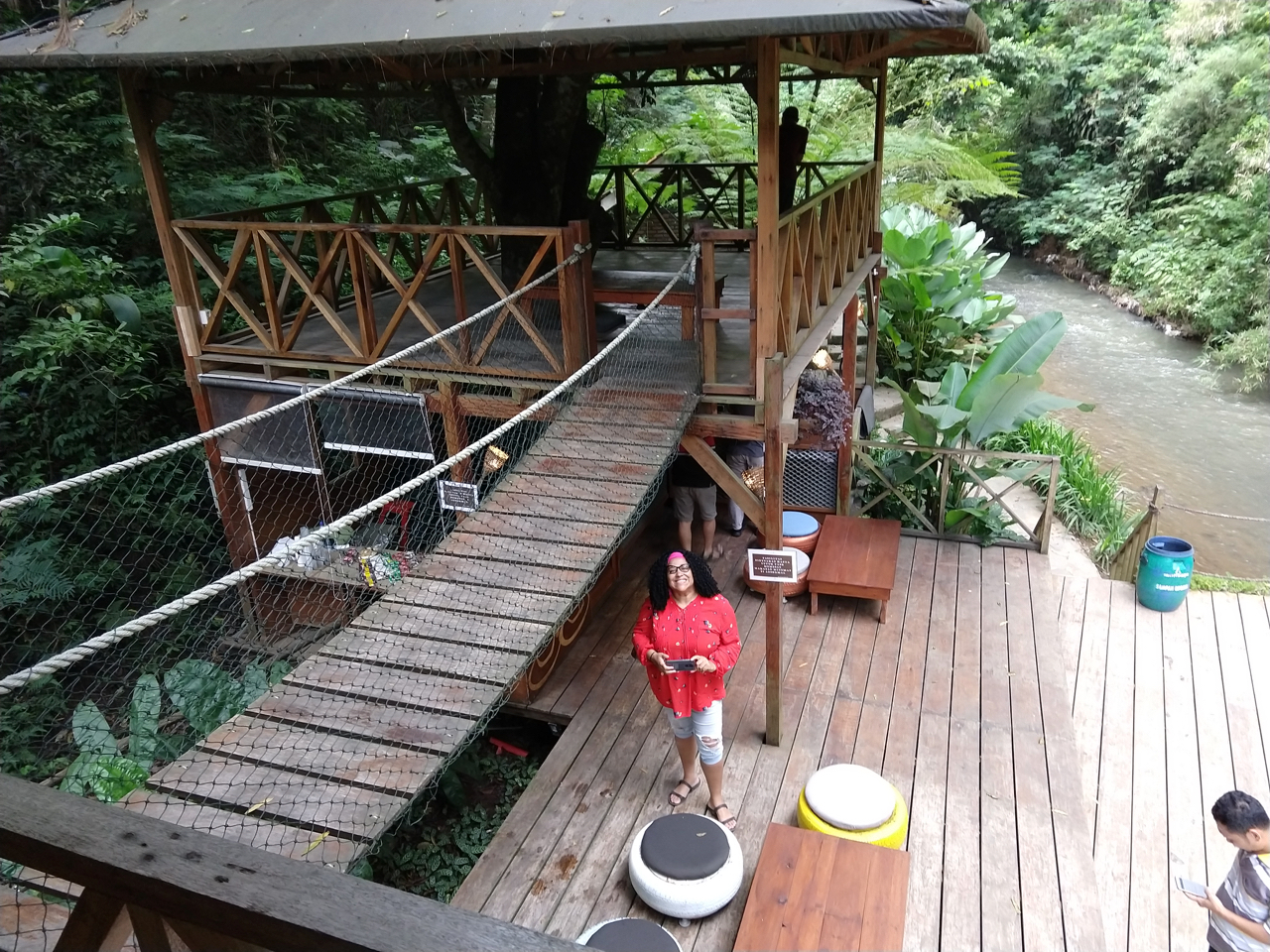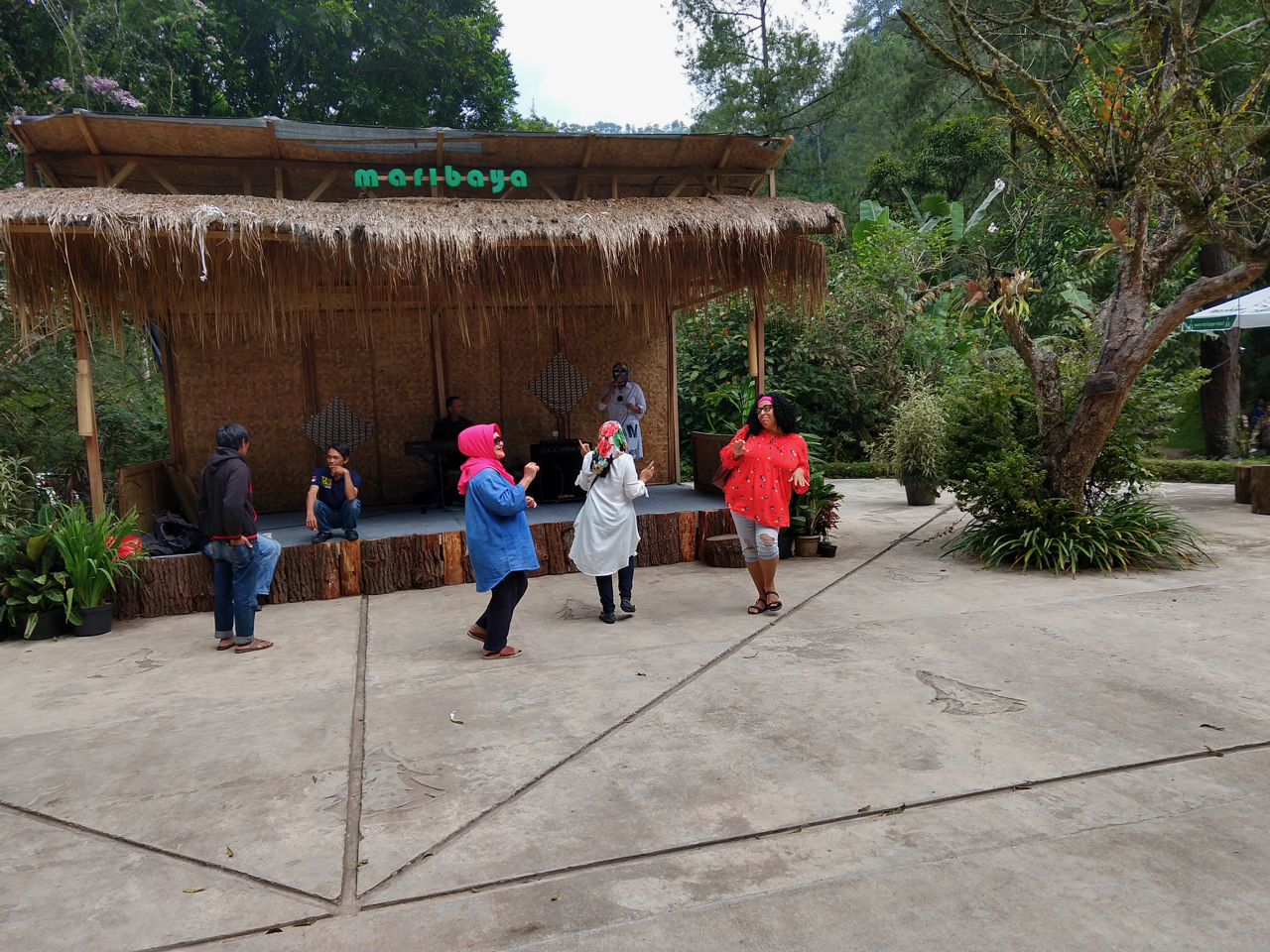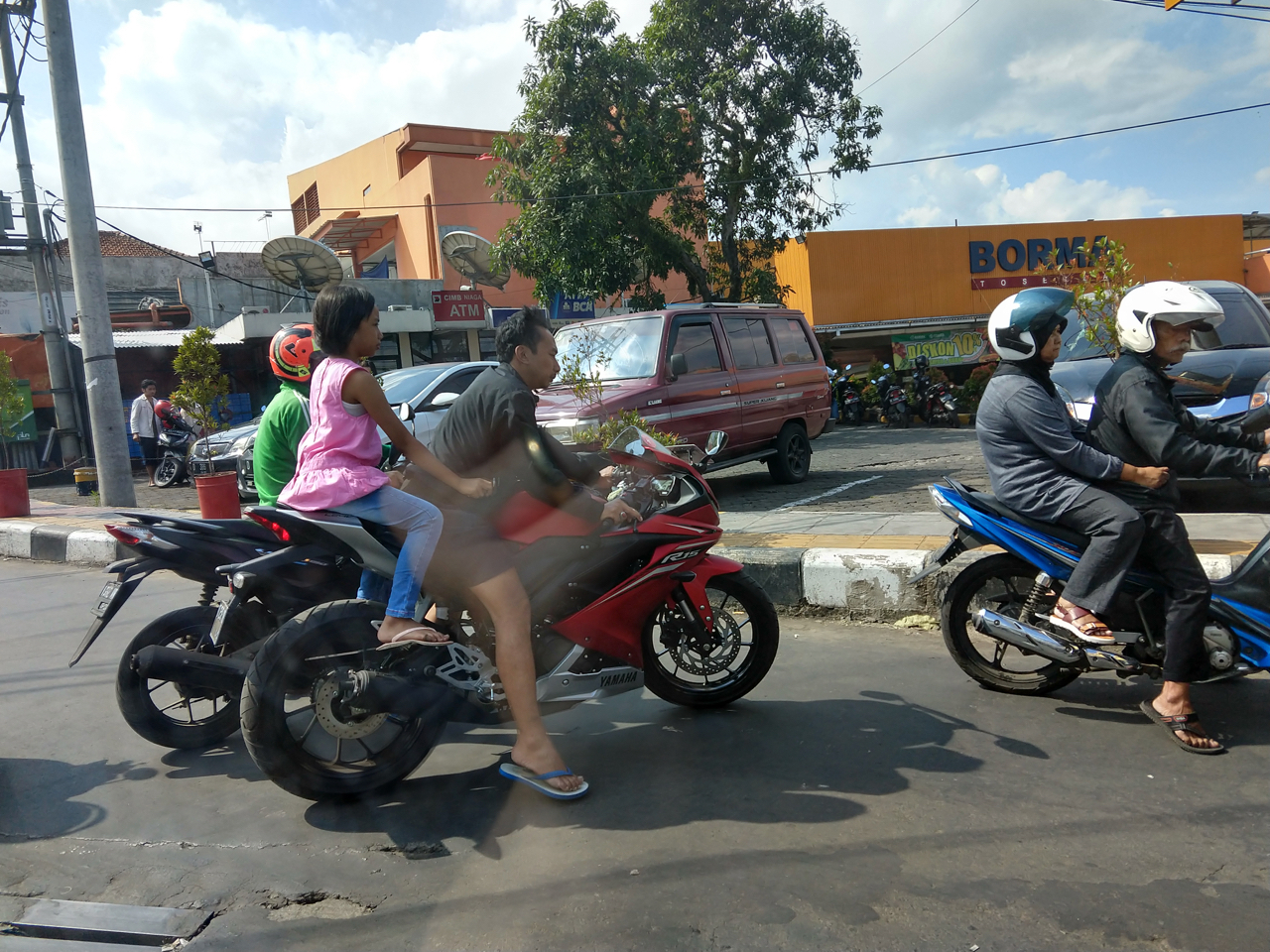 Finally, we went to Saung Angklung Udjo. There was a puppet show ( https://www.youtube.com/watch?v=9KD-iltxK8E ), a kid being carried around on a chair ( https://www.youtube.com/watch?v=dcYUPWTTNaM ), and kids dancing ( https://www.youtube.com/watch?v=MkW372Bsaso ).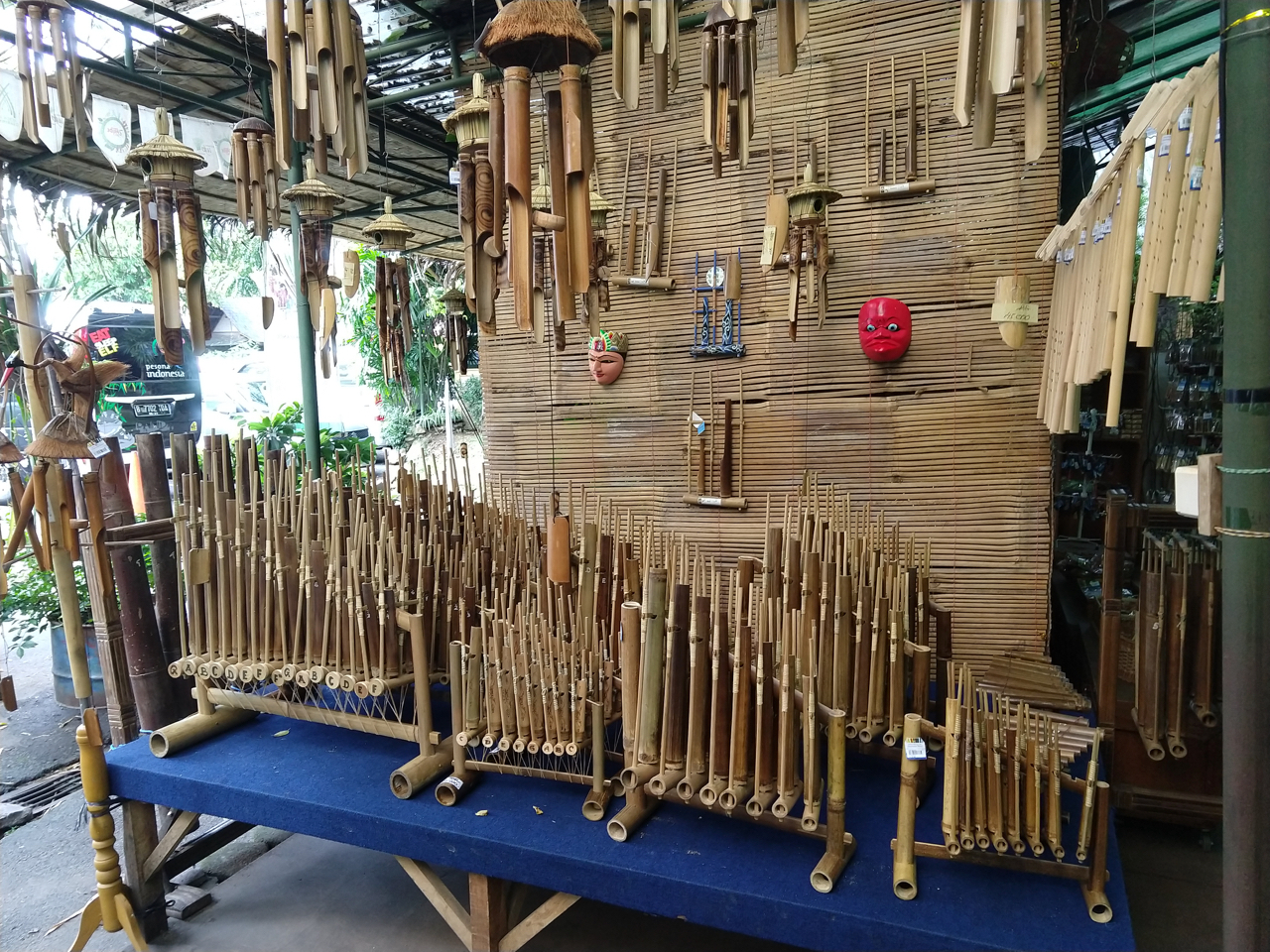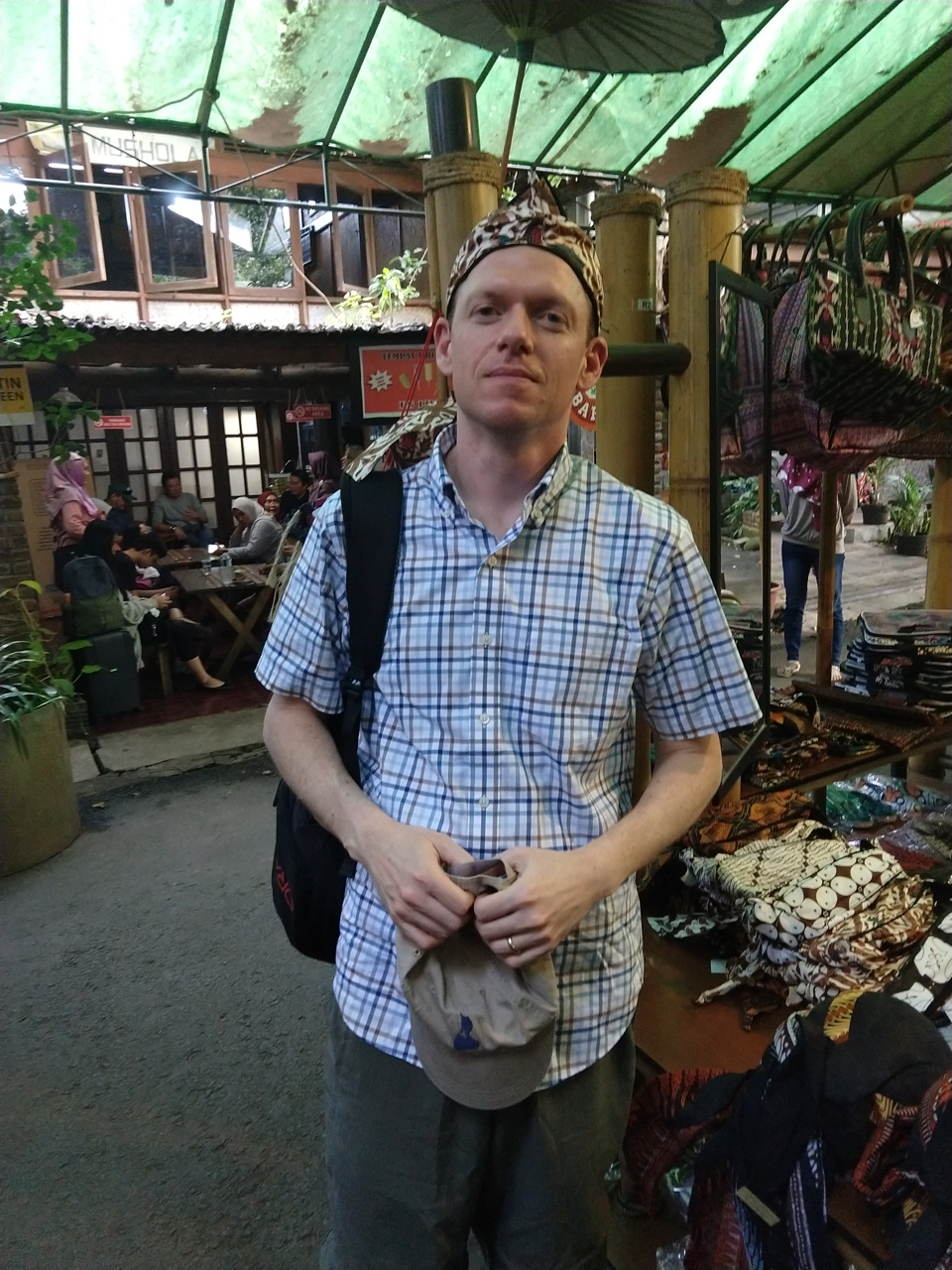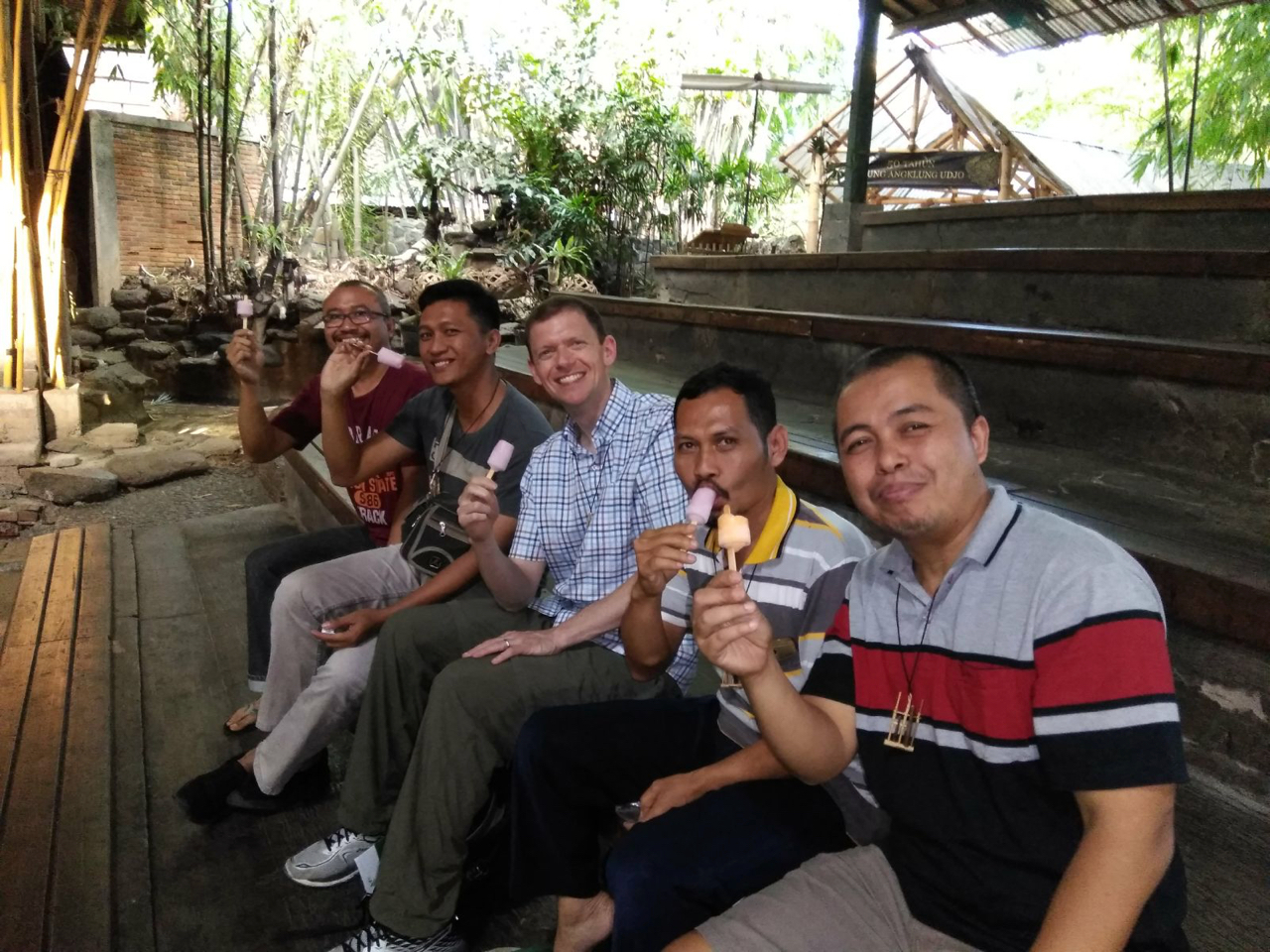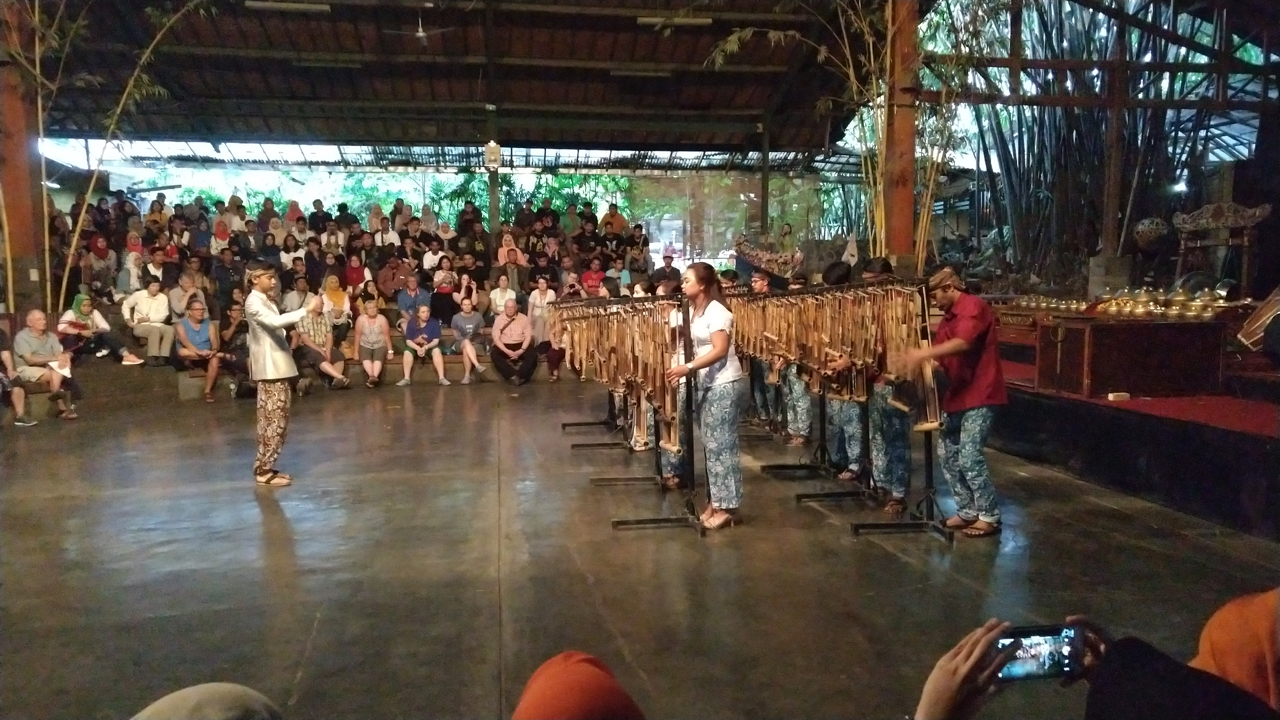 Friday
We held our second workshop on Friday and it was also well attended. For dinner we went to Batagor Kingsley. Then we walked around Bandung at night and saw people dressed up for cosplay. We walked by the site of the 1955 Asian-African Conference and a large mosque where kids were on a large green space playing.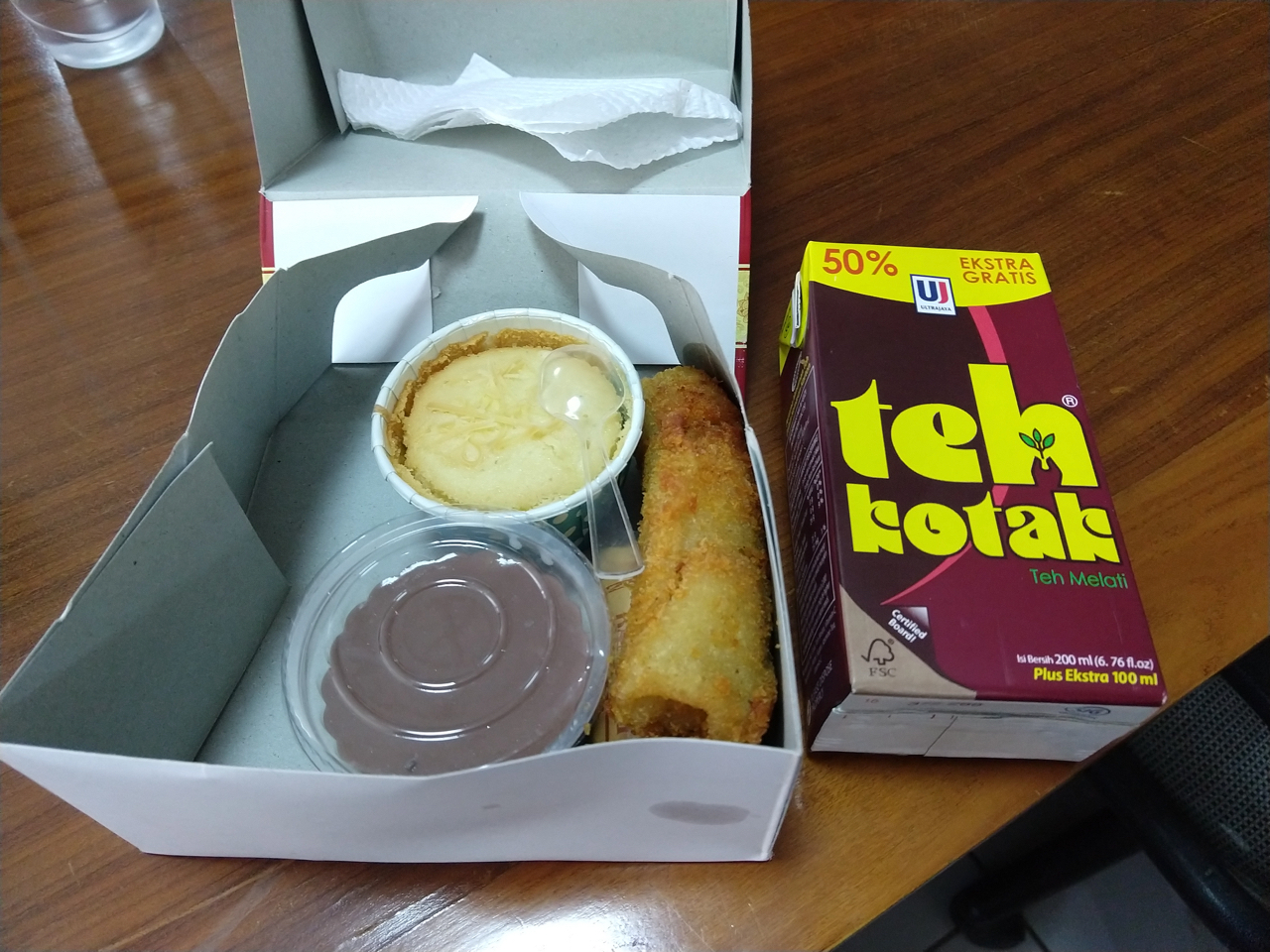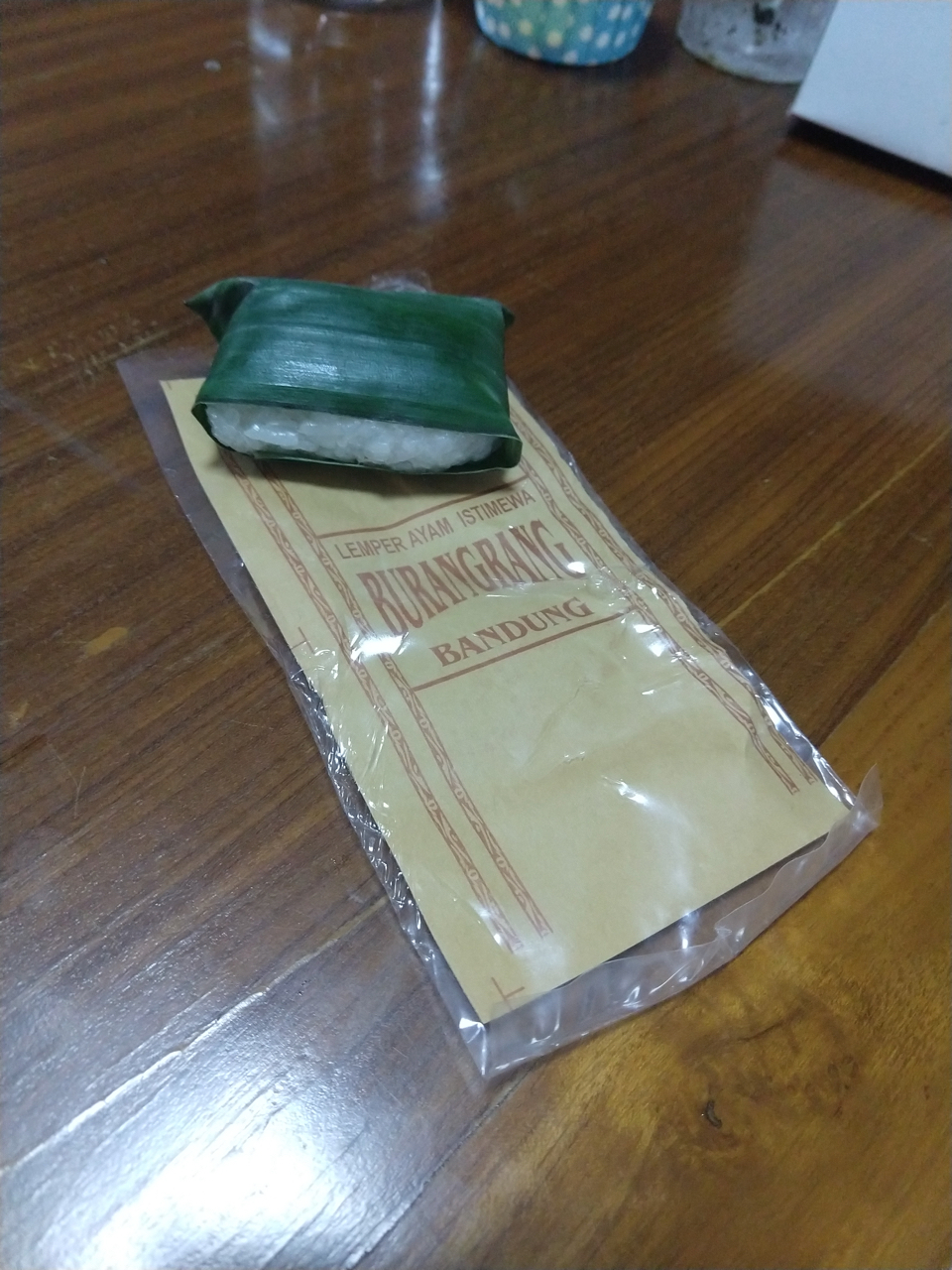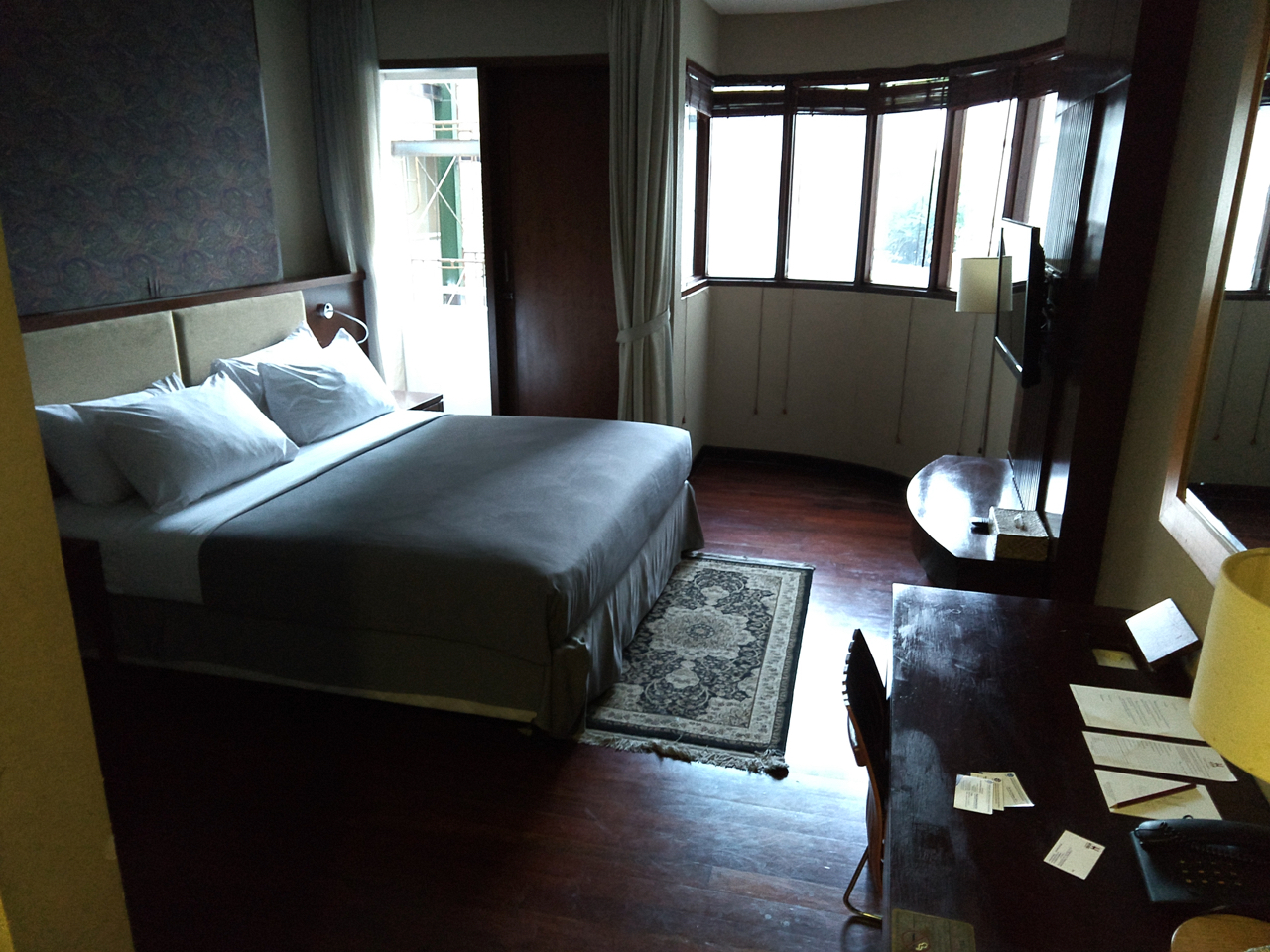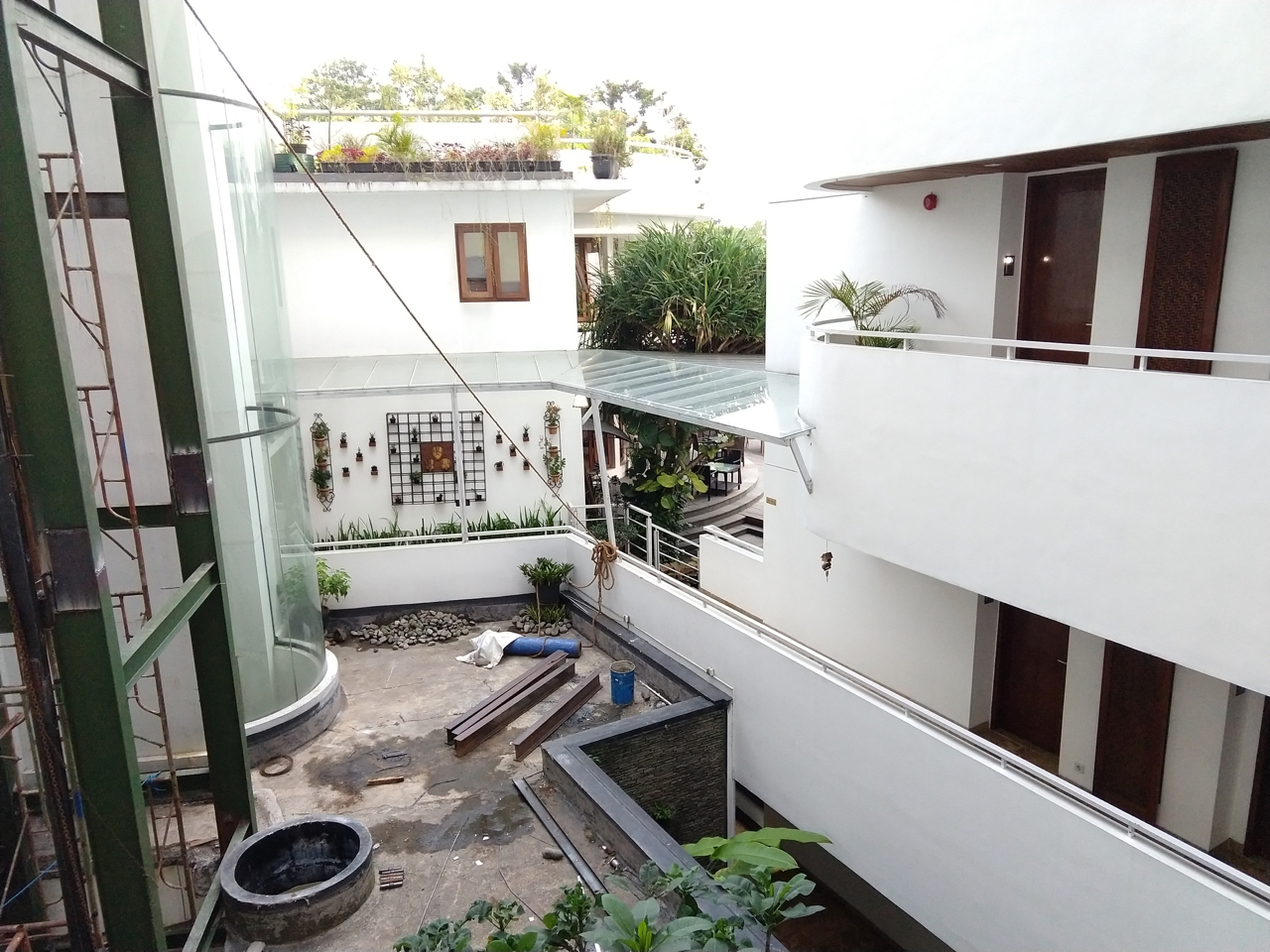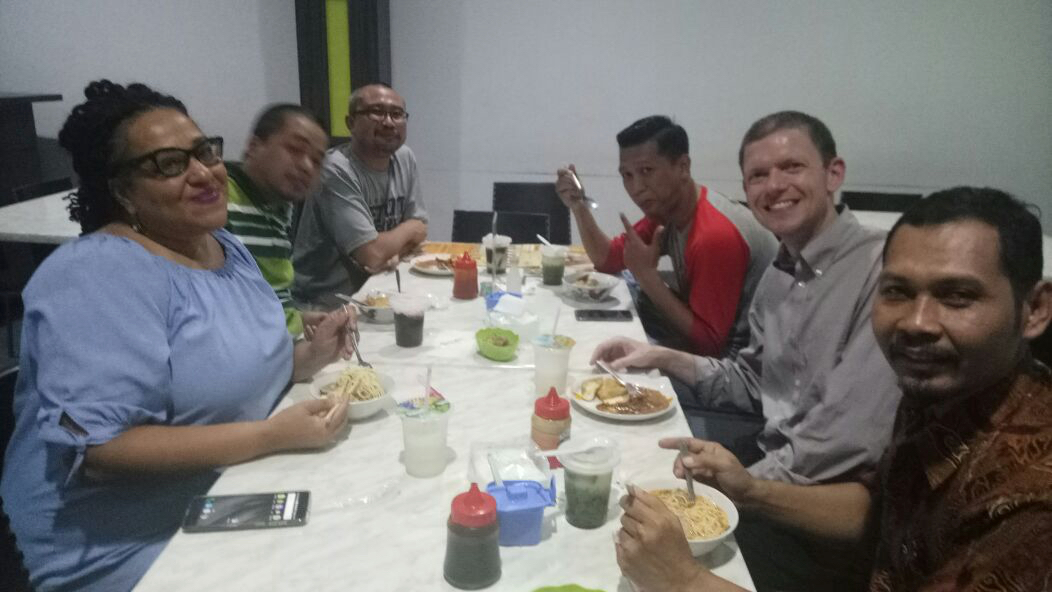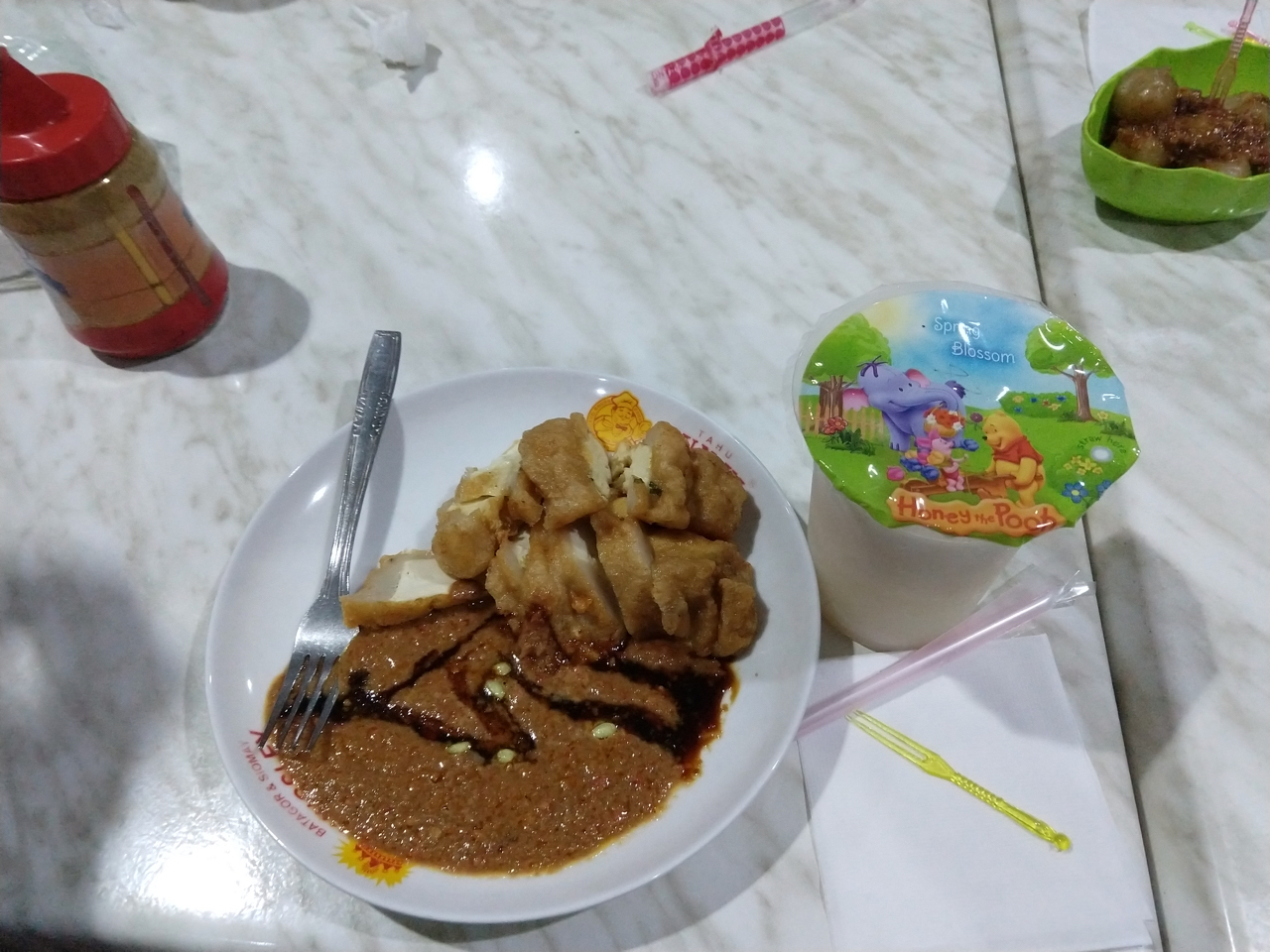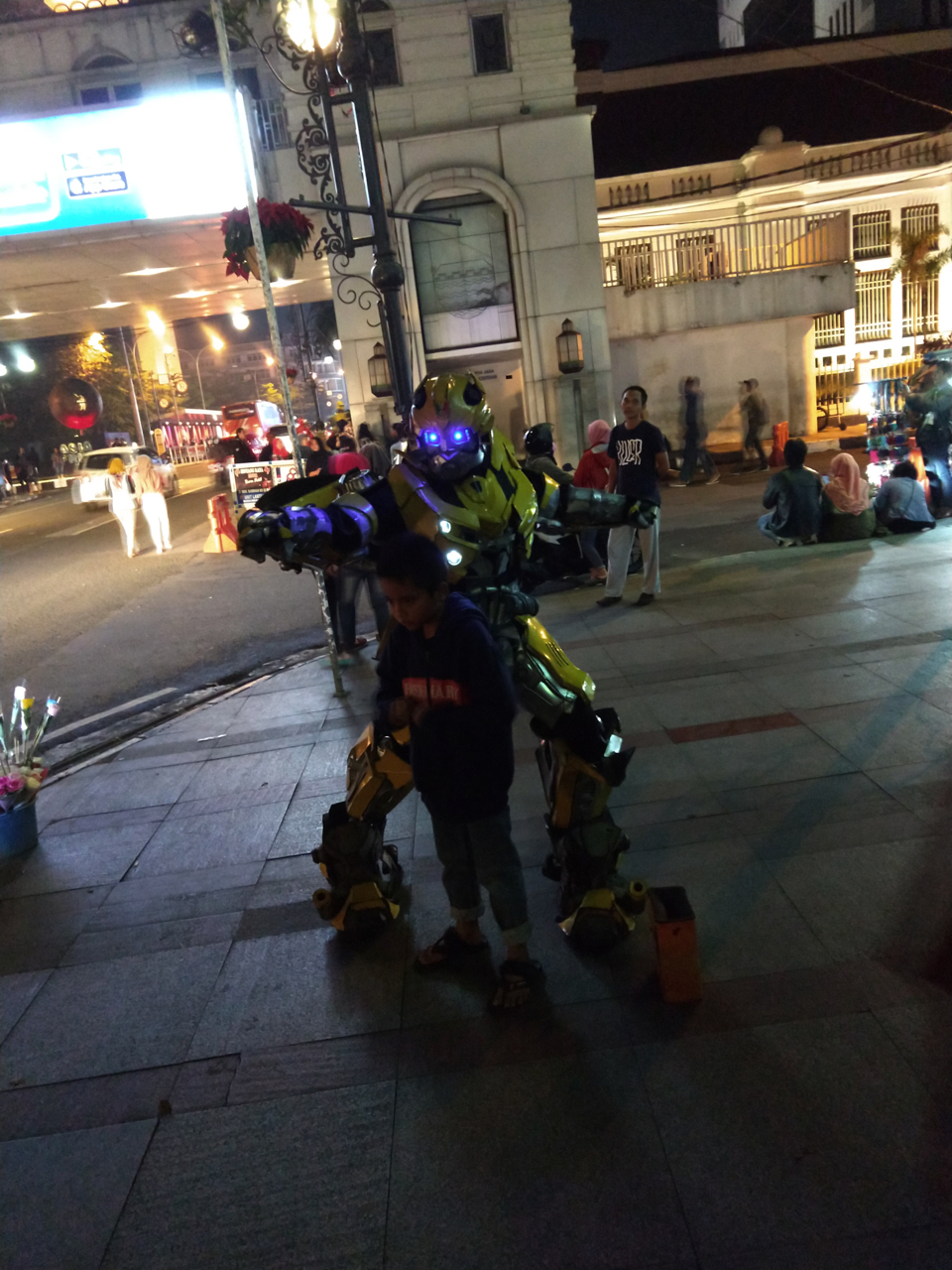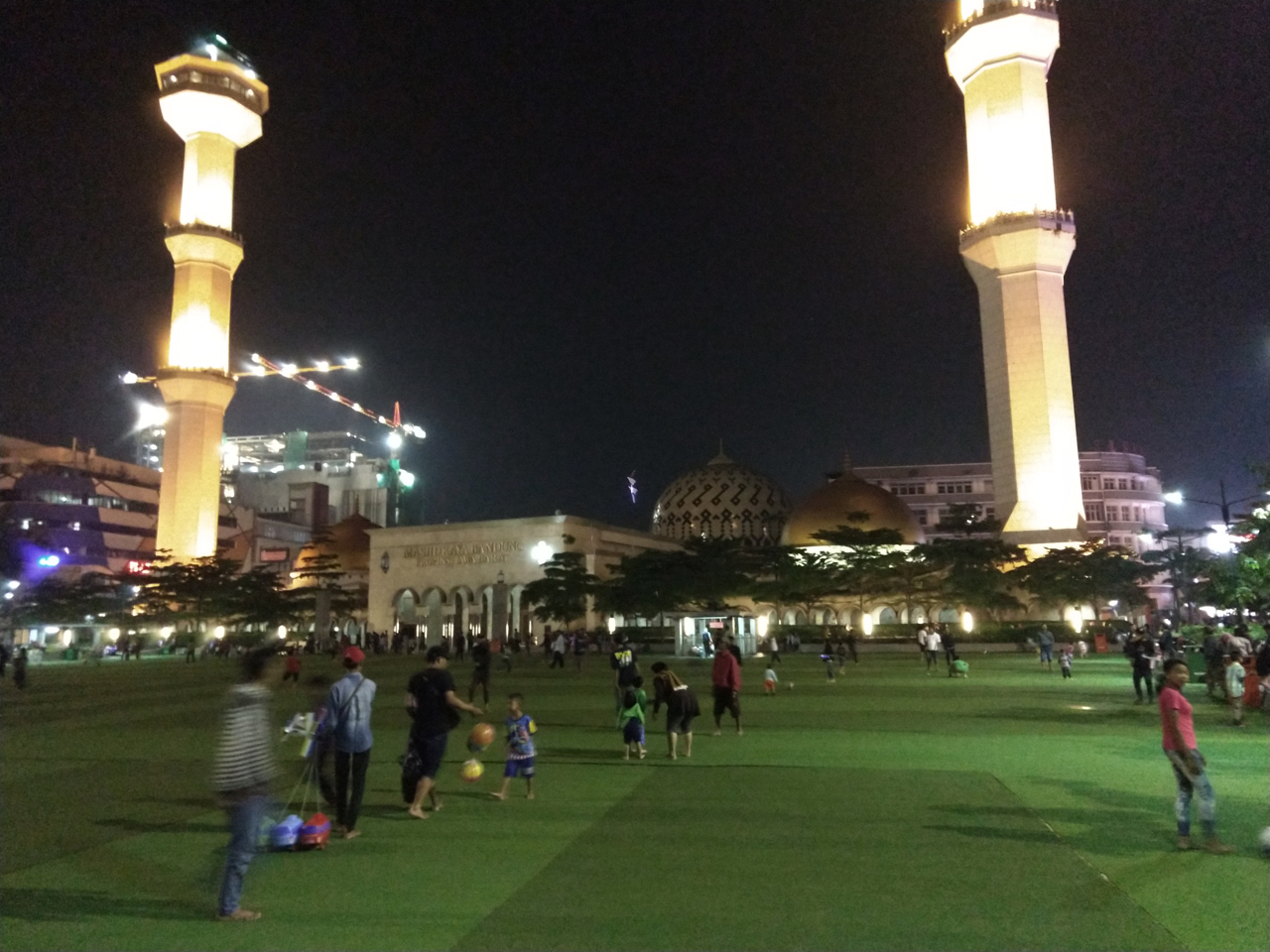 Saturday
On Saturday we drove past some rice fields on the way to do more sightseeing. In one of the fields, people said we could help so we cut some rice ( https://www.youtube.com/watch?v=7LBqoMX5soo ) and threshed it against a rock ( https://www.youtube.com/watch?v=URYE0XWxZOA ).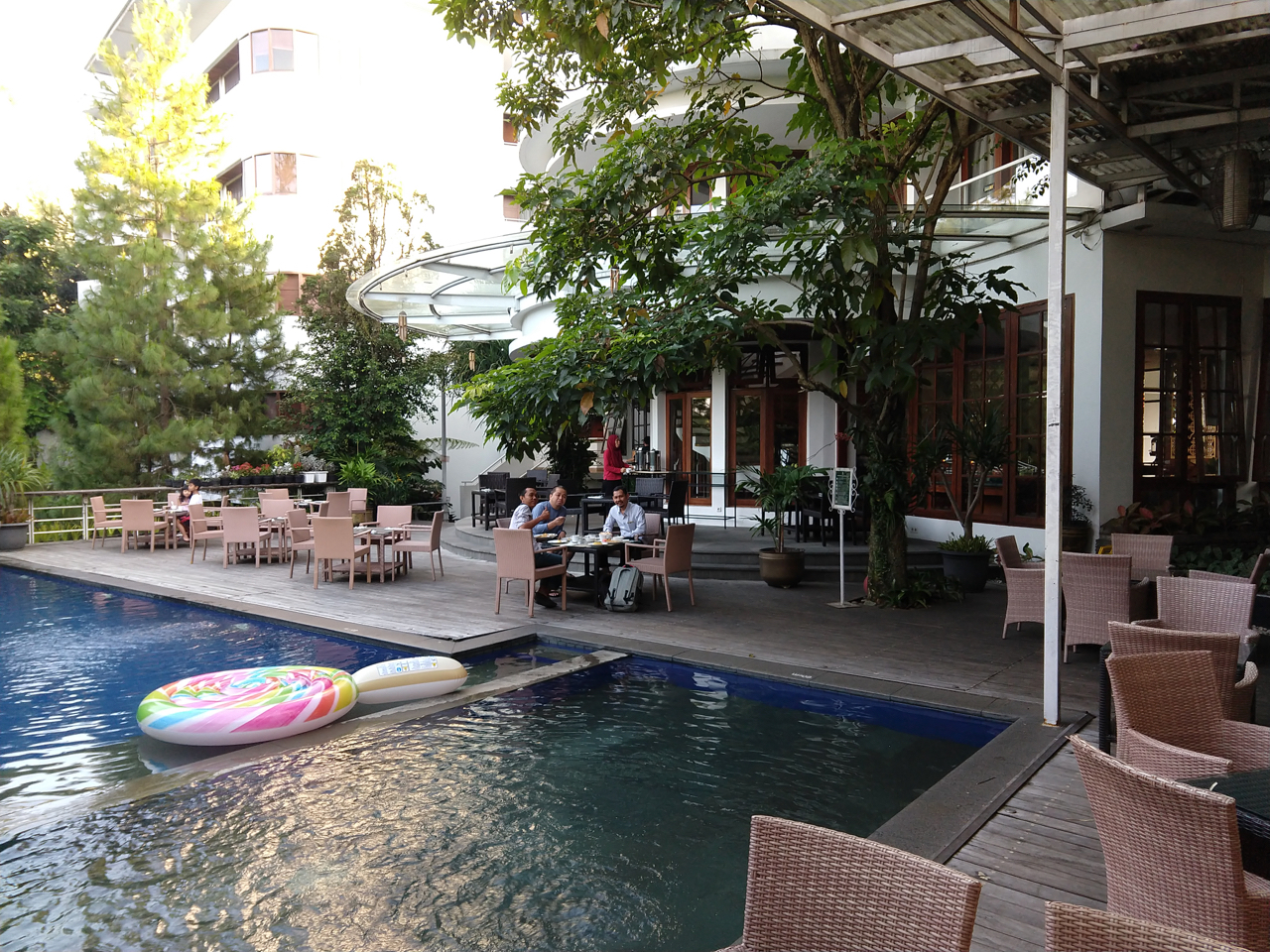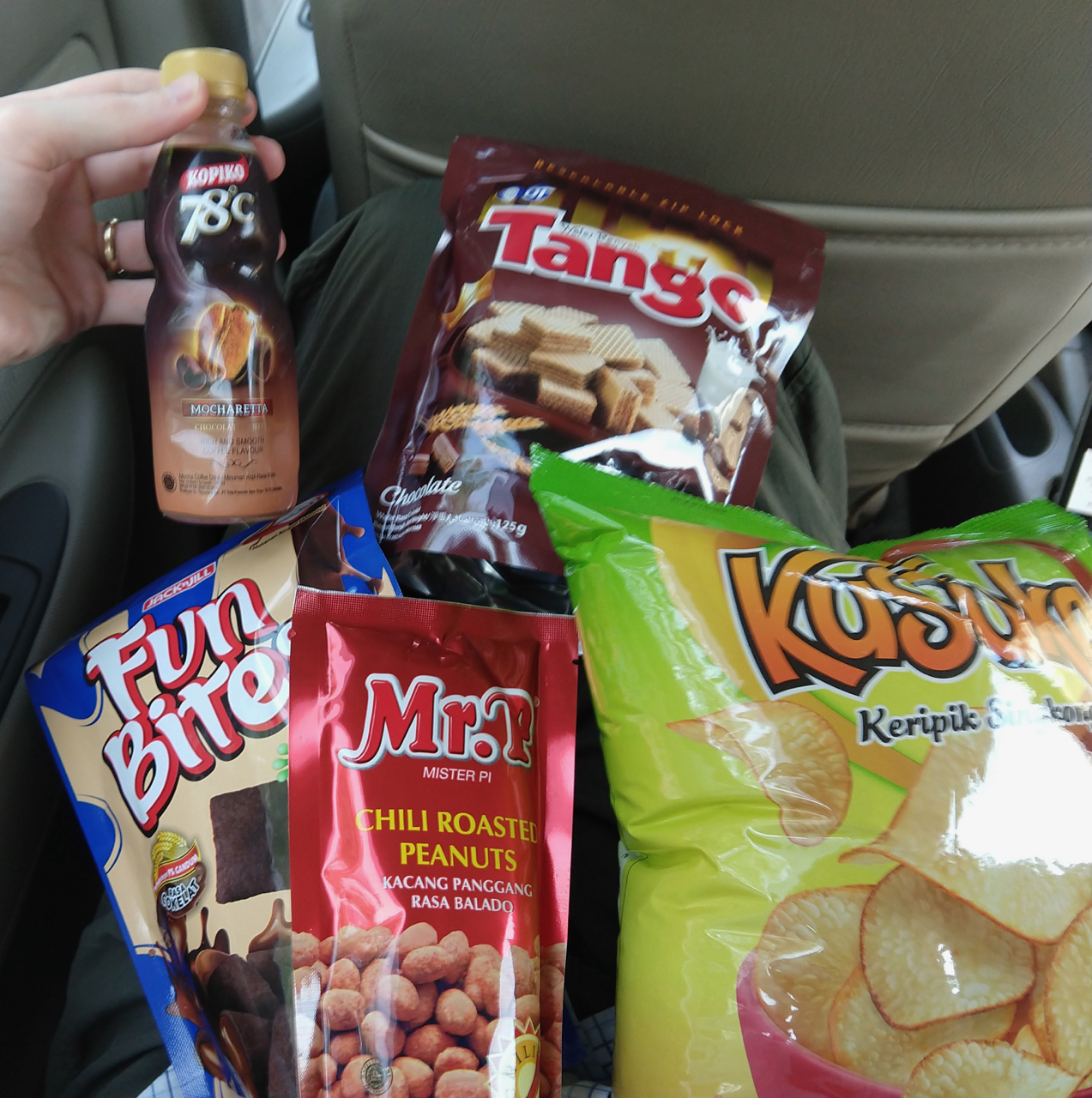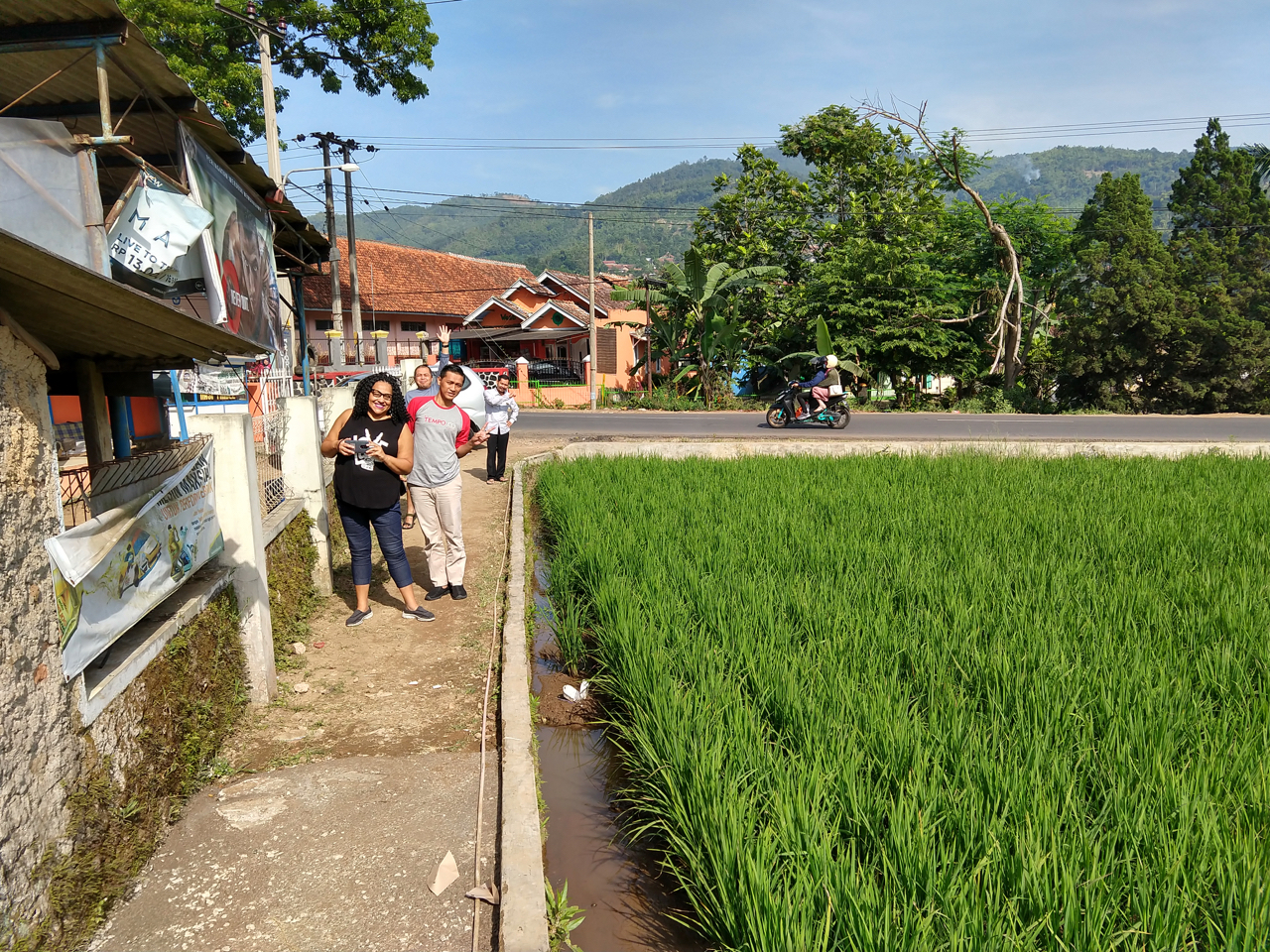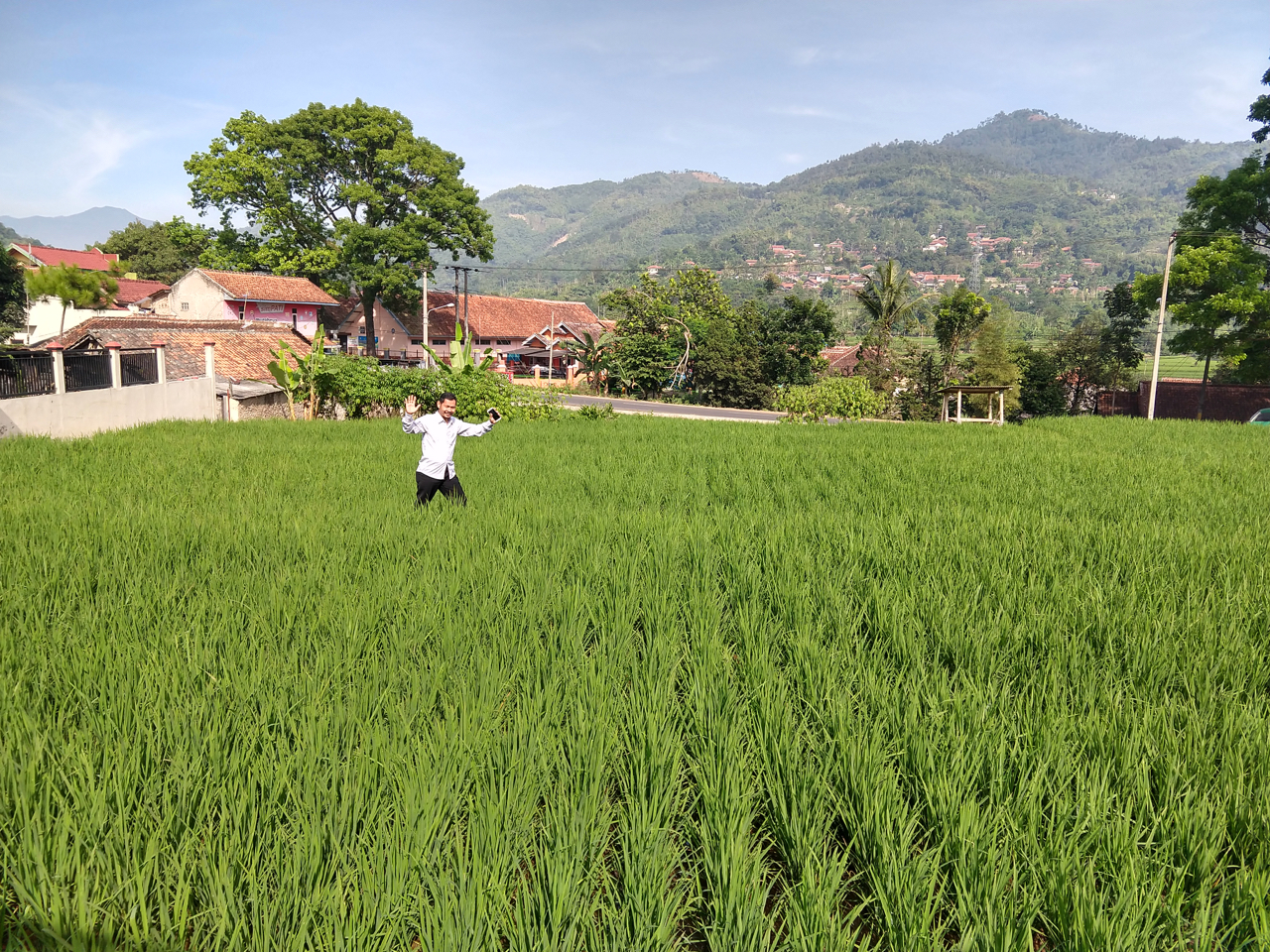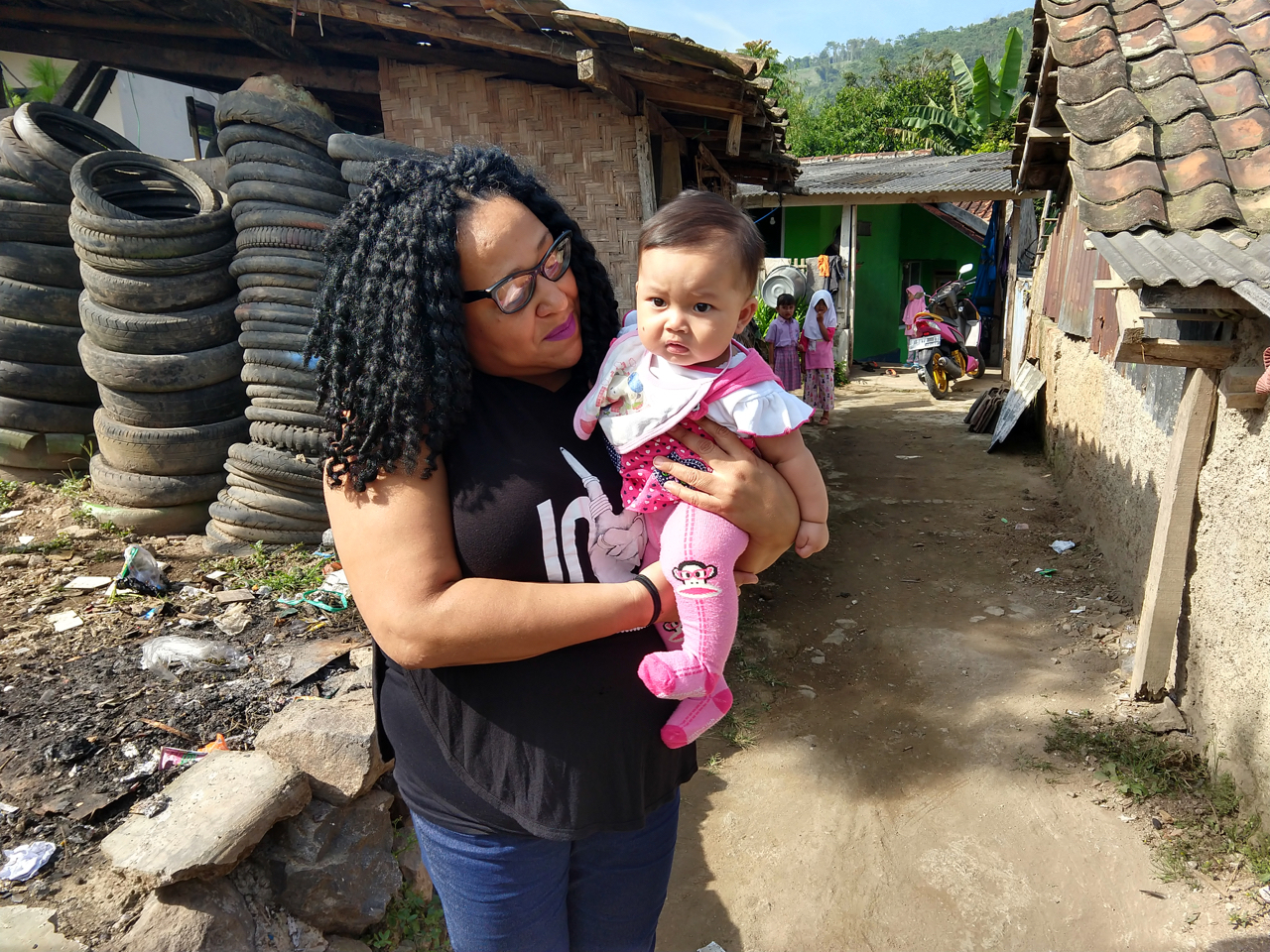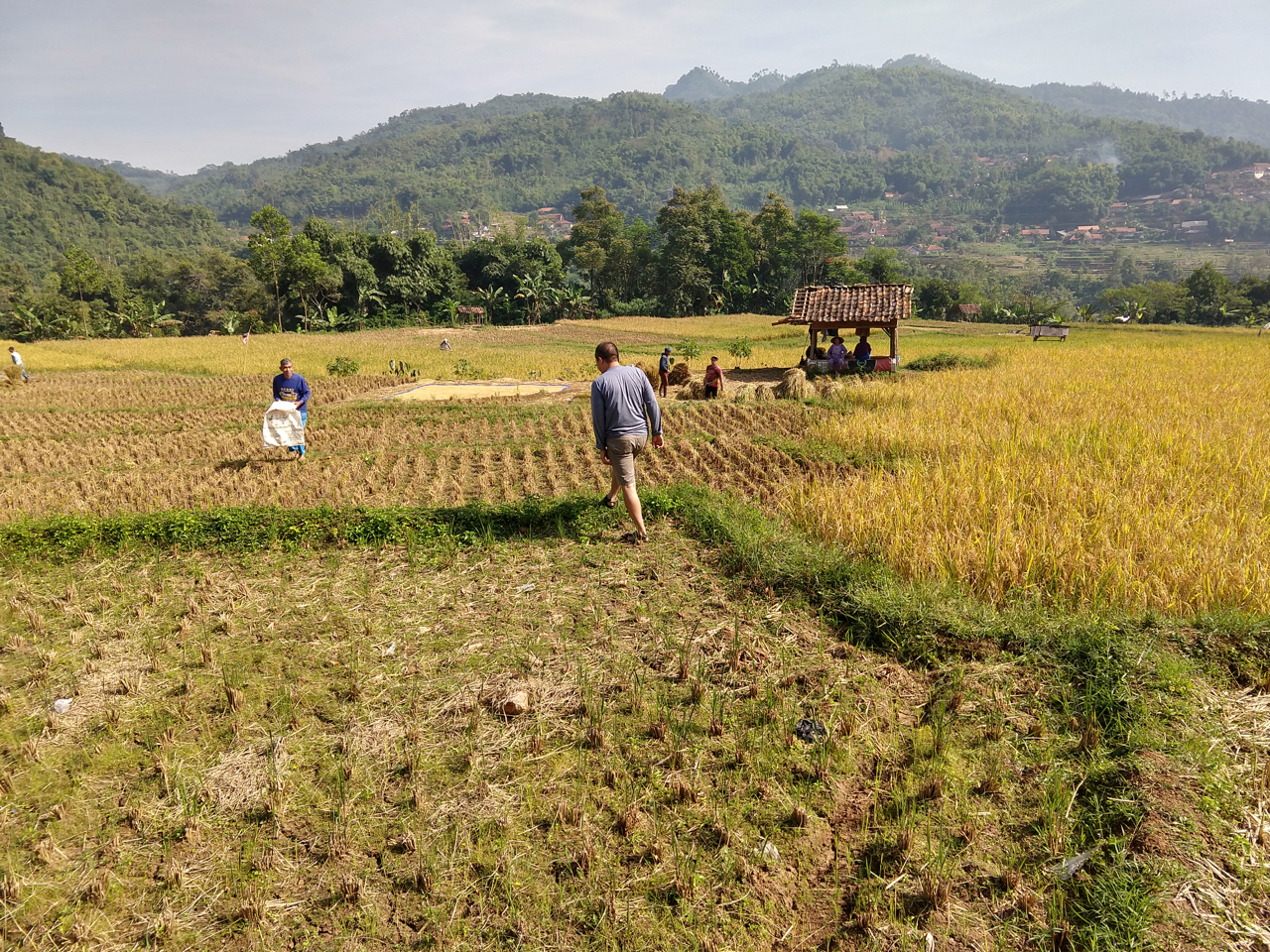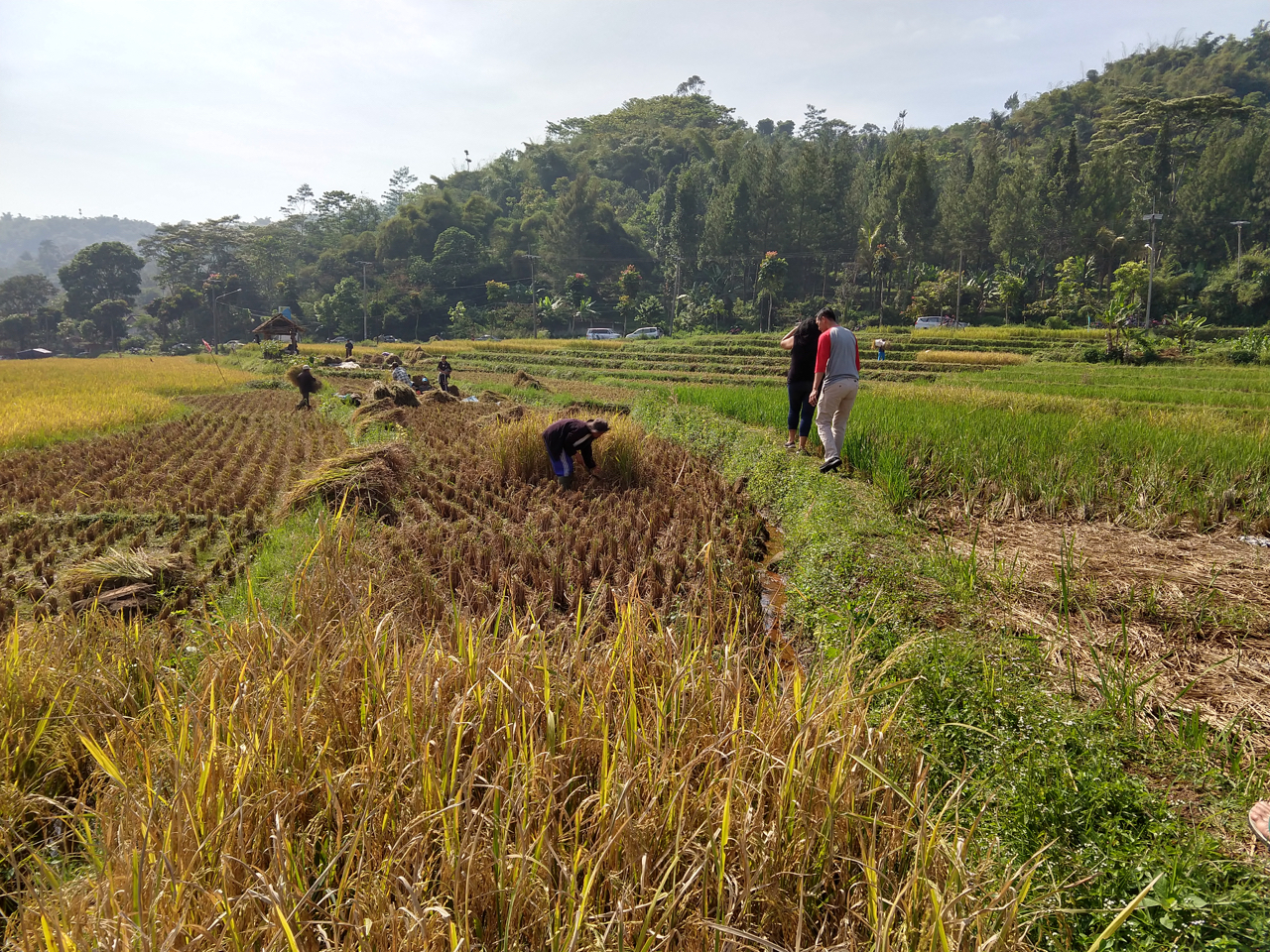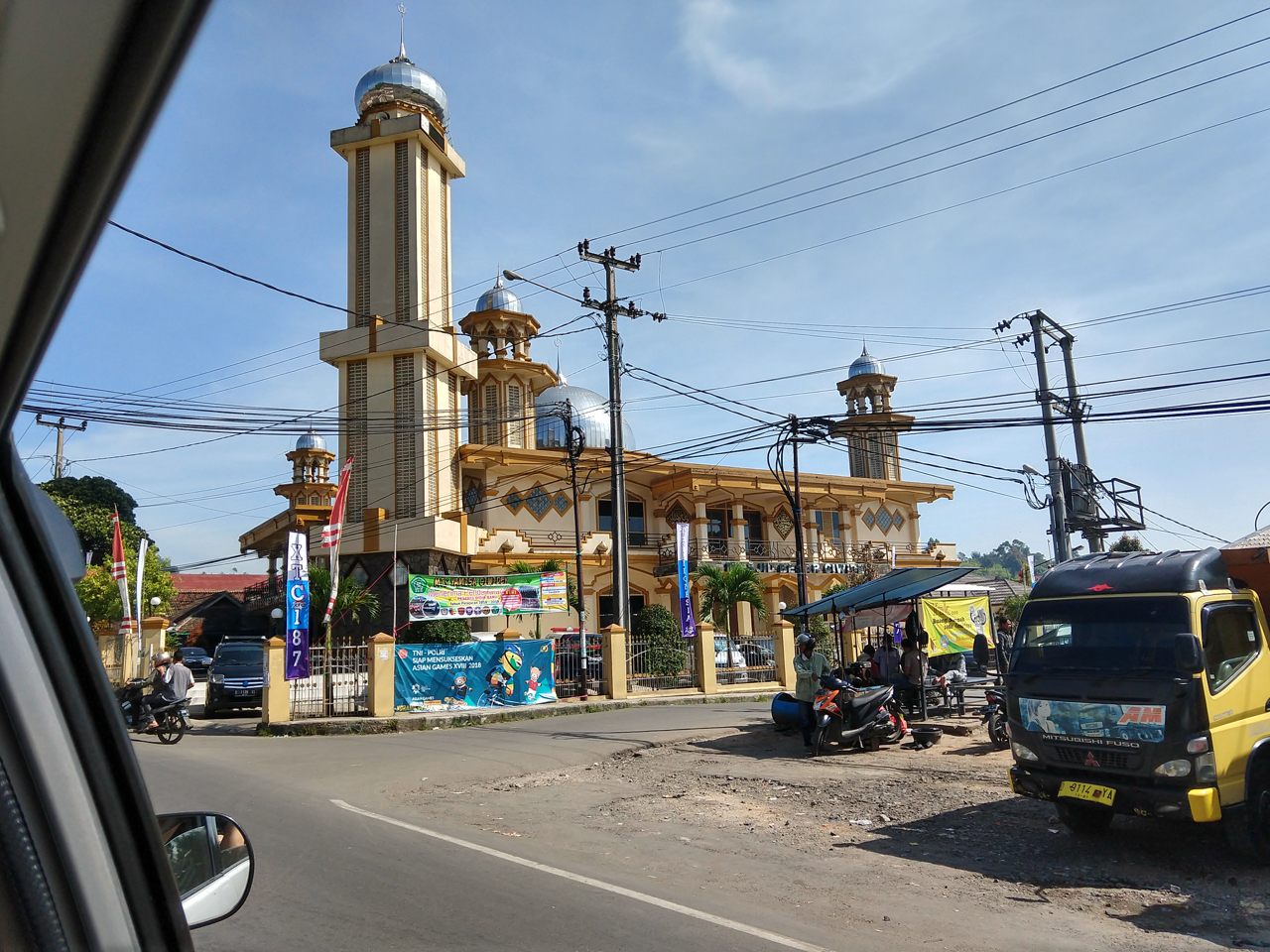 Eventually we reached Kawah Putih ("white crater") where we took a little bus up the mountain.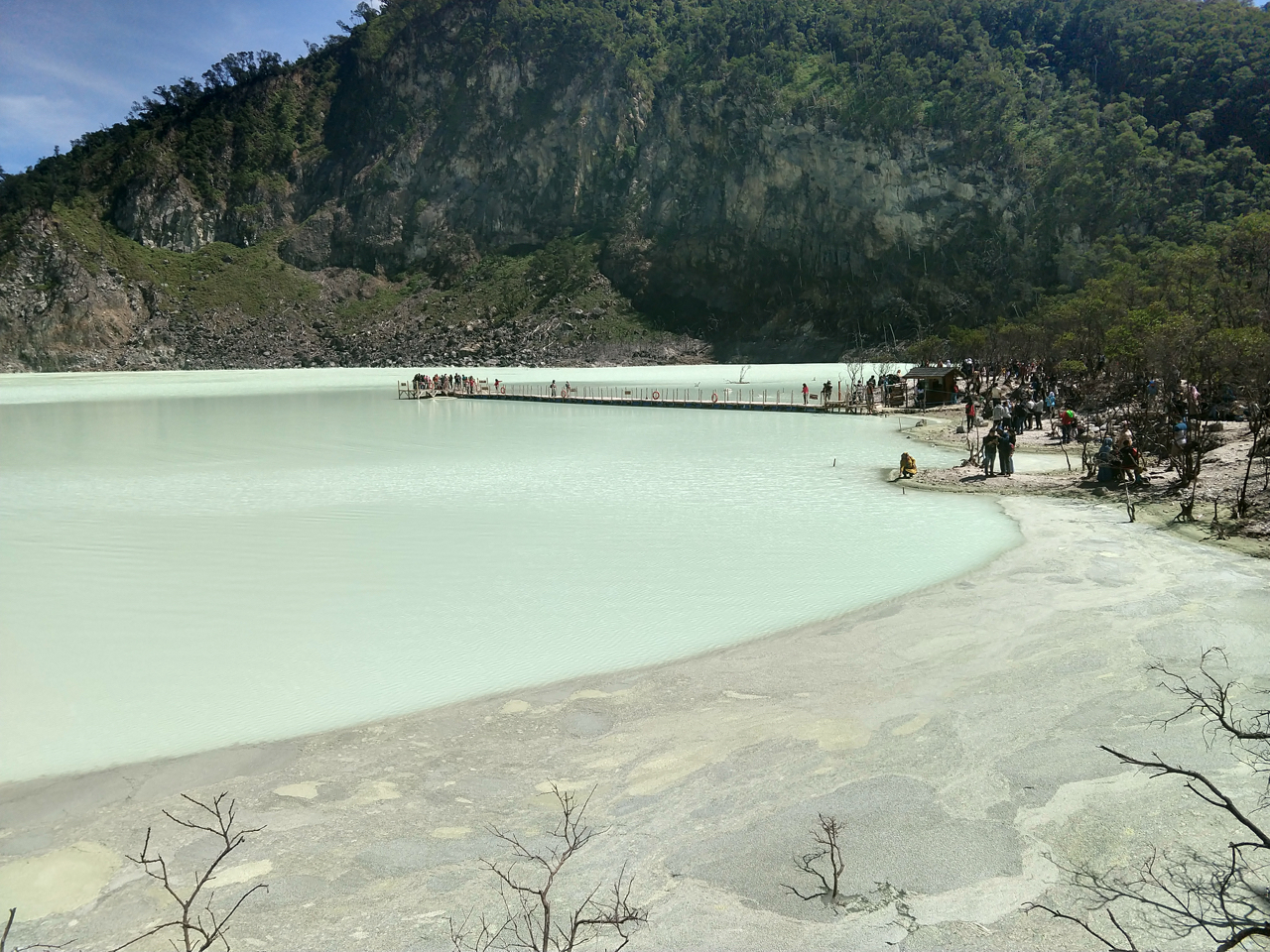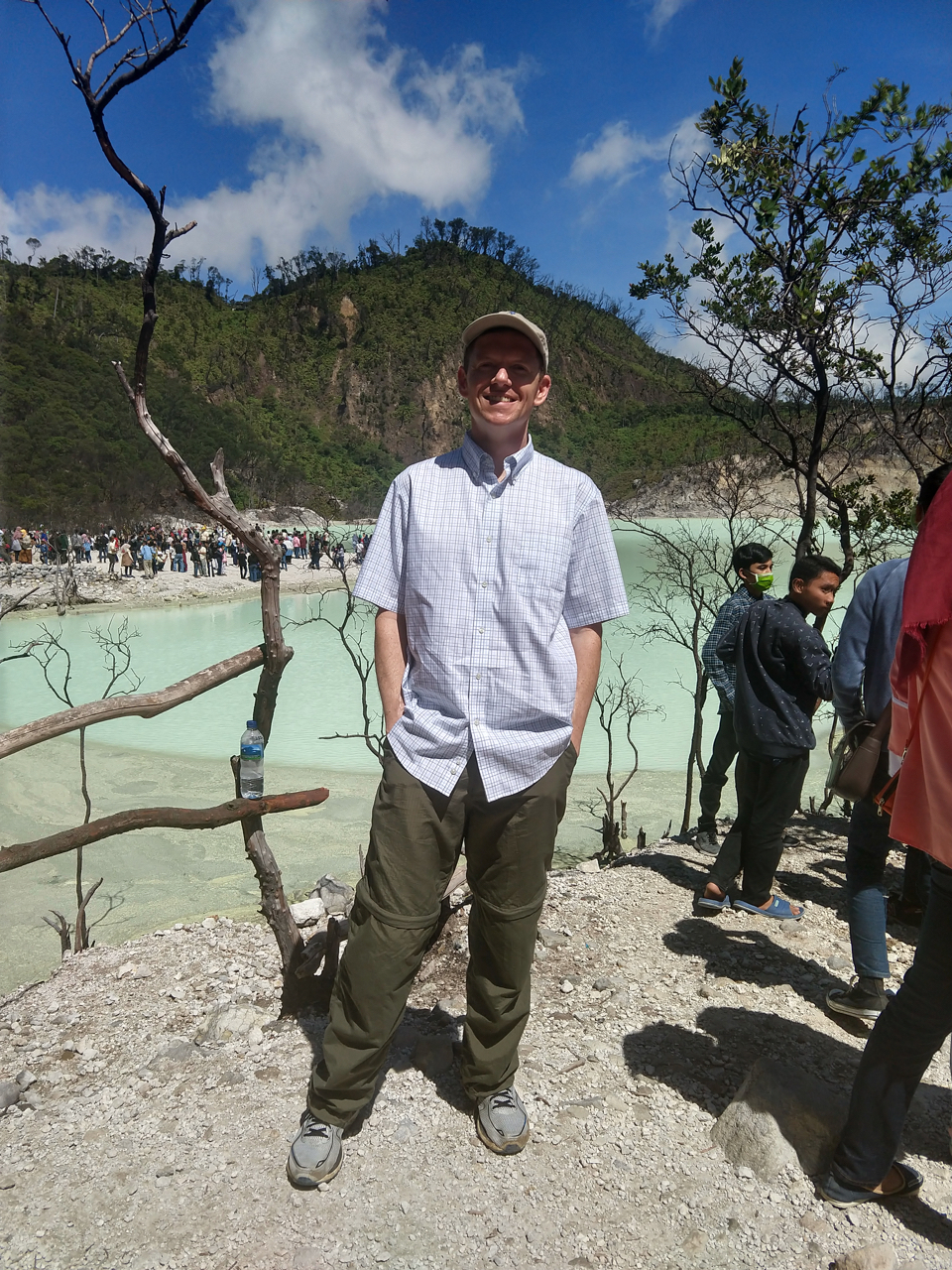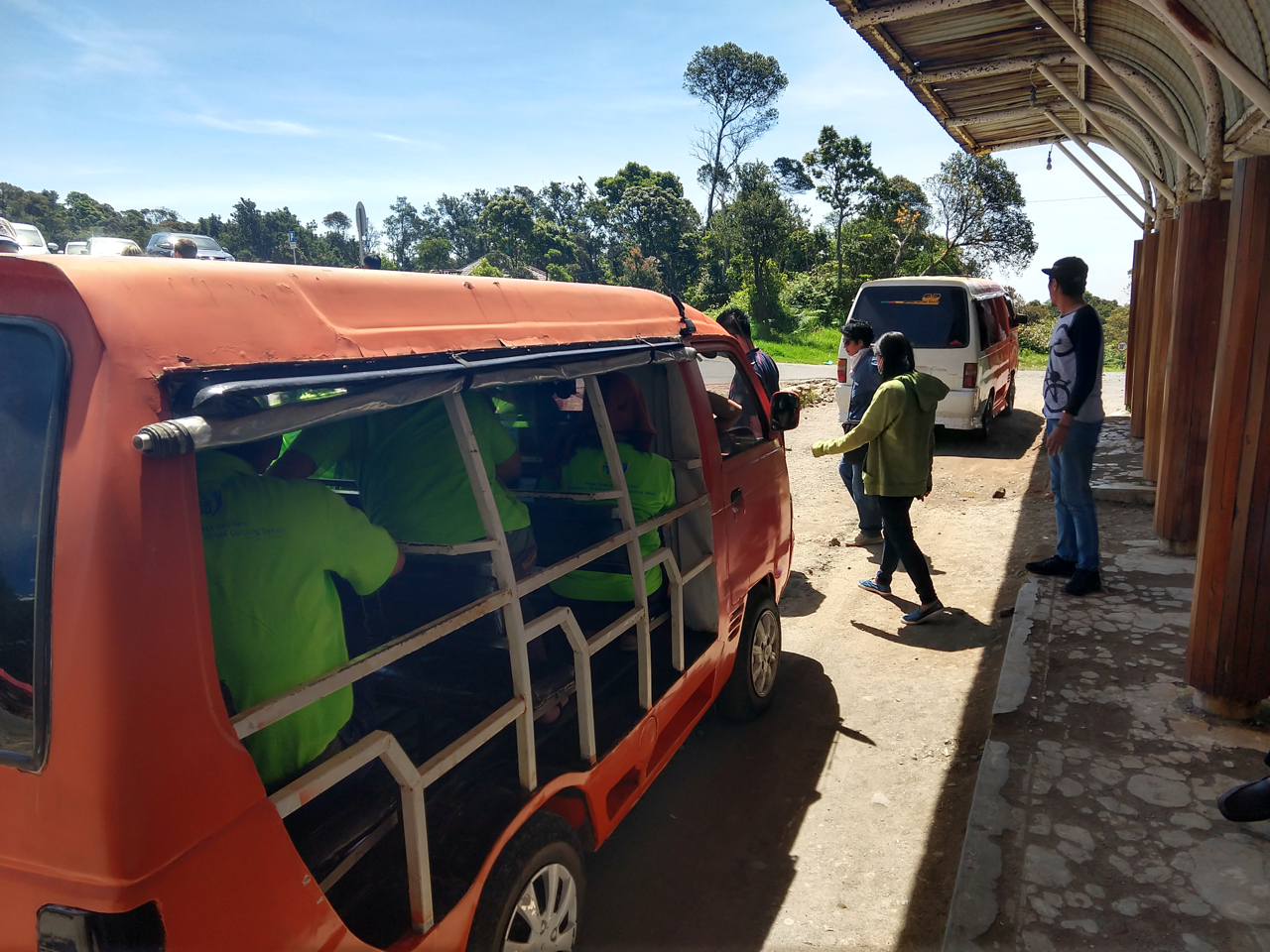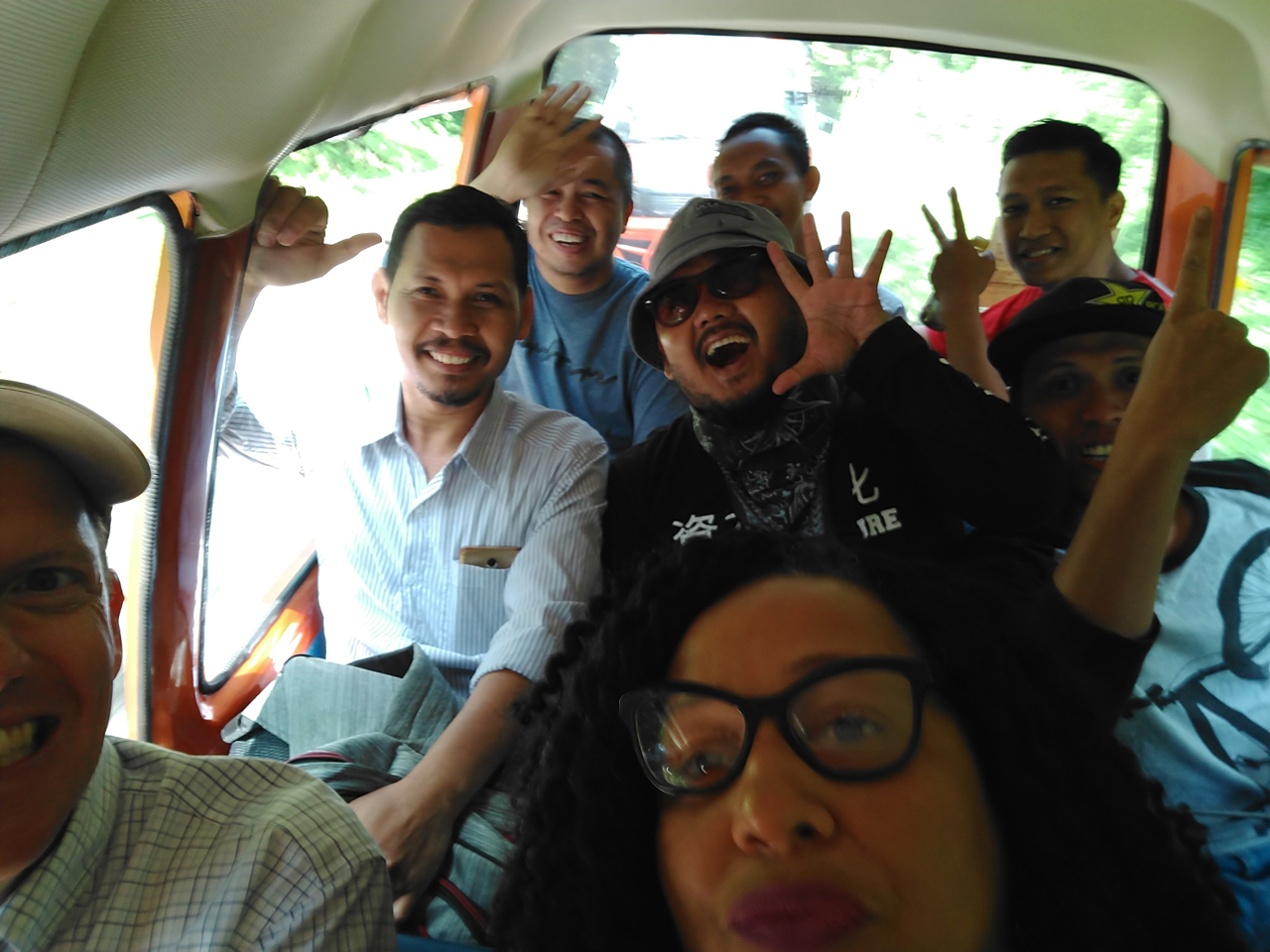 We kept driving and passed a beautiful area where tea was growing.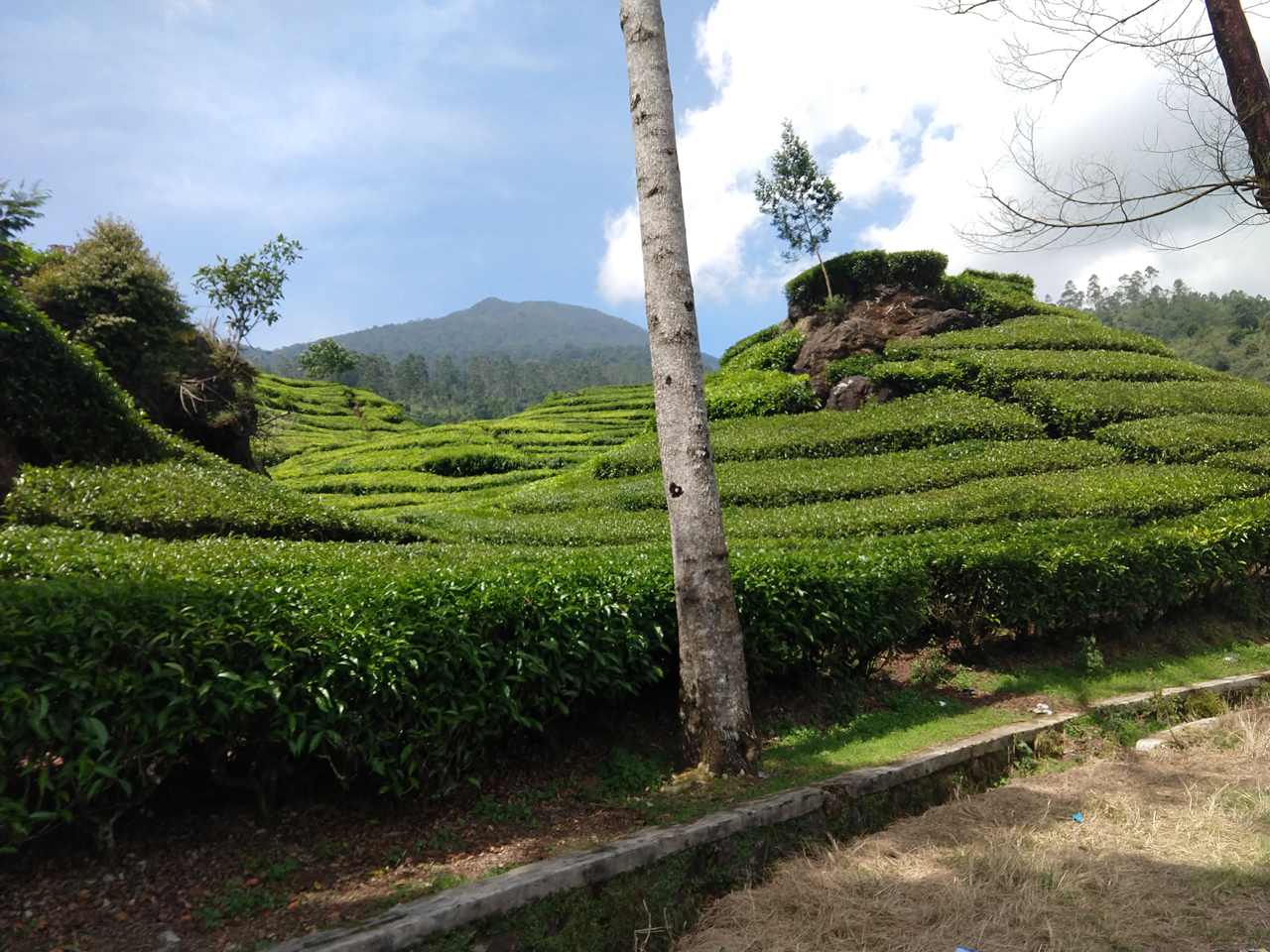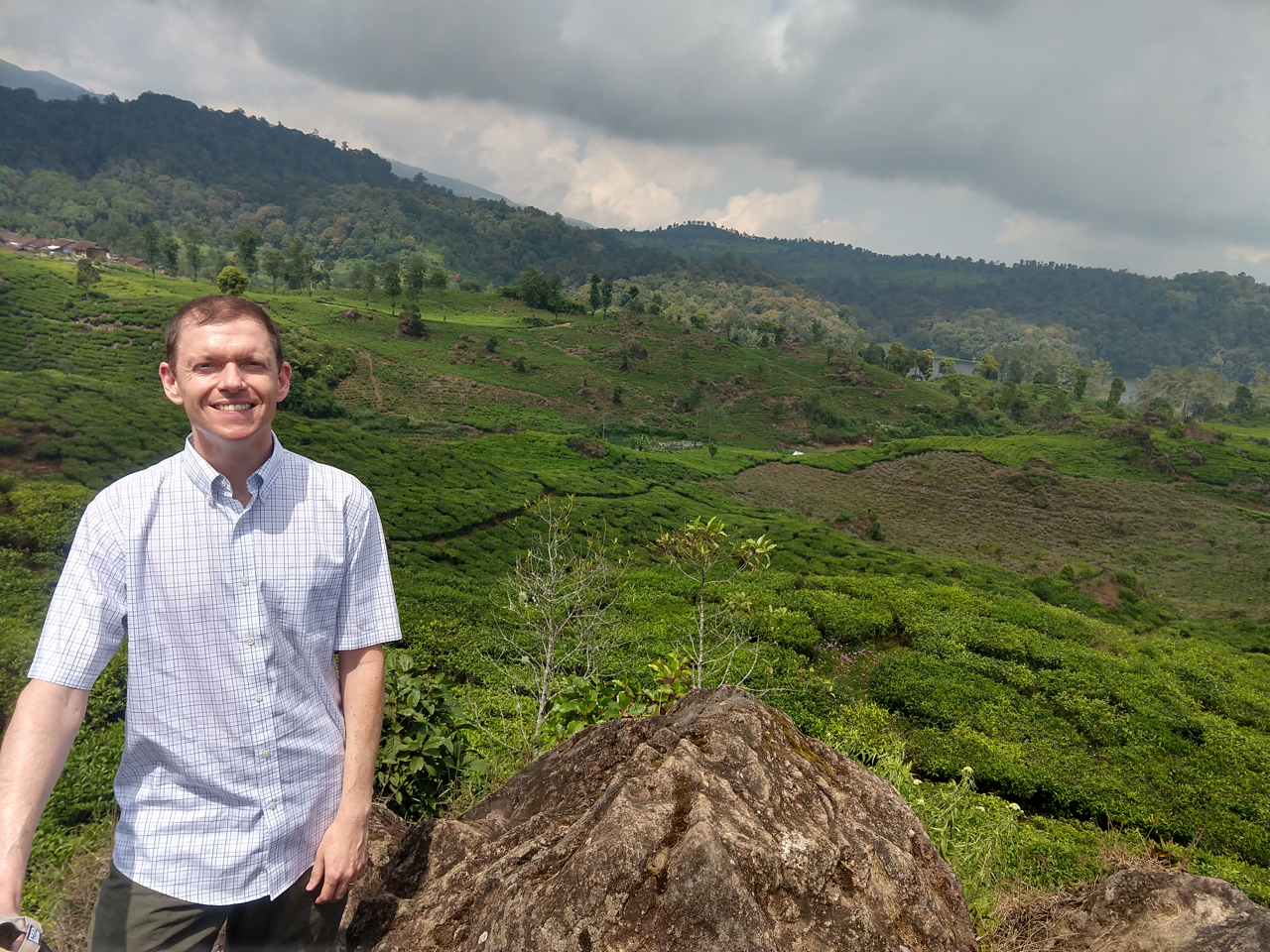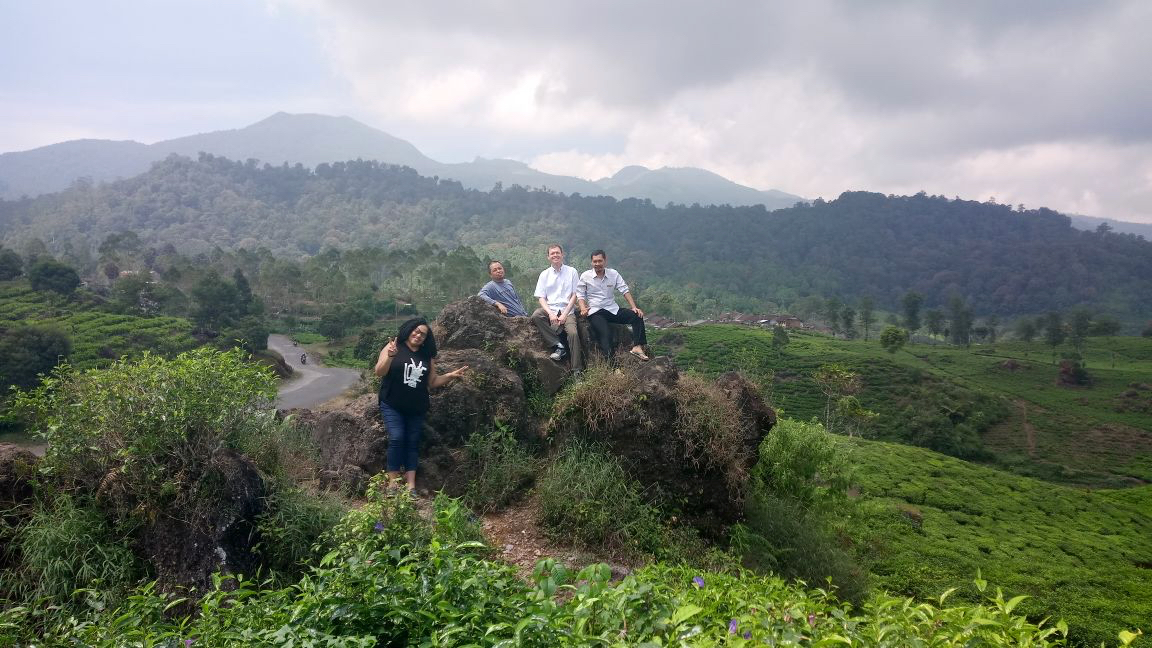 At Situ Patengan we had lunch at a restaurant shaped like a boat and I was encouraged to finally give eating with my hands a try. We look a ferry across the lake and shopped a bit on the other side.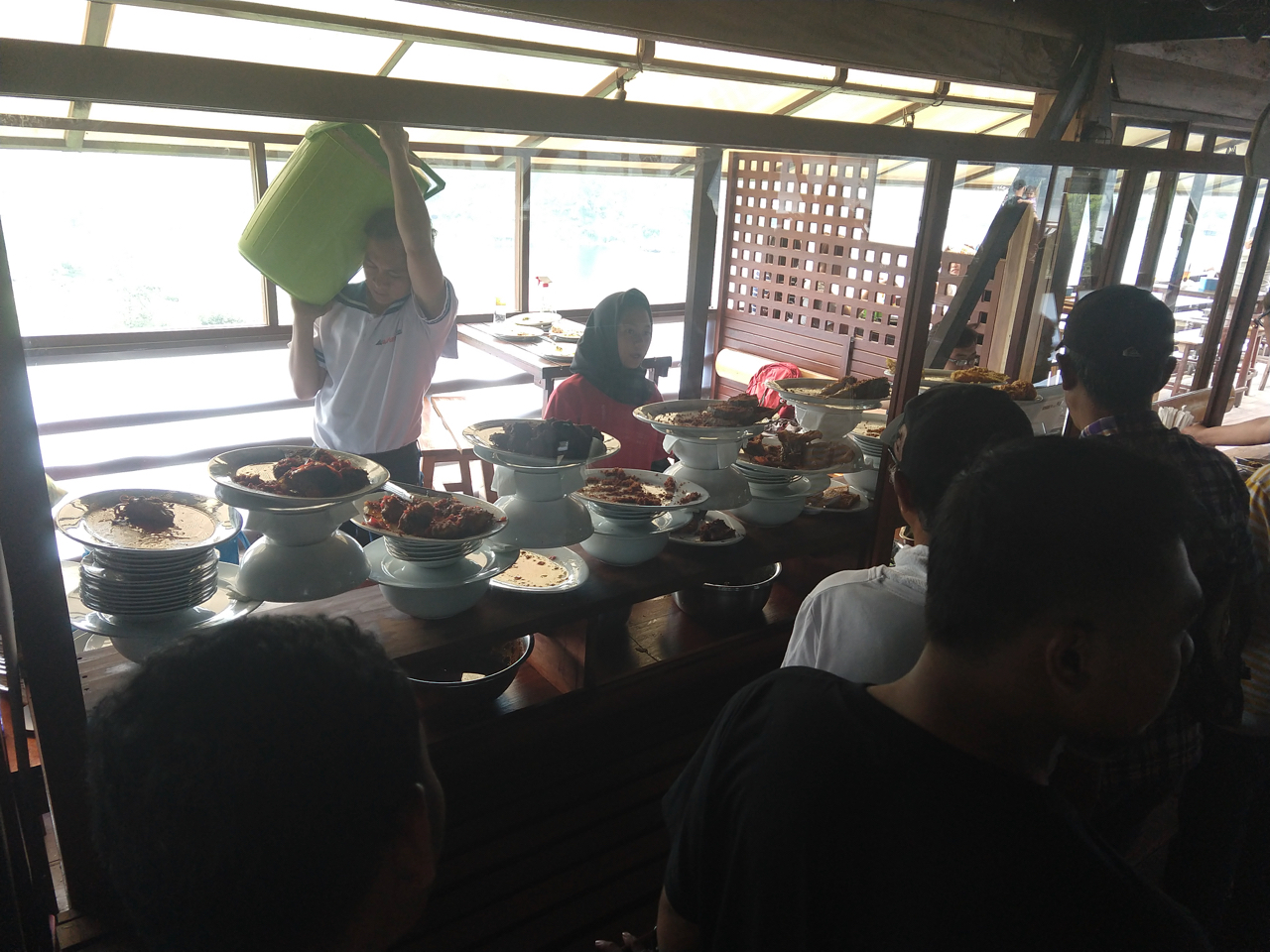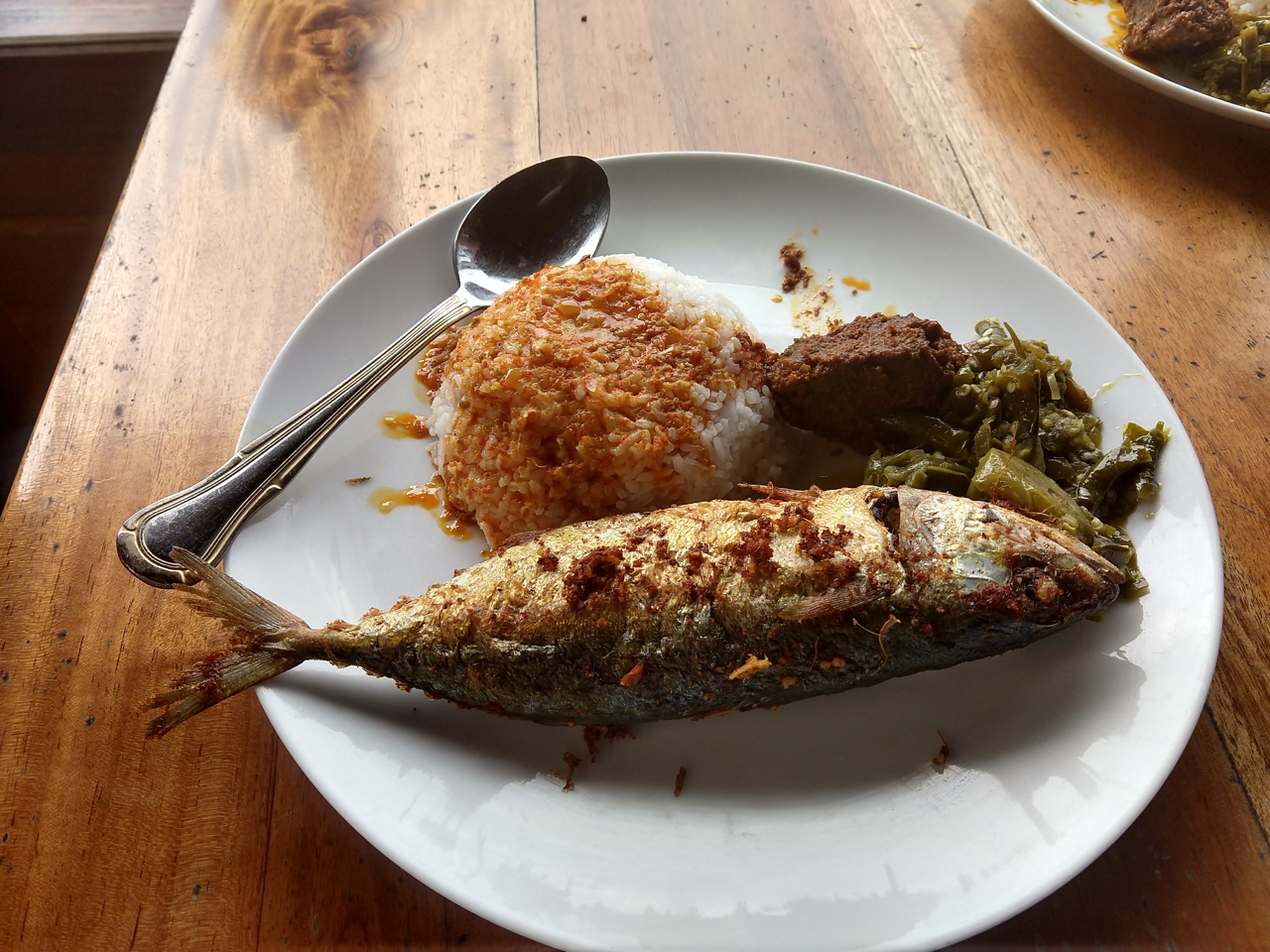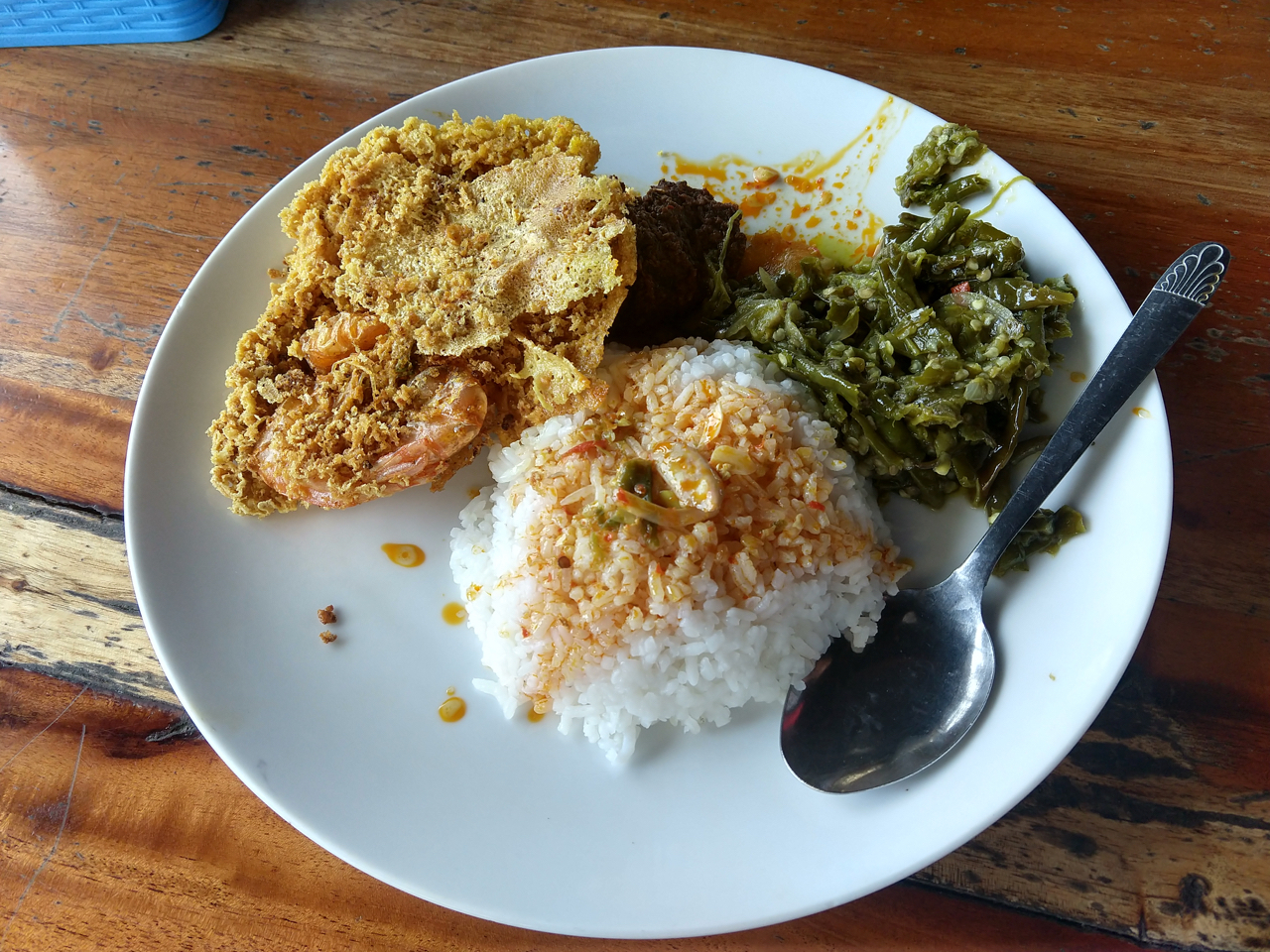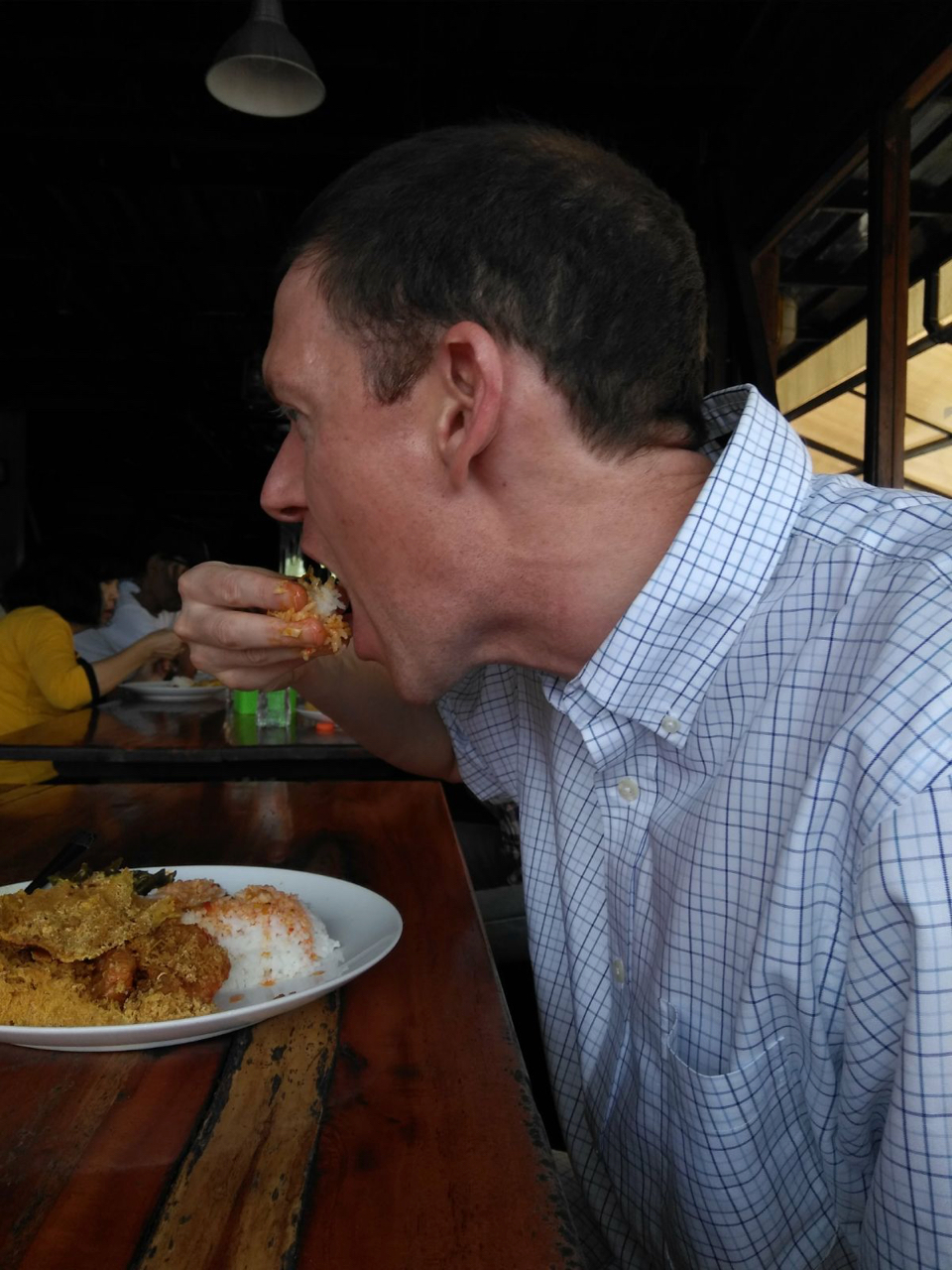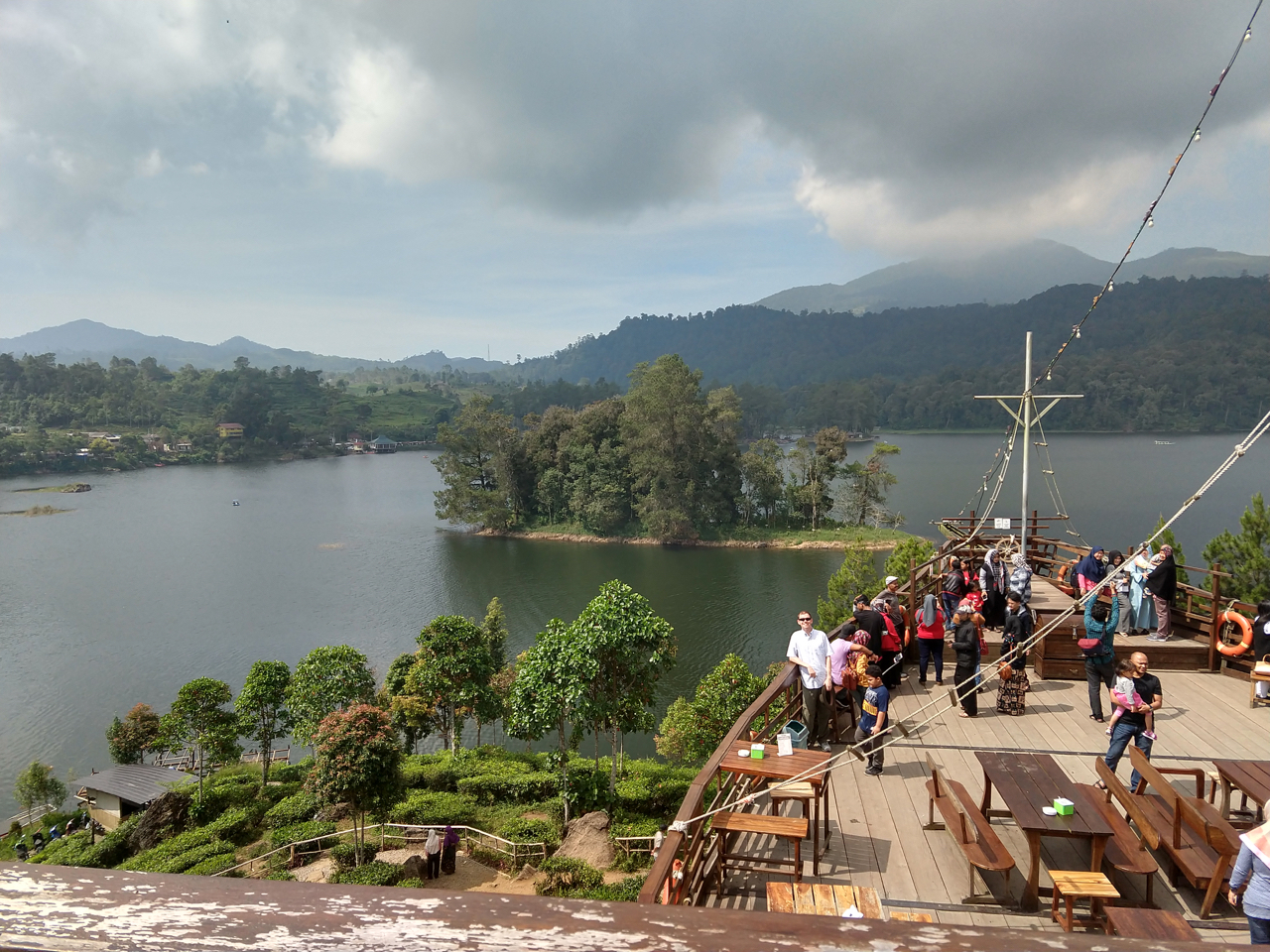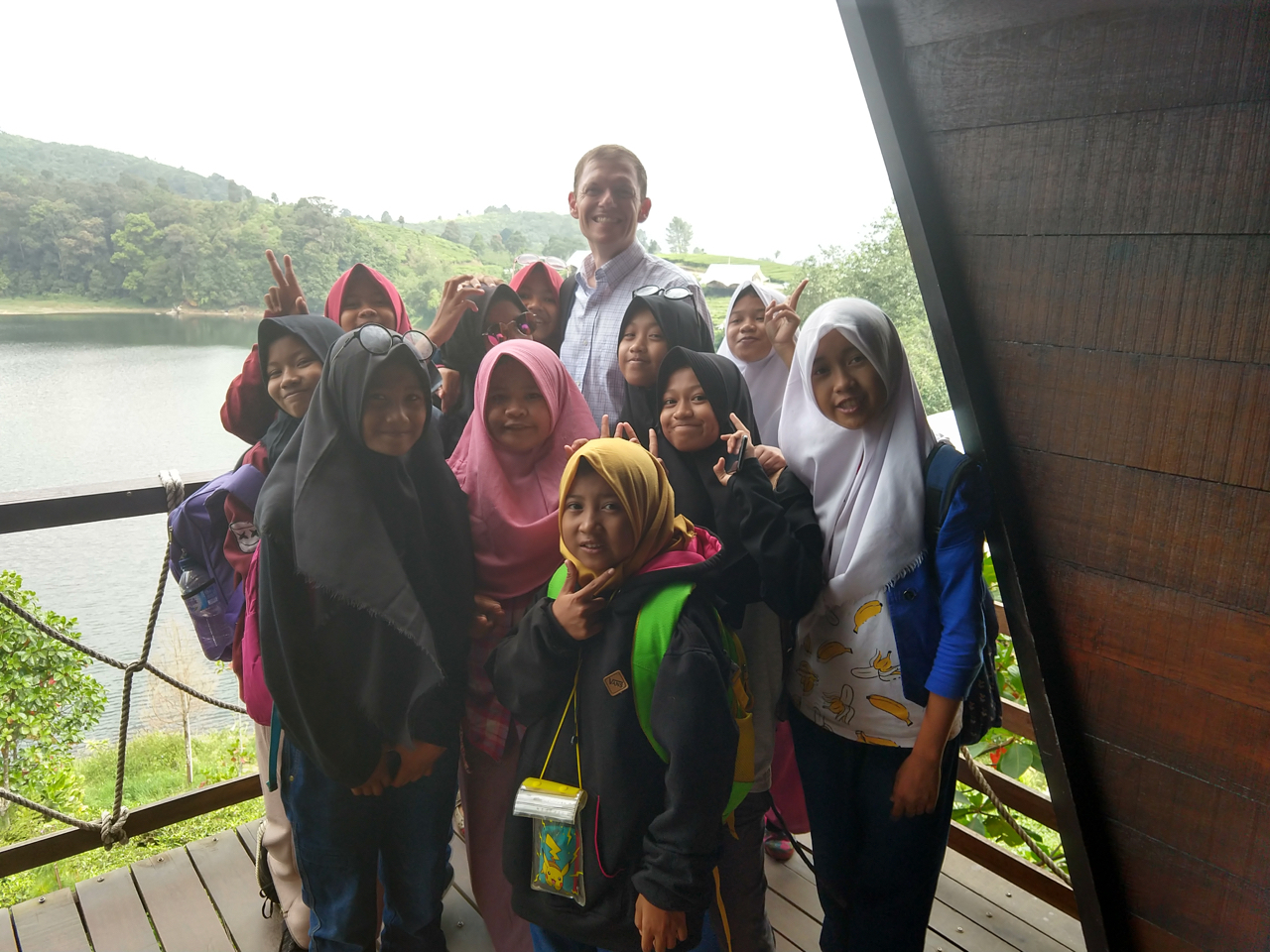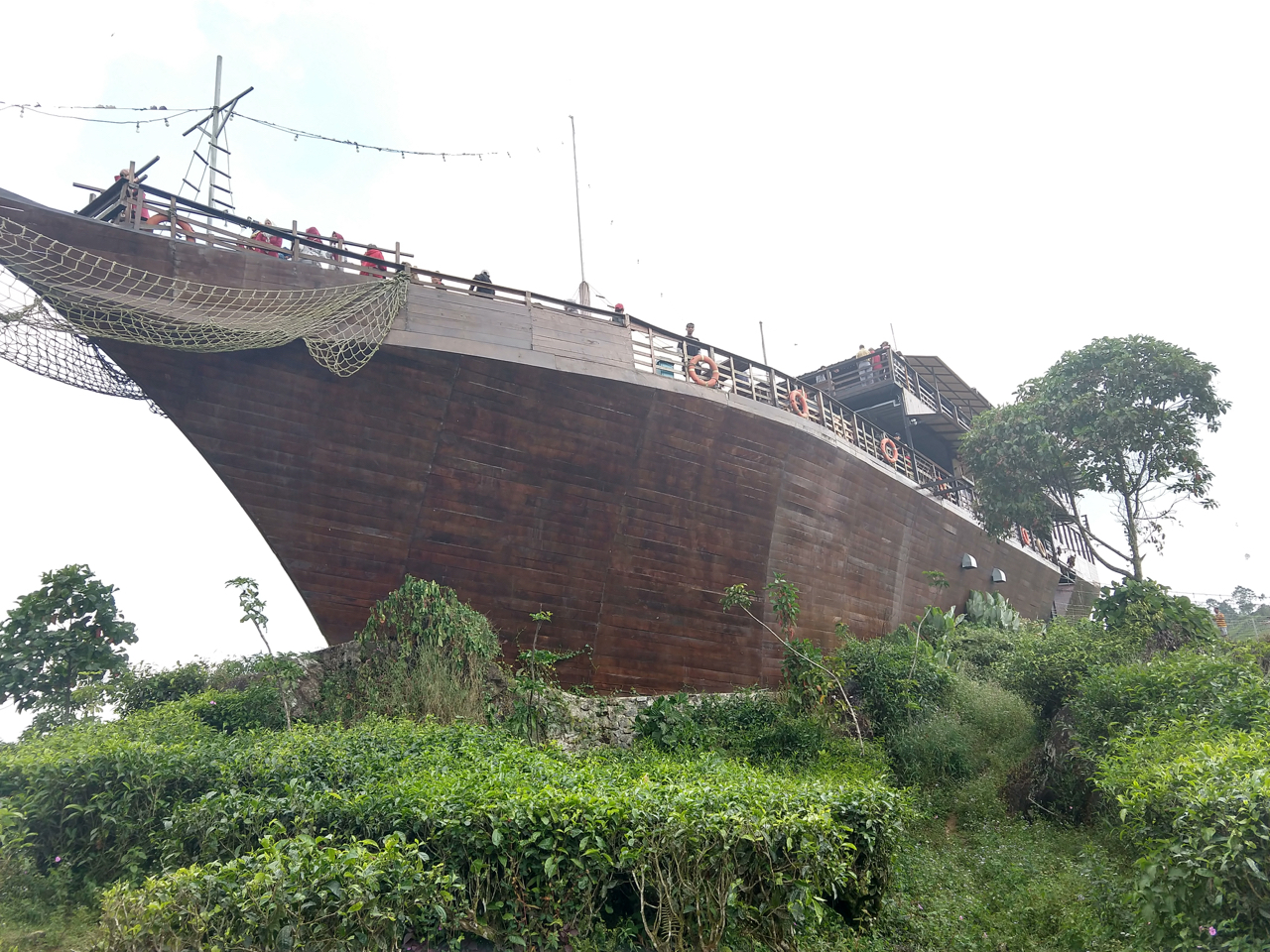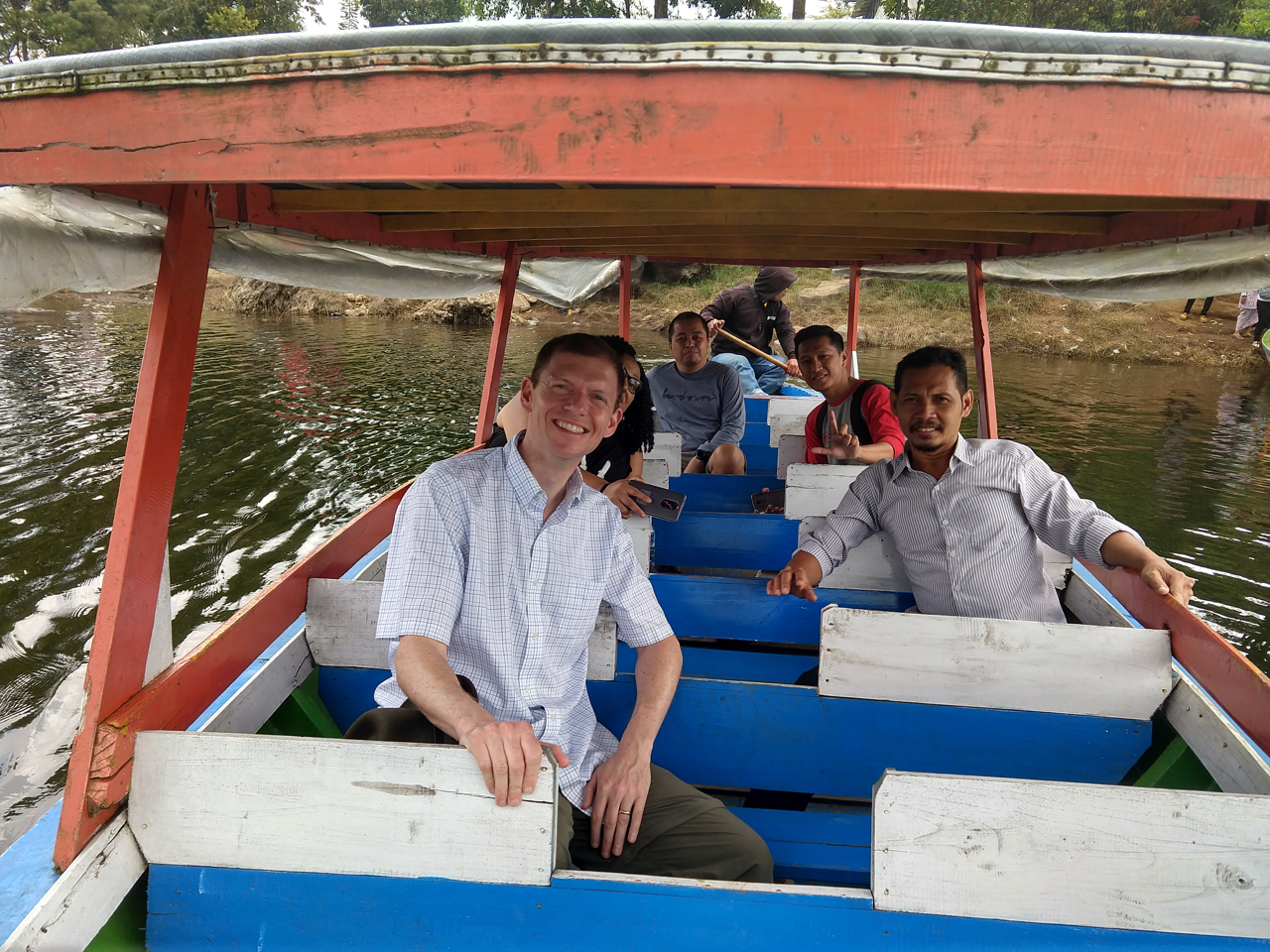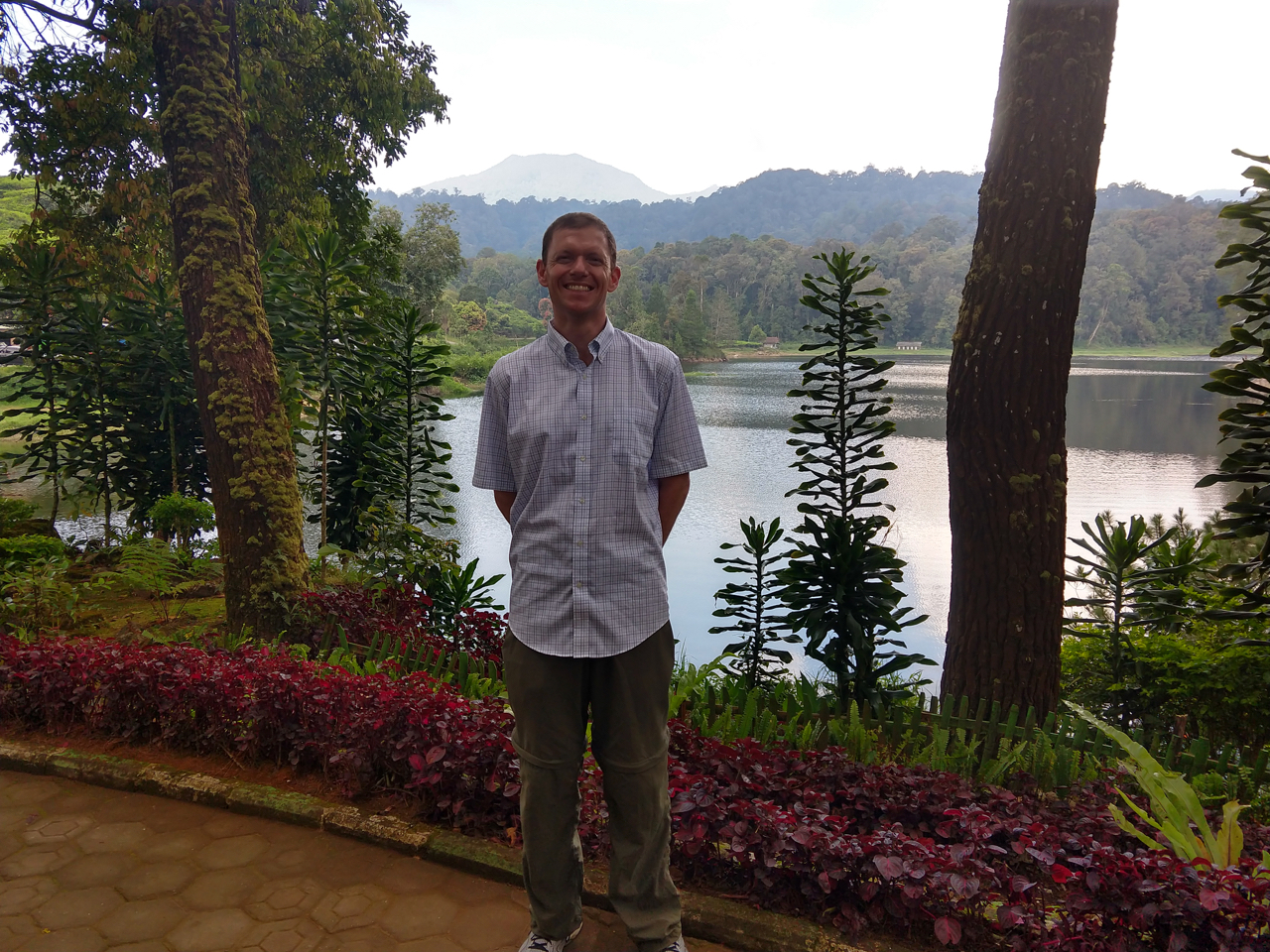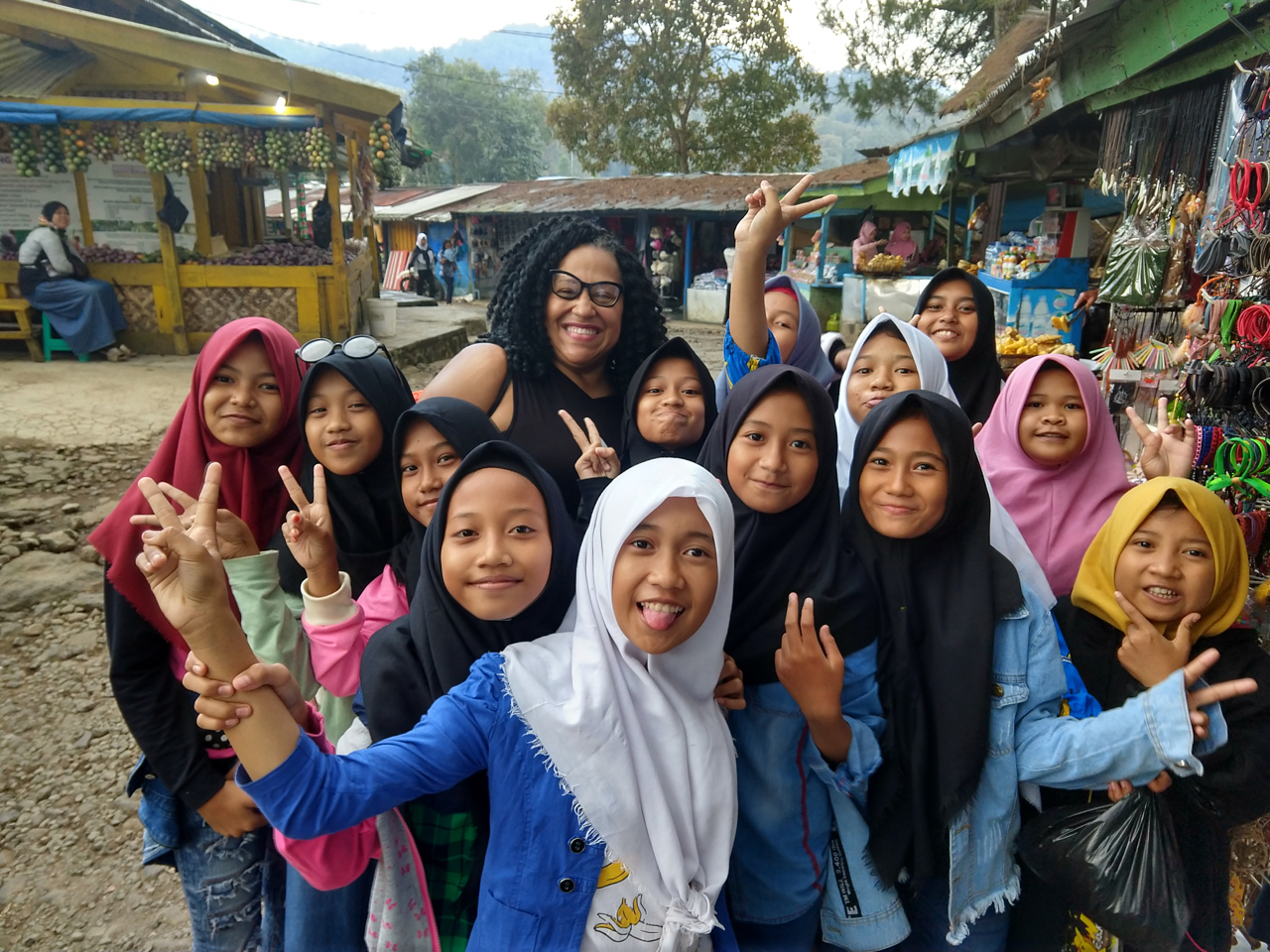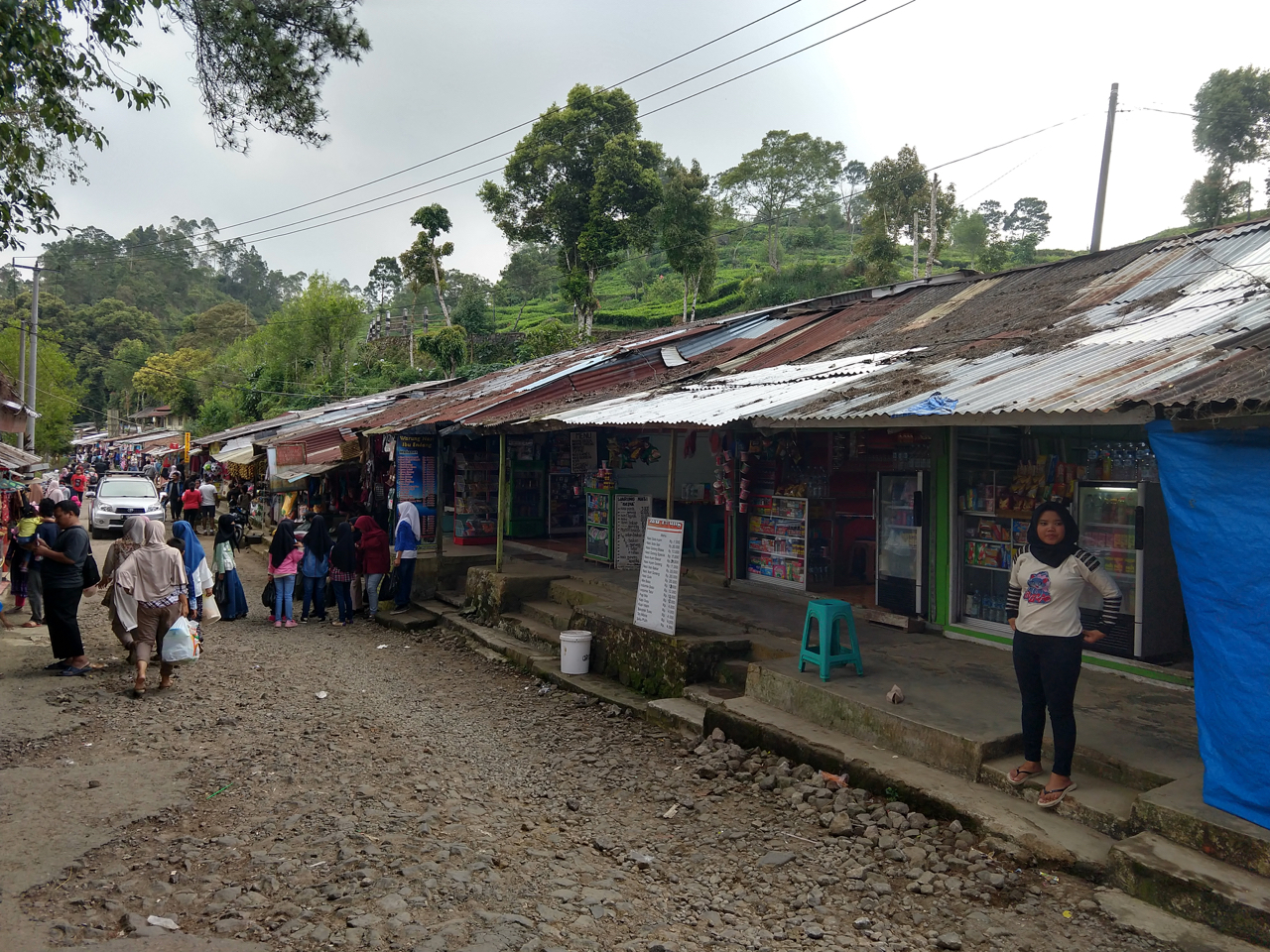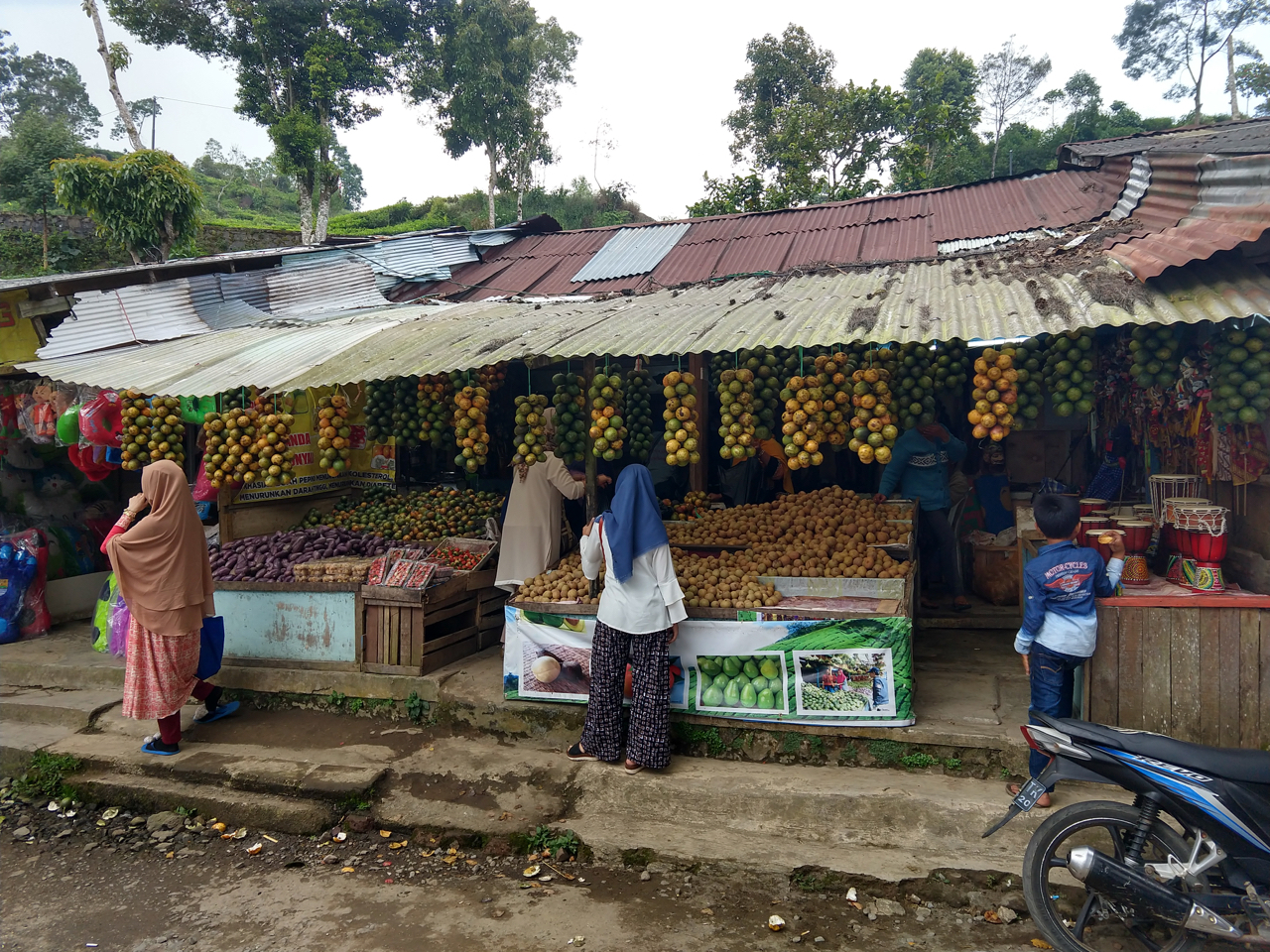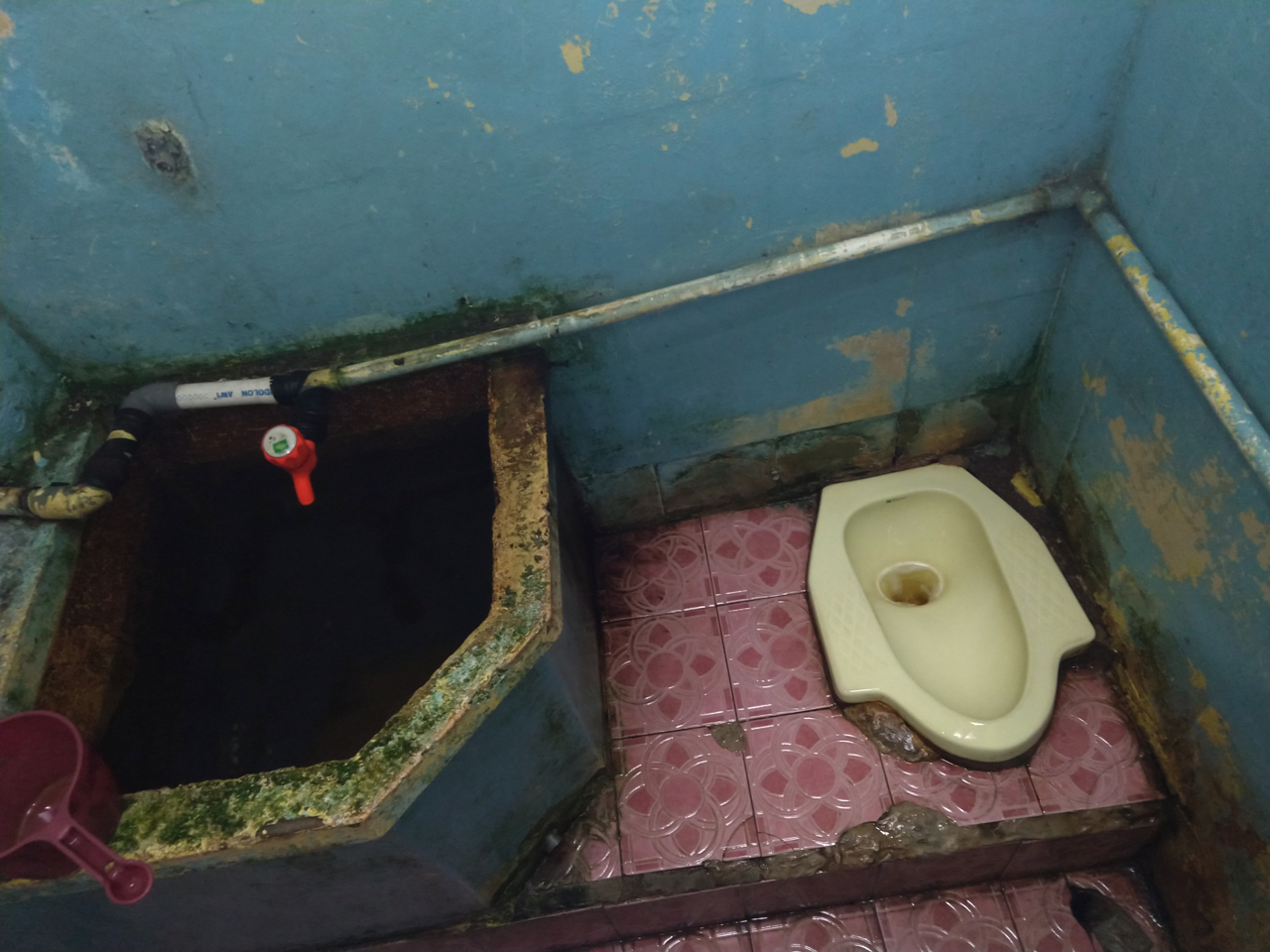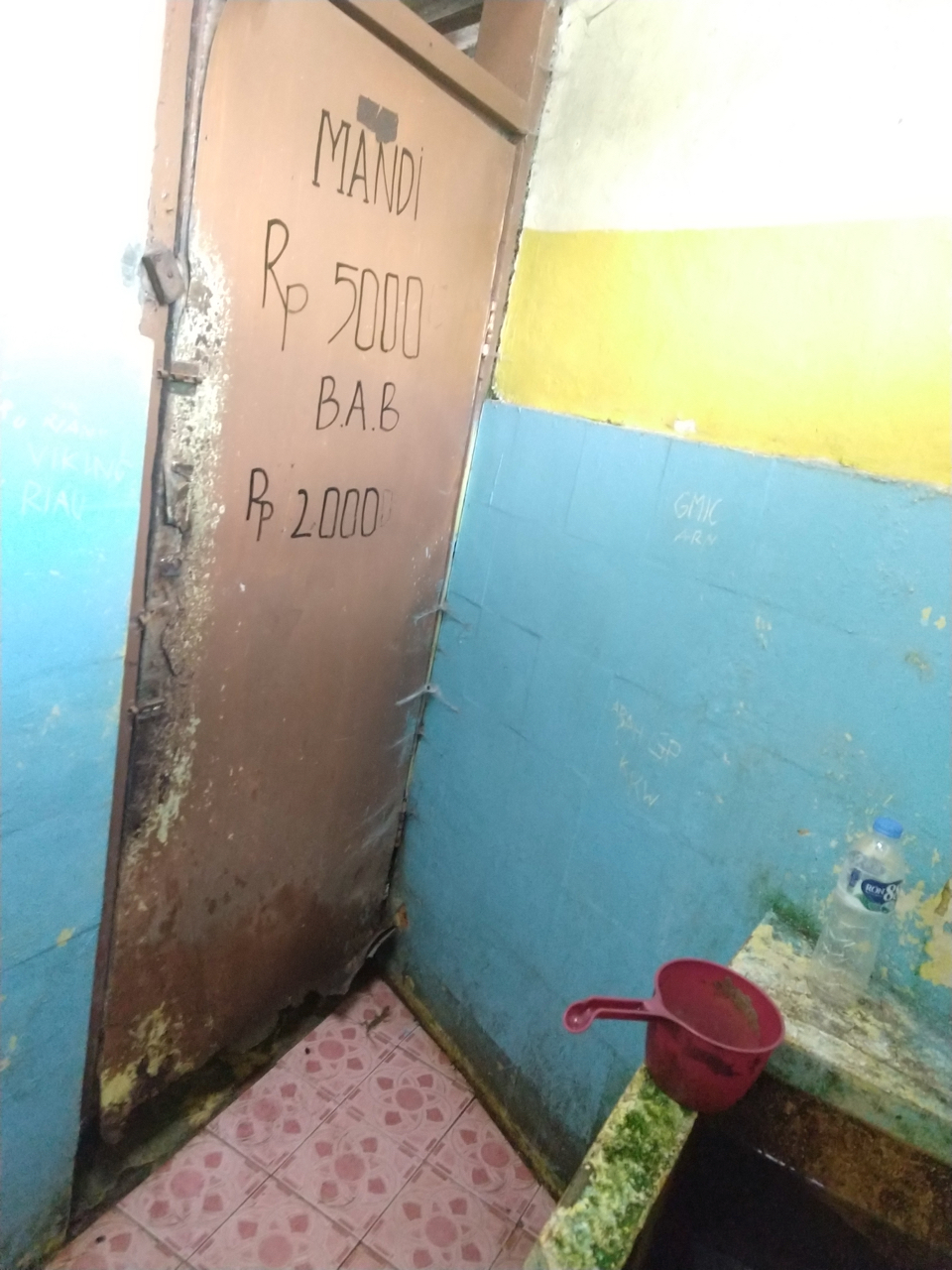 We crossed back over the lake and had some bala-bala cooked over a traditional stove.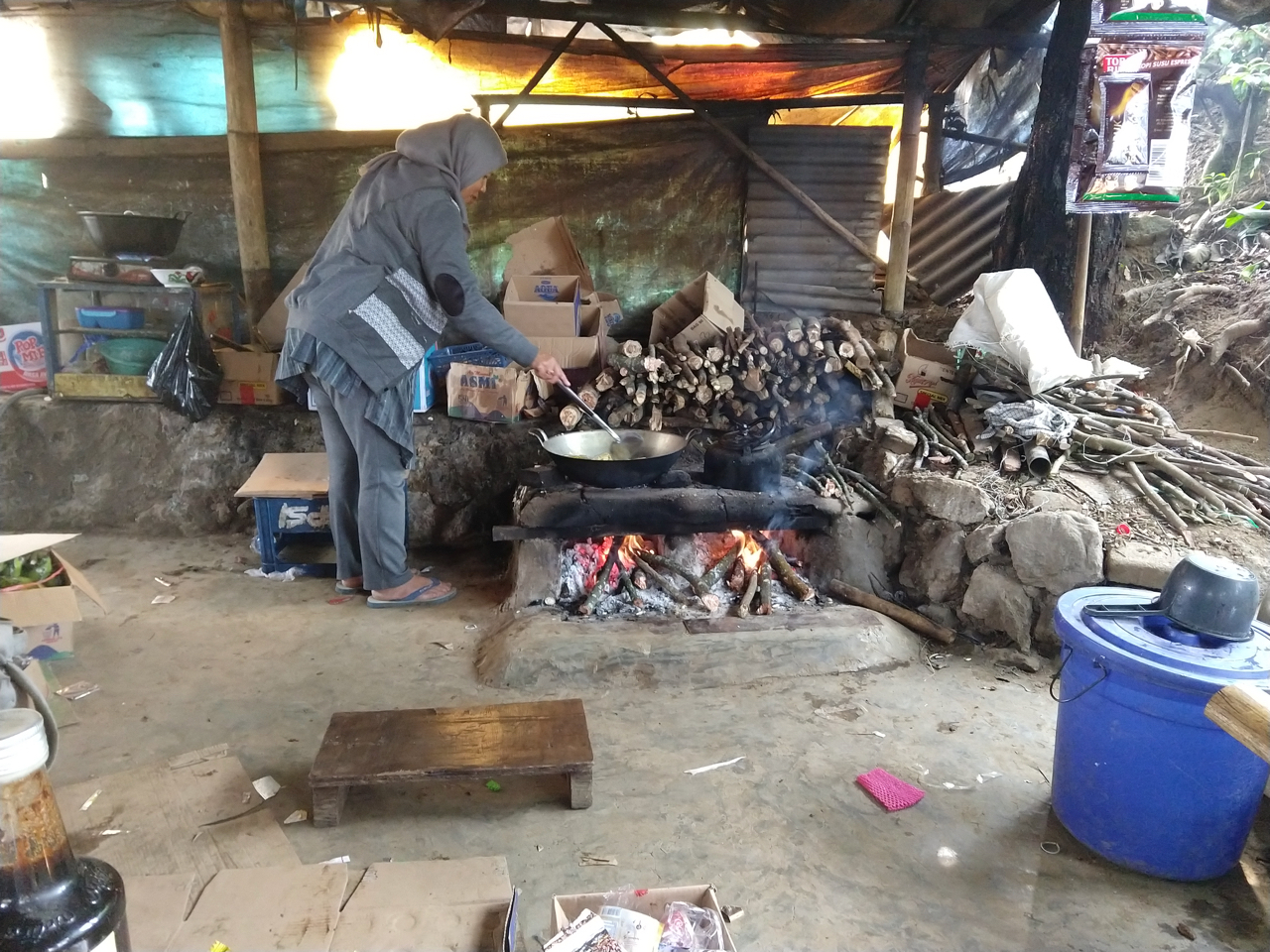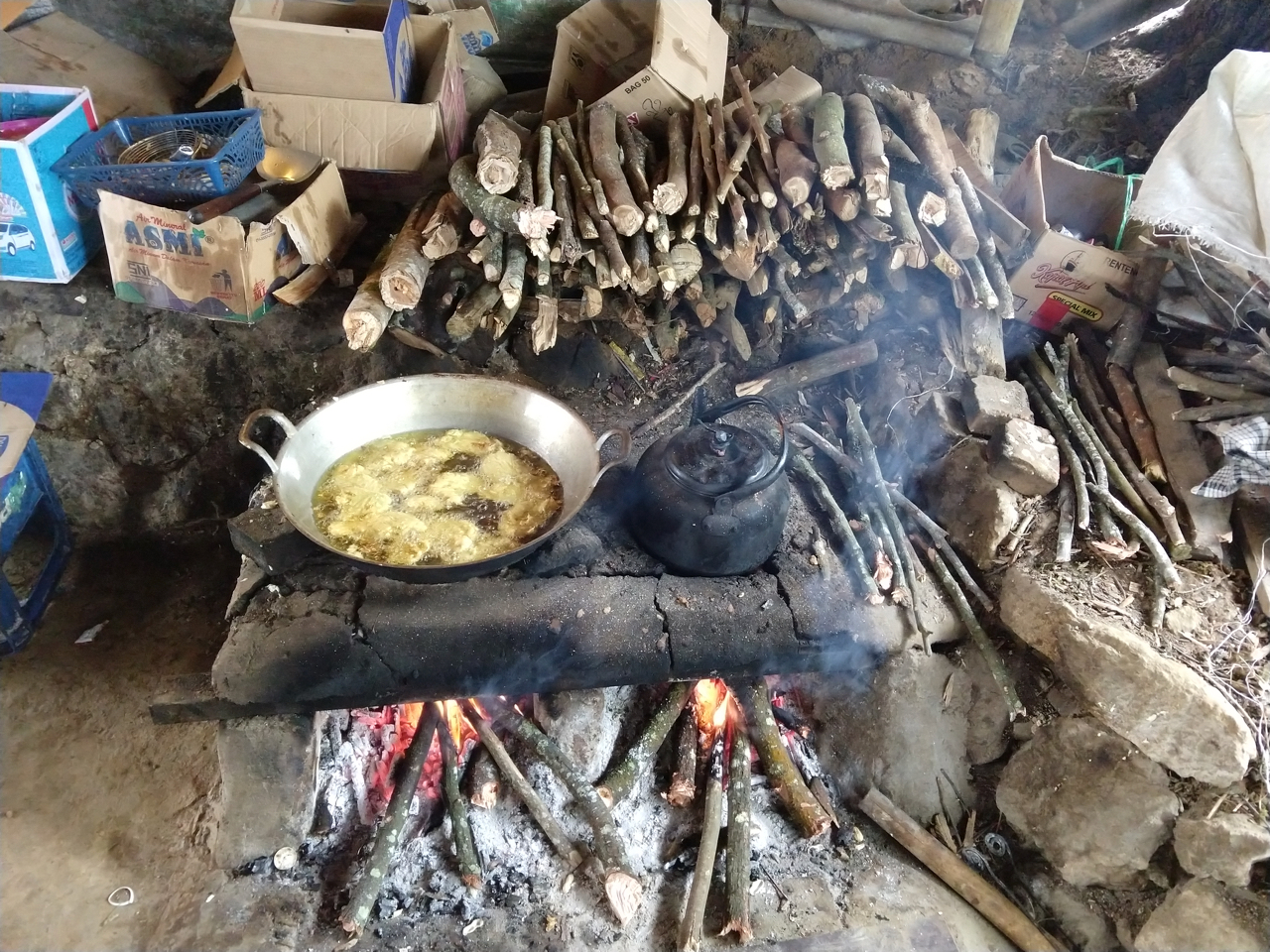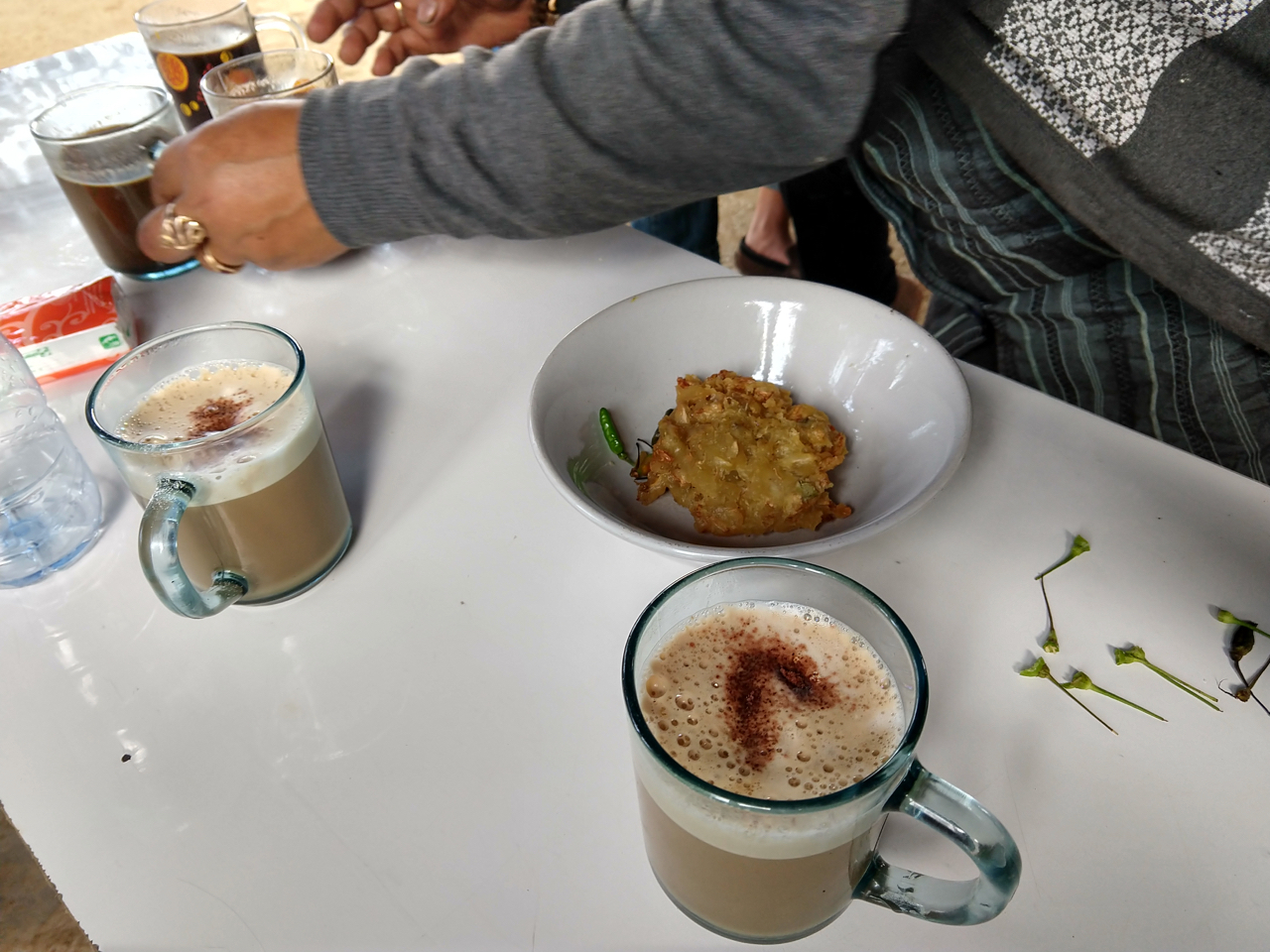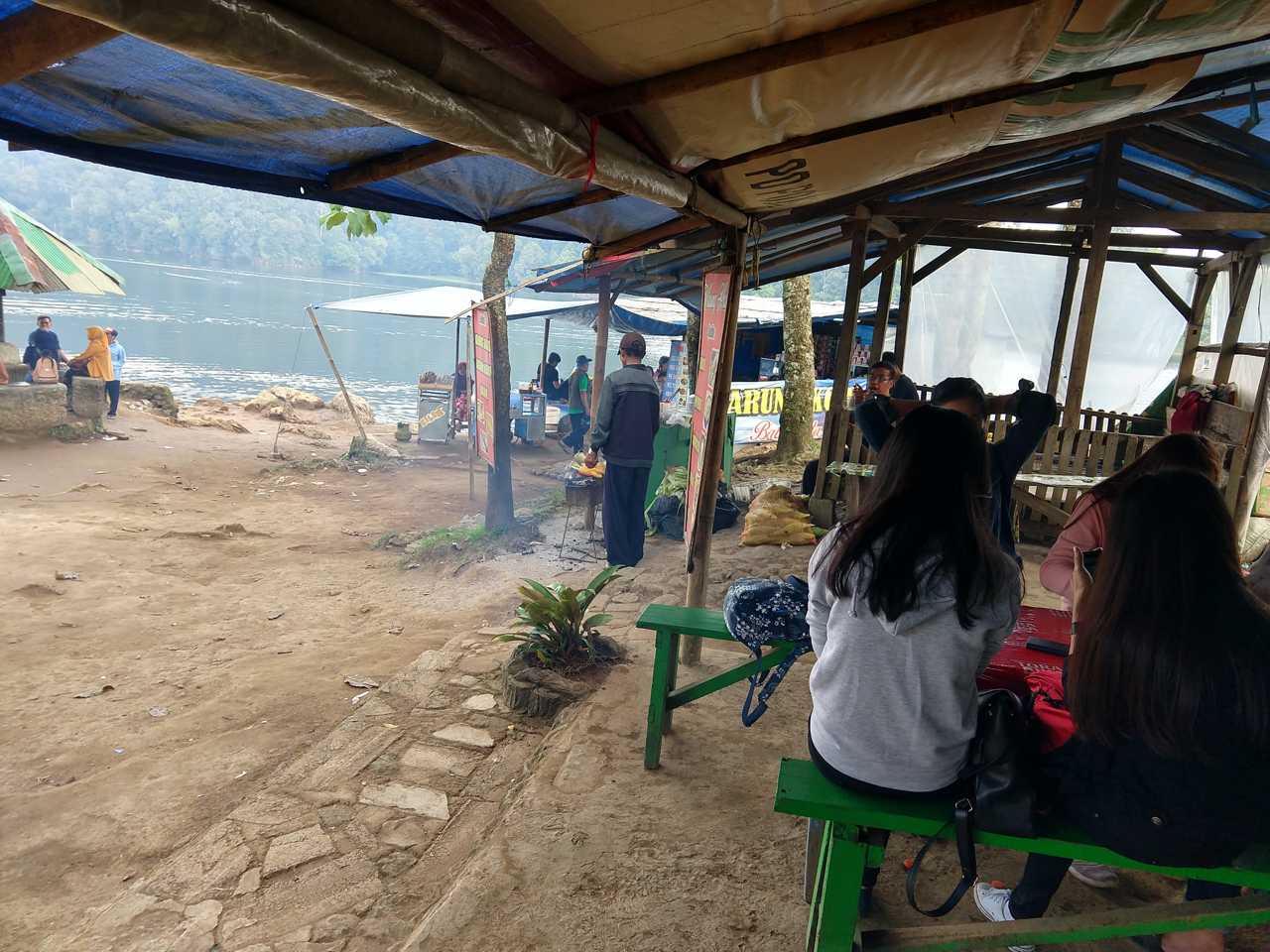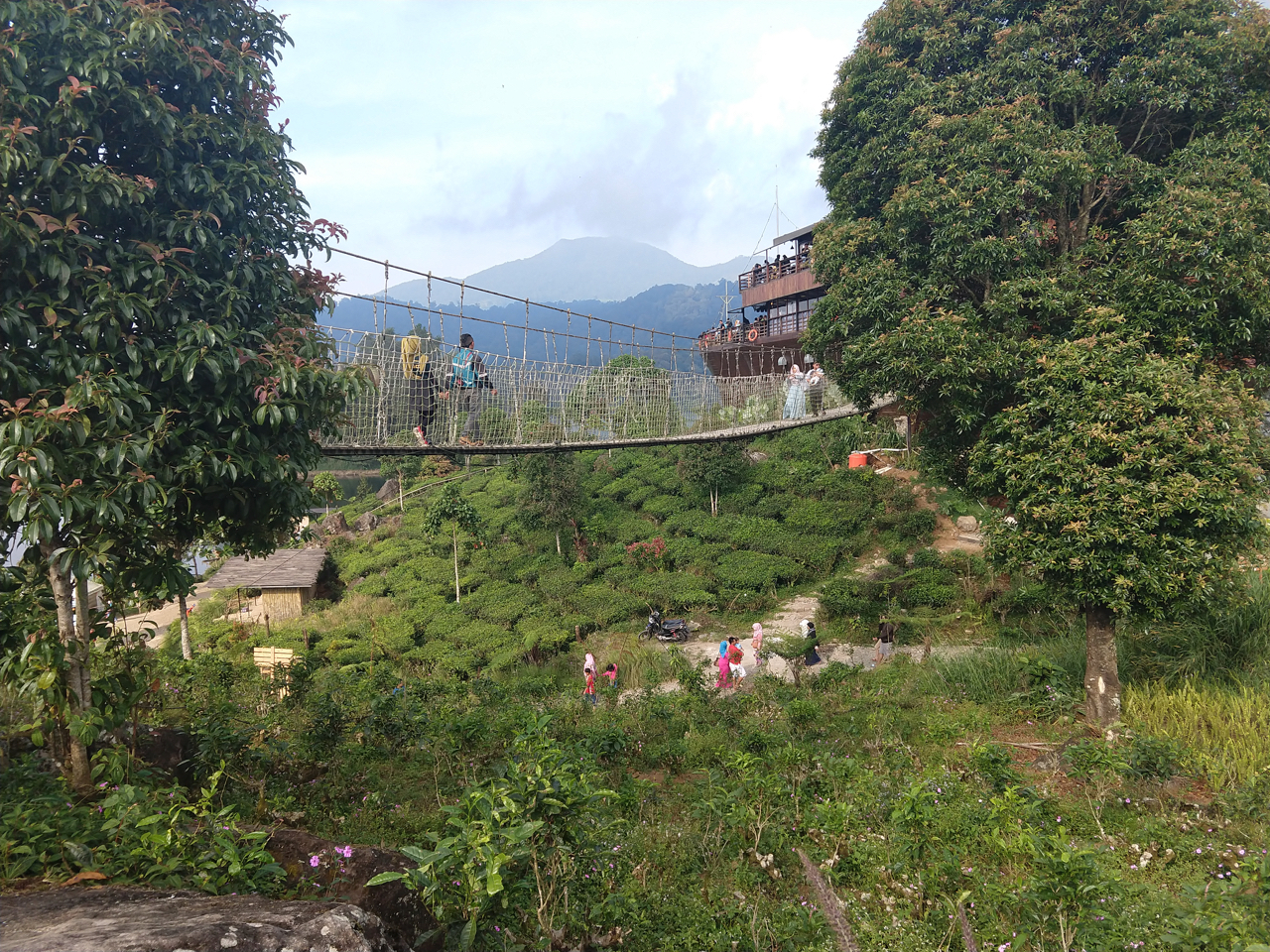 On the drive back we saw strawberries growing in bags.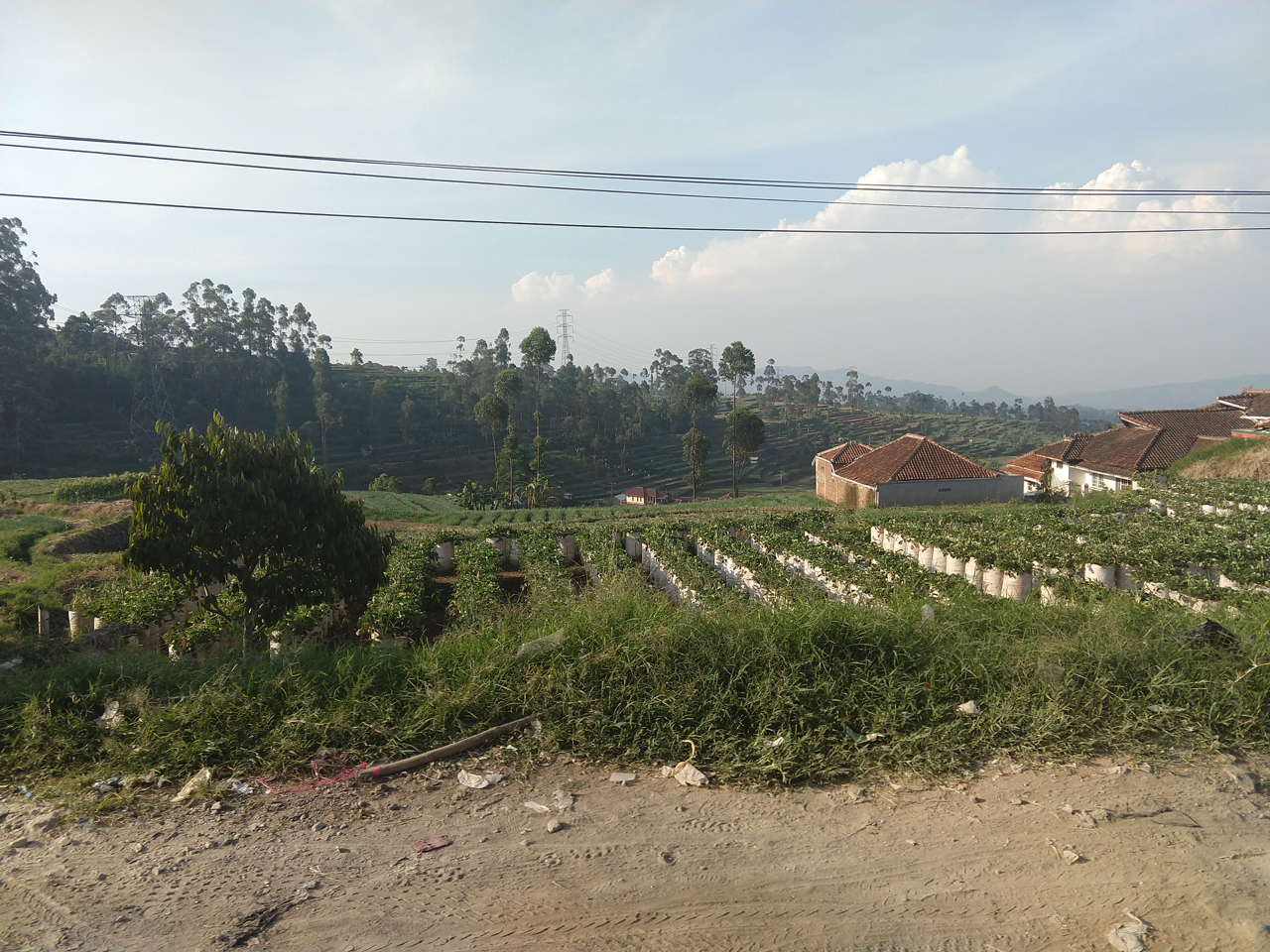 Sunday
On our last day we enjoyed yet another great breakfast at our hotel in Bandung, and took a train back to Jakarta. We stopped at Thamrin City for a bit more shopping before grabbing a bite on the way to the airport.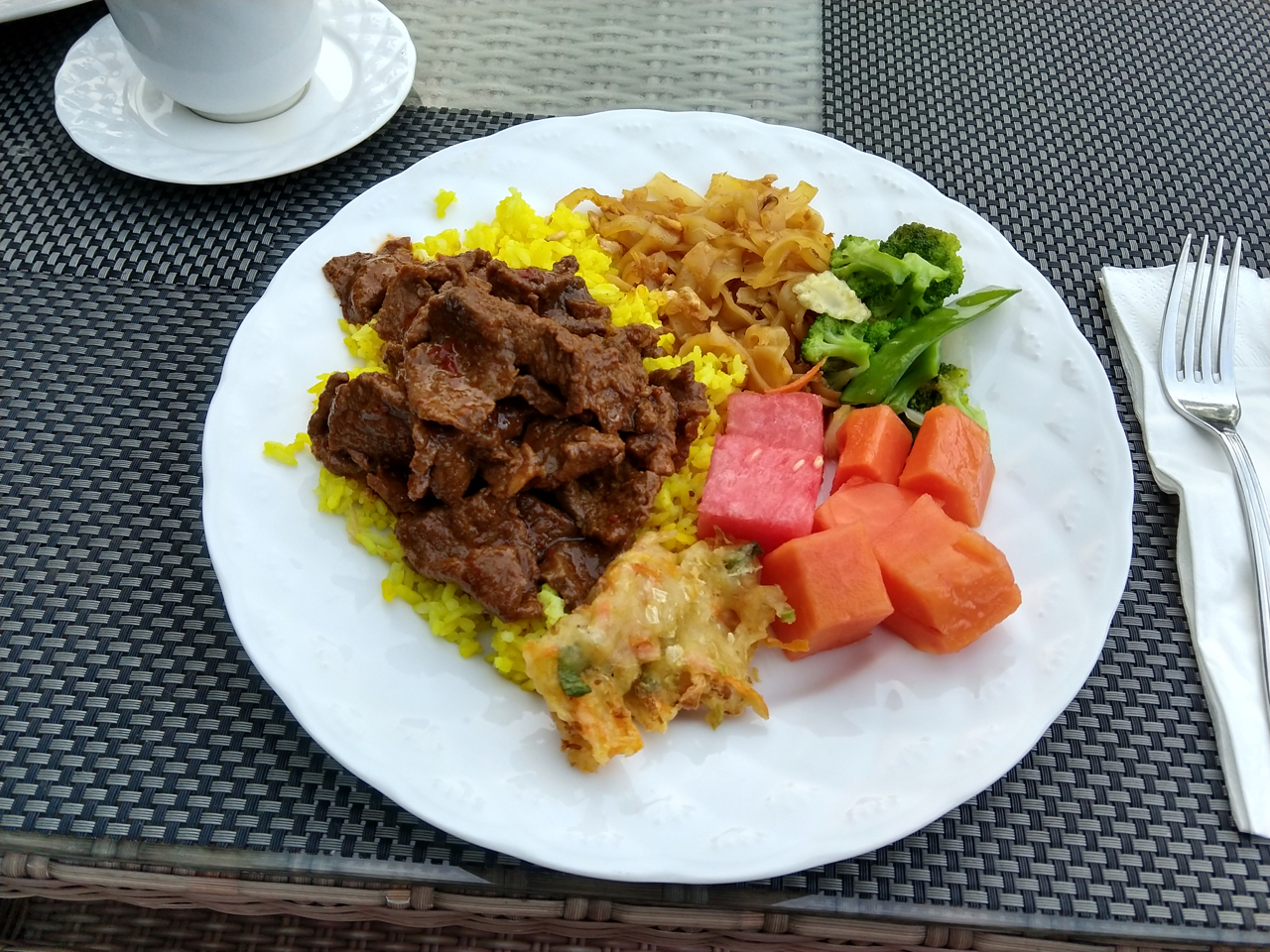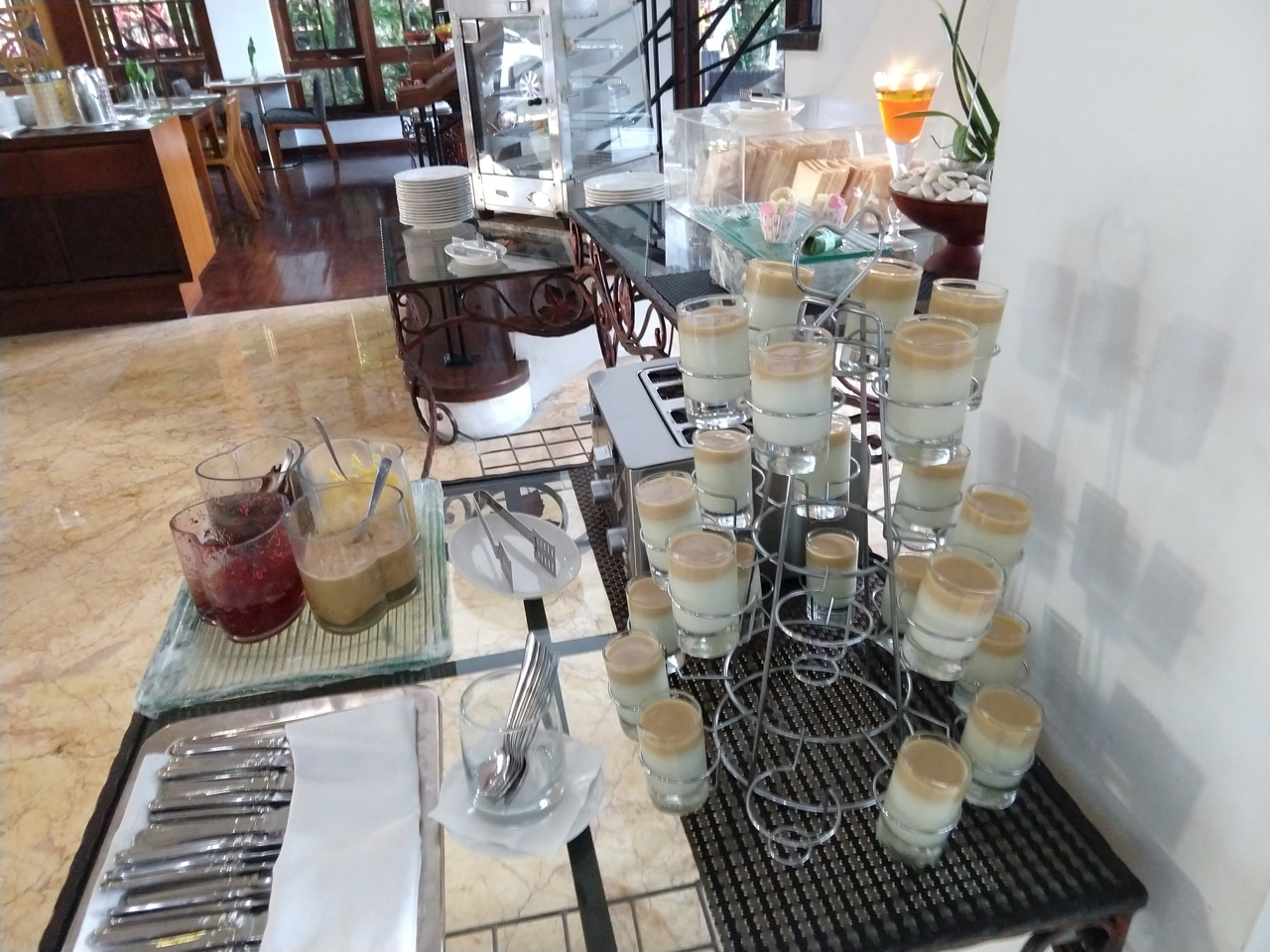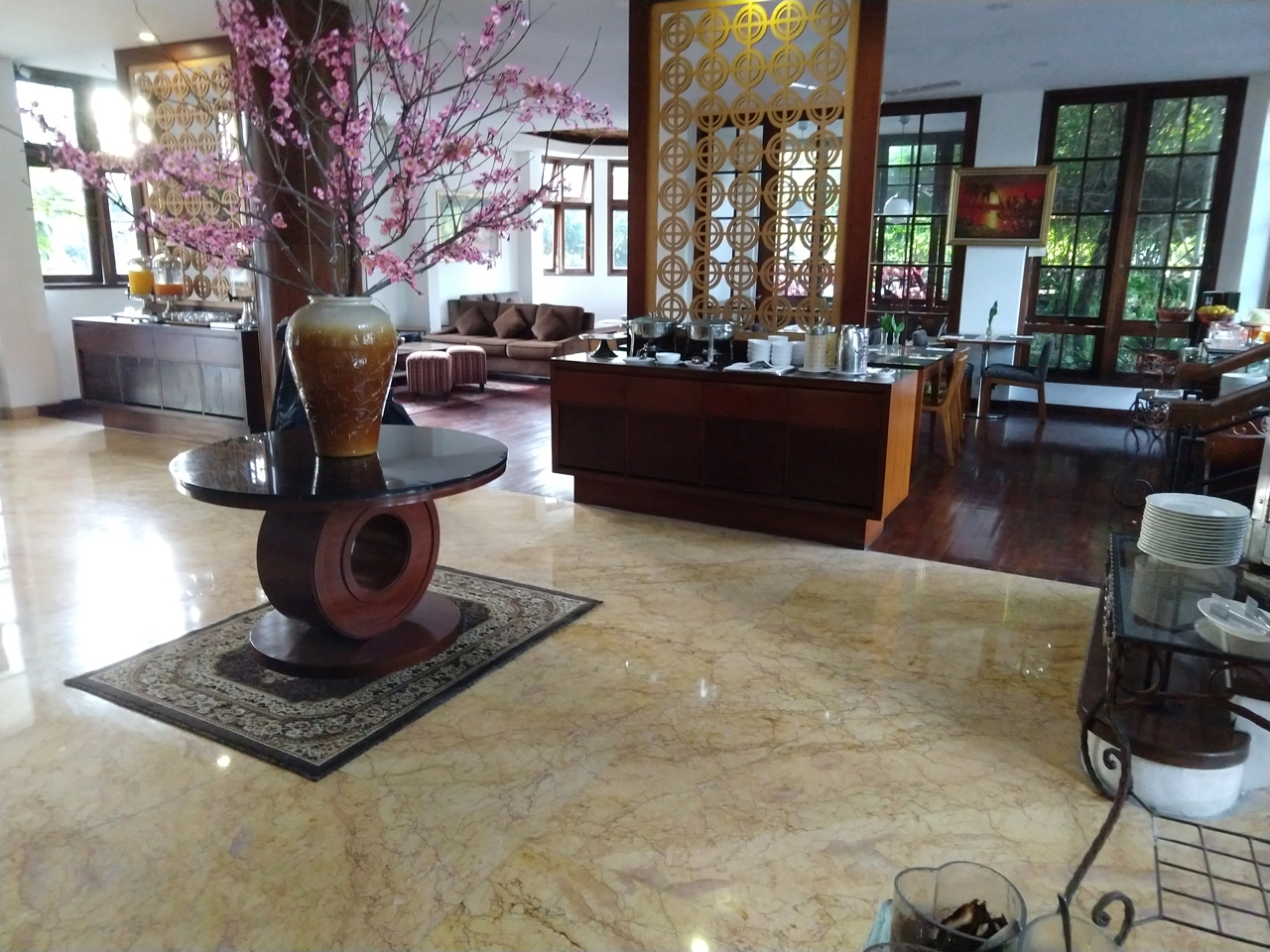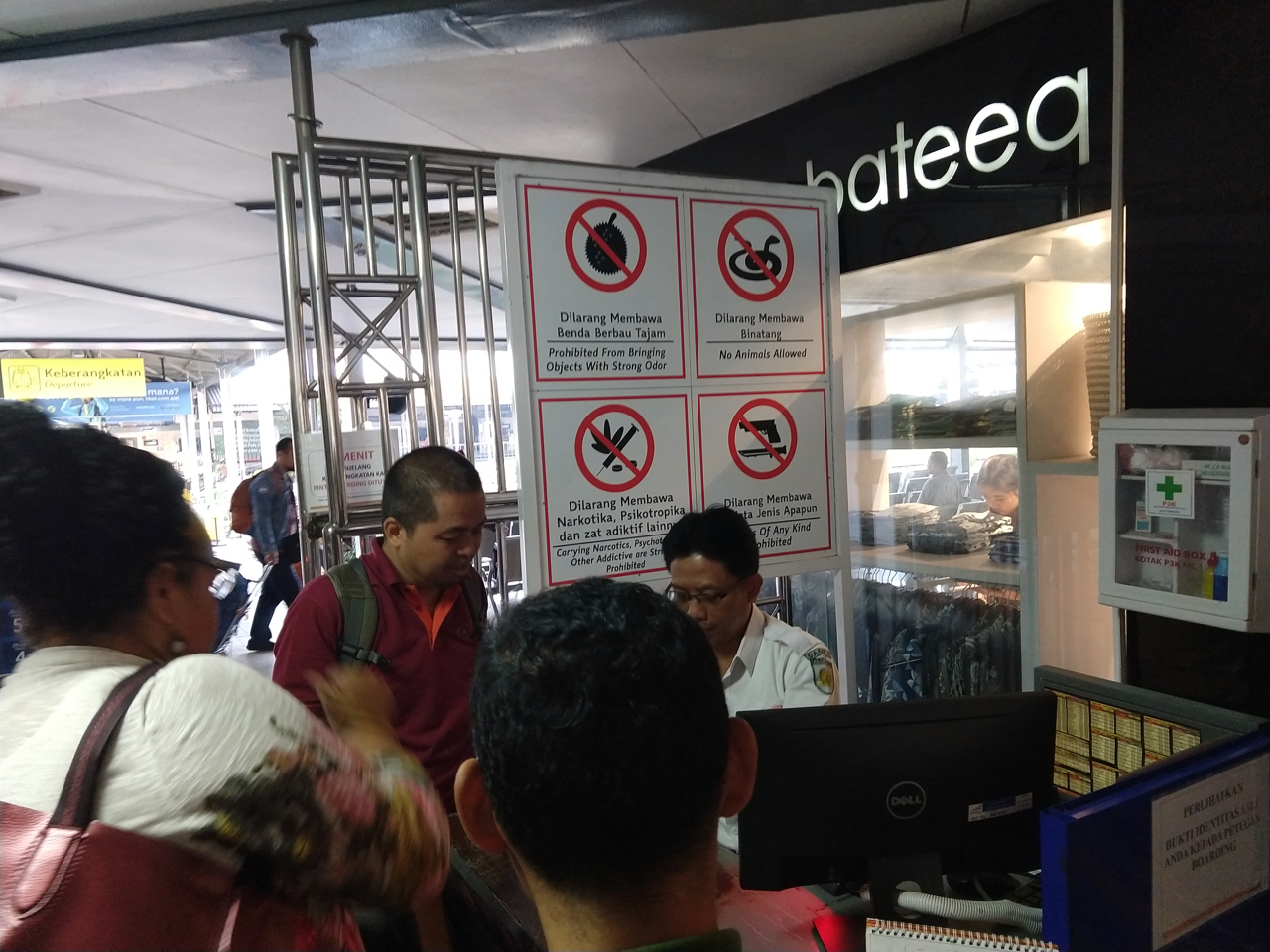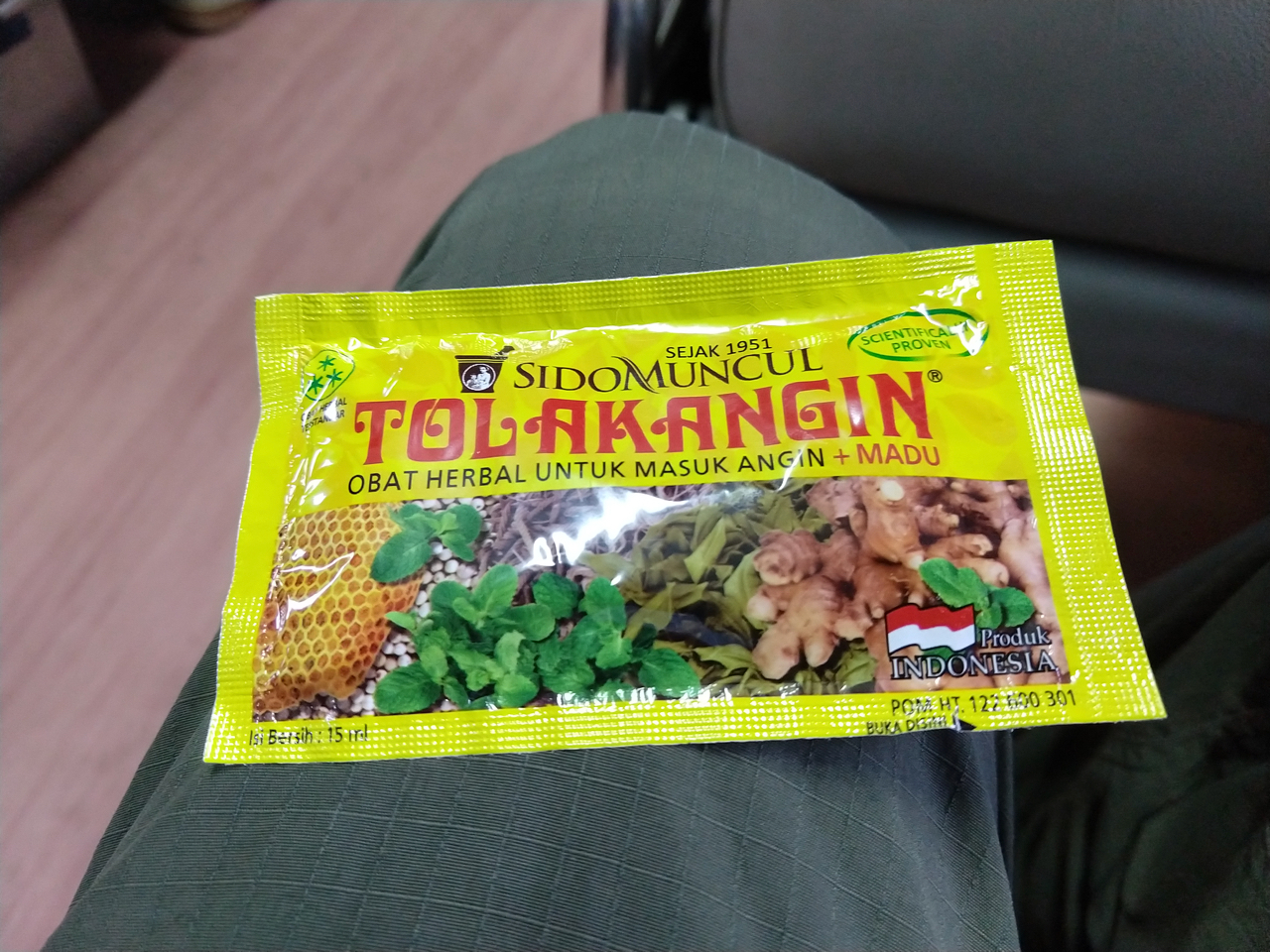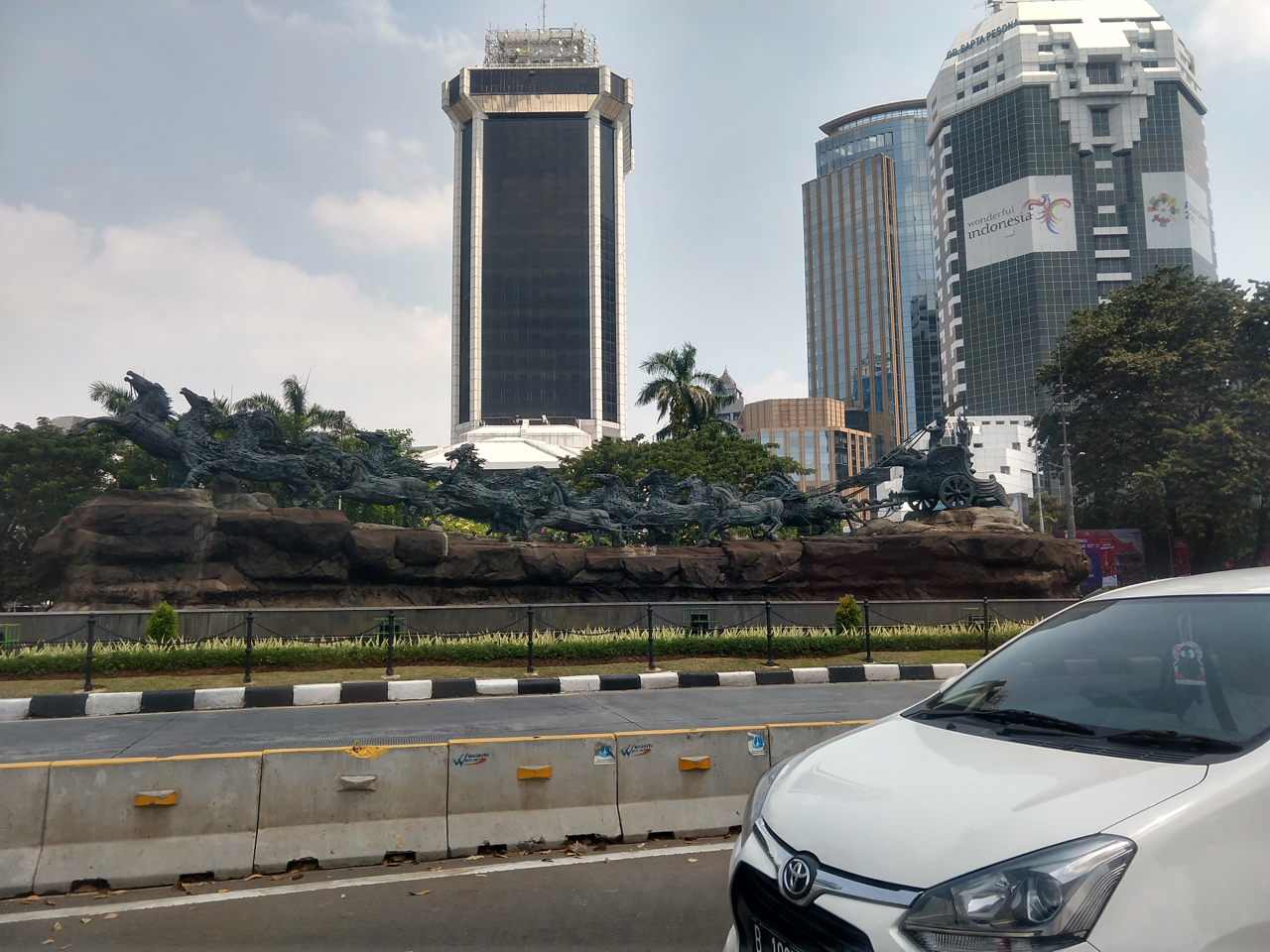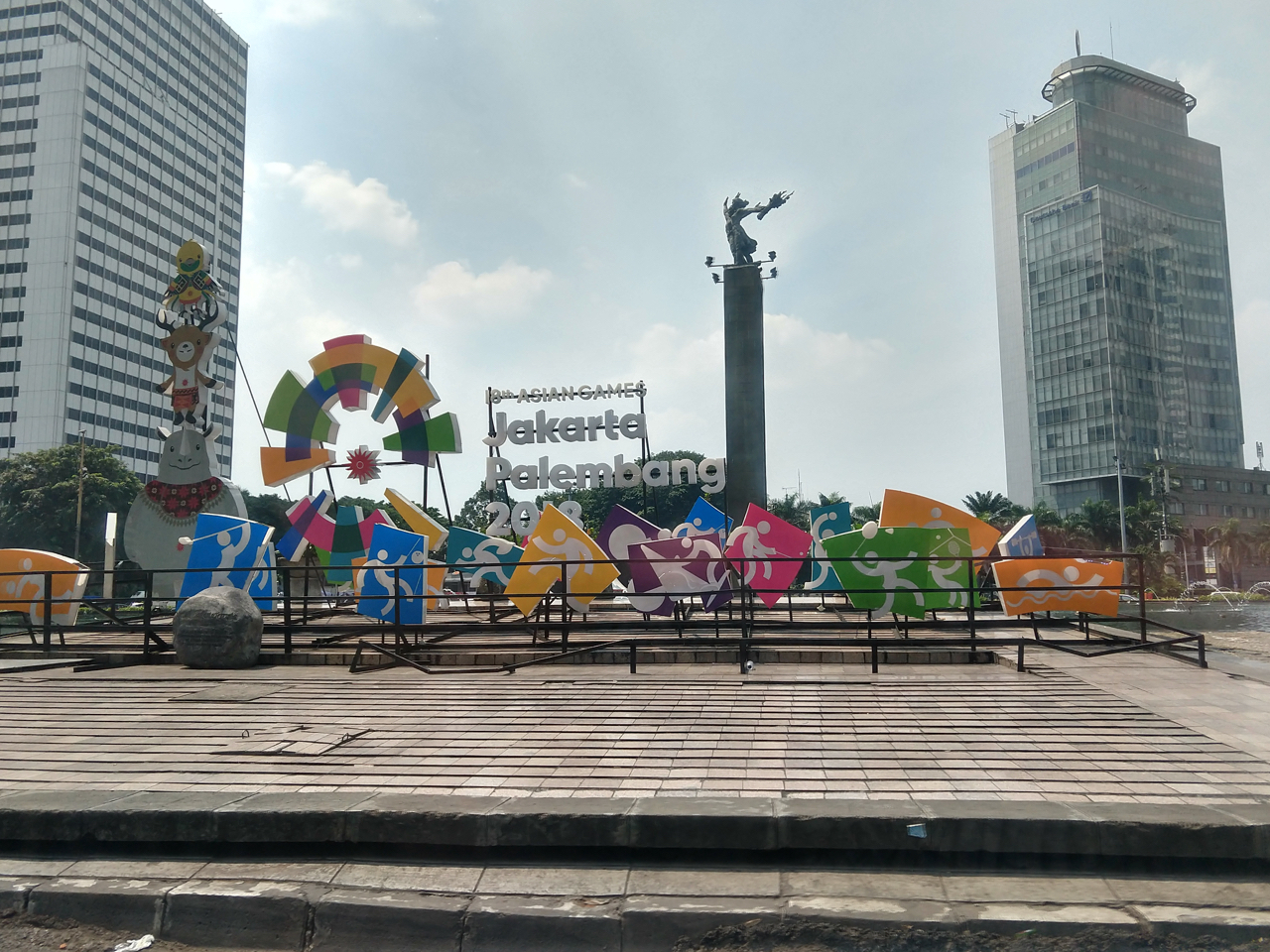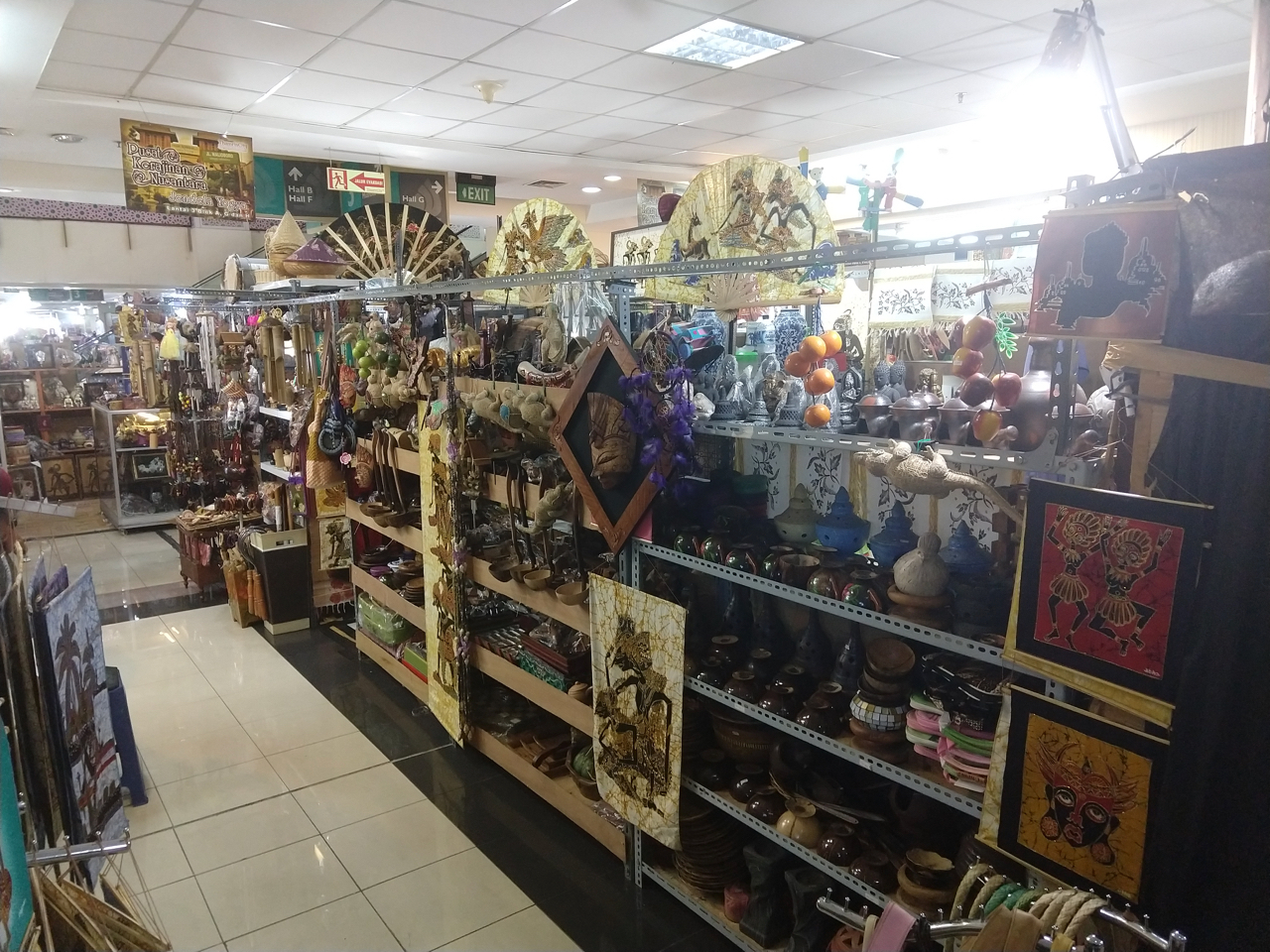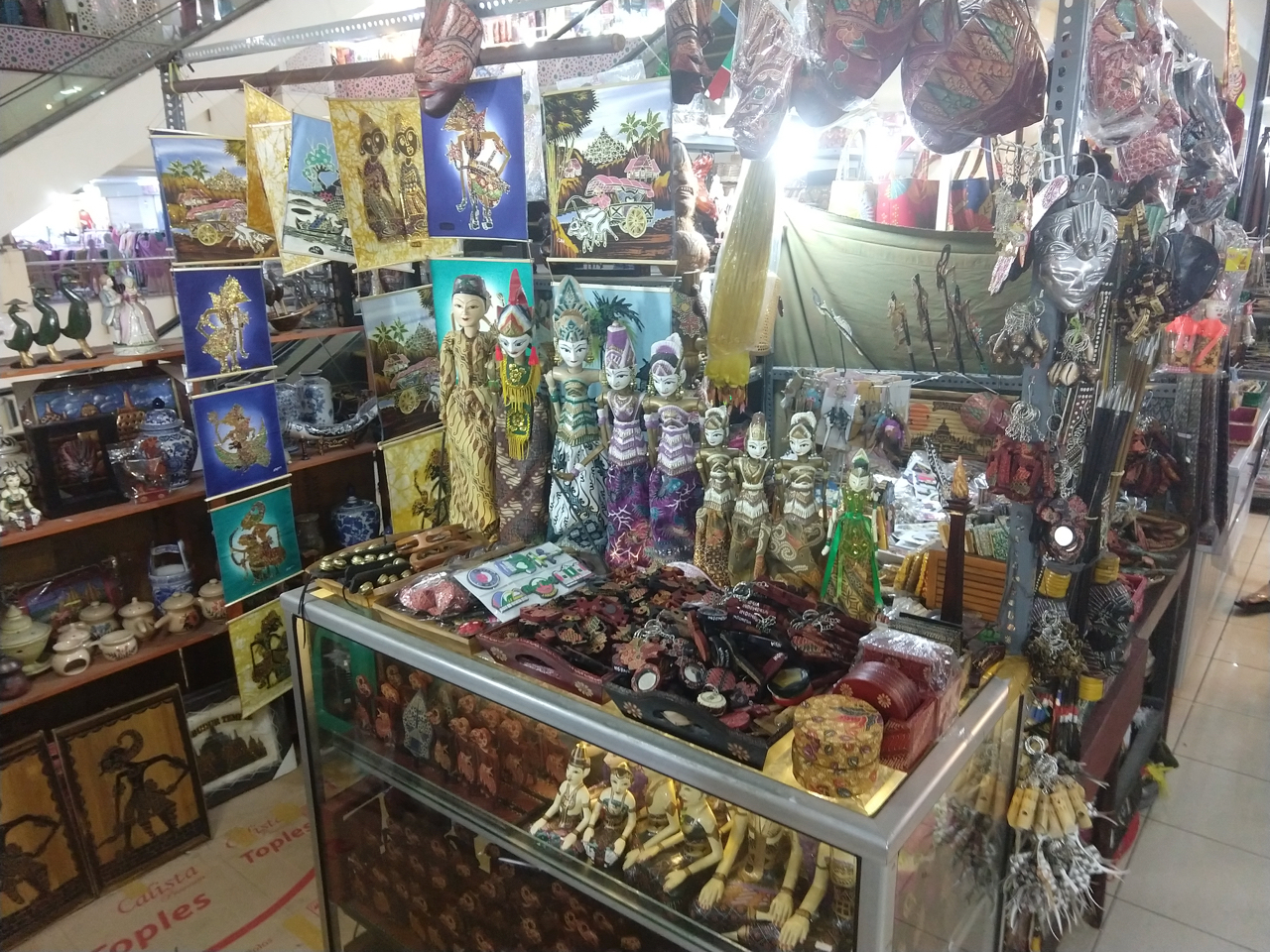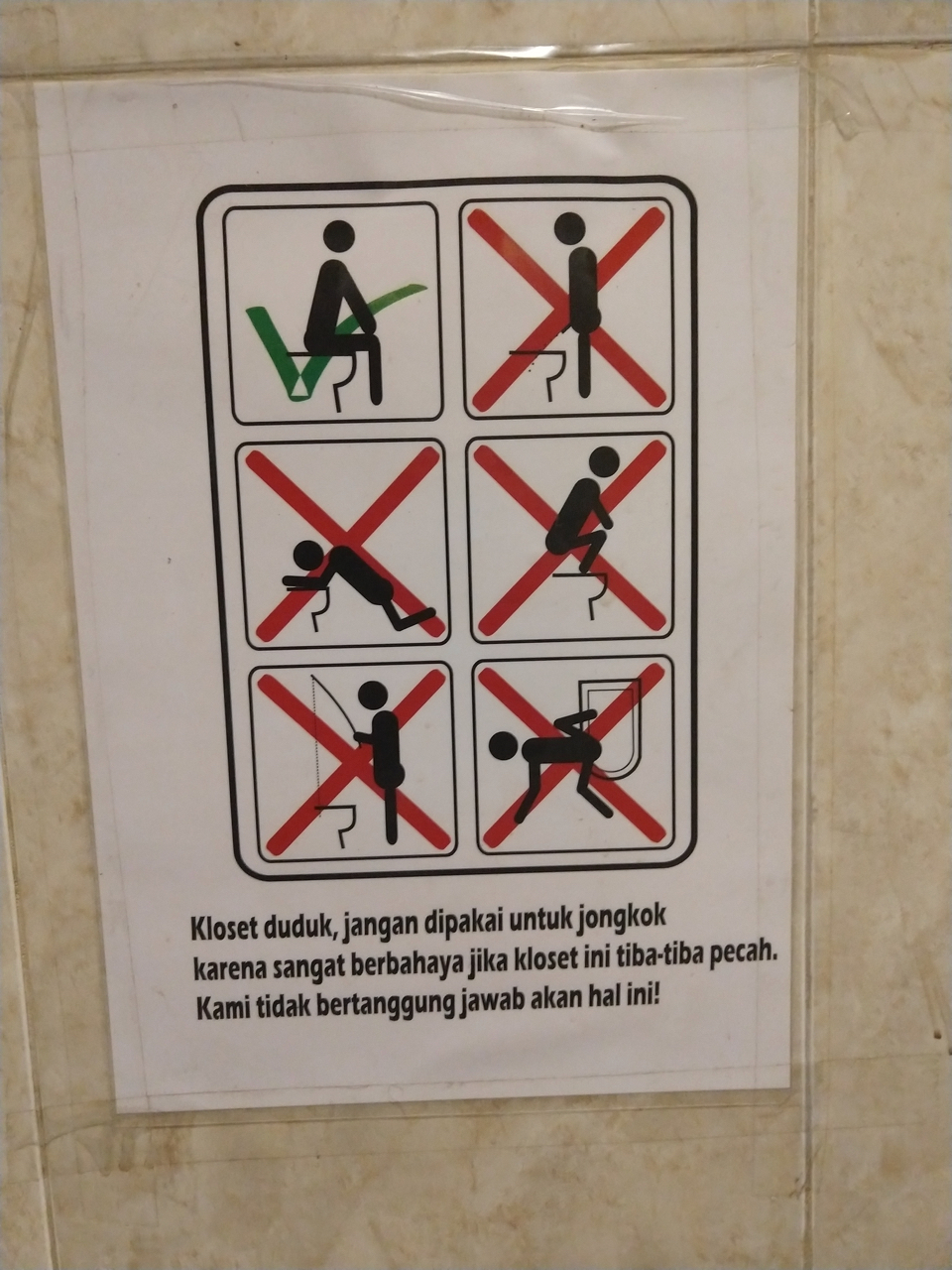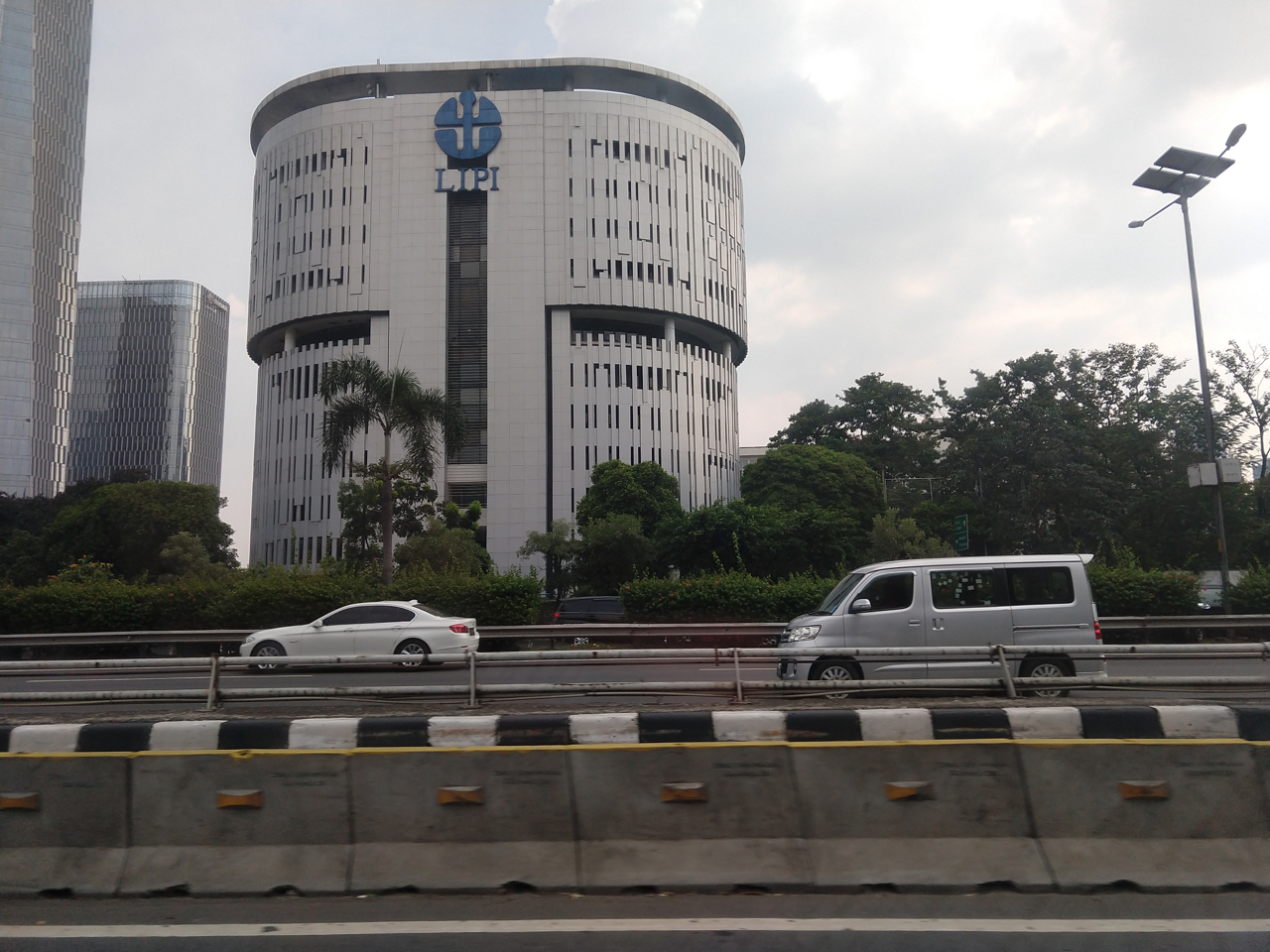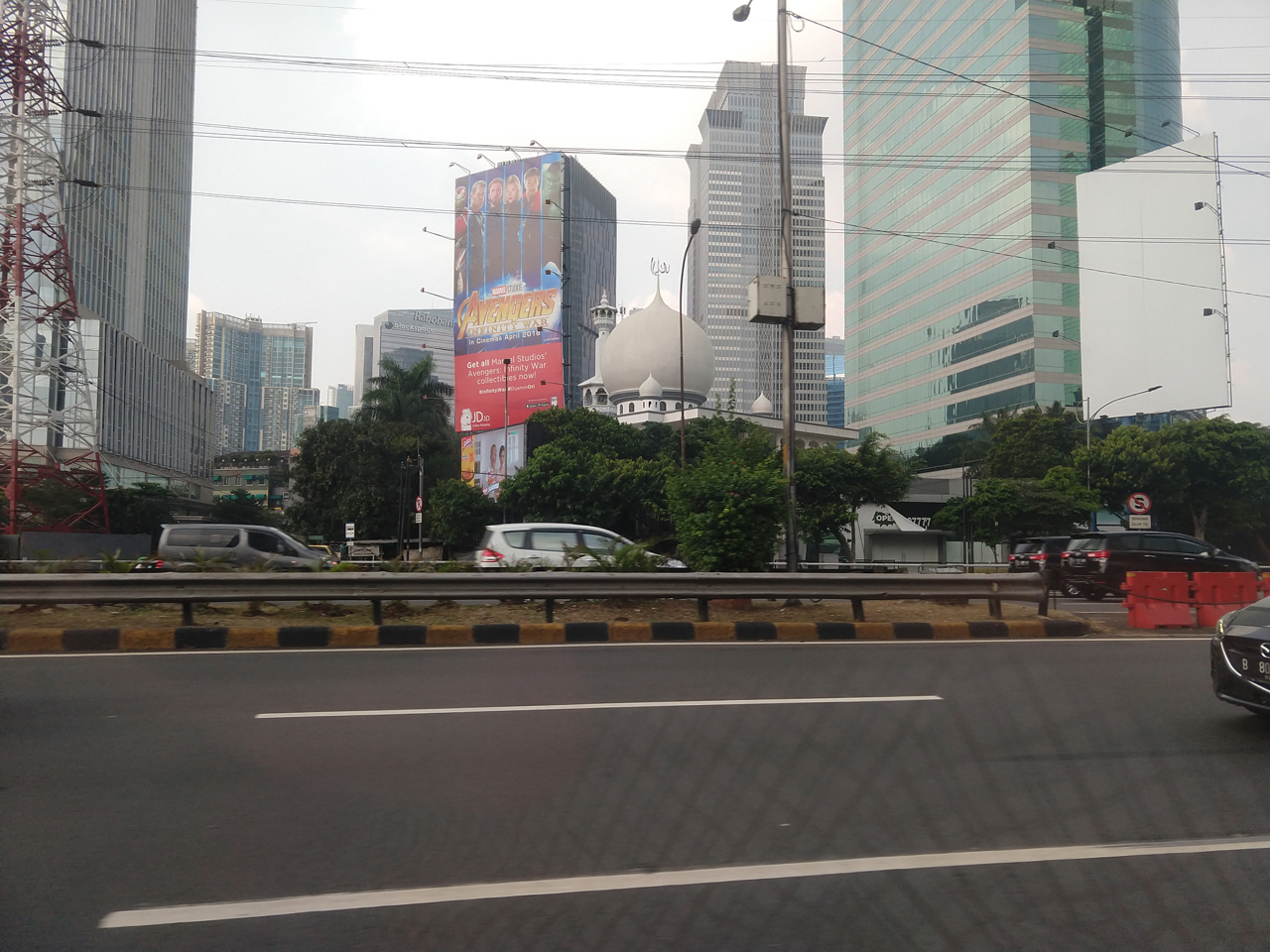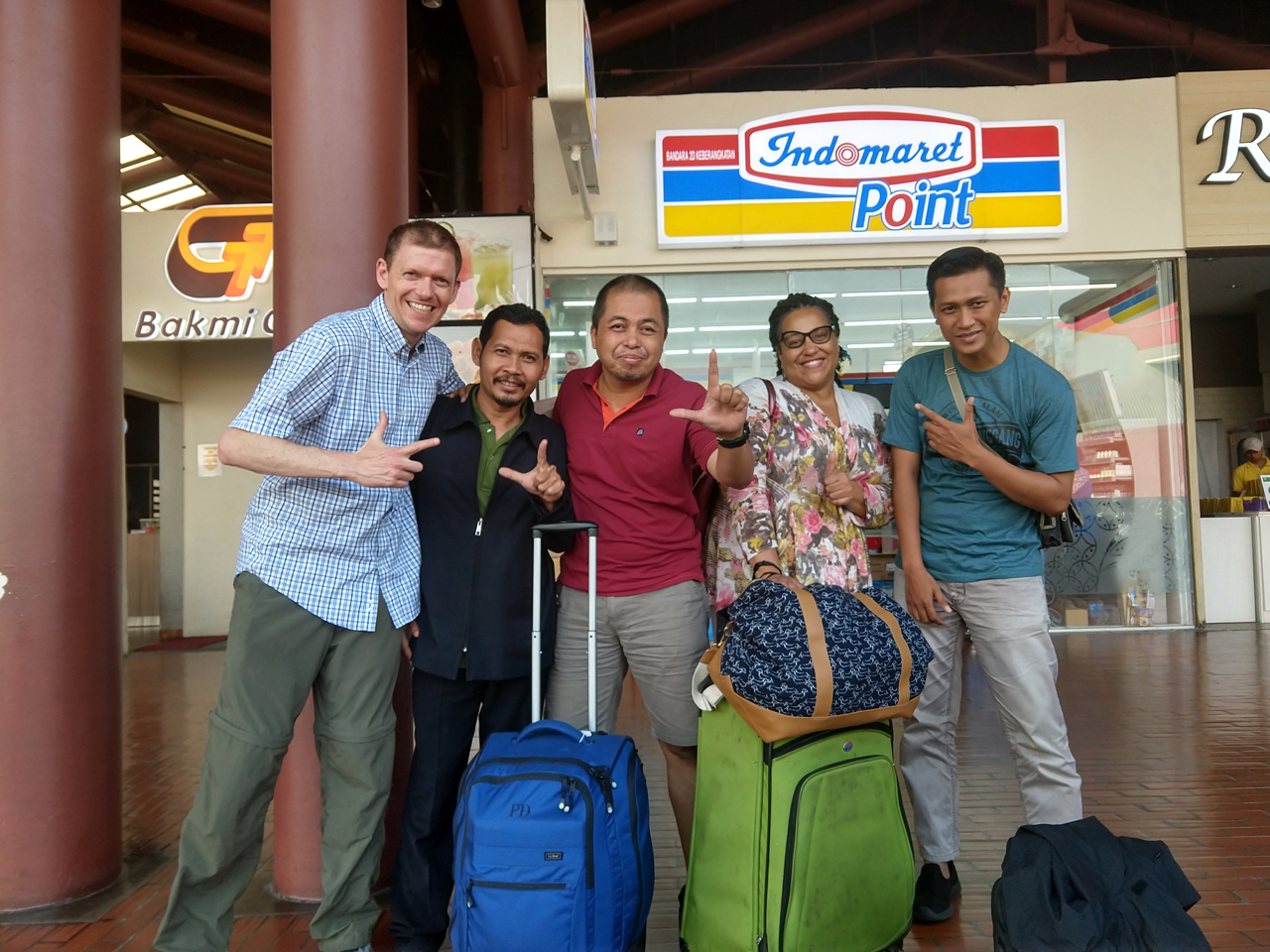 At midnight or so we had a nine hour layover in Doha so we booked a lounge which had food and comfortable chairs.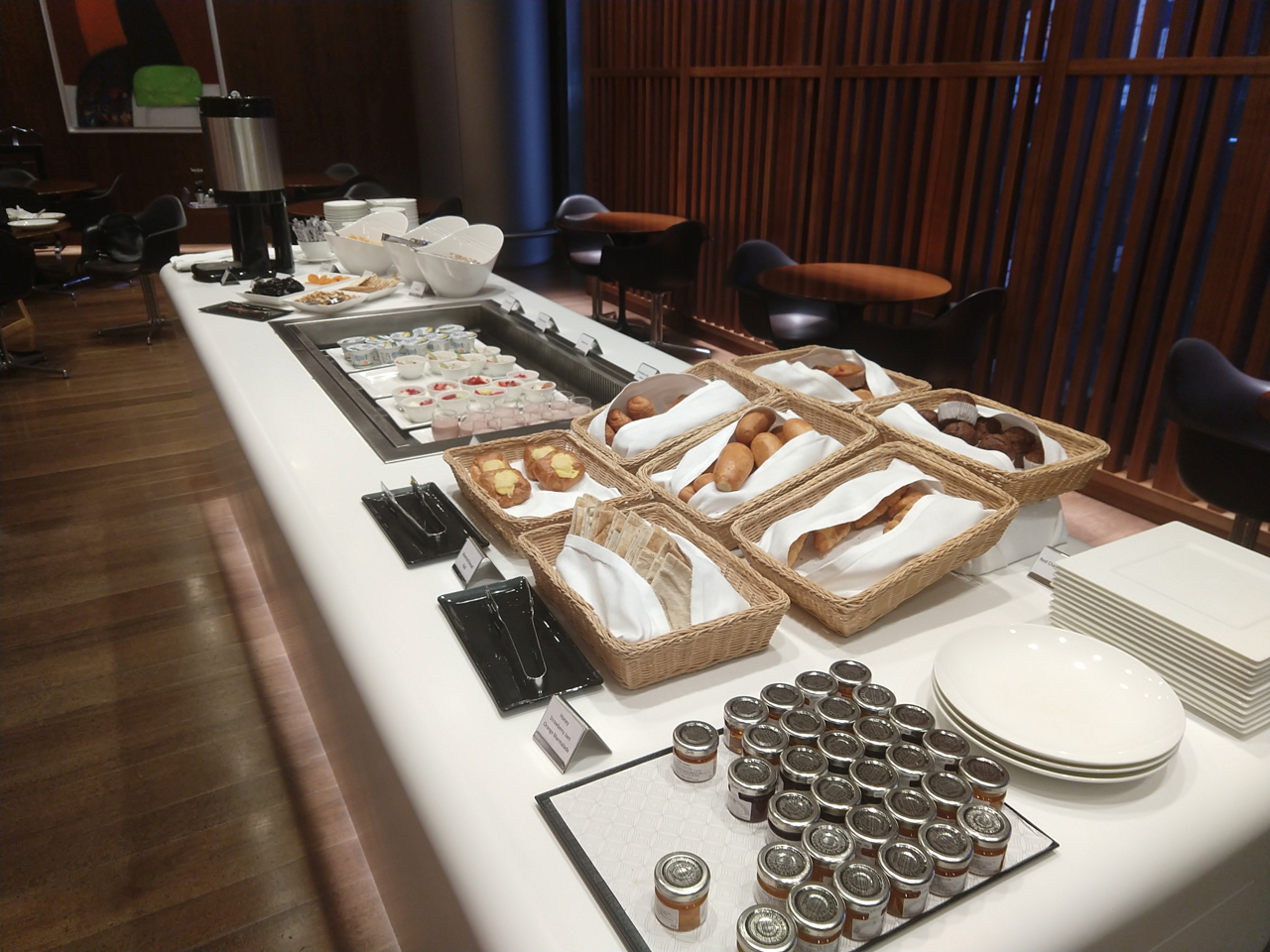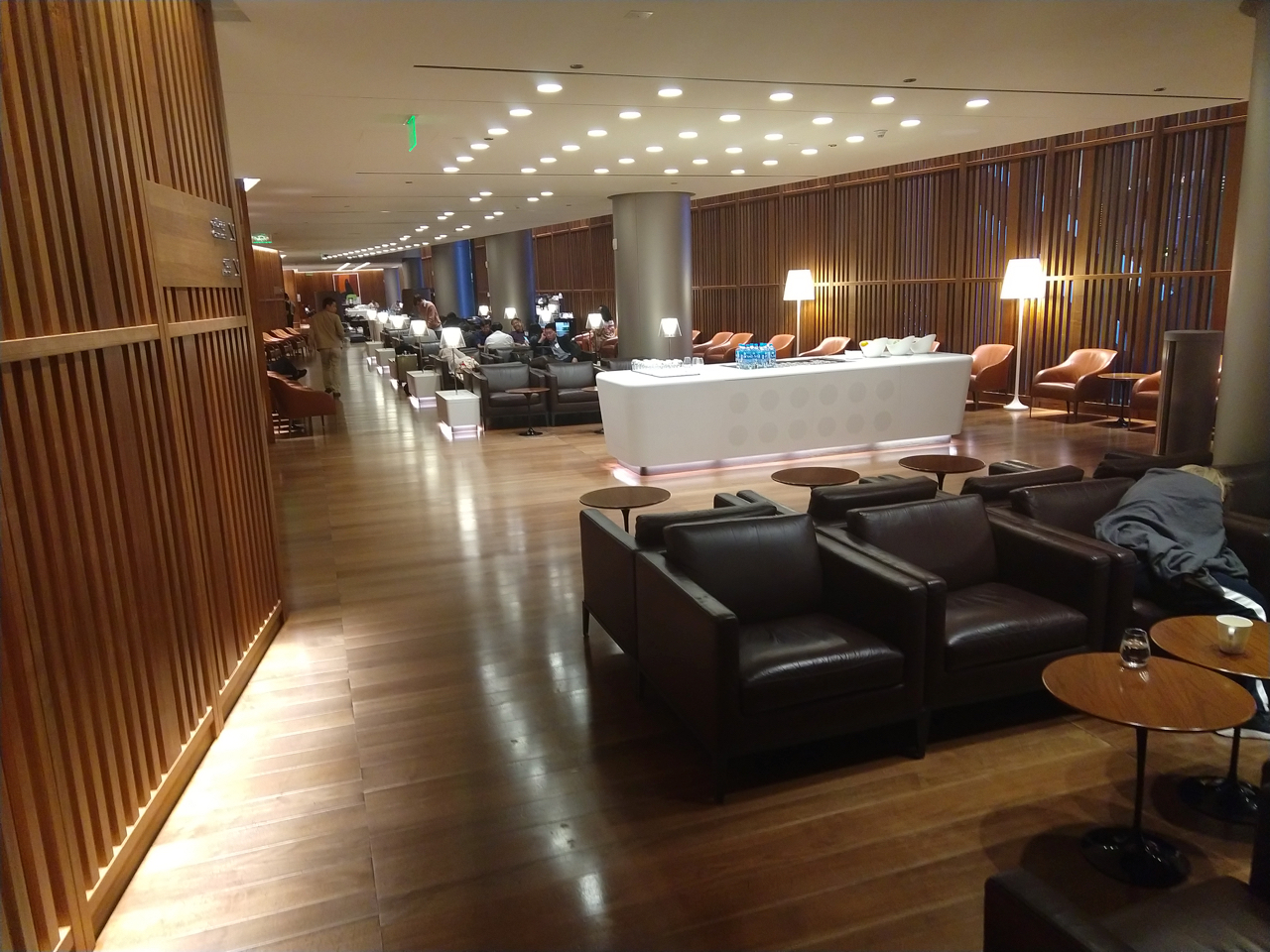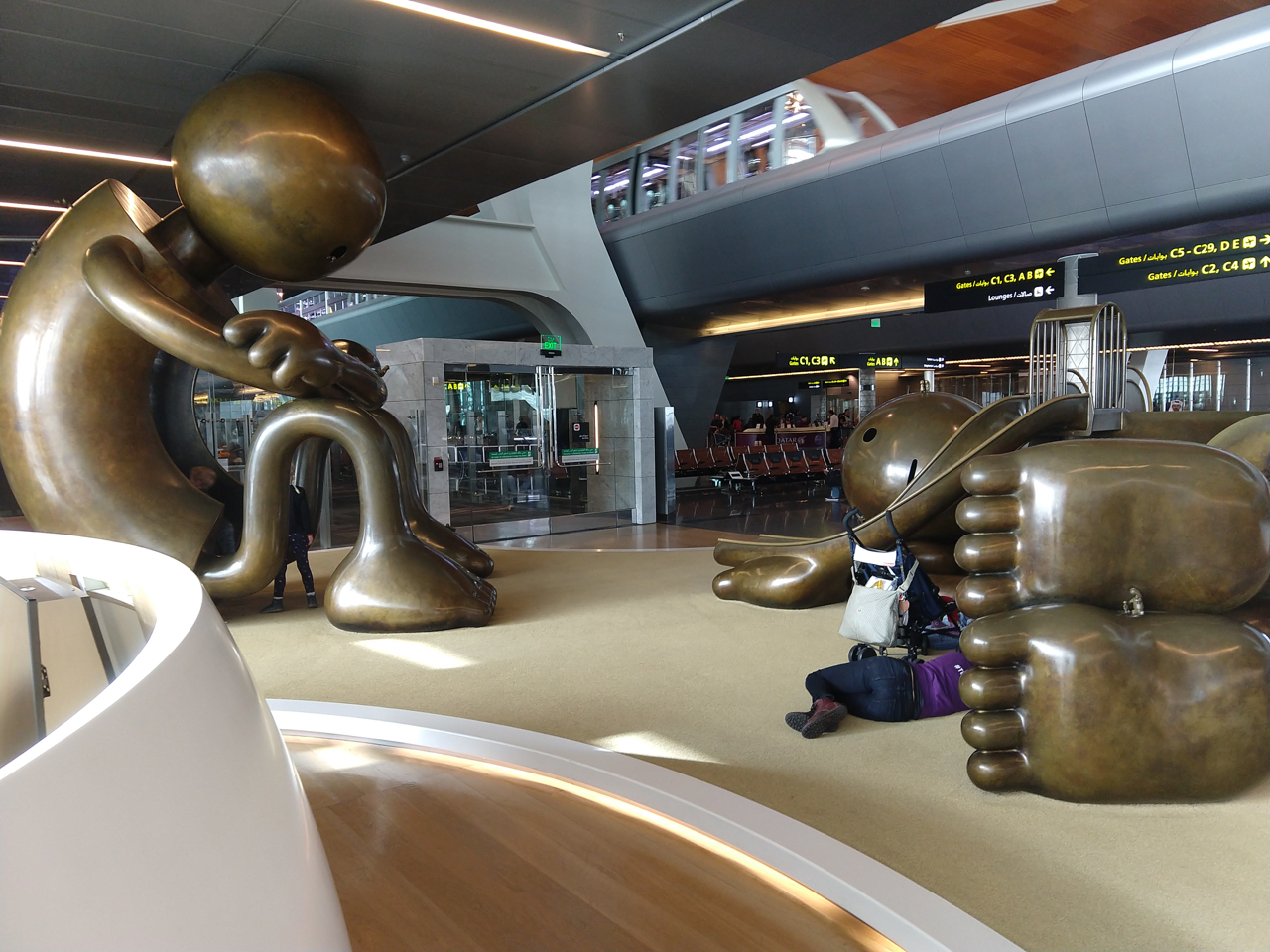 The flight back was equally exhausting but it was great to see my kids again.