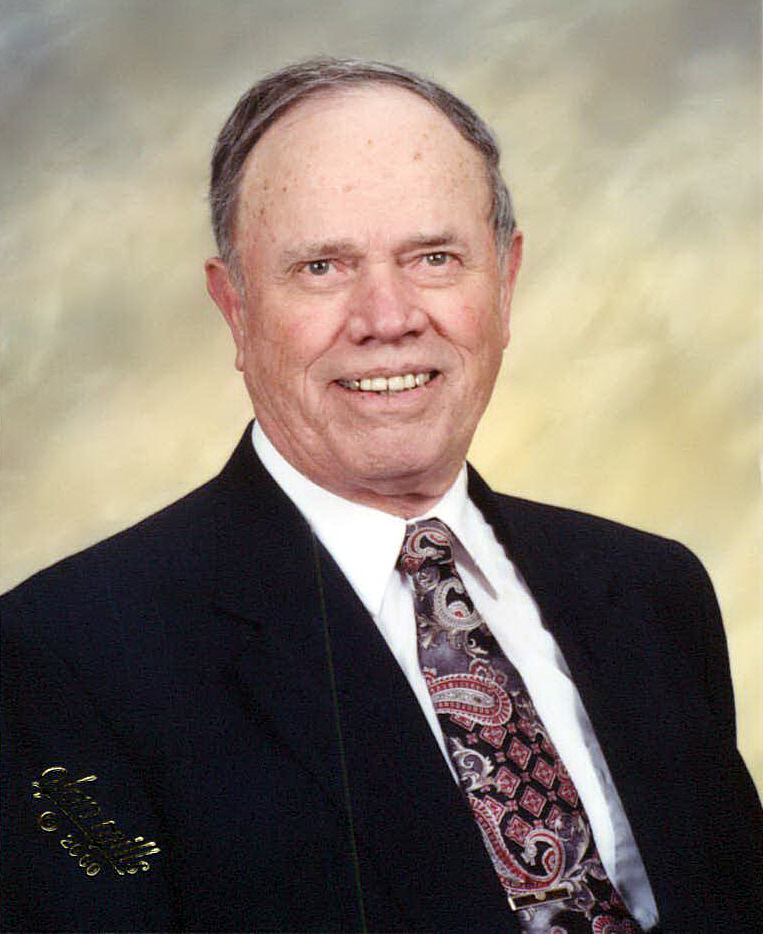 Richard Anthony Durbin, 96, died at 3:08 p.m. on Tuesday, August 4, 2015, surrounded by his family at his home. Born on October 29, 1918, Richard was a lifelong and oldest member of St. John the Evangelist Catholic Church near Paducah. He married Helen Marie Luigs on June 18, 1940. They were married for 25 years until her death on May 25, 1966.
Richard was the owner/operator of Durbin's Garage in the St. John community for nearly fifty years. He earned a reputation as one of the best and most honest mechanics in the area. He also performed high quality body shop repairs.
Although largely self-taught, he began his career in mechanics as a third generation blacksmith shoeing horses and working on wagons in his father's blacksmith shop. He added automotive repairs to his skills while working for Ross Spalding's garage and blacksmith shop in Fancy Farm as a teenager. He later worked for Henry Bichon assembling various innovative and patented appliances in Paducah.
While working for the Paducah Iron Company during the 1937 flood he contracted pneumonia assisting those in need of help. Disqualified for military service due to a medical condition, he served as union steward for the Southern Textile Company during World War II where he produced munitions casings to assist the war effort. In 1943, he opened Durbin's Garage in a small one-car garage before building a larger shop near his home.
Richard enjoyed being an altar boy and singing in the choir well into his teenage years. In addition to being a lector and Eucharistic minister, at times he served on virtually all parish committees as well as on school boards for St. John and St. Mary High School. He was a 4th degree member of The Msgr. Anthony G. Higdon Council of the Knights of Columbus at St. John. Richard wrote the St. John column for the Western Kentucky Catholic for many years. Having only an eighth grade education, he achieved his GED certification at age 70. Richard continued to attend daily Mass and to recite the rosary for the rest of his life. For his lifelong faithful stewardship and giving of his time, talent, and treasure to Christ and the Catholic faith, he was awarded the Sophia Award by the Diocese of Owensboro.
Richard was a huge baseball fan, particularly of the St. Louis Cardinals. He seldom missed a game on television. When his sons played Twin States Baseball and Little League during the 1950s and 1960s he served as an umpire.
He was a former board member for the Jackson Purchase Rural Electric Co-op. For his service to the Paducah area Richard received both the "Duke of Paducah" and "Kentucky Colonel" awards. He also received the "Senior Citizen of the Year" award several times for his many years of service and participation at the Paducah/McCracken Co. Senior Center. His monthly Senior Center news column was printed in the Good Neighbor newspaper until a month before his death.
Richard is survived by his sisters Edith Durbin Wurth of Paducah, Kentucky, and Sister Jean Mary Durbin, RSM, of Nashville,TN, and brothers Lawrence Thomas Durbin, Bennie Durbin, and Paul Durbin, all of Paducah, KY.
He is survived by his daughters; Ruth Durbin McKendree (Arvil), and Betty Durbin Roper (David) of Paducah, KY;and sons James Anthony Durbin (Betsy) of Columbus, OH; Lawrence Robert Durbin (Geraldine) and Richard Edward Durbin (Susan) of Paducah, KY;Steven Joseph Durbin (Terri) of Knoxville, TN; John Harold Durbin (Rudina); George Vernon Durbin (Sharon); and Kenneth Patrick Durbin, all of Paducah, KY and son-in-law, Henry L. Beavin of Louisville, KY.
Richard is survived by twenty-eight grandchildren: Theodore Durbin, Philip Durbin, Bryce Durbin, Joy Durbin, Katherine Durbin, Jeffrey Beavin, Christopher Beavin, Michael Beavin, Mark Beavin, Keith Durbin, Randall Durbin, Matthew Durbin, Jennifer Swinny, Jessica McKendree, Emily Durbin, Timothy Durbin, Rebecca Crider, Kevin Gorline, Thomas Gorline, Joshua Issertell, Audrey Bartolotti, Meredith Durbin, Stephanie Durbin, Aubrey Durbin, Lindsay Hornsby, William Durbin, Daniel Durbin, and Landon Durbin; thirty-three great grandchildren, and two great-great-grandchildren.
He was preceded in death by his parents, James Riley Durbin and Dorthea (Dora) Catherine Poat Durbin, as well as his wife, Helen, his daughter Carolyn Marie Durbin Beavin and granddaughter Kristen Nicole Durbin. He was also preceded in death by his second wife, Marceline Batusic Durbin and a long-time friend Joyce Sires.
He was also preceded in death by sistersDeva Durbin Shoulta, Sister Dorothy Marie Durbin, RSM, Pearl Durbin Vinson, Agnes Durbin and brother Alton Durbin.
Visitation will be held at Milner & Orr Funeral Home of Paducah on Thursday, August 6, 2015 from 4:00 to 8:00 p.m with prayers at 7:30 p.m. Services will be held at St. John the Evangelist Catholic Church on Friday, August 7th, at 11:00 a.m. Rev. Bruce Fogle will officiate. Burial will immediately follow in the St. John Cemetery.
Expressions of sympathy may take the form of contributions to St John the Evangelist Building Fund 6705 Old US Hwy 45 South • Paducah, KY 42003 or Lourdes Hospice P.O. Box 7100 Paducah, KY 42002-7100.